Carrot Bundt Cake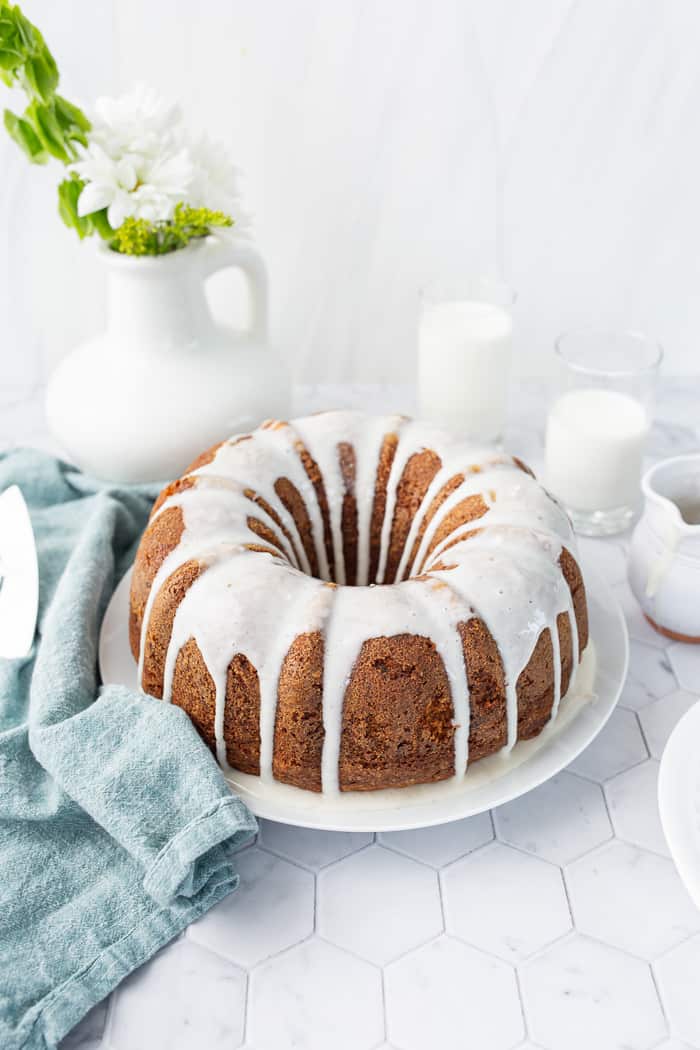 Hello friends! I hope your spring is off to a great start. With the warming weather and Easter just right around the corner, my carrot cake consumption is increasing exponentially! It's the season for carrot cake and I have a new recipe to add to your baking list. This carrot bundt cake brings all the flavor and glory of carrot cake into the elegance and crumb of bundt cakes.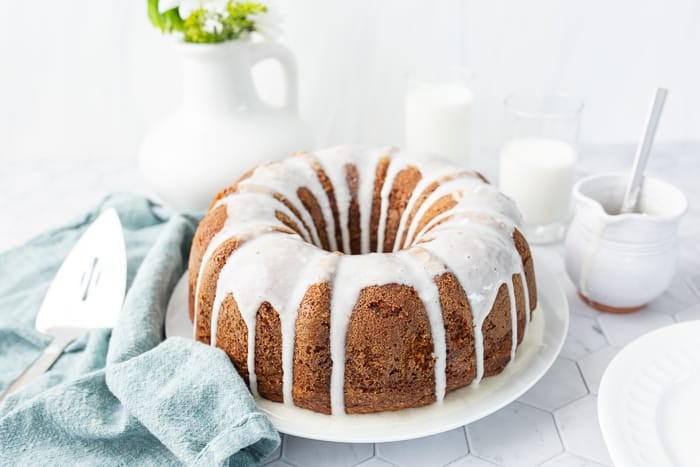 If you've been around here for a while, you know I love me some bundt cakes. I like big bundts and I cannot lie (Sorry I had to!!). But back to the topic, I love bundts and they are one of my favorite things to bake. Quick, easy, elegant, and perfect soft crumb every time. They are my go-to cakes to bring to someone's house. And this spring, I will be bringing this carrot bundt cake with me everywhere I go.
It is packed rich with shredded carrots, warm spices, and crunchy nuts. As well as my favorite secret ingredient in every great carrot cake – pineapples. There's just something about that flavor that always brings together a carrot cake. The juicy pineapples also help to give that soft cake we all love.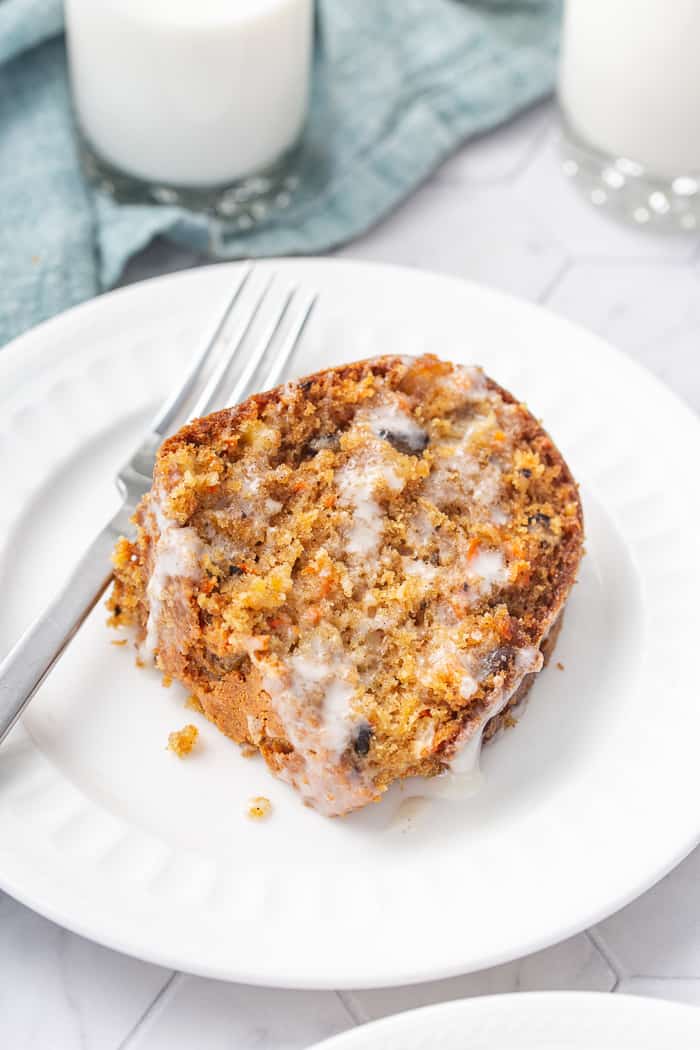 If you are looking for a dense carrot cake, then this isn't it. It is bouncy to the touch and melts in the mouth. It bakes perfectly every time too!
Let's dig into how to make this cake. If you'd prefer just the recipe, scroll to the end.
Start by gathering all your ingredients.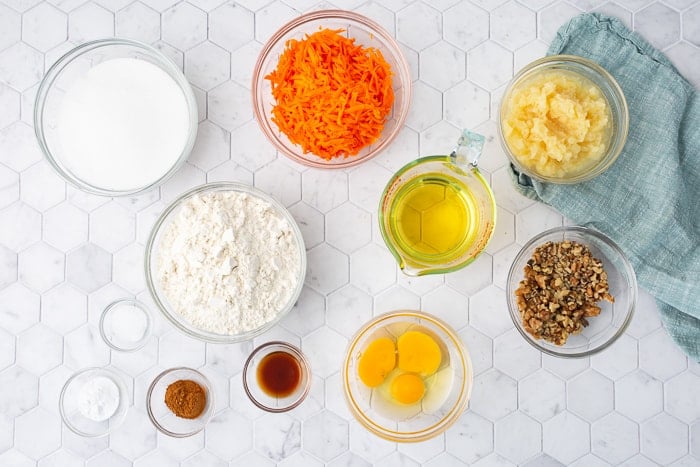 Cream your eggs, sugar, and oil together until light and creamy.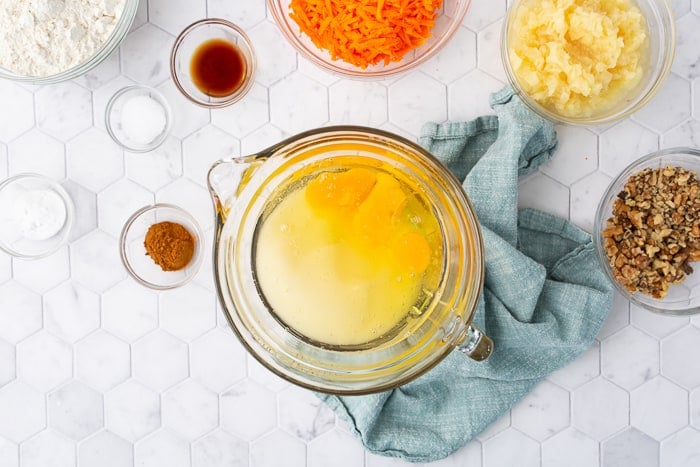 In another bowl, whisk together your dry ingredients.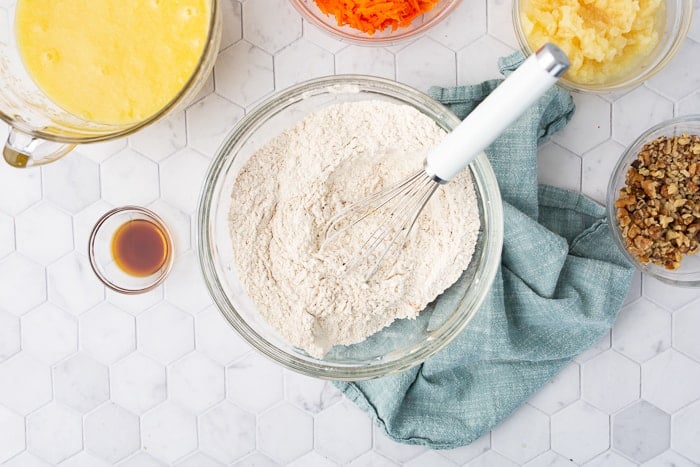 Add the dry ingredients to the oil mixture. Mix until just combined.
Gently mix in the pineapples, carrots, and walnuts. Get these well combined.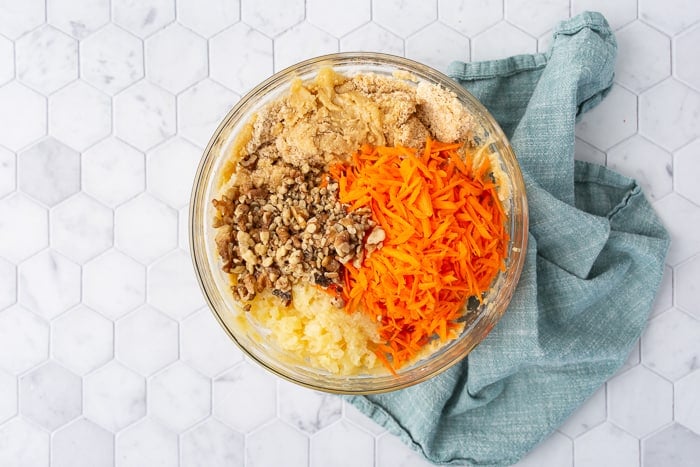 Pour your batter into the bundt pan. Bake until the cake is bouncy when pressed or until a cake tester inserted comes out almost clean.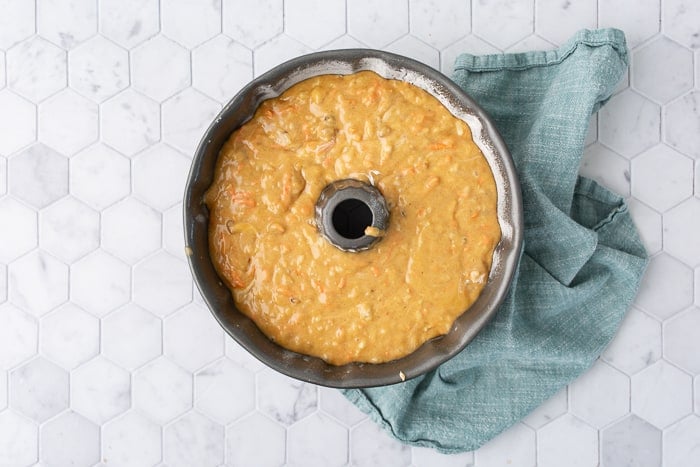 Let the cake cool in the pan before turning it out onto a wire rack.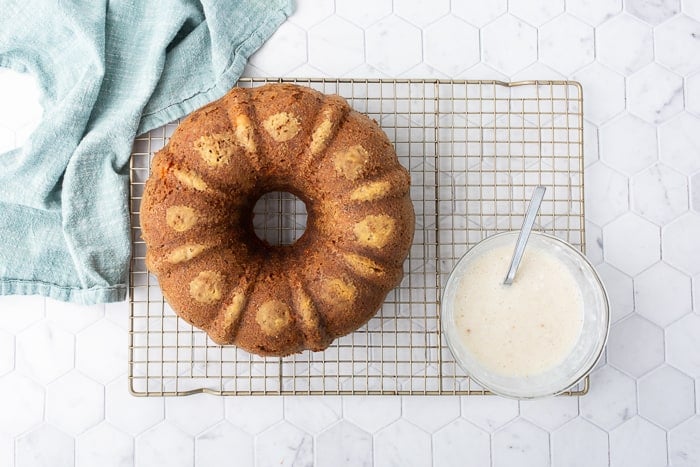 Make the vanilla glaze and drizzle over the cooled cake.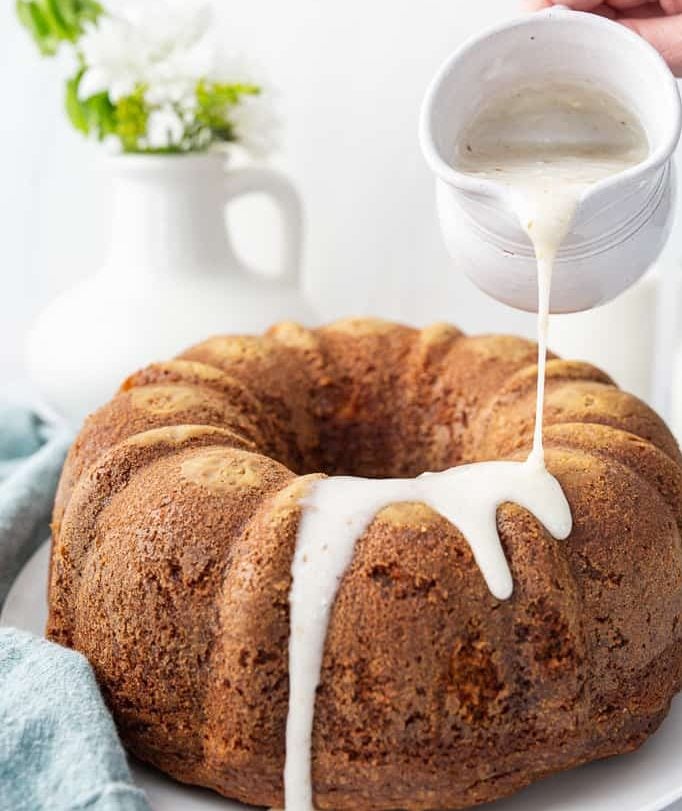 That's it! This is your classic carrot cake in a tender and moist bundt cake. I hope you give it a try this spring!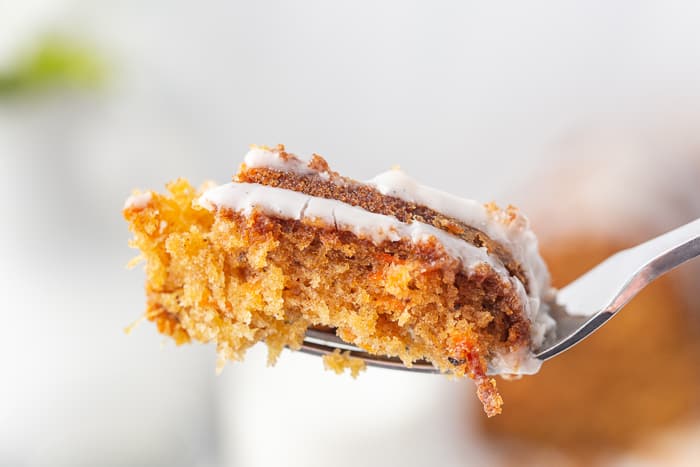 Here are some other carrot cake recipes you may like:
Happy Baking!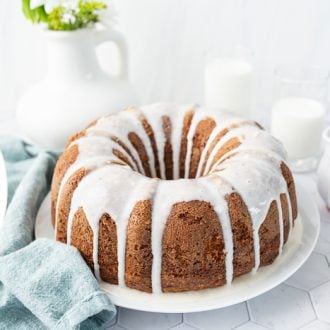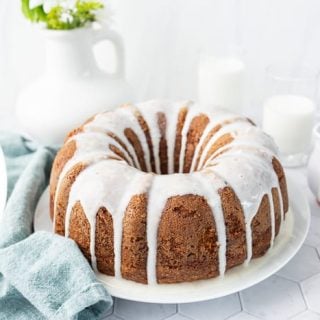 Yield: 1 large bundt cake
Carrot Bundt Cake
Super moist, spongy, easy to cut, and bakes perfectly every time! Filled with classic carrot cake ingredients such as shredded carrots, pineapple, and walnuts topped with vanilla bean glaze.
Cook Time
1 hour
15 minutes
Additional Time
30 minutes
Total Time
2 hours
5 minutes
Ingredients
2 cups granulated sugar
3 large eggs, at room temperature
1 1/2 cup vegetable oil
2 teaspoons pure vanilla extract
3 cups all-purpose flour
2 teaspoons baking soda
2 teaspoons ground cinnamon
1 teaspoon salt
2 cups grated carrots
13.5 ounces of canned crushed pineapple with juice
1 cup chopped walnuts
Vanilla Bean Glaze:
3 cups confectioner's sugar
1 teaspoon vanilla bean paste
1-2 Tablespoons milk
Instructions
Preheat the oven to 350 F. Grease a large bundt pan (~12 cups) with baking spray.
In a large bowl, cream the sugar, eggs, and oil until light and creamy, about 2-3 minutes, on medium speed. Beat in the vanilla extract.
Whisk together the flour, baking soda, cinnamon, and salt in a separate large bowl.
In two additions, add the flour mixture to the butter mixture, mixing until combined after each addition. The mixture will be a bit thick at this point.
Gently mix in the carrots, pineapple, and walnuts at low speed. The mixture should now resemble more of a batter.
Pour the batter into the prepared bundt pan and evenly smooth the surface.
Bake in the center of the oven for about 1 hour and 15 minutes, or until a cake tester inserted into the cake comes out almost clean. The cake should be firm but bouncy when pressed.
Remove from the oven and cool in the pan for about 15 minutes before flipping over onto a wire rack to cool completely before glazing.
To make the glaze: Whisk together the glaze ingredients in a medium-sized bowl, starting with 1 Tablespoon of milk and adding more as needed.
Drizzle the glaze over the cooled cake. Serve.
Notes
Substitutions & Add-ons: Raisins are a common ingredient in carrot cake and could be added with walnuts. Other nuts are also delicious. Instead of walnuts try pistachios, almonds, or pecans.  
Storage: Carrot cake will last about a week on the countertop covered, longer if refrigerated. 
Recommended Products
As an Amazon Associate and member of other affiliate programs, I earn from qualifying purchases.