Carrot Cake Cupcakes with Mascarpone Cream Cheese Frosting
Take classic moist carrot cake cupcakes and top them with a creamier and slightly sweeter mascarpone cream cheese frosting and you will have a whole new Spring favorite!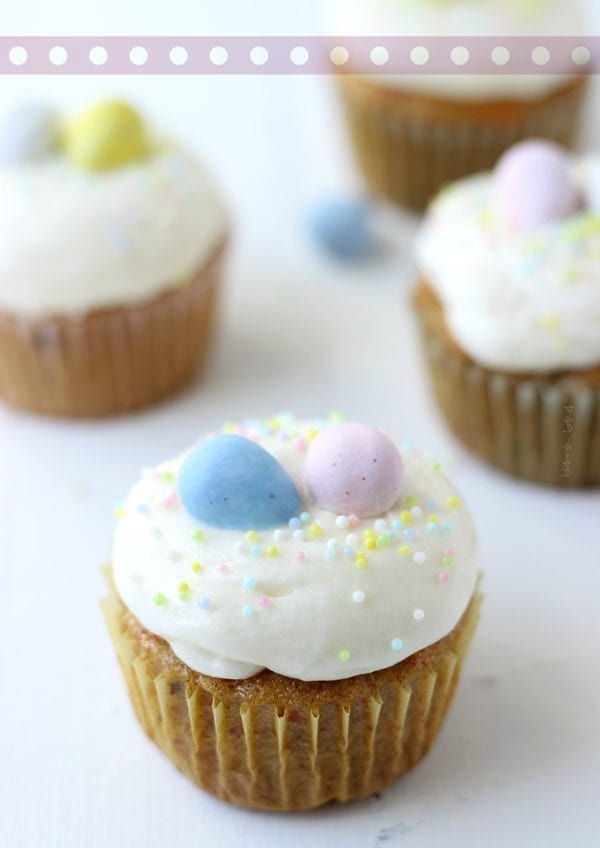 It was a long and hard wait but I had to hold off on the carrot cake until the breeze finally started feeling like Spring!! It's 60 today wooot woot woot! And after two thunderstorms, it's starting to smell like Spring. I start indulging in carrot cake as soon as the spring air arrives. It's just a Spring thing. Although it is also a fall thing. Hmmmmm might be a year round thing then. I guess I just love carrot cake!!
It's a shame that I don't have a single recipe on the blog though. The problem is I am very picky when it comes to carrot cake recipes and I have been on the hunt for the perfect one for a while. They have to be moist (duh), have the perfect amount of carrots but not too much where it tastes like just strings of carrot, they can't be too sweet, and there needs to be some crunch in there, and of course be topped with cream cheese frosting. See? Told you I was picky. Needless to say, I have found it. These carrot cake cupcakes with mascarpone cream cheese frosting are not only a twist on the classic, they are also all of the above! Moist, with the perfect ratio of carrot to cake, not too sweet, with a little bit of crunch and are topped with a slightly less tangy cream cheese frosting.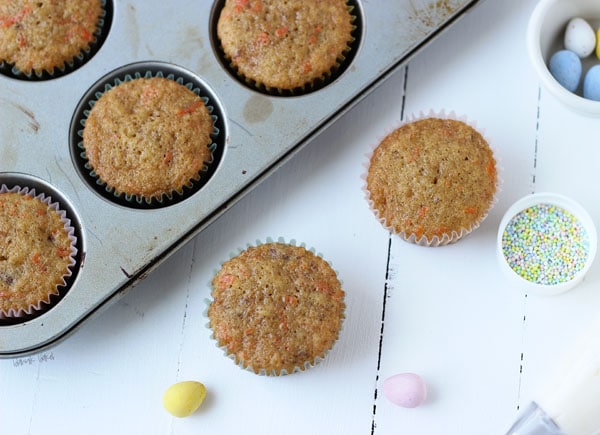 I found this recipe on Joy the Baker and I hardly had to alter it. I was pleasantly surprised how the cupcakes turned out to be the perfect carrot cake cupcakes I love from my local bakery. And you know what? They are so easy to make to. It's a one bowl mixing process. No mixer involved. Just your muscles. Look how beautiful they look above when they come out of the oven? See the ratio of carrots to cake?? Yup, that's how I like it!!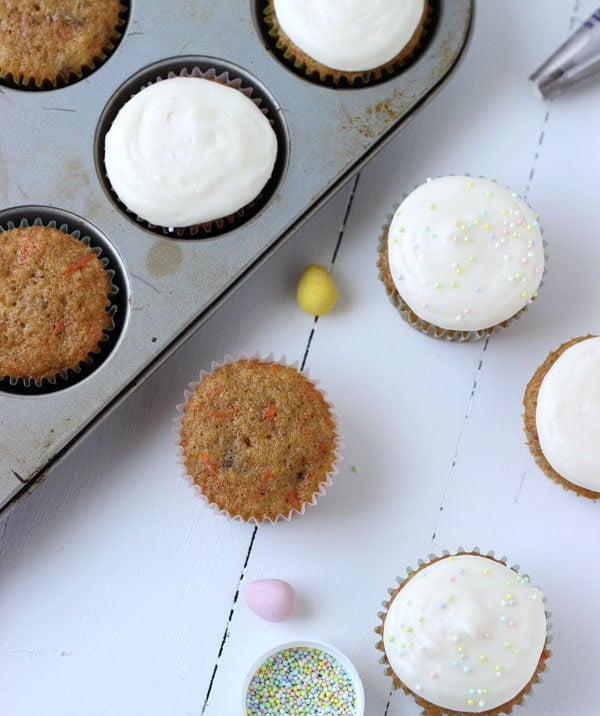 I topped the carrot cake cupcakes with mascarpone cream cheese frosting because mascarpone is creamier and slightly sweeter than cream cheese making the frosting just so much more delicious. As an avid cupcake frosting swirlier, traditional cream cheese frosting is a nemesis. I dislike it from that point of view but it tastes so good and you CANNOT have carrot cake without it so I just dolloped it on top. Thank God for sprinkles!! And festive Easter eggs 🙂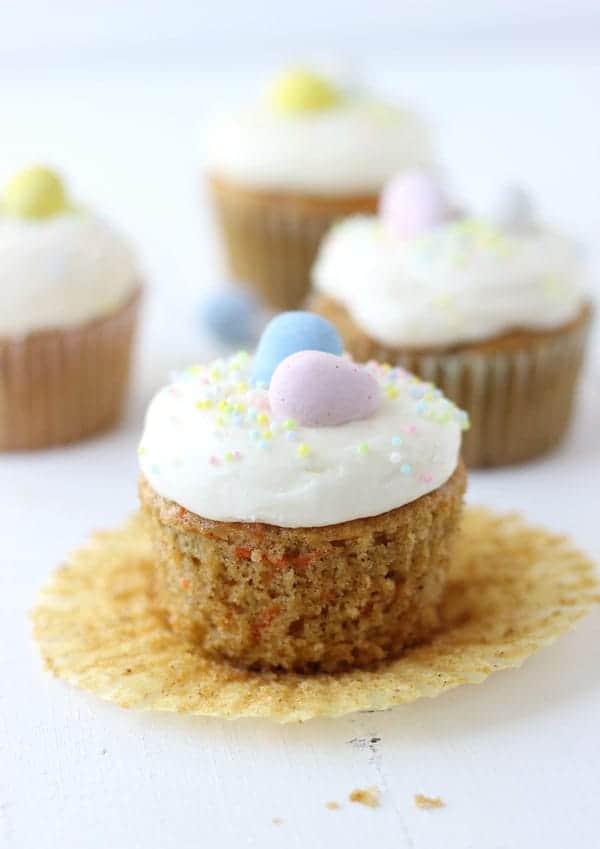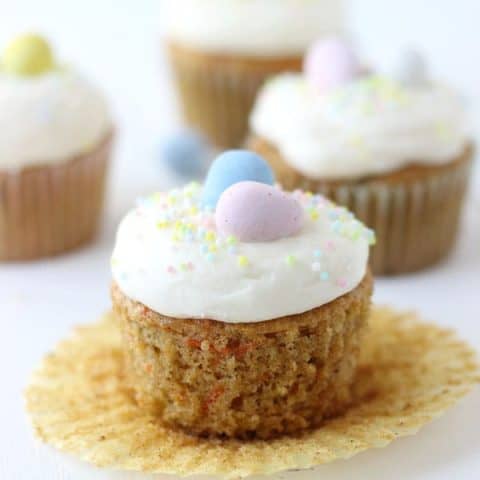 Yield: 15 cupcakes
Carrot Cake Cupcakes with Mascarpone Cream Cheese Frosting
Take classic moist carrot cake cupcakes and top them with a creamier and slightly sweeter mascarpone cream cheese frosting and you will have a whole new Spring favorite!
Prep Time 30 minutes
Cook Time 23 minutes
Total Time 53 minutes
Ingredients
Carrot Cake Cupcakes
2 cups carrots, peeled and finely processed or grated
2 large eggs, slightly beaten
1 cup granulated sugar
¾ cup vegetable oil
2 tablespoons buttermilk
1 teaspoon pure vanilla extract
¼ cup crushed pineapple, drained
½ cup chopped pecans or walnuts
¼ cup dried cranberries
1 ½ cups all-purpose flour
1 teaspoons baking powder
½ teaspoon baking soda
½ teaspoon salt
½ teaspoon ground cinnamon
½ teaspoon ground ginger
a pinch of teaspoon ground cloves
Mascarpone Cream Cheese Frosting:
6 ounces cream cheese, softened
½ cup (1 stick) unsalted butter, softened
½ cup mascarpone cheese, softened
1 teaspoon vanilla extract
pinch of salt
4-5 cups powdered sugar
2-4 tablespoons milk, depending on your desired consistency
Instructions
Preheat oven to 350 degrees F. Line 2 muffin tins with cupcake liners and set aside.
In a medium bowl, mix together the carrots, eggs, sugar, oil, buttermilk, vanilla, pineapple, dried cranberries and nuts.
In another bowl, whisk together the dry ingredients (flour, baking powder, baking soda, salt, cinnamon, ginger and cloves)
Add the dry ingredients all at once into the wet ingredients and mix until just combined and there are no flour clumps.
Divide batter into prepared cupcake liners, filling each about ¾ full. Bake cupcakes until a toothpick inserted into the center comes out clean, 20-23 minutes, rotating halfway through baking. Remove cupcakes from oven and let cool in pans for 10 minutes before turning out onto cooling racks and cooling completing before frosting.
For Frosting: Beat the cream cheese on medium speed until soft and creamy, about 3 minutes on medium speed. Add the butter and mascarpone cheese and beat on low until well combined. Then increase speed to medium and beat for 1 minute. Add the rest of the ingredients and beat on low speed until combined. Add more milk to reach your desired consistency.
Frost cooled cupcakes.
Store cupcakes in refrigerator until ready to serve.
Quick note before we head out for the weekend: Over the next couple of weeks, things are going to get busy for me in lab. I gotta finish experiments for a paper and write said paper by end of this month for publication and once we get to May, I have my annual seminar presentation to my department. All that just means I'll be baking and blogging less and nerding more. But don't you worry, a few of my blogging BFFs have already volunteered to take good care of you with some delicious recipes!