Key Lime Parfait with Coconut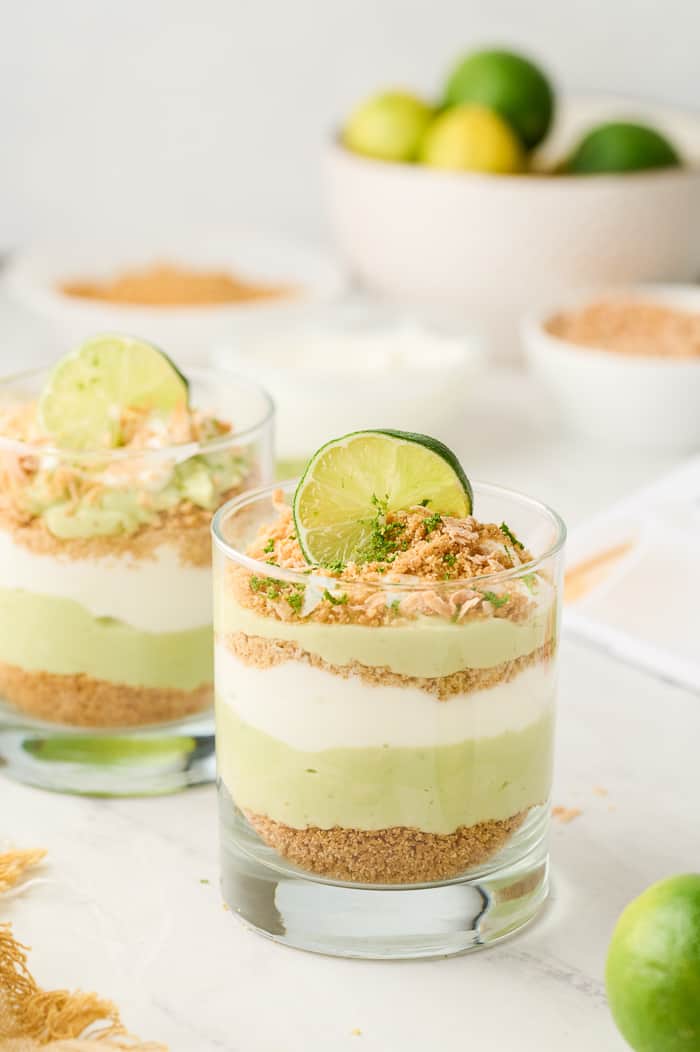 This key lime parfait recipe is sponsored by Half and Half food magazine. All opinions are mine. Thank you for supporting the brands I love and who make it possible for me to continue creating recipes for you!
Hey there friends! When was the last time you had a delicious parfait? I'm not talking about the kind you buy at the grocery store or coffee shop. I'm talking about that homemade delectable layered dessert that is refreshing and delicious?
Never made your own?!
Well, here is your sign that this Key Lime Parfait with Coconut is just what you need this spring and summer season to keep you cool and your taste buds buzzing.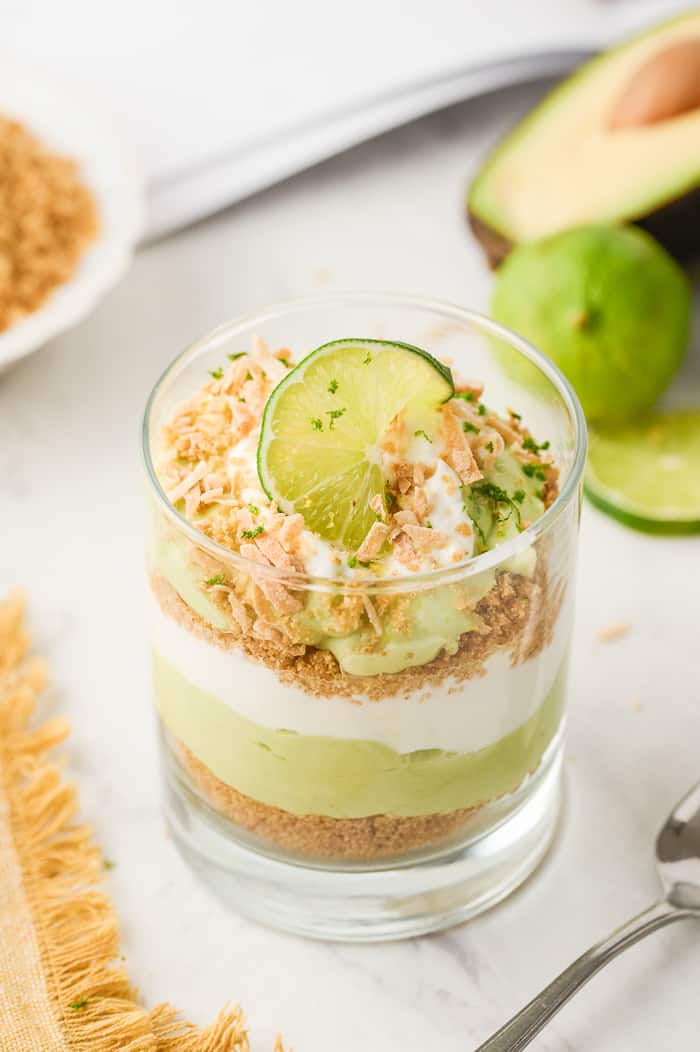 I admit that throughout my baking journey a parfait is not something I normally would be drawn to, but this Key Lime Parfait with Coconut in the newest issue of Half & Half Magazine caught my eye and I had to try it. Every issue of Half & Half magazine is full of beautiful eye-catching recipes, all seasonal and it is like getting a new cookbook every season filled with stories from dairy farmers. If you haven't yet, definitely check them out and use my code ACTSpring22 to get 50% off your subscription, that's just $17.50 a year to have a seasonal cookbook delivered straight to your door!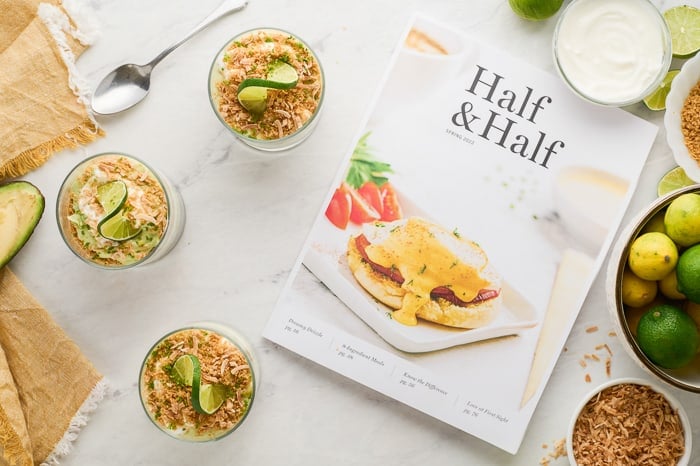 Don't know what a parfait actually is? Well, it's a French layered dessert traditionally including a custard along with syrup and fruits.
This recipe has a graham cracker base sweetened with maple syrup that brings a sweet and almost caramel-style flavoring to your dessert. Instead of using the classic custard, there is a key lime mousse made with avocado and key limes that are naturally sweetened with maple syrup.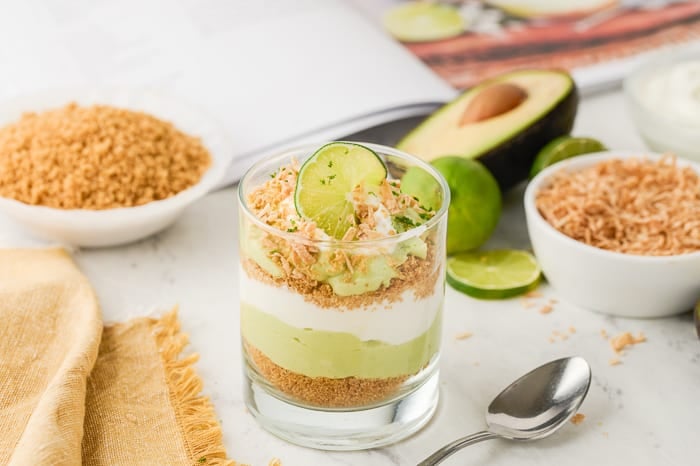 You are probably wondering where the tropical component comes into play; coconut. Well, we use toasted coconut flakes and coconut yogurt in between the layers to balance out the citrusy key lime flavor. It is such a delightful combination!
Now that I have your attention; let's get to assembling our Key Lime Parfait with Coconut. If you don't want to see the step-by-step now, simply scroll to the bottom for the full recipe.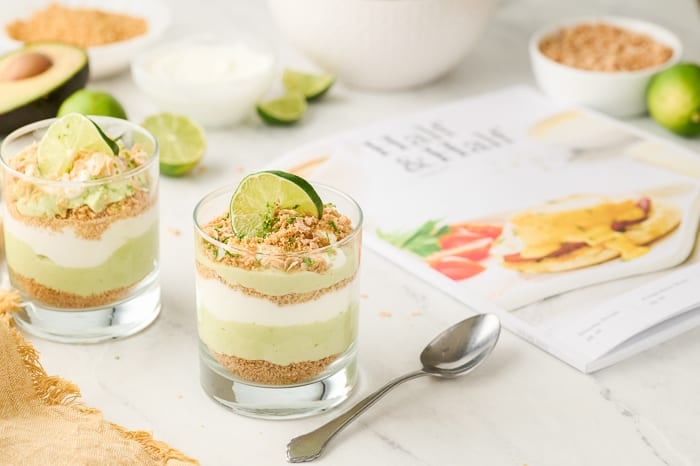 We will start with the graham cracker crumble.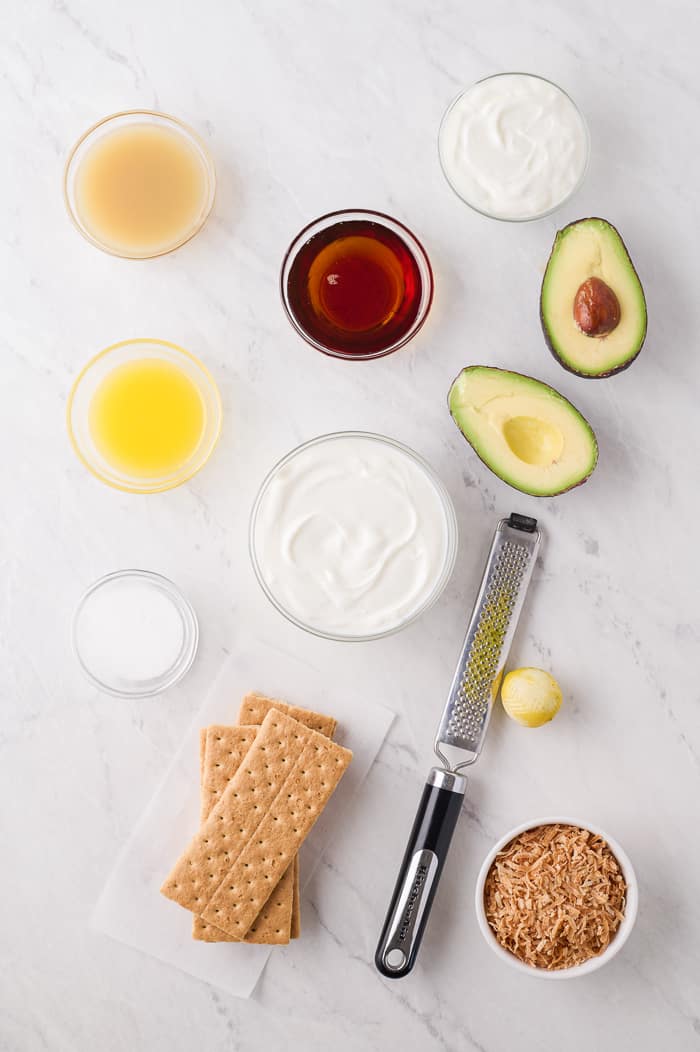 Add your graham crackers into a food processor and pulse till finely crumbled. Add the rest of your ingredients and pulse to combine.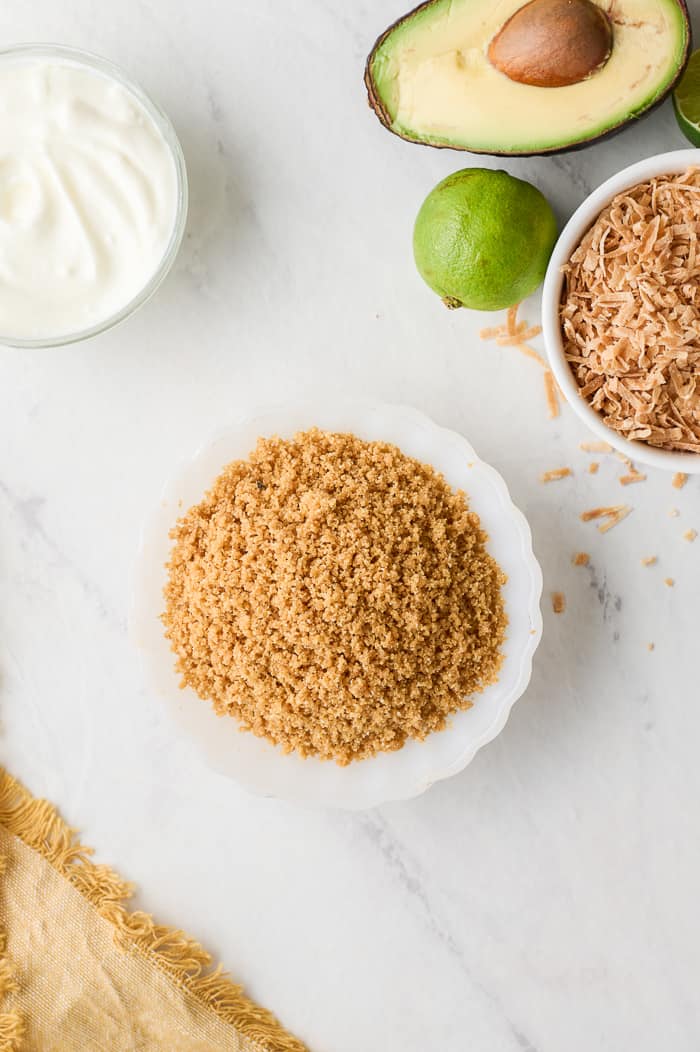 In your food processor, combine all ingredients for the Key Lime Mousse and blend until smooth.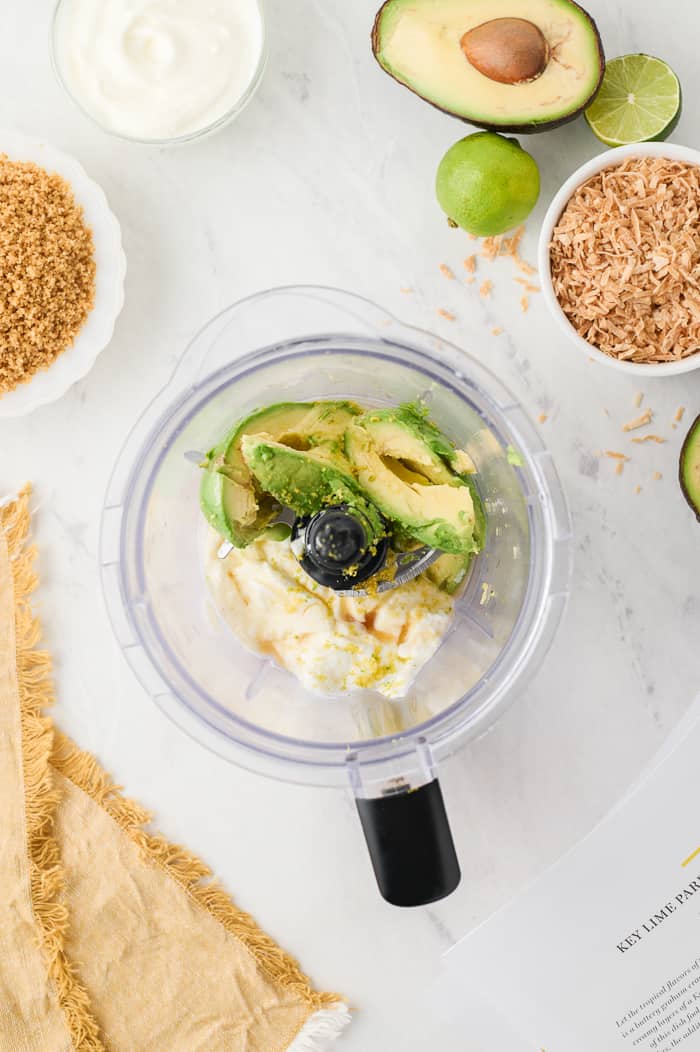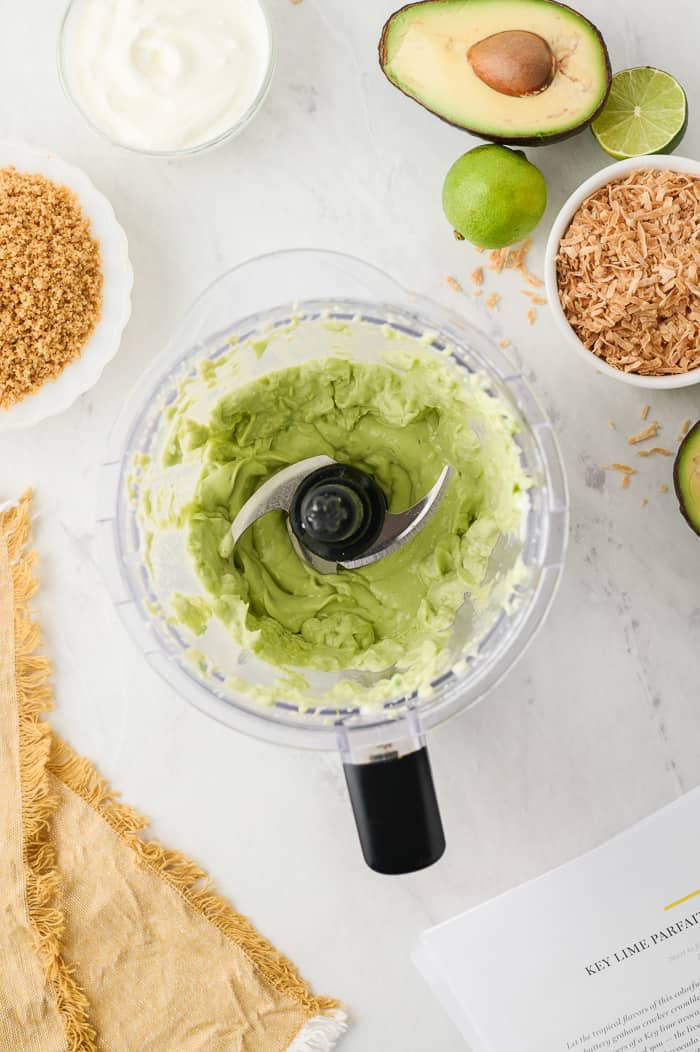 To assemble your parfait, add the graham cracker crumble to the bottom of each of your parfait dishes. Make sure it is packed down firmly.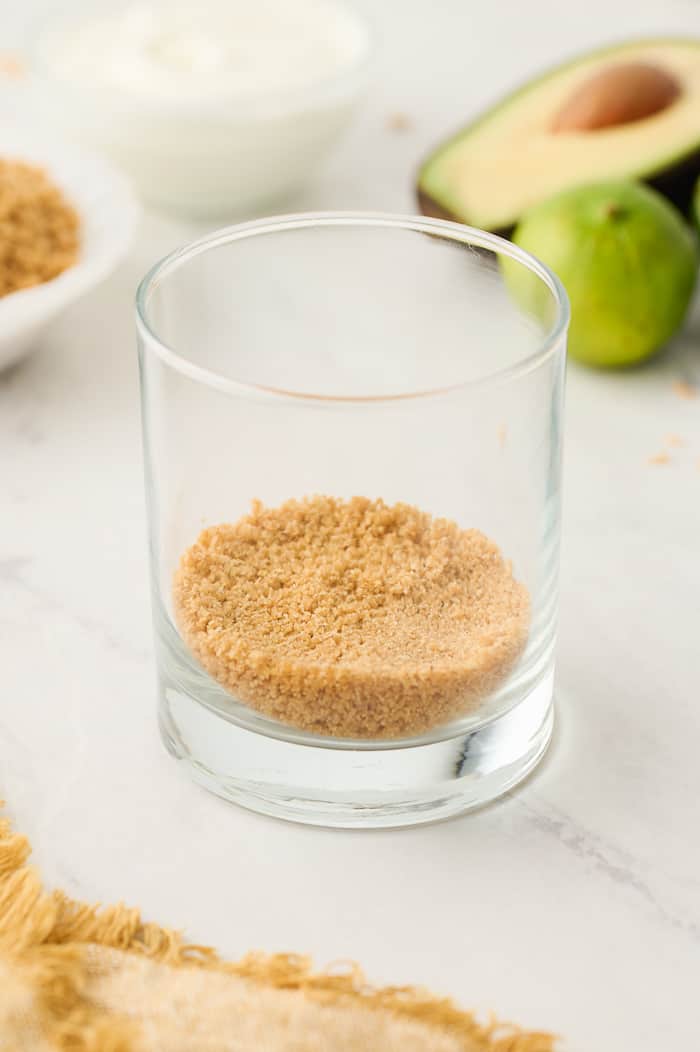 All we have to do now is alternate layering the key lime mousse and coconut flavored yogurt until your dish is full.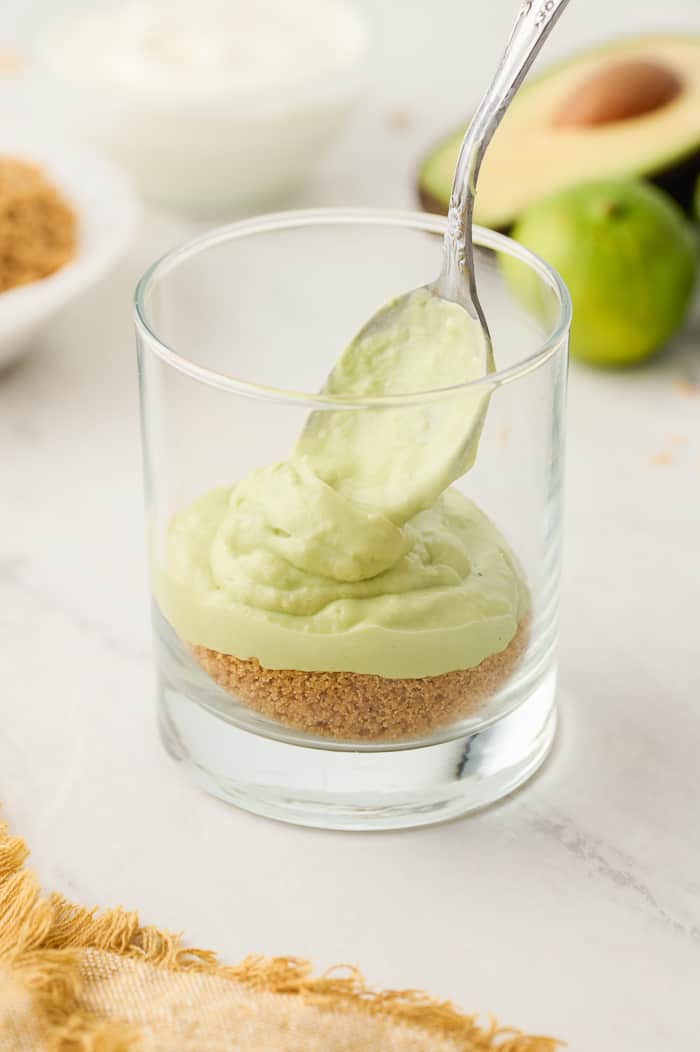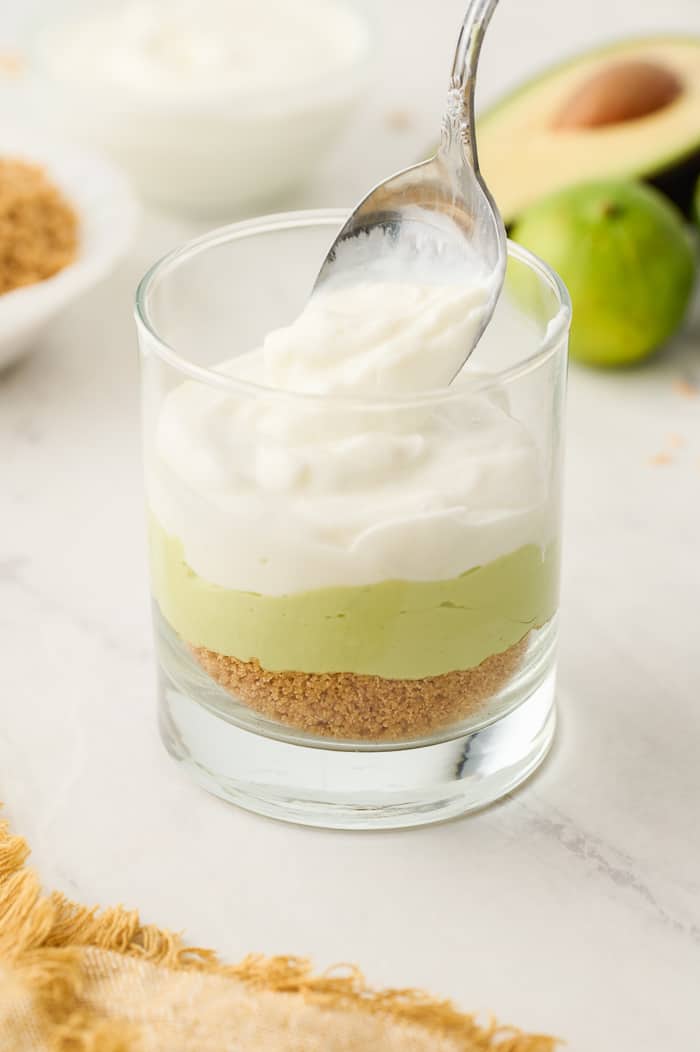 Garnish with toasted coconut, lime zest, and any leftover graham cracker crumble if you have some leftover.
Put your filled parfait dishes into your fridge and chill until ready to serve. This dessert needs to be cold so make sure to keep any leftovers in the fridge.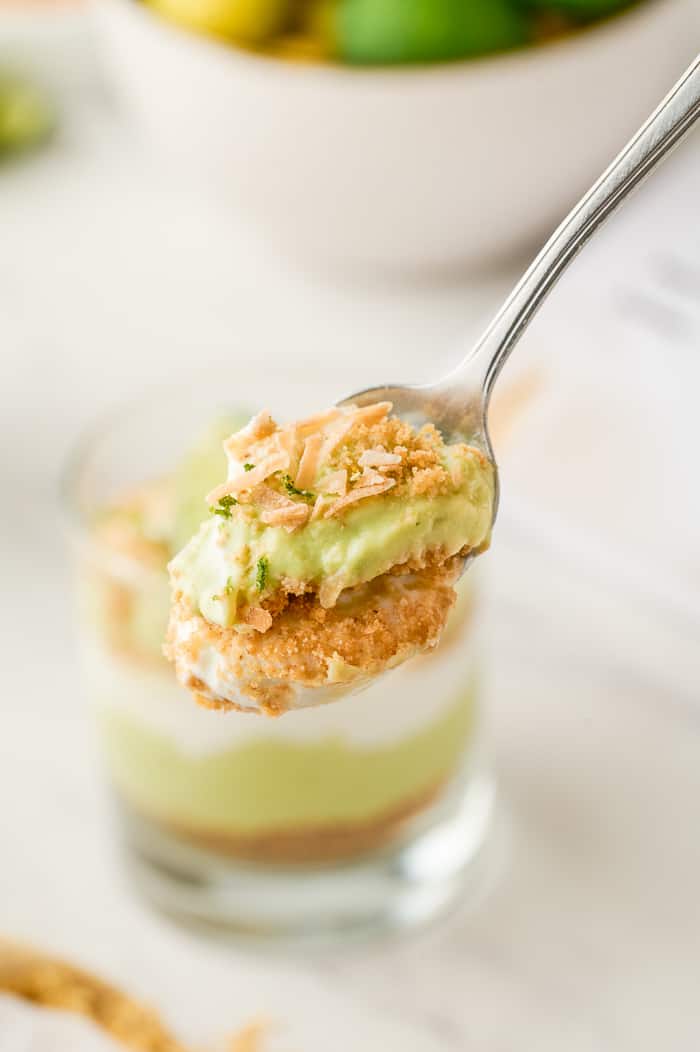 That's all you need to do for a refreshing dessert that can be enjoyed for breakfast, as a snack, after-dinner dessert, at a party, or just as a pick-me-up.
Love this recipe?? Then you will love Half & Half magazine for you and your favorite foodie. Grab a subscription now and use the code ACTSpring22 for 50% off.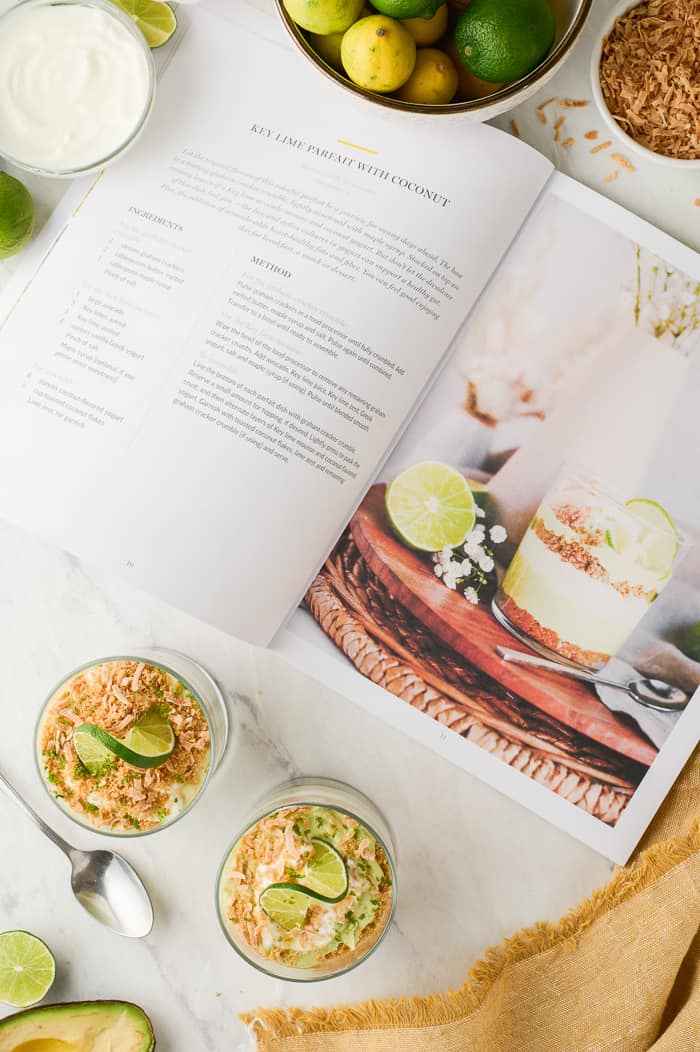 Can't get enough key lime? You might want to check out these other recipes with this wonderful ingredient on the blog. Find more key lime recipes here.
What do you think of this Key Lime Parfait with Coconut? Let me know in the comment section below. As always, if you share across social media make sure to tag me at #aclassictwist so I can see this recipe come to life in your home.
Happy baking everyone!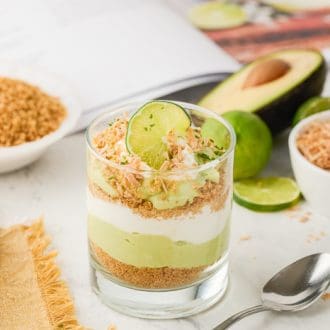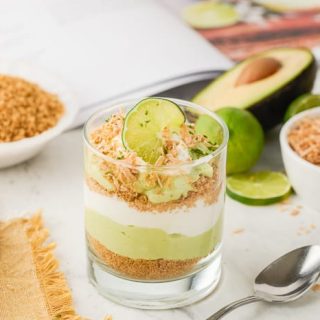 Yield: Serves 4
Key Lime Parfait with Coconut
The base is a buttery graham cracker crumble, lightly sweetened with maple syrup. Stacked on top are creamy layers of a Key lime avocado mousse and coconut yogurt.
Ingredients
For the graham cracker crumble:
2 sleeves graham crackers
2 tablespoons butter, melted
1 tablespoon maple syrup
Pinch of salt
For the Key lime mousse:
1 large avocado
3 Key limes, juiced
1 Key lime, zested
4 ounces vanilla Greek yogurt
Pinch of salt
Maple syrup (optional, if you prefer more sweetness)
For assembly:
8 ounces coconut-flavored yogurt
1/4 cup toasted coconut flakes
Lime zest, for garnish
Instructions
For the graham cracker crumble:
Pulse graham crackers in a food processor until fully crumbled.
Add melted butter, maple syrup, and salt. Pulse again until combined.
Transfer to a bowl until ready to assemble.
For the Key lime mousse:
Wipe the bowl of the food processor to remove any remaining graham cracker crumbs. Add avocado, Key lime juice, Key lime zest, Greek yogurt, salt, and maple syrup (if using).
Pulse until blended smooth.
To assemble:
Line the bottom of each parfait dish with graham cracker crumble. Reserve a small amount for topping, if desired.
Lightly press to pack the crust, and then alternate layers of Key lime mousse and coconut-flavored yogurt.
Garnish with toasted coconut flakes, lime zest, and remaining graham cracker crumble (if using) and serve.
Recommended Products
As an Amazon Associate and member of other affiliate programs, I earn from qualifying purchases.