Strawberry Bundt Cake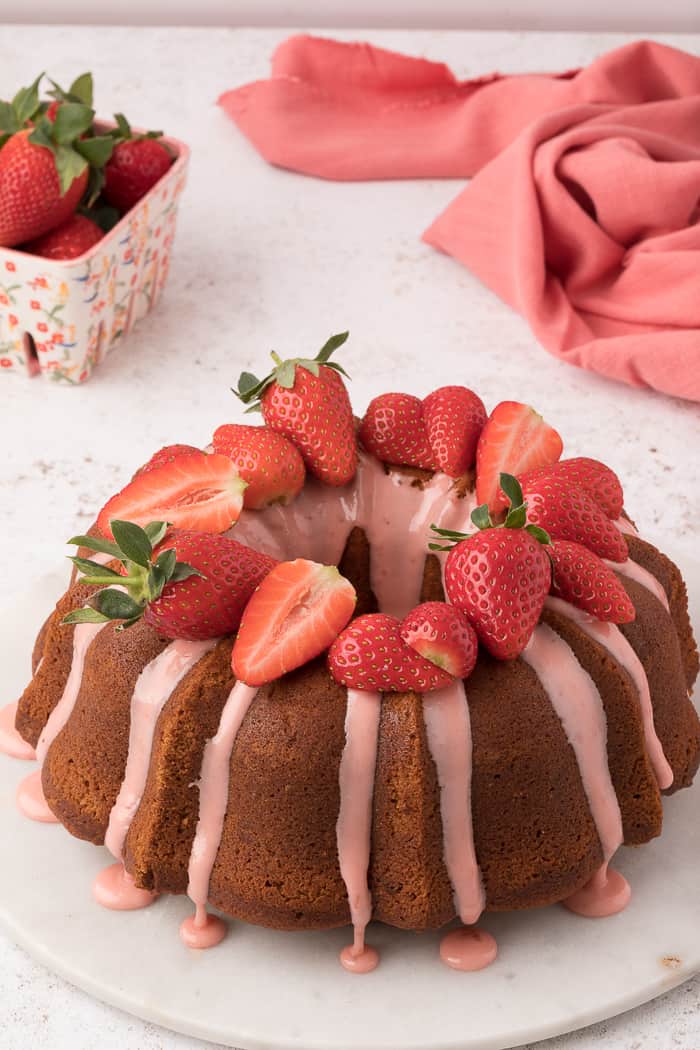 Hey there friends. I am hosting my very first tea party with friends and even though I am confident in my baking; this terrifies me. I presented the invitation as a "fancy" tea party to gather my closest girlfriends and catch up after almost three years. Inspired by a recent trip to England, an afternoon tea party seemed the perfect way to reconnect with my favorite ladies.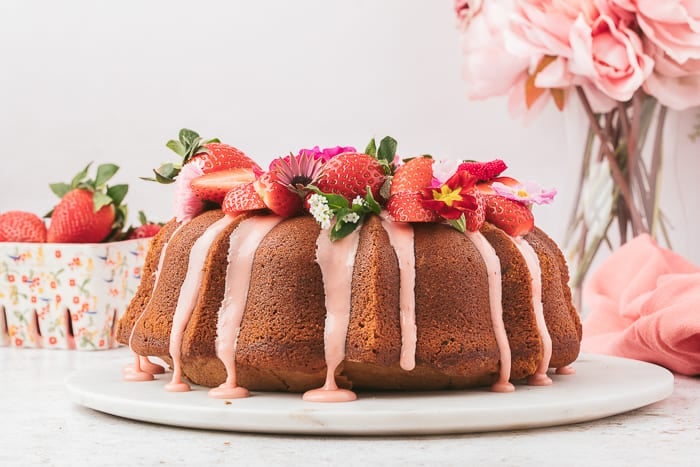 I already have my decor selected, and the main menu set but I was still in need of a dessert to serve with tea and coffee. I am serving this Brunch Charcuterie Board because it truly has something for everyone. While browsing through my recipes I came across a Bundt Cake and my mind started swirling with ideas. "How could I ramp up one of the recipes to cater to spring?"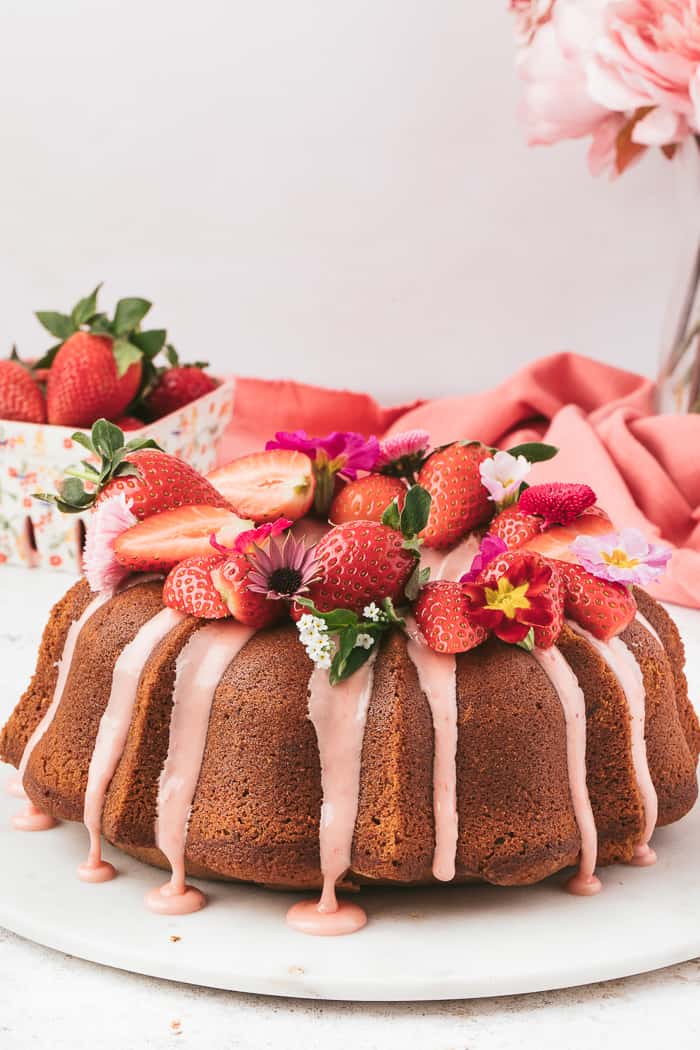 After some trial runs I landed on this Strawberry Bundt Cake. Strawberry season on the east coast begins in early May so these flavors sounded like a no-brainer. This Bundt Cake is denser than most sponge cakes but that allows it to hold its shape better once removed from the pan and a beautiful vessel for all your glaze, sauce, and toppings.
Diced fresh strawberries are infused with sugar and lemon to create your sauce which will actually be mixed right into your cake batter. Put a little aside for the end. This creates a beautiful pinkish/red color naturally flavored and colored. What could be better than that?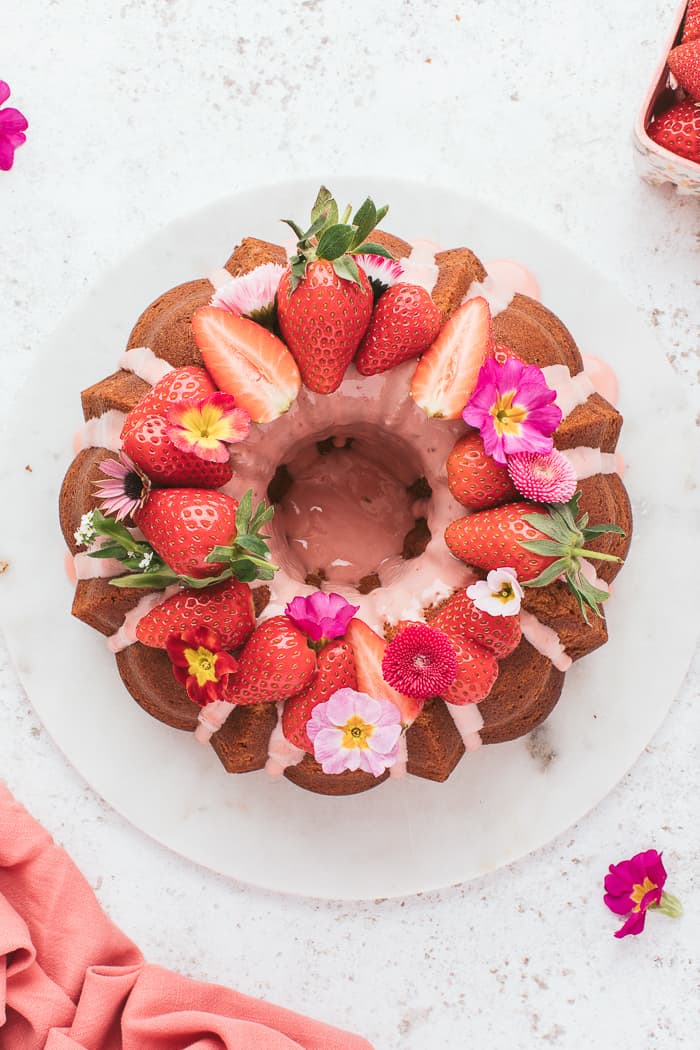 Once your Strawberry Bundt Cake is finished, allow it to cool fully prior to adding glaze and toppings. If the cake isn't cooled the toppings will make the cake flake (say that three times fast).
I love everything about this cake, but one of my favorite additions is the edible flowers on top. This not only makes the cake glorious to look at BUT it is a fun way to spark conversation with your friends and try something new (if you are new to the edible flower game like me). I just started using edible flowers and made another post; Edible Flower Ice Cubes to create a more festive beverage for spring. Make sure to add these right before you serve so they are vibrant and fresh. Check out the blog linked above for a list of edible flower ideas.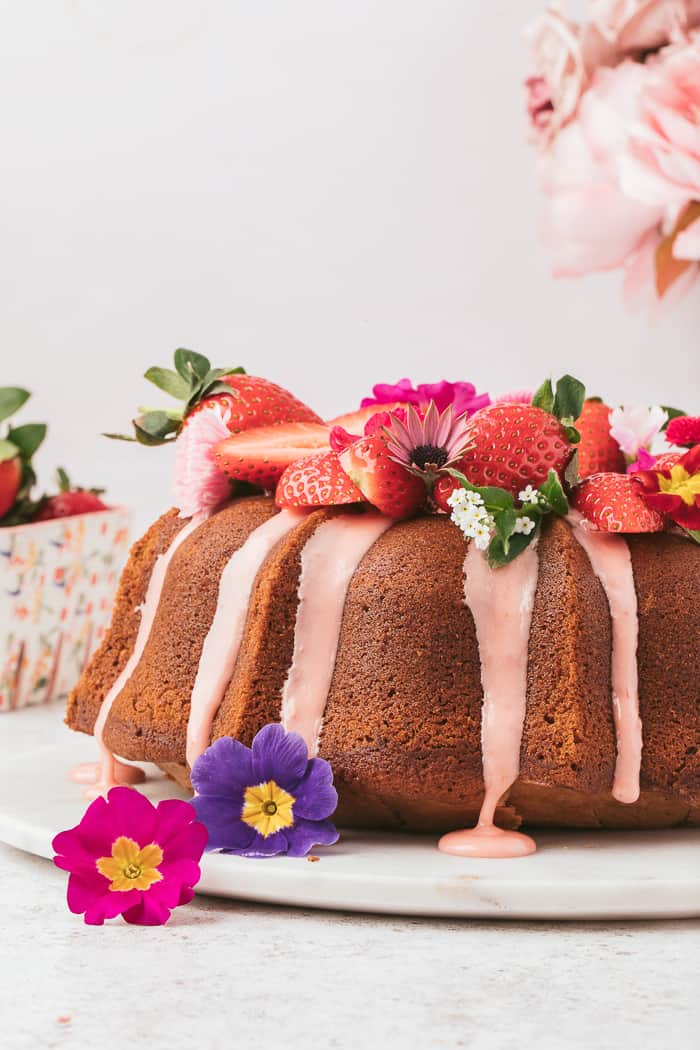 Top your Strawberry Bundt Cake with fresh chopped strawberries (I try to go directly to a farm and we enjoy picking our own but if you don't have a farm near you, the grocery store works just as well. Don't use frozen strawberries as they become mushy when thawed.)
I hope my guests are as excited as I am to enjoy all this delicious food. The bundt cake pairs perfectly with herbal tea, dark roast coffee, or champagne/mimosa. If you have any leftover strawberries you can cut them up or stick them onto your glass to keep the spirit of strawberries alive!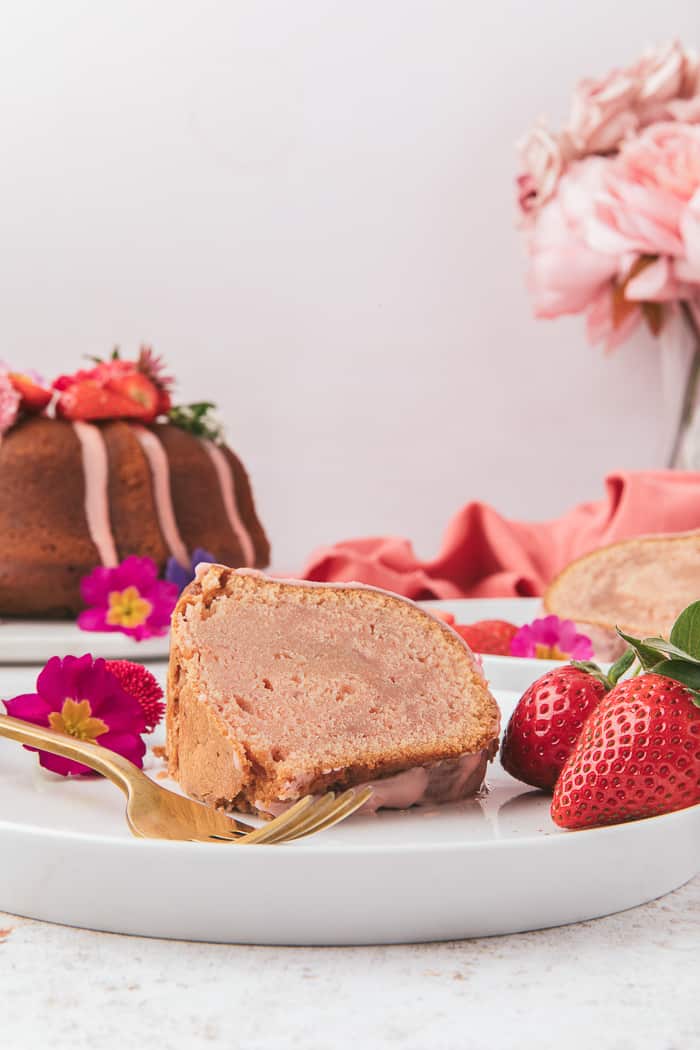 This recipe isn't strictly for spring! You can bake this at any time for any occasion. What do you think of this Strawberry Bundt Cake? Let me know in the comment section below.
If you share across social media, make sure to tag #aclassictwist so I can see this recipe come to life in your home.
Happy baking everyone :-).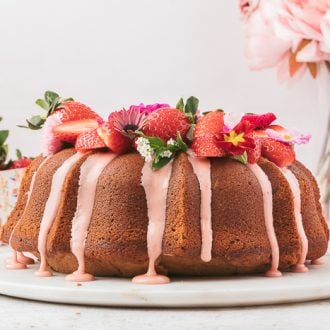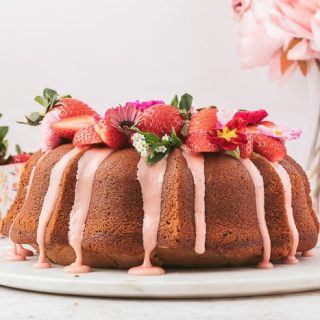 Yield: 15 cup Bundt Cake
Strawberry Bundt Cake
Strawberry Bundt Cake is the go-to dessert for the spring and summer seasons.
Total Time
1 hour
20 minutes
Ingredients
Strawberry Sauce
1 1/2 cups strawberries, chopped
1/4 cup granulated sugar
Juice of 1/2 lemon
For Cake
1 1/2 cups unsalted butter, softened
2 cups granulated sugar
1 cup dark brown sugar
5 large eggs, room temperature
2 teaspoons pure vanilla extract
3 cups cake flour, sifted
1 1/2 teaspoons baking powder
1/2 teaspoon salt
1 cup whole milk, room temperature
1/2 cup strawberry sauce (from above)
Strawberry Glaze
3 tablespoons strawberry sauce (from above)
2 cups powdered sugar
Juice of 1 lemon
Toppings
1 cup fresh strawberries
Selection of edible flowers
Instructions
Put the chopped strawberries, sugar, and lemon juice into a saucepan to make the strawberry sauce. Cook over medium-low heat, stirring until sugar dissolves, and then bring to a boil.
Turn down to a simmer and let cook for 10 minutes, stirring occasionally. Keep an eye on the sauce in case it burns. Remove from heat and let cool as you prepare the cake.
Preheat the oven to 325 degrees F. Grease a large bundt pan with baking spray and set aside.
In the bowl of a stand mixer fitted with the paddle attachment, cream together the butter and sugars on medium speed until light and creamy, about 2 -3 minutes.
Add the eggs one at a time, beating well between each addition and scraping down the sides of the bowl as needed. Then add the vanilla extract and beat until combined.
Whisk together the flour, baking powder, and salt in a separate large bowl.
Alternate the flour mixture and milk, beginning and ending with the flour, beating until combined after each addition. Be careful not to over mix.
From the cooled sauce, set aside 3 tablespoons for the glaze. Add 1/2 cup strawberry sauce to the batter and gently mix on a low speed until the mixture is an even color.
Spoon the cake batter into the prepared bundt pan, and smooth the top to be even.
Bake cake until a toothpick inserted into the center of the cake comes out clean, about an hour.
Leave the cake to cool in the bundt pan for at least 10 minutes before inverting it onto a wire rack. Allow cool.
Combine the reserved strawberry sauce, powdered sugar, and lemon juice with a whisk to make the strawberry glaze. Beat until smooth. It should be a pourable consistency and not too runny. If it's too thick, add more lemon juice; if it's too thick, add more powdered sugar.
Pour the strawberry glaze over the cooled bundt cake. Top with strawberries, slice, and serve.
Notes
This recipe is for a dense crumb bundt cake. It holds its shape very well and is easy to remove from a bundt pan. The cake is moist but not light and fluffy like a regular sponge cake.
The addition of the eggs makes this a very rich and flavorful cake.
We used cake flour as it lends itself to a more tender crumb. However, you can use plain all-purpose flour if that's all you have.
You can substitute the fresh strawberries in the sauce with strawberry preserve.
Please only use decorative flowers you know are edible.
Storage: Store in an airtight container at room temperature for up to 3 days.
Recommended Products
As an Amazon Associate and member of other affiliate programs, I earn from qualifying purchases.