Apple Cinnamon Waffles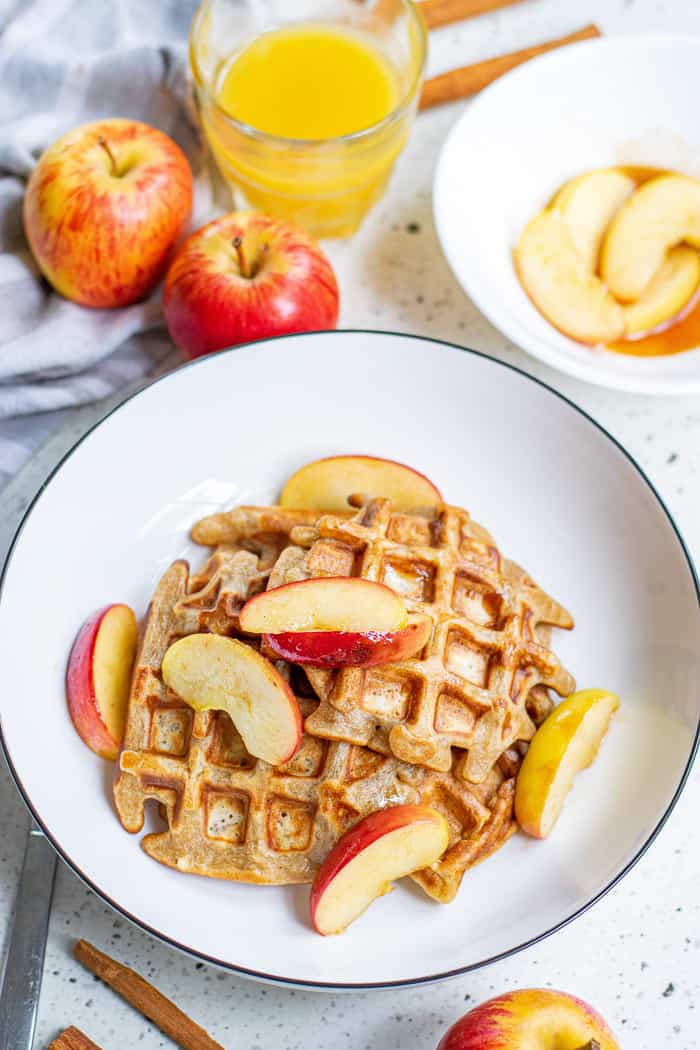 Hey there friends! I have a new recipe for you all! These apple cinnamon waffles are my go-to for homemade waffles and my kids adore them!
As a mom (and a foodie) I try my hardest to plan my meals while also ensuring my family is eating healthy meals in between taste-testing my long list of sweets. Breakfast is the biggest challenge of the day. Alarms going off and everyone hitting that snooze button, fighting for the showers, making sure their outfits are ready, and finally trying to feed them something nutritious with the little time we have left.
What if I told you that you could make a delicious and healthy breakfast in under 30 minutes? These Apple Cinnamon Waffles are super fluffy and super easy (that is definitely a plus!). You can create these with an array of different apple varieties. I personally like to bake with Cortland or Sweet Lady apples because of the unique mix of sweet and tart flavors, but you can use Jonagold, Braeburn, Honeycrisp, or any you prefer. Now include the cinnamon and you are in for a real treat. Cinnamon and apples go together like chocolate and peanut butter. You can't have one without the other.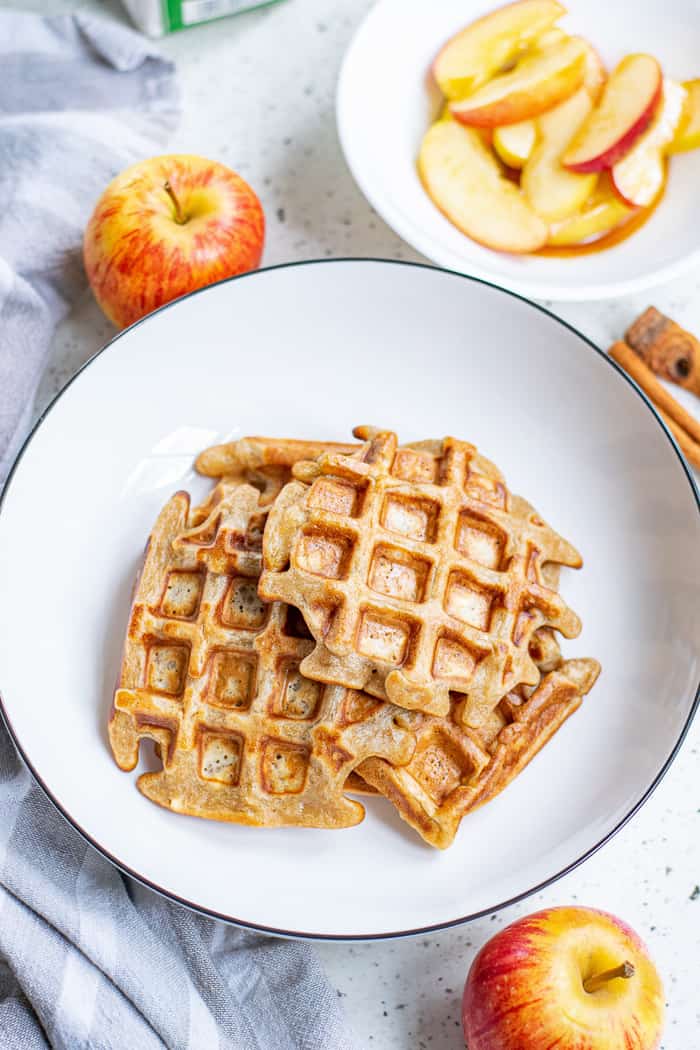 The added applesauce helps to keep the batter moist so you can enjoy these without any toppings if you choose. Even if you heat them back up they still stay fluffy till the last waffle is devoured.
These waffles are super tender and fluffy on the inside but sturdy enough to hold up to your favorite breakfast toppings of whipped cream, butter, syrup, or fruit spread. I've served them with cooked apples on top before. So good!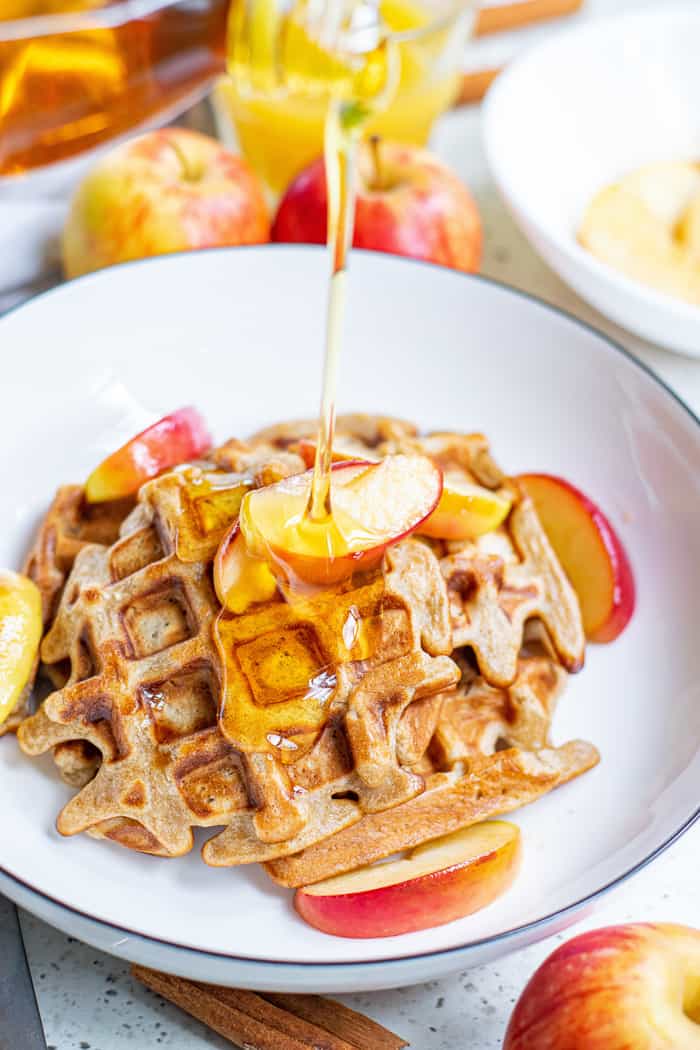 If your family doesn't really like the taste of apples OR you don't have any laying around; there are so many other ingredients you can substitute them for.
These waffles can be a seasonal treat by using pumpkin instead of applesauce. I also have tried pears, dried fruits, and a variety of berries. This past weekend I switched it up by adding chocolate chips with nuts and my kids were practically throwing their plates at me for seconds.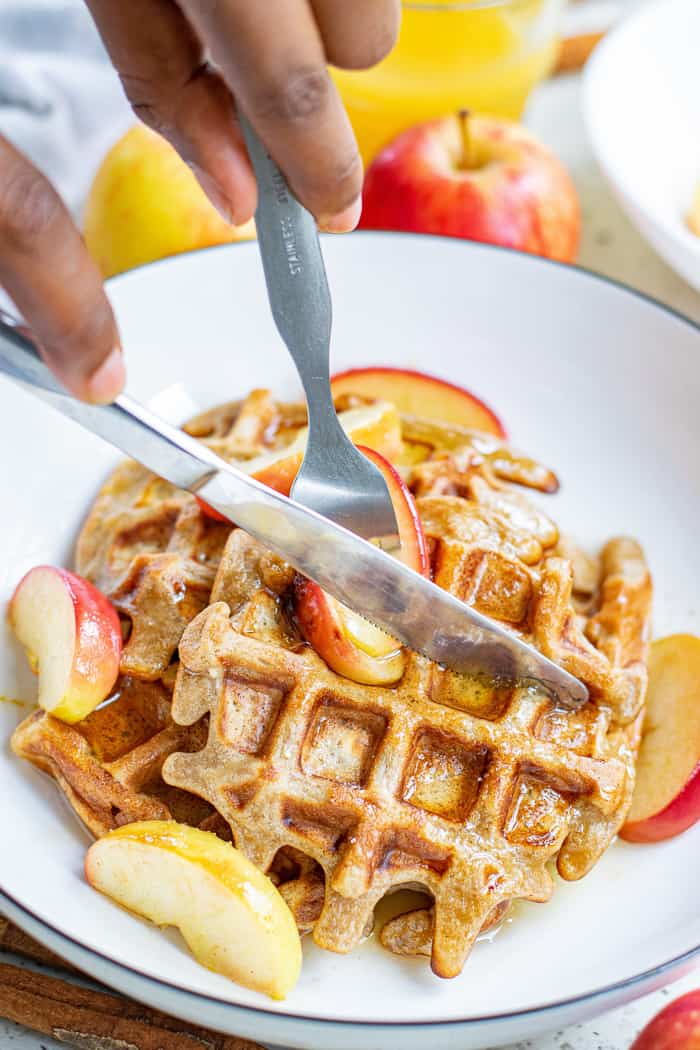 These Apple Cinnamon Waffles can also be made vegan by eliminating the egg and adding add 1 tablespoon of vegetable oil or more applesauce. Whoever said vegan recipes had to be boring am I right? Basically, this recipe appeals to everyone because it's so versatile. Oh and yes they freeze well. Just store them in airtight zip locks and serve them on those busy mornings.
If you love to enjoy a delectable family meal first thing in the morning or have some extra littles roaming around the house then check out my Brunch Charcuterie Board, Chicken, and Waffles, or Blueberry Lemon Sweet Rolls.
However you decide to enjoy your Apple Cinnamon Waffles, I hope it puts a big smile on your face and fills your belly for the day ahead.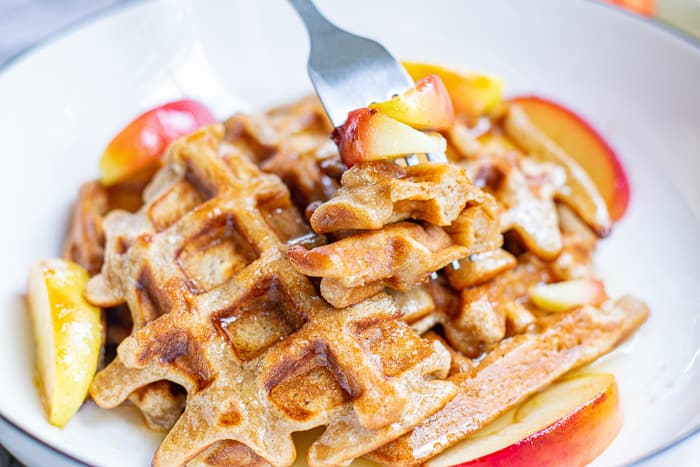 What do you think of this recipe? Would you change anything? Let me know in the comment section below. As always, if you share across social media make sure to tag #aclassictwist so I can see your beautiful creation come to life.
Happy baking friends.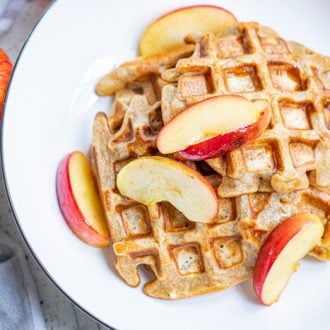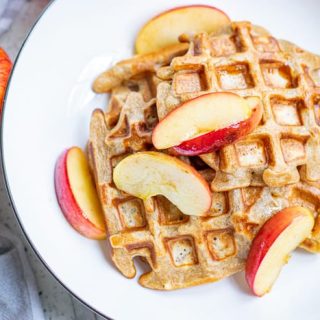 Yield: 6 waffles
Apple Cinnamon Waffles
Delicious and crisp apples and cinnamon come together to make the perfect breakfast recipe. These Apple Cinnamon Waffles are fluffy, easy to whip up, and will fill your family's craving.
Ingredients
2 cups all-purpose flour
1 teaspoon baking powder
½ teaspoon baking soda
2 tablespoons granulated sugar
1 teaspoon ground cinnamon
½ teaspoon nutmeg
2 small apples, grated (Rome or Pink Lady)
½ tablespoon pure vanilla extract
1 large egg
1 ½ cups whole milk
⅓ cup apple sauce
Apple Cinnamon Toppings:
1 teaspoon unsalted butter
2 small apples, cut in cubes, seeds removed
½ teaspoon ground cinnamon
Maple syrup
Instructions
In a large bowl, add flour, baking powder, baking soda, granulated sugar, cinnamon, nutmeg, and apples. Whisk until grated apples are coated with flour.
Add vanilla extract, egg, milk, and applesauce. Combine until a batter forms. Let rest for 5 minutes.
In the meantime, preheat the waffle iron. Once ready, spray with non-stick oil or brush with oil.
Pour ½ cup batter, more or less depending on the size of your waffle iron. Don't overload the waffle iron so the batter does not run outside. Follow manufacturer instructions for the cooking time. Mine took more than 5 minutes to cook. Waffles should be golden brown.
Remove carefully with a fork or tongs and place on a serving plate. Repeat the same step until no more batter is left.
Apple Cinnamon Topping: Heat a small pan on medium heat. Melt butter then add apple, cinnamon, and maple syrup. Cook for about 30 seconds to 1 minute depending on how soft you like the apples.
Serve with your favorite toppings.