Chicken and Waffles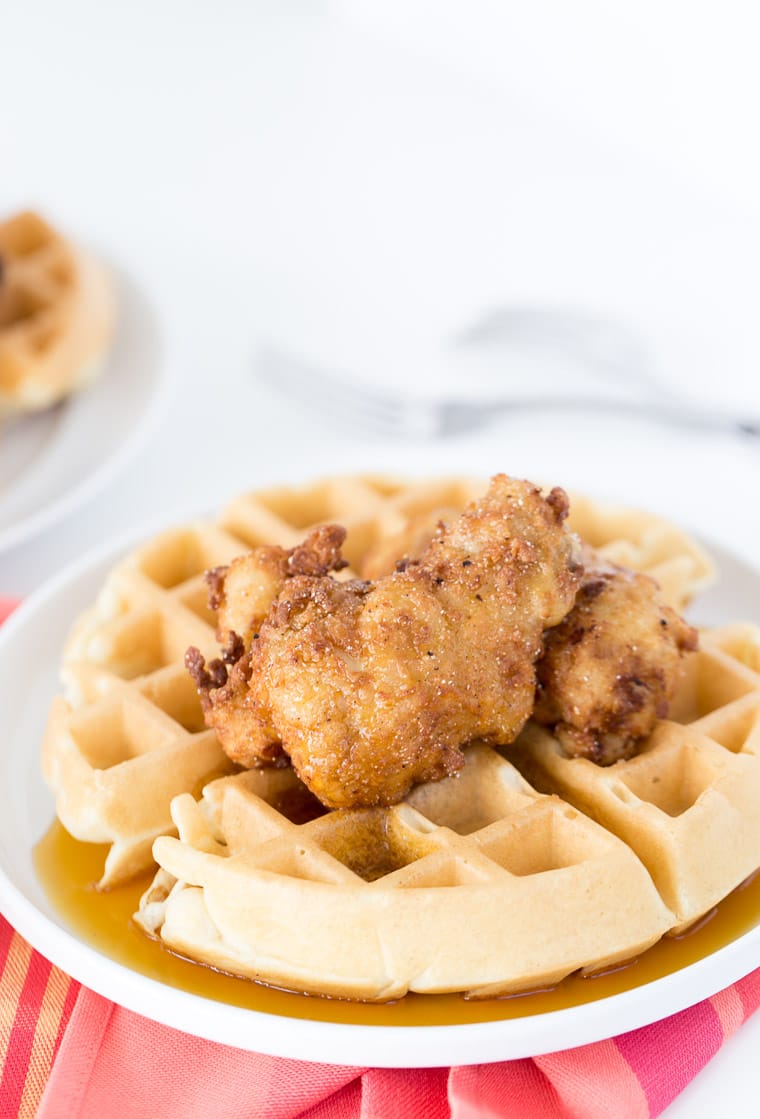 You guys, I made chicken and waffles!! And it is crazy good and just what every brunch you are hosting needs. Like, seriously!!! I was amazed at how good it turned out. But that was because it was the first time I made fried chicken at home. Can you believe that? I've never made fried chicken in my life.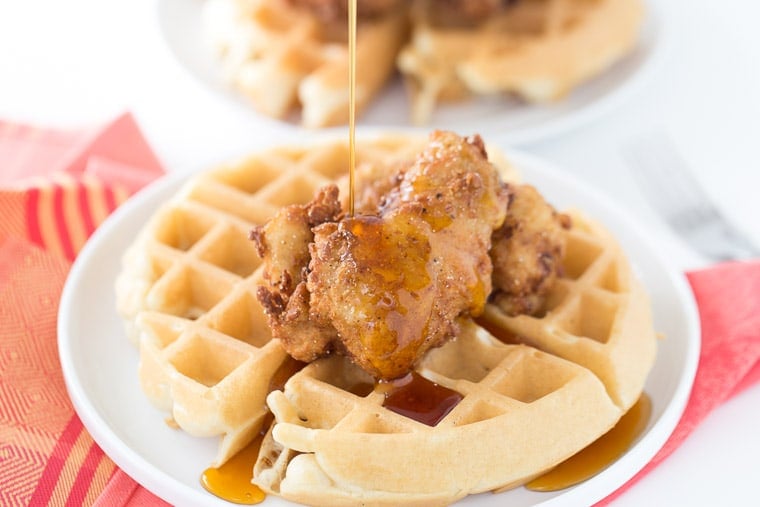 When Kitchenaid asked for a chicken and waffles recipe for my brunch series on their blog, I knew it was time to heat up my frying pans. I remembered I had a clipping from an old Southern Living magazine for classic fried chicken recipe and I adapted that here. The fried chicken is the star in this recipe. The soft buttermilk waffles are good too but it's the chicken that will leave you licking your fingers.
Soaked or brined in buttermilk and maple syrup, the chicken is tossed in a spiced flour mixture with cornmeal and chili pepper. Fried to perfection, its moist on the inside and crispy good on the outside. I am in LOVE.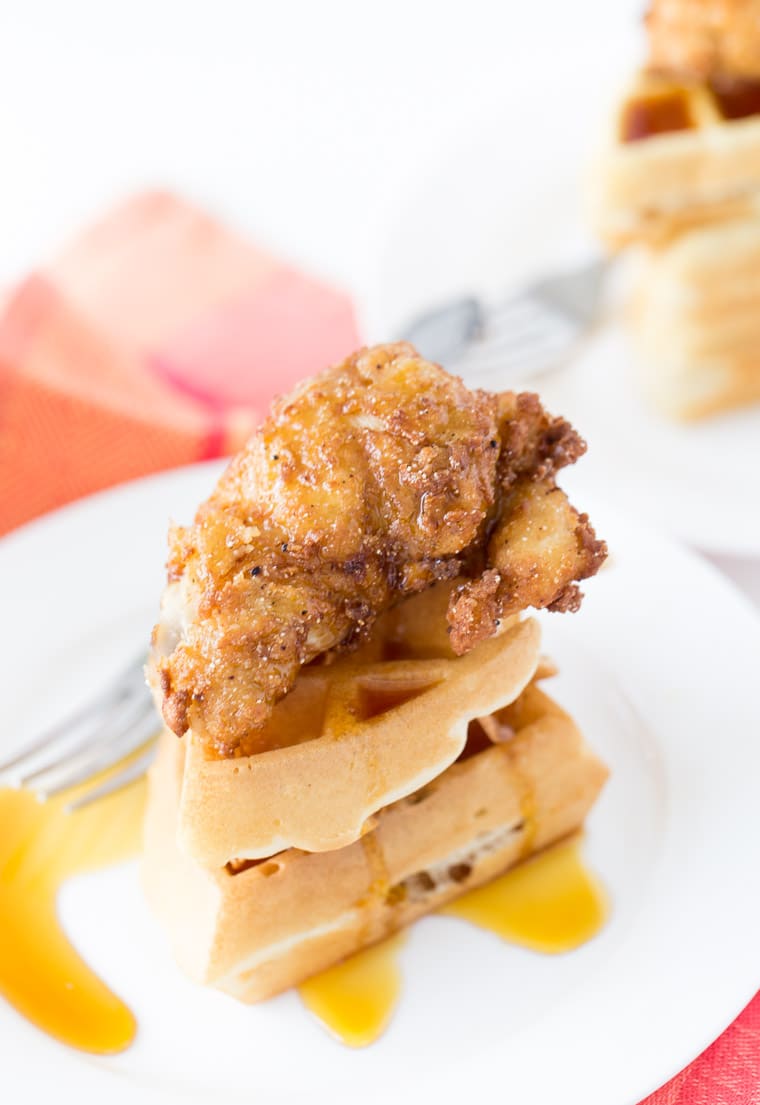 Of course it does help that this finger-licking good chicken is drizzled with maple syrup. Seriously, you have to try this recipe soon. It's perfect for breakfast, brunch or breakfast for dinner!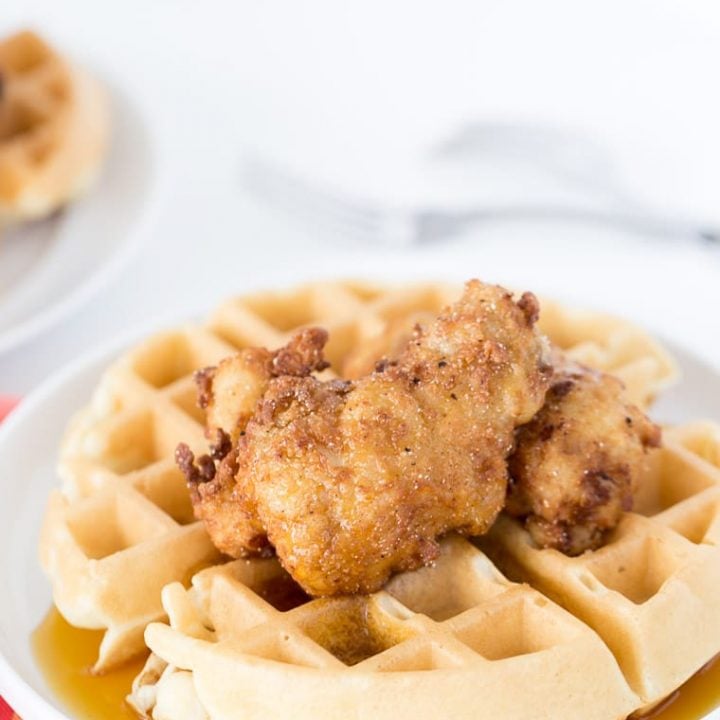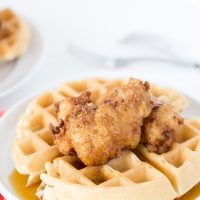 Chicken and Waffles
Ingredients
For Fried Chicken:
20 chicken winglets
1 ½ cups buttermilk
½ cup maple syrup
1 teaspoon salt
1 teaspoon black pepper
2-3 teaspoons chili or cayenne powder
1 cup all-purpose flour
¼ cup white or yellow corn meal
1 teaspoon chili or cayenne powder
salt and pepper to taste
vegetable oil
For Waffles:
Use your favorite boxed mix or recipe.
Instructions
Wash and clean the chicken wings. Place in an airtight container or large zippered plastic bag.

In a medium bowl, whisk together the buttermilk, maple syrup, salt, pepper and chili powder. Pour the mixture over the wings and cover. Refrigerate for at least four hours or overnight to brine.

Preheat your KitchenAid® Electric Convection Slide-In Range to 165°F. Prepare the flour mixture in a medium bowl by whisking together the flour, corn meal, chili powder and season with salt and pepper to taste. Remove the chicken from the buttermilk brine and toss each in the flour mixture, one by one. Make sure you coat all sides. Place on a parchment lined cookie sheet.

When ready to fry, pour the vegetable oil into your KitchenAid® 4.0-Quart Casserole. Heat oil over medium-high heat on your Electric Convection Slide-In Range. To test if the oil is ready for frying, toss some of the flour into the 4.0-Quart Casserole. When it sizzles, the oil is ready.

Place 4-5 chicken wings in the 4.0-Quart Casserole and fry each side for 2-3 minutes or until golden brown. Remove the chicken wings from the oil and drain on a paper towel. Fry the chicken wings in batches, making sure not to overcrowd the pot. Keep your fried chicken wings warm in your Electric Convection Slide-In Range until ready to serve.

While you are frying, prepare the waffles according to the directions on the box. Bake off your waffles in the KitchenAid® Waffle Baker.

When ready to serve, top each waffle with 2-3 chicken wings and drizzle on maple syrup.
This post is sponsored by KitchenAid. All opinions are 100% mine as usual. Thank you for supporting the occasional sponsored posts that make it possible for me to continue to create quality content!