Chicken and Waffles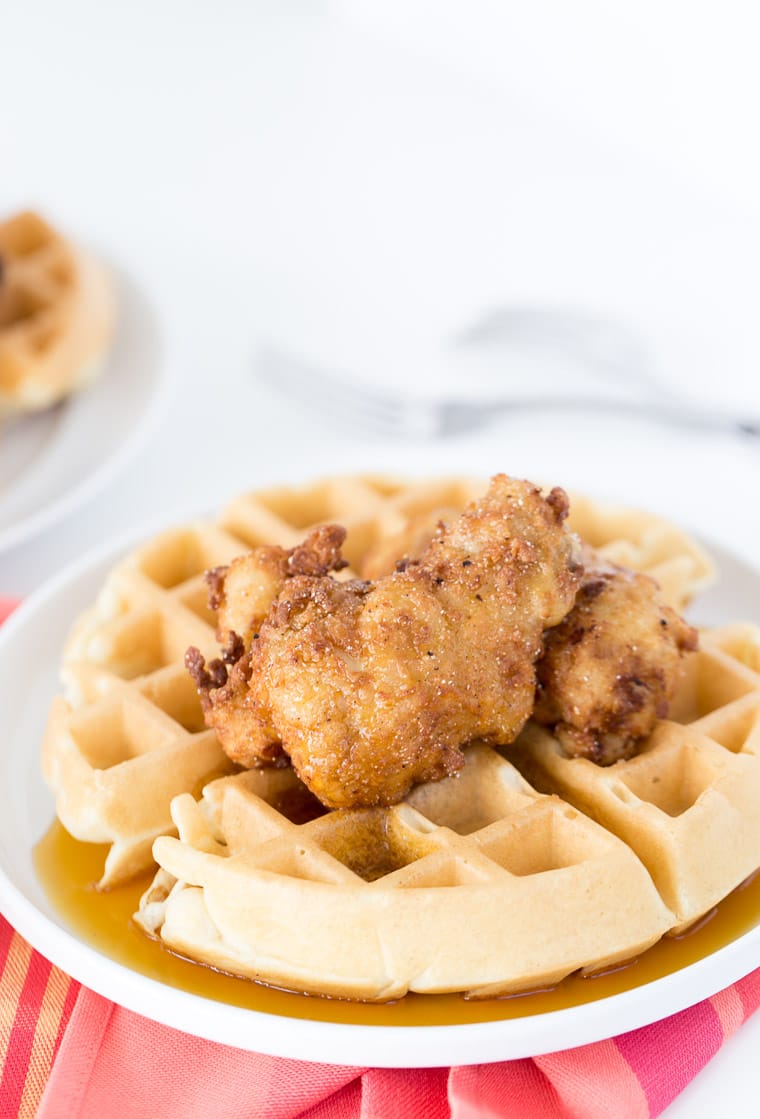 You guys, I made chicken and waffles!! And it is crazy good and just what every brunch you are hosting needs. Like, seriously!!! I was amazed at how good it turned out. But that was because it was the first time I made fried chicken at home. Can you believe that? I've never made fried chicken in my life.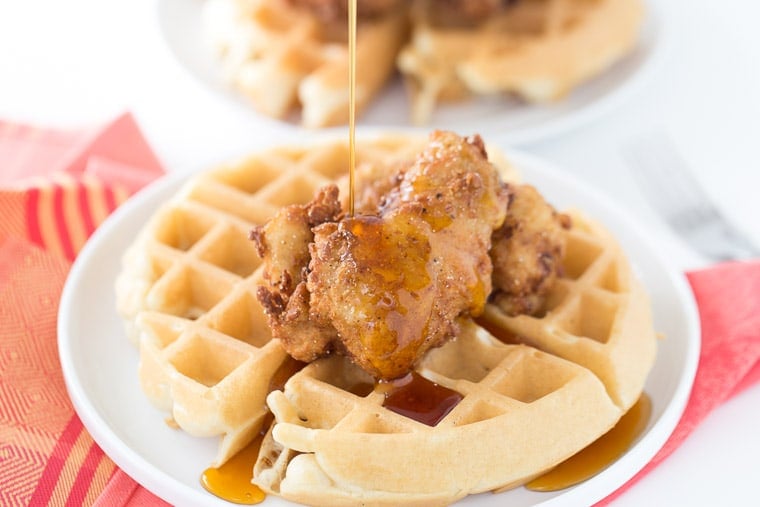 When Kitchenaid asked for a chicken and waffles recipe for my brunch series on their blog, I knew it was time to heat up my frying pans. I remembered I had a clipping from an old Southern Living magazine for classic fried chicken recipe and I adapted that here. The fried chicken is the star in this recipe. The soft buttermilk waffles are good too but it's the chicken that will leave you licking your fingers.
Soaked or brined in buttermilk and maple syrup, the chicken is tossed in a spiced flour mixture with cornmeal and chili pepper. Fried to perfection, its moist on the inside and crispy good on the outside. I am in LOVE.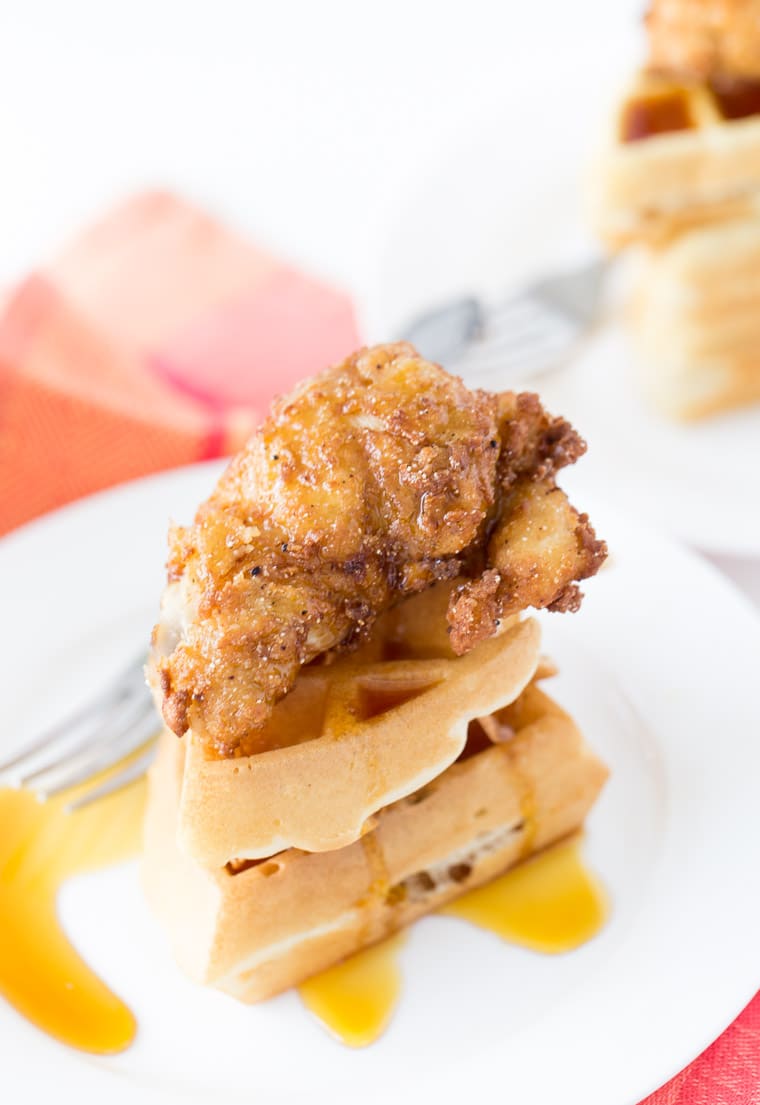 Of course it does help that this finger-licking good chicken is drizzled with maple syrup. Seriously, you have to try this recipe soon. It's perfect for breakfast, brunch or breakfast for dinner!
Grab the recipe and the step-by-step directions over on The Kitchenthusiast, the Kitchenaid food blog.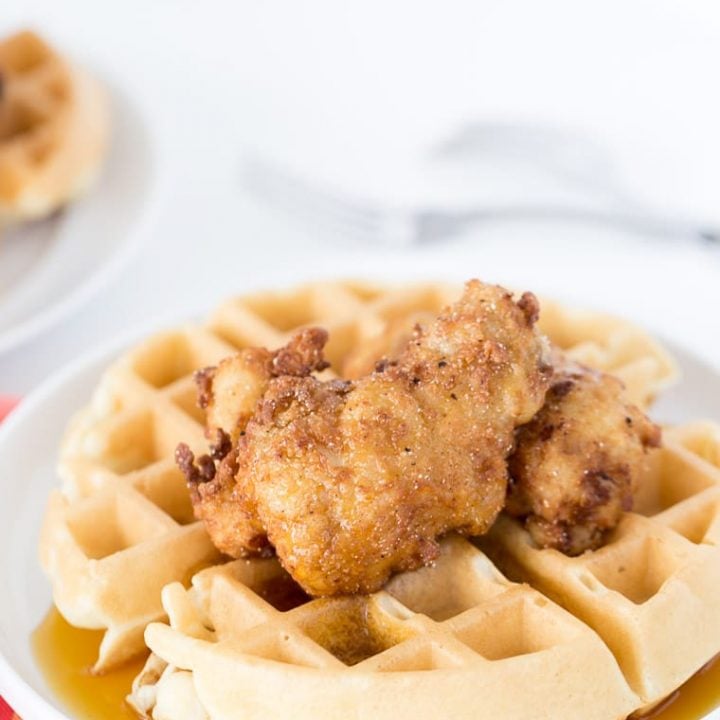 Chicken and Waffles
Ingredients
For Fried Chicken:
20 chicken winglets
1 ½ cups buttermilk
½ cup maple syrup
1 teaspoon salt
1 teaspoon black pepper
2-3 teaspoons chili or cayenne powder
1 cup all-purpose flour
¼ cup white or yellow corn meal
1 teaspoon chili or cayenne powder
salt and pepper to taste
vegetable oil
For Waffles:
Use your favorite boxed mix or recipe.
Instructions
Get the full directions on Kitchenaid.com
This post is sponsored by KitchenAid. All opinions are 100% mine as usual. Thank you for supporting the occasional sponsored posts that make it possible for me to continue to create quality content!
MAKING THIS RECIPE? Share it with us on Instagram using #aclassictwist so we can see what you are baking up in your kitchen!