Coconut Lemon Layer Cake (Easter Speckled Egg Cake)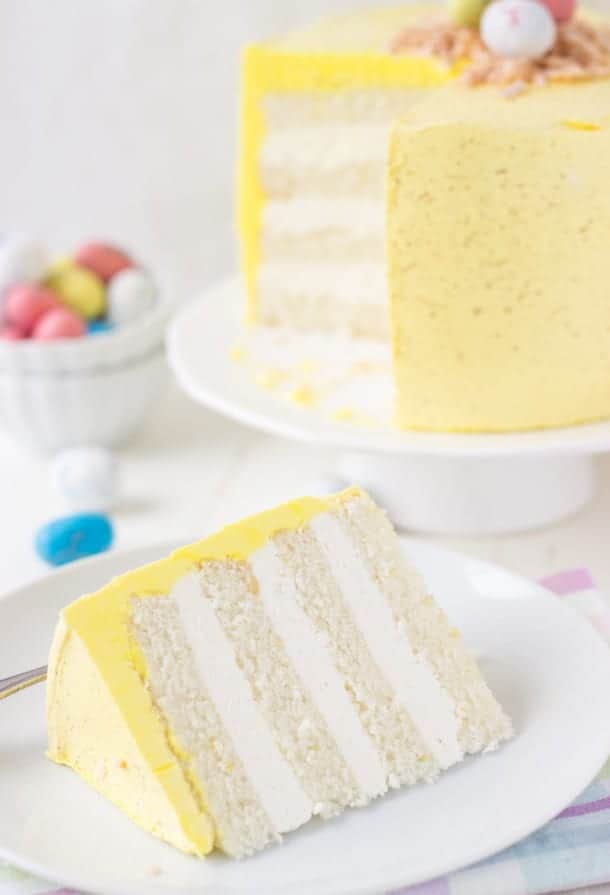 I have to warn you right up front, we are going to get romantic about cake today. It's been a while since I made a cake that I was in love with and this weekend, I was reminded why I started baking and love decorating cakes again.
It's officially the first day of spring tomorrow and I decided to make a cake that encompasses everything I love about spring to celebrate the change in seasons. Coconut, lemons and of course the pretty pastel colors floating everywhere came to mind and this coconut lemon layer cake was the resulting combination. A super soft white coconut cake with lemon zest is covered in bright yellow coconut swiss meringue buttercream. Like WHOA!! It brings the sunshine to your day. Inspiration for the decoration obviously came from the tons of easter speckled eggs laying around my kitchen. Don't you think this will be a stunning centerpiece to any Easter dining festivities?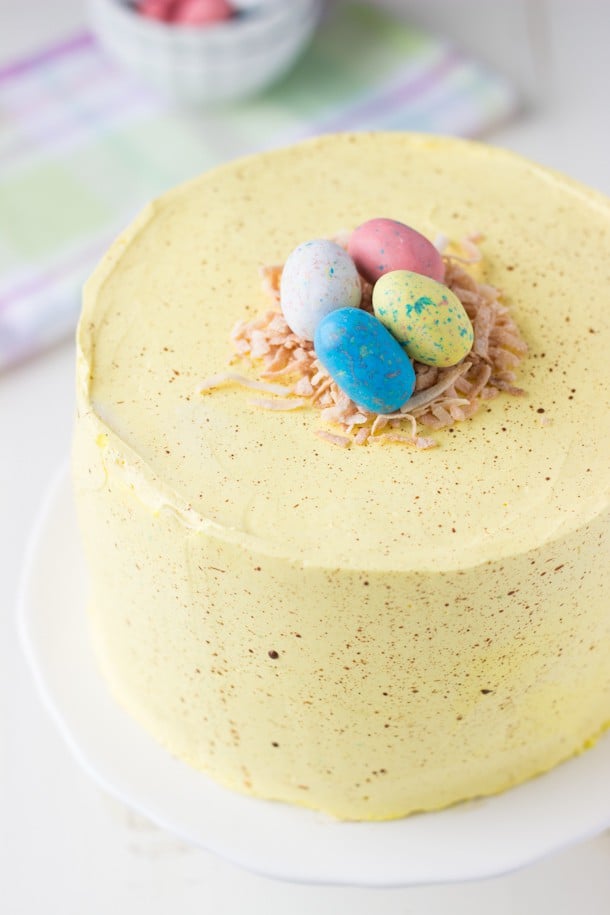 I am seriously excited about this yellow egg cake!! I love decorating cakes and it is one of the reasons I started baking/blogging in the first place. But sometimes amid the chaos of birthday cakes, cookies, brownies and the rest, I forget how amazing it is to just be in my kitchen with layers of cakes ready to be stacked and brought to life with no agenda. On a lazy Sunday afternoon last weekend, after baking the cake layers and letting them cool, I whipped up my very best and favorite buttercream; swiss meringue buttercream. It is silky smooth and the best decorating weapon. The plain white coconut frosting was boring so I experimented with a few test colors. I tested a few pastel colors like teal, a light shade of pink, lavender and yellow. Once I colored the yellow, I knew I had to go with it in the end. It was so bright and perky…I was instantly excited! Colors really do that to me.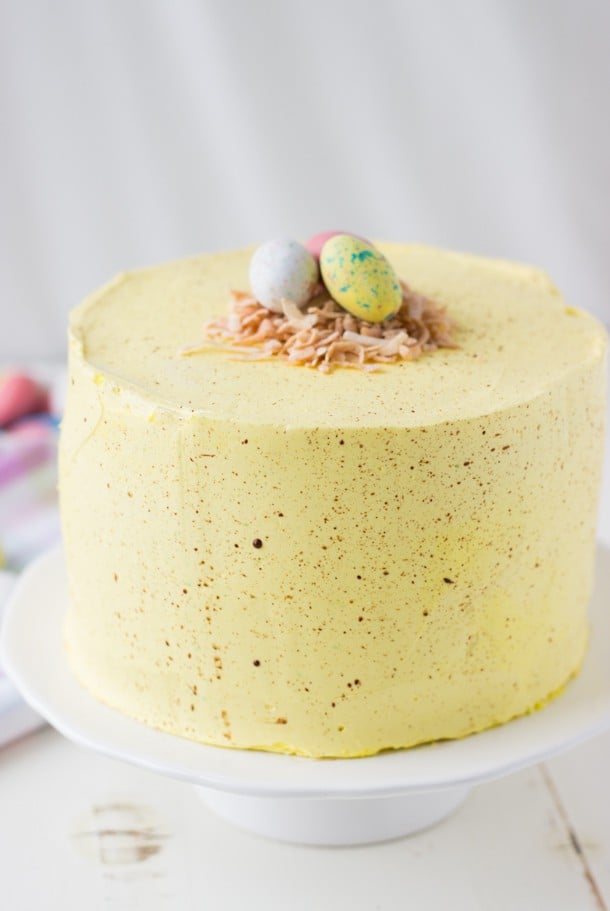 As for the cake itself, I decided to make a 6-inch cake since I was only baking this for my own pleasure of decorating and testing yet another coconut cake recipe! Talking about this coconut cake recipe; I love testing coconut cake recipes to find the best out there because we all know I am a coconut lover. This version uses coconut cream instead of coconut milk (like this one) which gives the cake a richer flavor of coconut without using too much extract. As a coconut lover, that is always a win! I added fresh lemon zest to the cake as well to bring in a second wonderful flavor and I am so glad I did because coconut and lemon are a match made in heaven.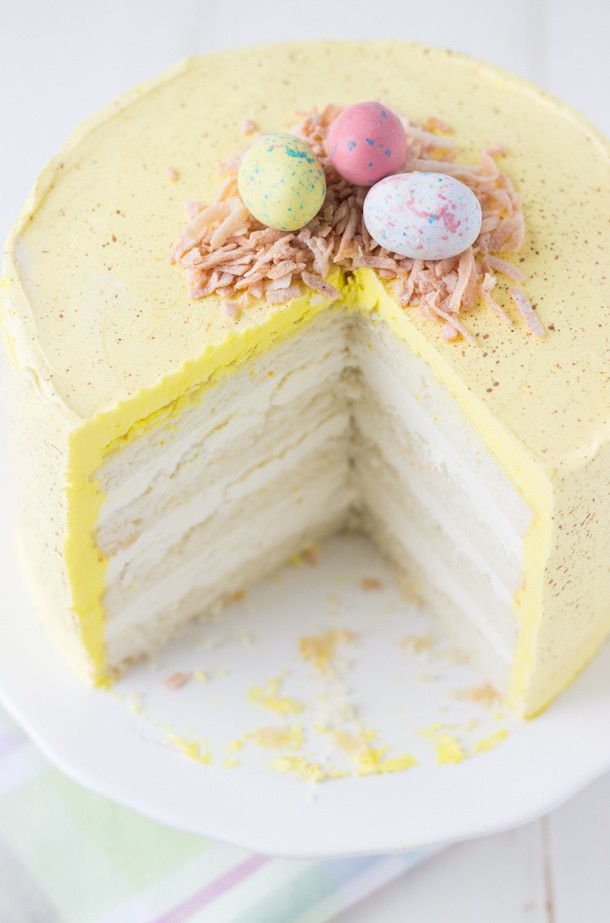 Decorating the cake as a speckled Easter egg was incredibly simple. I used vanilla extract and cocoa powder as my liquid to splatter over the cake and with a new small paint brush (not the foam brushes but ones with brittles), I dipped the brush into the dissolved cocoa powder and flickered it all over the cake. Pretty simple and a bit messy but it turned out OK I think. You can also use clear vanilla extract with gel paste colors if you want to do different colors. I imagine a teal or pink speckled cake will beautiful as well.
That's it for now my friends. I hope this Easter you try this simple yet delicious coconut lemon layer cake. It will definitely impress all of your guests! And if you don't celebrate Easter, heck make the cake just because it is a white coconut and lemon cake. Spring is here!!
Have a great weekend!
Here's a video on how to make this Easter Speckled Egg Cake!
If you are actually going to make this recipe, here are some more comments from below who have made it: https://www.pinterest.com/pin/129056345548387031/activity/tried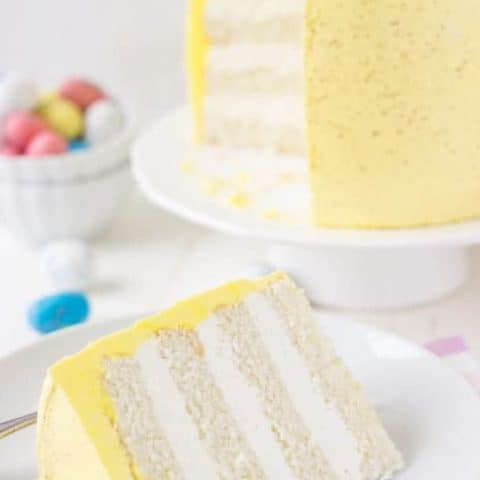 Yield: 1 6-inch layer cake
Coconut Lemon Layer Cake (Easter Speckled Egg Cake)
Easter Speckled Egg Cake - a soft coconut lemon layer cake recipe decorated as an easter speckled egg.
Prep Time 1 hour
Cook Time 25 minutes
Total Time 1 hour 25 minutes
Ingredients
For Coconut-Lemon Cake:
For Swiss Meringue Coconut Frosting:
5 large egg whites
1 cup granulated sugar
a pinch of salt
1 ½ cups (3 sticks) unsalted butter, softened to room temperature and cut into pieces
2 tablespoons cream of coconut
½ teaspoon coconut extract
½ teaspoon vanilla extract
a few drops of pastel gel coloring (optional)
For Speckling:
2 teaspoons vanilla extract (or more)
2 teaspoons cocoa powder
Toasted coconut flakes and speckled eggs for decoration
Instructions
For Coconut-Lemon Cake:
Preheat oven to 350 degrees F. Grease 4 6-inch round cake pans or 2 8-inch round cake pans, line with parchment and grease parchment.
In a medium bowl, whisk together the egg and egg whites. Whisk in the coconut cream, water and vanilla, coconut, lemon extracts into the egg mixture. Set aside.
In a large bowl, combine the cake flour, sugar, baking powder, zest of lemon, and salt. Using an electric mixer, mix on low for one minute. With the mixer on low, add in butter, one piece at a time, and mix until only pea-size pieces remain, about 1 minute. Do not over mix.
Add in half of the wet ingredients, increase speed to medium-high, and beat until light and fluffy, about 1 minute. Reduce speed to low and add in the remaining wet ingredients. Mix on low until combined, about 30 seconds. Stir batter once by hand with a rubber spatula (Do not over mix cake batter otherwise you will end up with a dense cake).
Divide batter evenly into prepared pan. Bake cakes until a toothpick inserted in centers comes out clean, about 20-25 mins, rotating pans halfway through baking. (Do not over bake the cake. It will be dry and dense. Start checking the cake for doneness around 16 minutes. If you are using a bigger cake pan, adjust the time accordingly)
Let cakes cool in the pan for 10 minutes before removing and cooling completely on a wire rack. Meanwhile prepare the frosting. Wrap the cakes in plastic wrap and keep refrigerated or frozen for up to 2-3 days. Be sure to bring it back to room temperature before frosting.
For Swiss Meringue Coconut Frosting:
Whisk together egg whites, sugar, and salt in a heatproof mixing bowl set over (not in) a pan of simmering water. Whisk until warm and sugar are dissolved (mixture should feel completely smooth when rubbed between your fingers), about 3 minutes. Remove from heat.
With an electric mixer with the whisk attachment, whip egg white and sugar mixture for 5 minutes over medium speed. Increase speed to medium-high, and whip until stiff, glossy peaks form and meringue has cooled (test by the feeling of the bottom of the bowl), about 6 minutes.
Switch to the paddle attachment. With the mixer on medium speed, add butter, one piece at a time, beating well after each addition. The frosting might look separated at first but keep beating until it comes together. Be patient and it will come together (as long as you dissolved all the sugar in the previous step and your meringue was cool before adding in the butter).
Once the buttercream is smooth and silky (and not before), beat in the coconut cream, coconut extract and vanilla until combined, additional one minute.
To Assemble Cake:
Using a serrated knife, remove the dome on cake layers. Place one layer of cake onto a cake platter. Spread about 1 cup frosting evenly. Place the second layer of cake on top of the frosting. Spread the remaining frosting on top and the sides of the cake. Smooth frosting as evenly as possible and decorate as desired.
For Speckling:
Let the cake chill for at least 30 minutes to an hour before speckling.
In a small bowl, combine the vanilla extract and cocoa powder until smooth. Dip a paintbrush in water and then into the cocoa mixture. Splatter all over the cake. Top cake with toasted coconut flakes and speckled eggs for decorations.
Notes
Please use coconut cream OR cream of coconut. I am linking to two options on Amazon. https://amzn.to/38eZvfL https://amzn.to/38Y3YTu
Be very careful not to OVER MIX or OVER BAKE the cake. It will be dense. Also, wrap your cake in plastic wrap as it cools to maximize moistness.
The Swiss meringue frosting is not as sweet as the traditional American buttercream but it's a great match for this cake. If this is your first time making it, please be patient with it. It comes together after a good amount of beating with an electric mixer. If using a hand mixer, this will take up to 10 minutes. For a traditional buttercream, here's my favorite. Feel free to use it for this cake instead of the swiss meringue.
Cake recipe adapted from Sweetapolita
Recommended Products
As an Amazon Associate and member of other affiliate programs, I earn from qualifying purchases.