Coconut Almond Cream Cake
Coconut almond cream cake is a coconut lover's dream cake, and the perfect Easter dessert recipe. Coconut cake is filled with almond cream filling, then topped with fluffy coconut cream cheese frosting!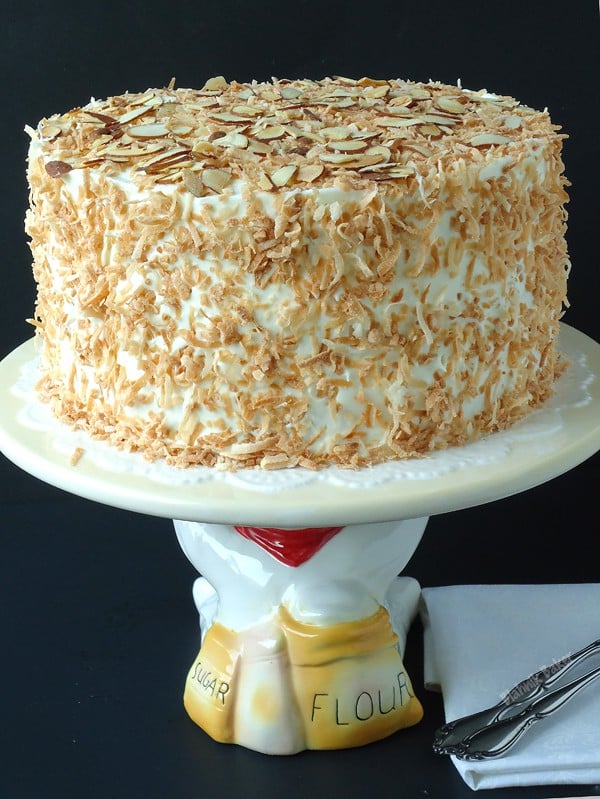 I made this coconut almond cream cake for our recent first wedding anniversary celebration. A dense coconut cake is filled with almond-coconut cream filling and frosted with whipped coconut cream cheese frosting. It's a coconut bonanza and if you are a coconut lover like us, you will love every single bite of this big (and tall) cake that was  perfect for our celebration. It was obviously too much for two people but that's what friends are for 🙂
There is a short story behind this particular flavor selection.
During the wedding planning, Mr. J was very involved in most of the planning and DIY projects. I think he wanted to keep tabs on my spending, (ahem, I went over budget!) or maybe he is just wonderful. 🙂  There were some projects he wasn't too keen on, like hot gluing a card box with pink ribbon, but when it came to the cake, he was all about that. We agreed he would pick what goes on the inside and I will decide on the outside.
He spent days narrowing down the cake to three flavor combinations, working with the cake lady on several (unnecessary) cake testings, to get exactly what he wanted. At the end of the day, he picked his favorite combination of coconut and almond to be the top layer. As tradition calls, we will save that layer to have on our first anniversary. Simple and perfect plan! Right?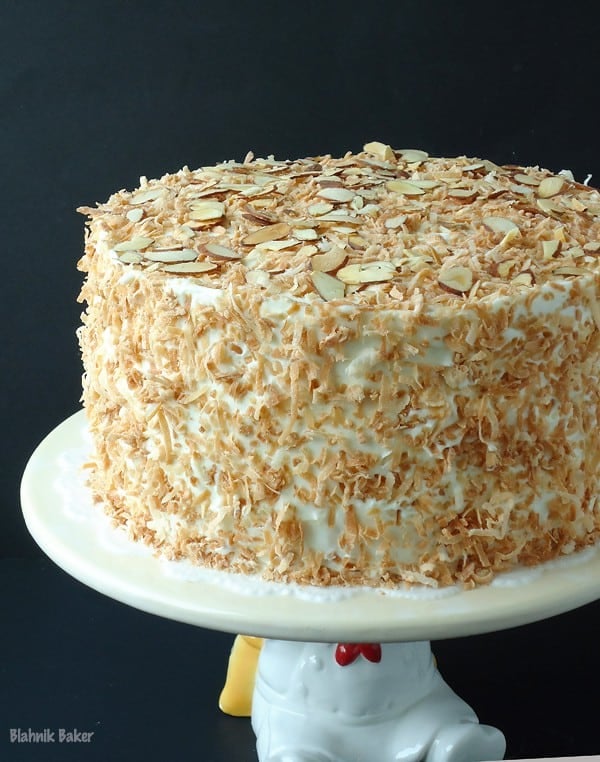 On the glorious day of our wedding, one of my bridesmaids was supposed to grab the top layer of coconut almond cream cake and save it for us in her freezer until we came back from our honeymoon. But some misunderstanding went down and the cake ended up in our apartment that night, where guests from the wedding devoured it without knowing it was the couple's cake. The next morning when we came to say goodbye to my mom before we left for our honeymoon, Mr J saw the rest of what was supposed to be our cake. I can still remember the look on his face and it is heart wrenching. Needless to say, he was very upset and only the shores of Jamaica were able to cheer him up.
To be honest, I didn't care much about having a one year old cake. I don't even eat my own cakes after two or three days, so I can only imagine how they would taste after a year in a freezer. But tradition calls for this and he was looking forward to it.
So for our first anniversary, I made him a recreation of what I imagine that coconut almond cream cake would have been.
I'm glad to say this cake lived up to his expectations and it is agreed we will have it every year for our anniversary.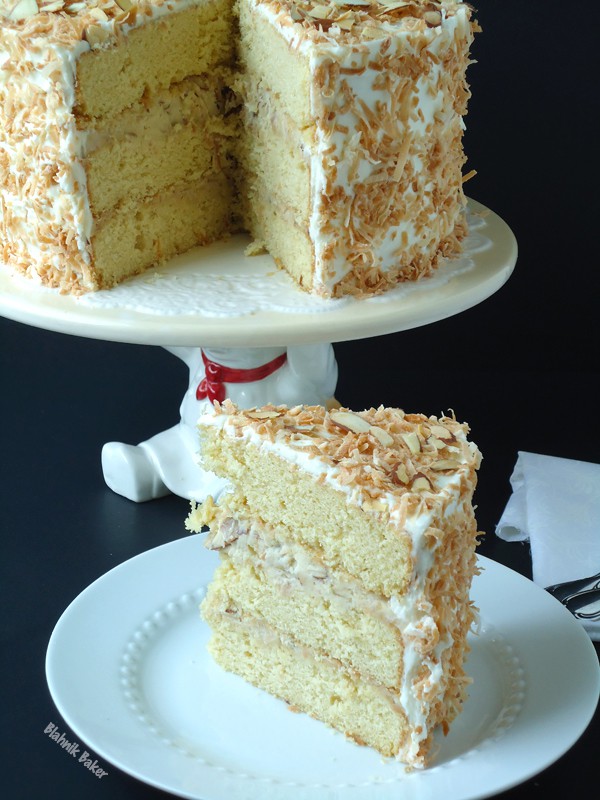 Don't be put-off by the lengthy recipe for the coconut almond cream cake, because it is a very straightforward, and an easy cake to decorate. The resulting moist coconut cake and almond filled layers will definitely be devoured and loved by any guests you make this for.
Enjoy this coconut almond cream cake recipe!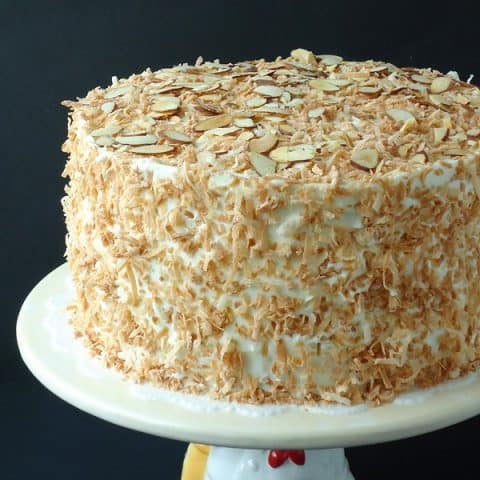 Yield: 1 9-inch layer cake
Coconut Almond Cream Cake
Coconut almond cream cake is a coconut lover's dream cake, and the perfect Easter dessert recipe. Coconut cake is filled with almond cream filling, then topped with fluffy coconut cream cheese frosting!
Prep Time 30 minutes
Cook Time 45 minutes
Additional Time 1 hour
Total Time 2 hours 15 minutes
Ingredients
For the Cake:
3 ½ cups all-purpose flour
1 tablespoon baking powder
½ teaspoon salt
1 cup heavy whipping cream, room temperature
⅓ cup coconut milk
1 tablespoon pure vanilla extract
1 tablespoon almond extract
1 ½ cups (3 sticks) unsalted butter, at room temperature
1 ¼ cups granulated sugar
1 cup firmly light brown sugar
5 large eggs
For the Filling:
2 tablespoons cornstarch
1 teaspoon almond extract
1 ¼ cups heavy whipping cream
½ cup firmly packed light brown sugar
½ cup unsalted butter
1 cup toasted coconut flakes
1 cup toasted sliced almonds
¼ cup sour cream
For the Frosting:
2 8-ounces cream cheese packages, room temperature
½ cup unsalted butter, softened
4 cups confectioner's sugar, sifted
2 tablespoons coconut milk
1 teaspoon coconut extract
2 cups sweetened coconut flakes
½ cup sliced almonds
Instructions
For the Cake:
Preheat oven to 325 degrees F. Grease and line 3 9-inch round cake pans with parchment and grease parchment paper.
In a medium bowl, sift the flour, baking powder and salt together. Use a large measuring cup to whisk together heavy cream, coconut milk, vanilla and almond extracts.
In the bowl of an electric mixer, beat the butter until creamy. Add the sugars gradually and beat until very light and fluffy on medium speed for about 8 minutes. Scrape the sides of the bowl as needed.
Add the eggs, one at a time, and mixing well until combined after each addition. Stir in the liquid ingredients and mix until just combined.
Using a rubber spatula, fold in the dry ingredients gently until just combined. Be careful not to over-mix.
Divide the batter into the prepared pans and bake for 30 to 35 minutes or until a toothpick inserted in the center comes out clean. Let cakes cool in pans for 10 minutes before removing and cooling on wire racks.
For the Filling:
Combine cornstarch and almond extract with 2 tablespoons water and stir until cornstarch dissolves.
In a medium saucepan, combine whipping cream, brown sugar and butter. Bring to a gentle boil over medium heat. Remove from heat and stir in cornstarch mixture until combined. Stir in coconut flakes, sliced almonds and sour cream. Refrigerate for up to 8 hours.
For the Frosting:
In the bowl of an electric mixer, beat butter and cream cheese on medium high until completely smooth about 2-3 minutes.
Reduce speed to low and add sugar, one cup at a time. Beat until combined. Add coconut milk and coconut extract and beat to combine. Increase speed to medium and beat frosting until smooth and fluffy. Buttercream might be too thin to spread so place in fridge for 20 minutes to an hour until firm enough. Alternatively, add more sugar and beat to thicken frosting.
Assembly:
Preheat oven to 325 degrees F. Line two baking sheets with foil and spread out coconut flakes and almonds in a single layer on separate baking sheets. Bake until lightly browned and toasted, about 2 minutes.
To assemble cake, place one layer on cake board or cake plate and top with half of chilled cream filling. Spread evenly. Place second layer (face up) on top of cream filling and press gently. Repeat these steps with the remaining filling and cake layer.
(At this point, I usually wrap my cakes from top to bottom in clear plastic wrap and align the layers to make sure they are straight. If the cake is wobbly, I also refrigerate for 20 minutes before frosting).
Frost cake with cream cheese frosting. Frosting does not need to be smooth. Press toasted coconut flakes on the sides and on top of the cake. Finally sprinkle the top with toasted sliced almonds.
Serve at room temperature. Store refrigerated for up to two days.
MAKING THIS RECIPE? Share it with us on Instagram using #aclassictwist so we can see what you are baking up in your kitchen!