Strawberry Ricotta Pancakes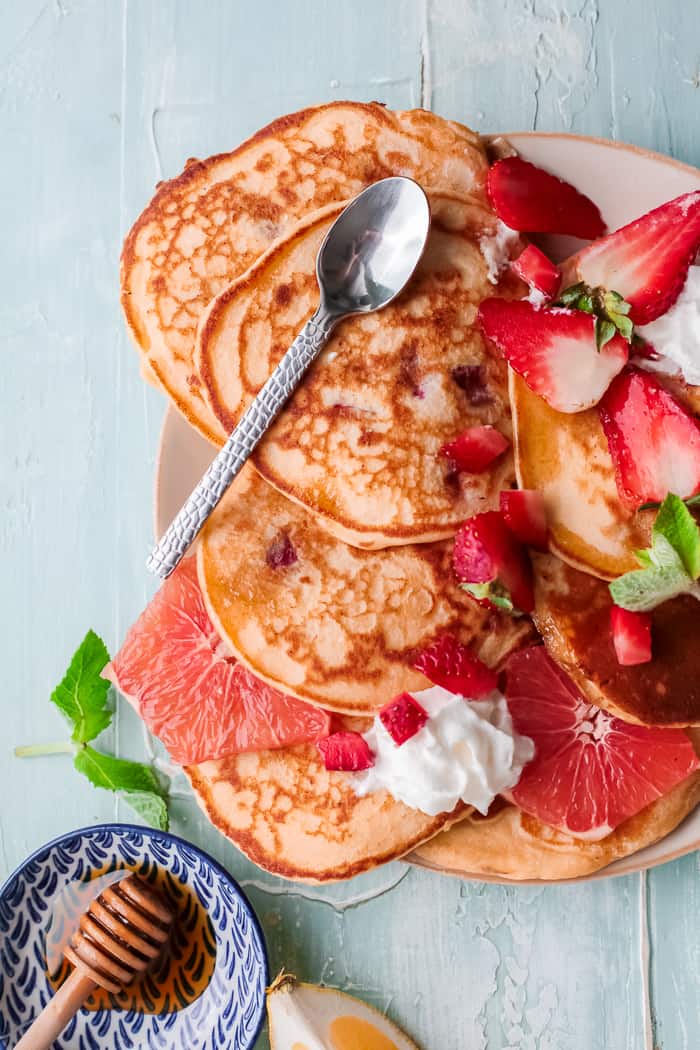 With the New Year here I was hoping to be able to have family and friends over for brunch to serve these pancakes but of course, there is another surge. Now I will just be making these for my family. They are always a favorite during these colder months especially as Valentine's Day breakfast in bed treats. Who doesn't love a tall stack of Strawberry Ricotta Pancakes?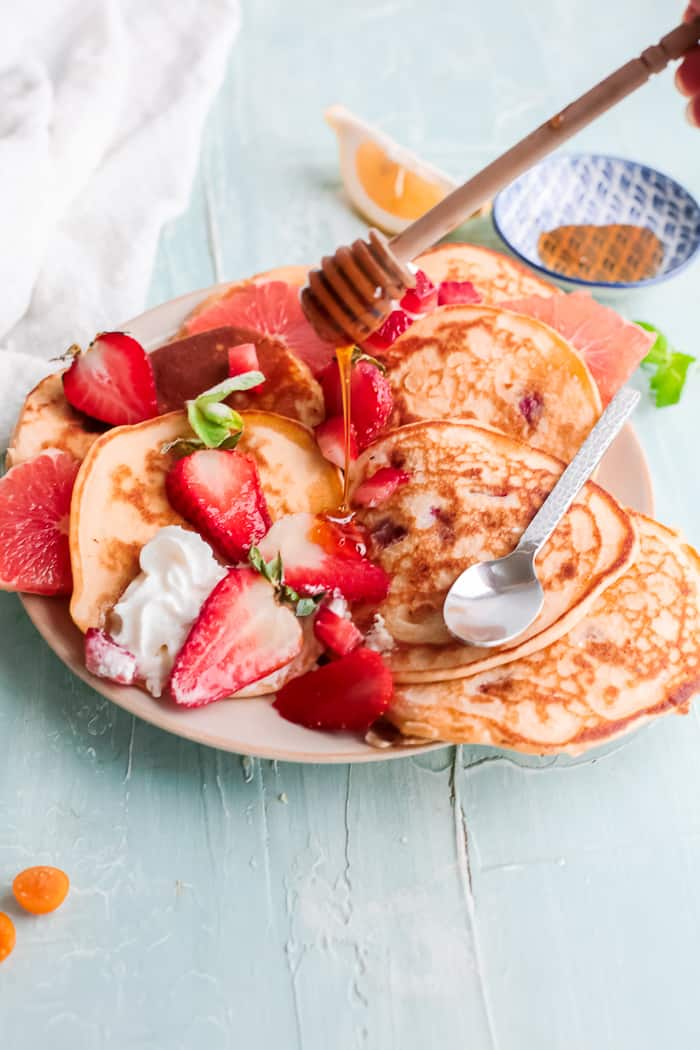 Similar to my lemon ricotta pancakes, these are fluffy, light, and a dream to dig into. The ricotta makes the pancakes incredibly soft and brings a tangy flavor that is great. These strawberry versions are perfect for winter and Valentine's Day. Before we dive into whipping up the batter, I do want to tell you a few things when it comes to the Strawberry Ricotta Pancakes.
First of all, I would strongly suggest making a double batter. These pancakes are freezer-friendly and I can promise your family will want more. I always make a large batch and freeze them for breakfast throughout the week. You can top them with syrup, add other fruits, whipped cream – you name it, add it on top. I want to say that if you don't love ricotta cheese I know you will still love these pancakes. Don't let one ingredient stop you from trying them.
It's time to make the most delicious breakfast with these Strawberry Ricotta Pancakes: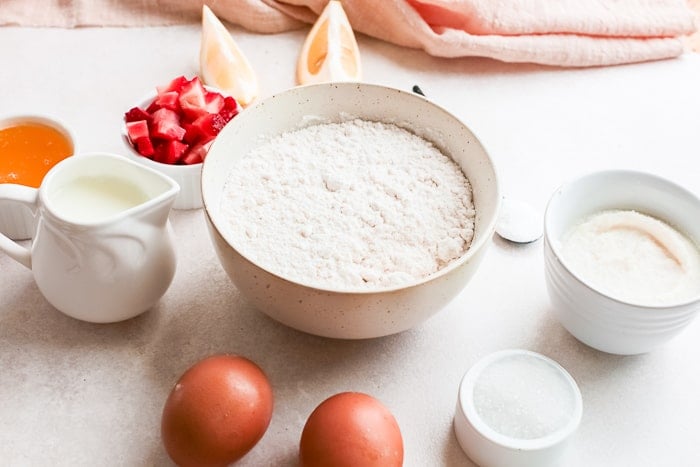 First, you are going to grab a large bowl and whisk together your flour, baking powder, and sugar.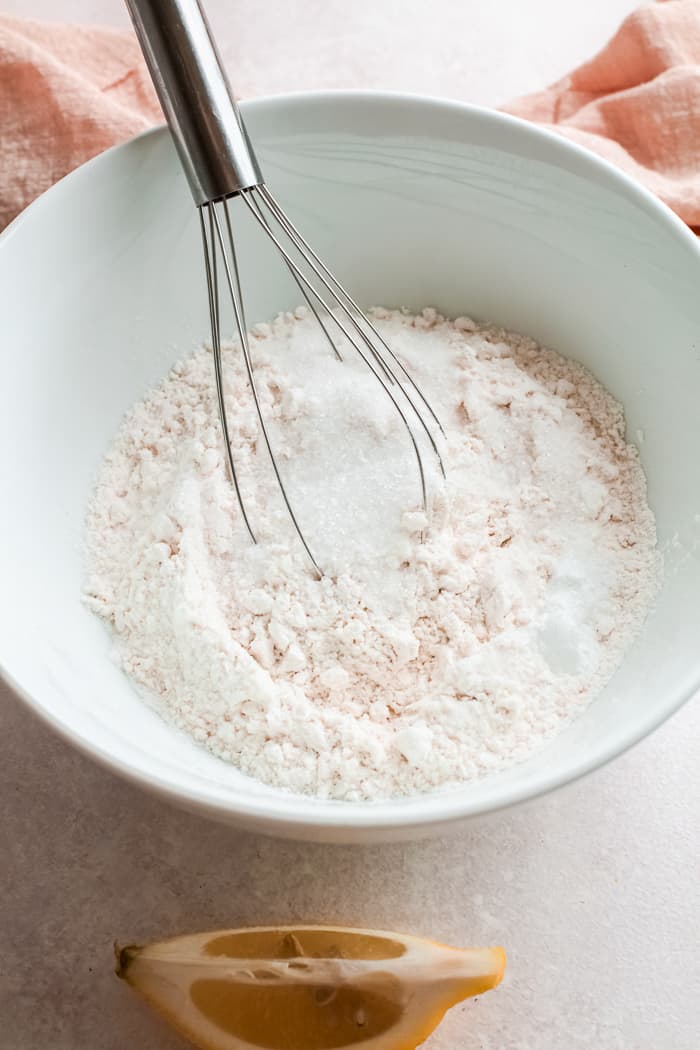 Add in the eggs, milk, vanilla extract, and butter.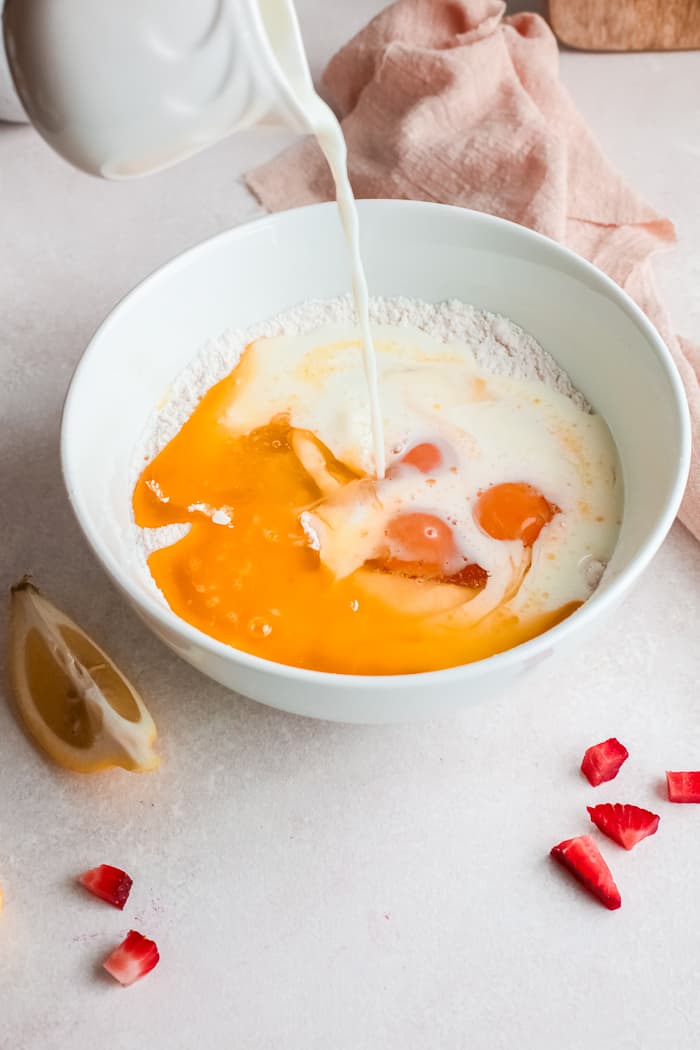 With the help of your spatula, stir in your ricotta cheese.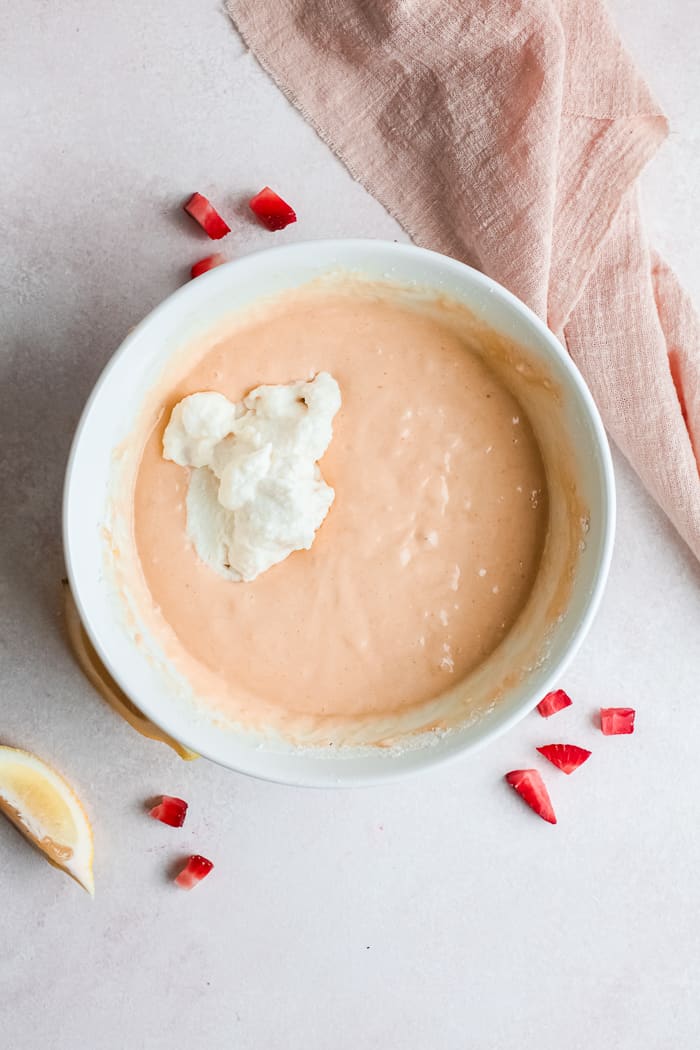 Now you want to fold the diced strawberries into the batter. Just make sure you are careful to not overmix the batter.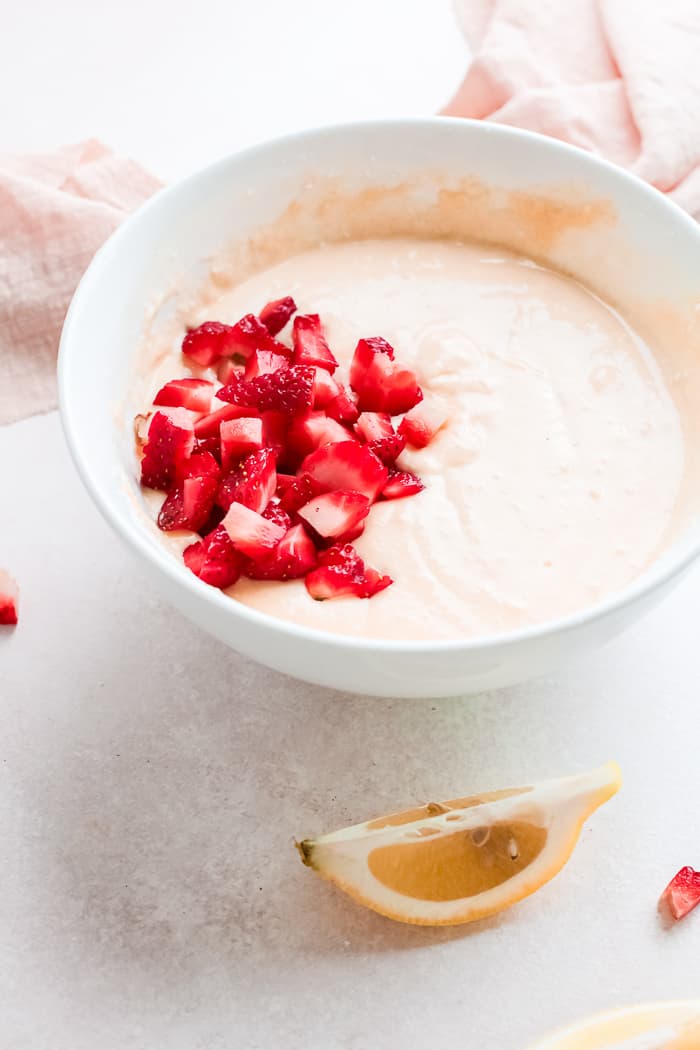 Cook the pancakes on a hot griddle and enjoy with some whipped cream and fresh fruit. I used a combination of winter citrus and some strawberries to serve.
This is one of my favorite brunch dishes to serve for my family on a cold Sunday morning. They don't take much time to throw on the griddle and they are so yummy and filling. Who doesn't love waking up and serving a delicious stack of pancakes?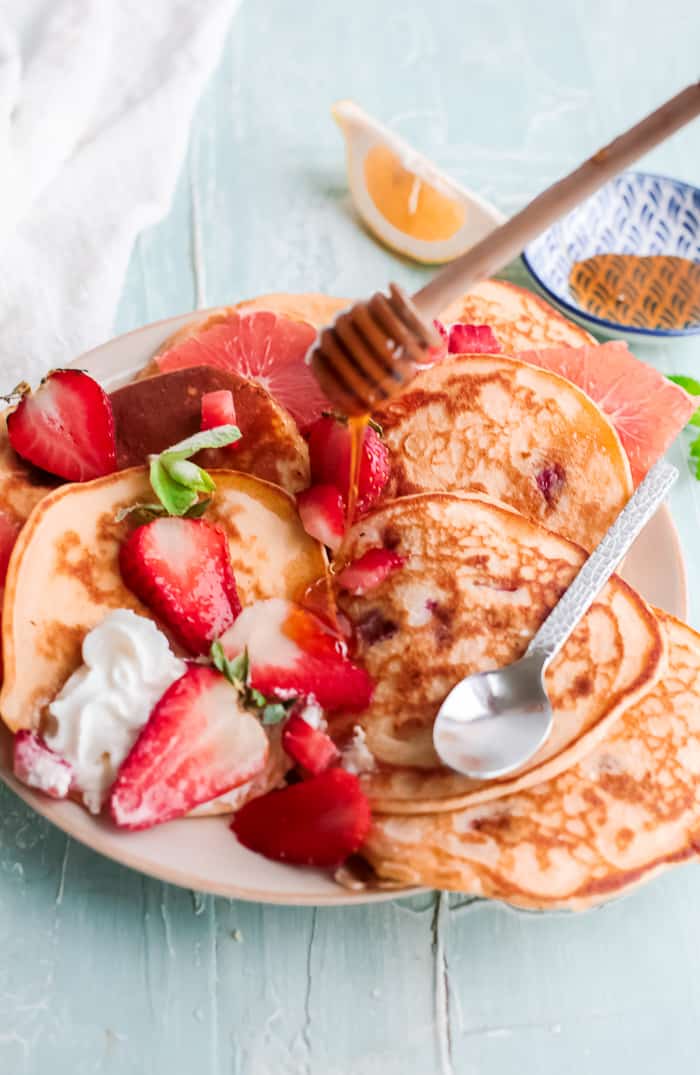 If you fell in love with these Strawberry Ricotta Pancakes you will want to try Apple Pie Protein Pancakes and Eggnog Dutch Baby Pancake with Cranberry Compote. They are both just as delicious!
The best part about these pancakes is you don't have to serve much with them. They already have strawberries and are so filling. I always serve them with a hot cup of coffee and orange juice. If we ever have a chance to invite friends over again after the pandemic is over, I plan on serving my girlfriend's mimosas with them. What a perfect pair, right?
Did you enjoy the Strawberry Ricotta Pancakes? Tell me in the comment section below. You know I love hearing what you think of every recipe I've shared with you. If you are on social media please make sure to tag #aclassictwist so I can see how you brought a recipe to life. I love seeing you bake with me and bring them into your home.
Enjoy!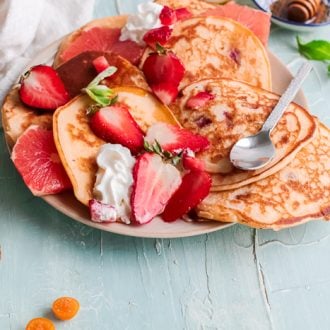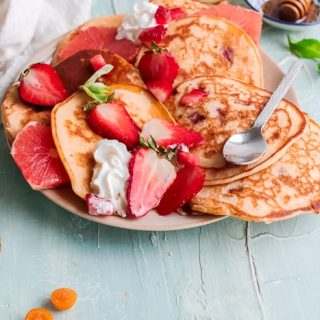 Yield: 5 servings
Strawberry Ricotta Pancakes
These Strawberry Ricotta Pancakes are fluffy, delicious, and perfect for brunch. They make the perfect Valentine's Day breakfast in bed treat!
Ingredients
1 ¼ cup all-purpose flour
1 teaspoon baking powder
1 tablespoon granulated sugar
3 large eggs, at room temperature
¾ cup milk, at room temperature
2 tablespoons unsalted butter, melted
1 teaspoon pure vanilla extract
1 cup ricotta cheese
½ cup strawberries, diced
Oil or butter for cooking
Seasonal fruits, for topping
Instructions
In a large bowl whisk together the flour, baking powder, and sugar.
Add the eggs, milk, vanilla extract, and butter to the dry ingredients. Whisk these until combined and incorporated. Gently stir in the ricotta cheese.
Fold the diced strawberries into the batter, being careful to not overmix.
Heat a griddle or pan over medium-high heat and coat with butter or oil. Pour ¼ cup batter onto the hot griddle and cook for 2 minutes or until small bubbles form on top. Flip and cook for 1 more minute or until done. Repeat the process with the rest of the batter.
Serve the pancakes with whipped cream, honey, and seasonal fruits.
Notes
You can use oil instead of melted butter for the batter.
These are freezer-friendly! I like to make a large batch and freeze it to have a Sunday-style breakfast on a Wednesday.
Recommended Products
As an Amazon Associate and member of other affiliate programs, I earn from qualifying purchases.