Lemon Ricotta Pancakes with Blueberry Compote
These lemon ricotta pancakes are fluffy, hearty and topped with a sweet blueberry lemon compote for a perfect Spring breakfast.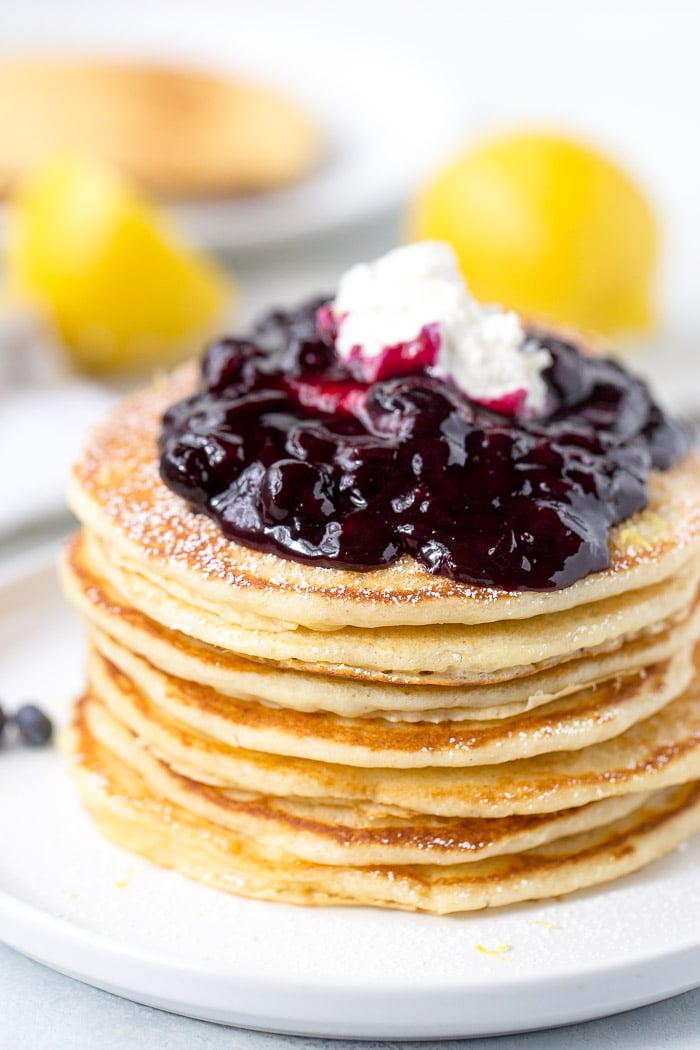 Hello friends! I have a springy recipe for you today as I am already thinking of spring. Nothing says spring like lemons and why starting any winter weekend with these lemon ricotta pancakes will brighten up your day.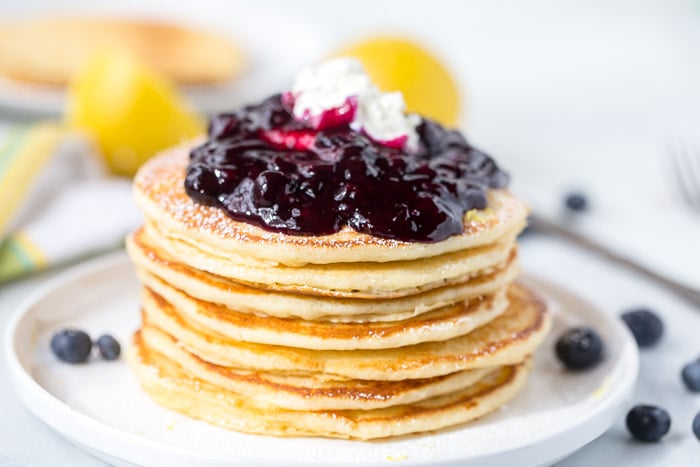 Do you make big breakfasts over the weekend? Pancakes? Waffles? Brunch? In our house, weekend breakfast is always a big deal as it is the only time we all eat breakfast today. During the week, the hubs is out of the house before we wake up. My toddler and I usually just grab something quick to go like overnight oats, smoothies or frozen waffles and fruits. That's why our weekend breakfasts are always a sit-down affair. My husband is always in charge but he lets us make requests every now and then.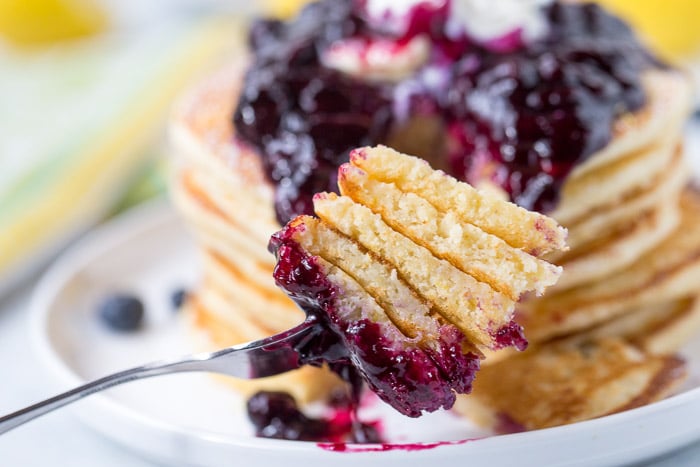 This past weekend I had leftover lemons and I asked for lemon pancakes! He added ricotta to the pancake batter and whipped up some blueberry compote as cleaning the fridge out. Isn't he great?? These lemon ricotta pancakes are fluffy and amazing. Starting with his pancake base, he infused it with fresh lemon zest and juice along with rich ricotta cheese adding some protein to the pancakes. It's all topped up with a blueberry lemon compote that's delicious on its own but a great complement to the lemon pancakes here.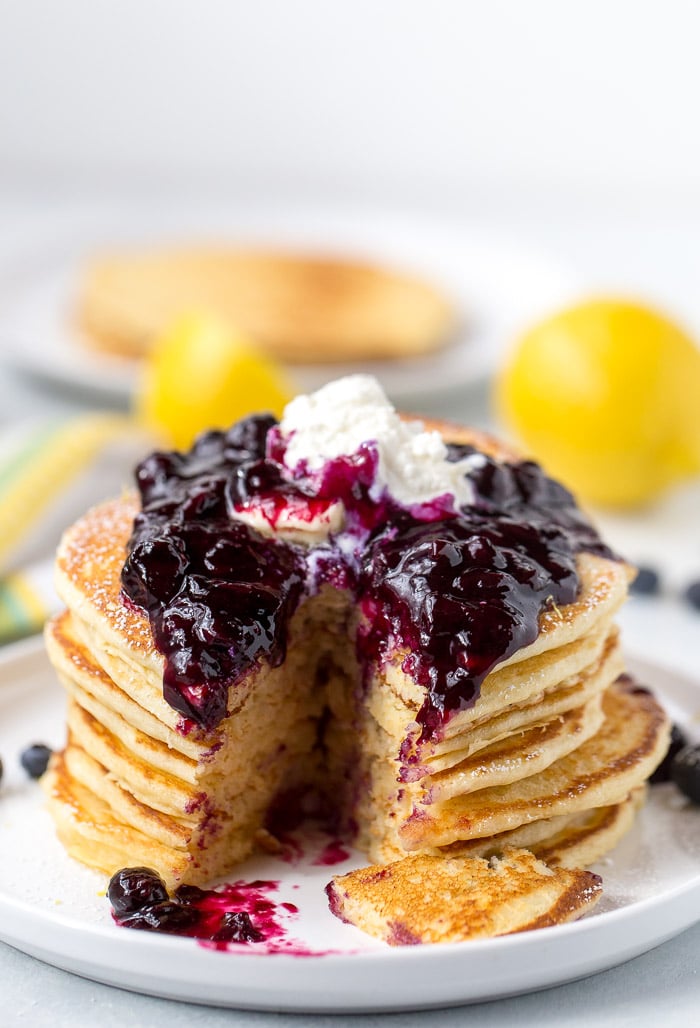 If you are looking for an easy, delicious and hearty breakfast for those lazy winter mornings, look no further than these lemon ricotta pancakes. They are a crowd pleaser and even picky eaters (ahem hello toddler) enjoy them. Adding this to your brunch table this spring will also be a great idea as we get towards Easter, Mother's Day and other spring celebrations.
I hope we start feeling the signs of spring soon. But in the meantime, I am creating it in my kitchen. Here are a few favorite lemon recipes you can try to escape the winter blues: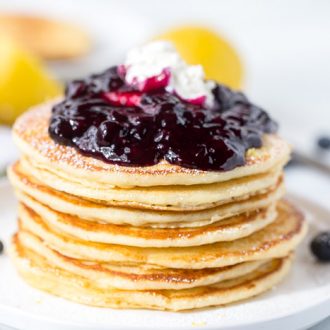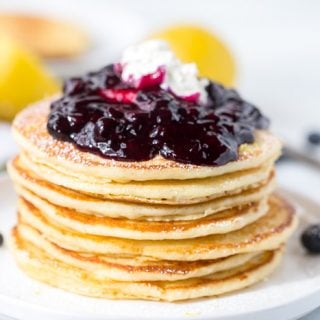 Yield: 8-10 medium pancakes
Lemon Ricotta Pancakes with Blueberry Compote
Fluffy and hearty Lemon Ricotta Pancakes with Blueberry Compote to brighten up any day.
Ingredients
For Blueberry Compote:
1 cup fresh blueberries
½ lemon, zested and juiced
2 tablespoons granulated sugar
For Lemon Ricotta Pancakes:
¾ cup all-purpose flour
1 tablespoon baking powder
½ teaspoon ground nutmeg
¼ teaspoon salt
2 tablespoons granulated sugar
1 cup ricotta cheese
2 large eggs
2/3 cup whole milk
1 lemon, zested and juiced
Baking spray, for griddle
Instructions
In a small saucepan set over medium-low heat, combine the blueberries with lemon juice, zest and granulated sugar. Cook, stirring occasionally, until berries run their juices and mixture starts to thicken, about 10-15 minutes. Let cool until ready to serve.
In a medium mixing bowl, whisk together the flour, baking powder, nutmeg, salt and sugar. In a separate small bowl, whisk the ricotta cheese, eggs, whole milk, lemon juice and zest together. Pour the wet ingredients into the dry ingredients and stir well until combined.
Spray or butter a hot pancake griddle. Pour about ¼ cup pancake batter on the griddle for each pancake. Cook on both sides until light, golden brown. Repeat until all batter is gone.
Serve pancakes warm with blueberry compote and butter.
Notes
Pancake batter adapted from Food Network Magazine