Chocolate Brownie Cookies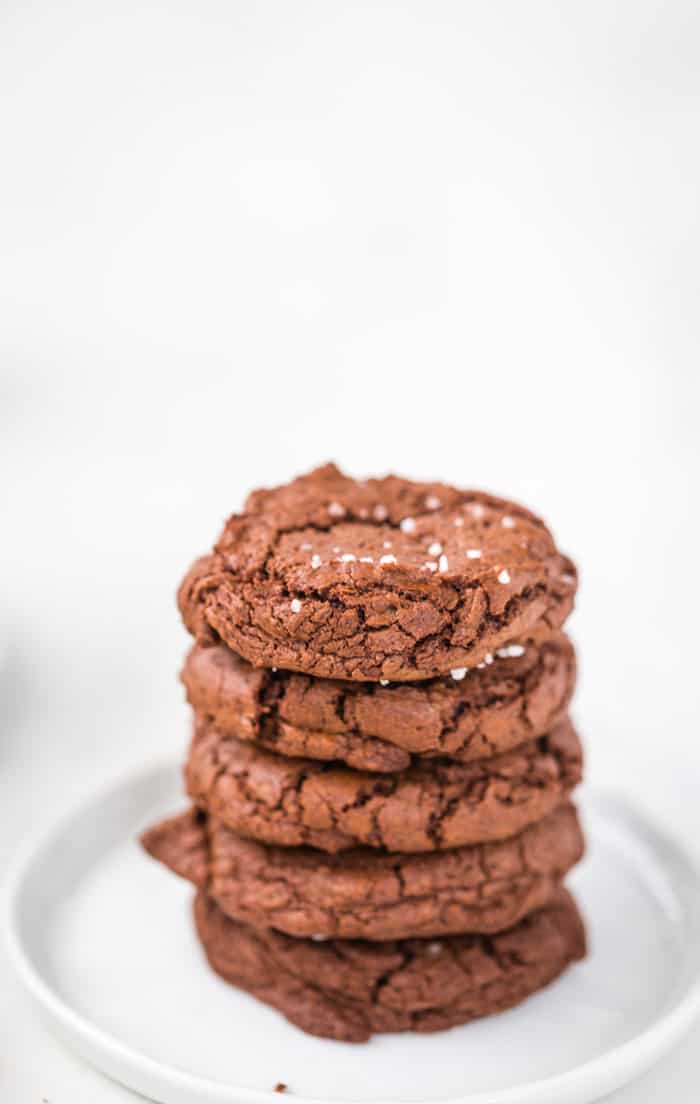 Hi friends! I know we did A LOT of cookies during the holiday season but I am always looking for new and delicious chocolate cookie recipes. I found these chocolate brownie cookies on Instagram last year from one of my favorite bakers and thought, why not try them?? Well, I am glad I did because they ended up being one of my favorite cookies last holiday season and were a hit with everyone. I've made them at least three times since and I think they would be perfect for Valentine's Day as well.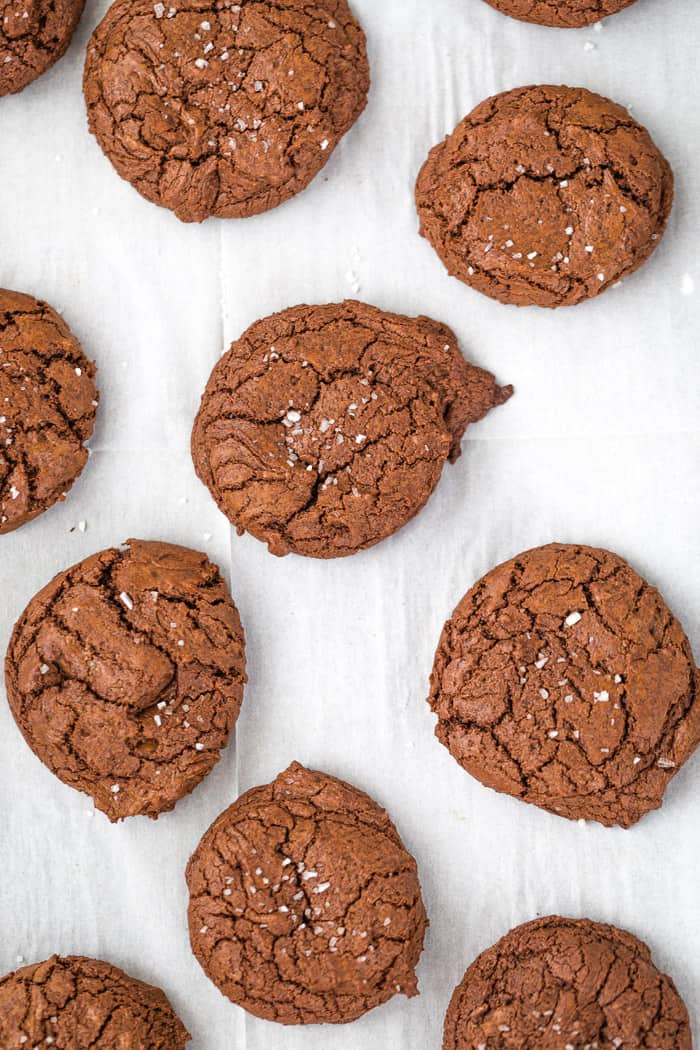 Nothing says "I love you" like homemade cookies and making ones that are decadent, chocolatey and fudgy is going to make any holiday special. These chocolate brownie cookies are chewy on the outside and soft and fudgy on the inside. They are rich and feel like you are eating a very good brownie. Everything about it from the sweet center to the hints of sea salt on the outside brings great flavors together in each bite. You must must try them! You won't regret it I promise.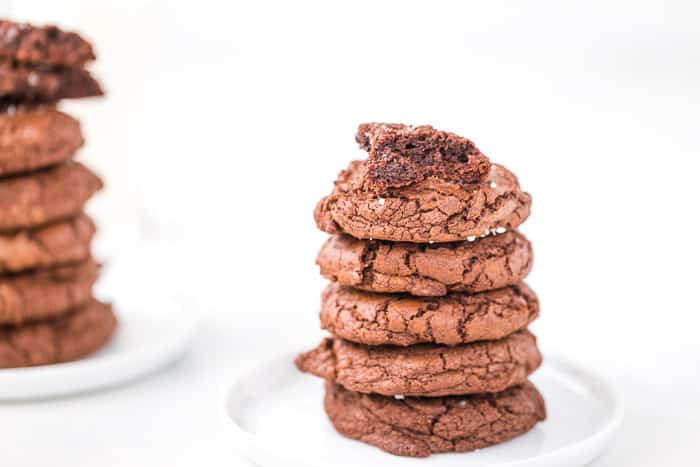 Talking about Valentine's Day, what are your plans? Do you make a big deal of it? I've never really bothered but with my toddler, I've been trying to be better about 'holidays' that I care less for. We made these vanilla bean buttermilk cupcakes together and he had a blast playing and eating the sprinkles in the name of decorating. I also try to do a craft with him to give to his friends in preschool. Beyond that, I am lost on ideas. My husband is always the one who blows me away with something. Should I feel bad?? Oieeee, I'm just going to make a batch of these cookies to share.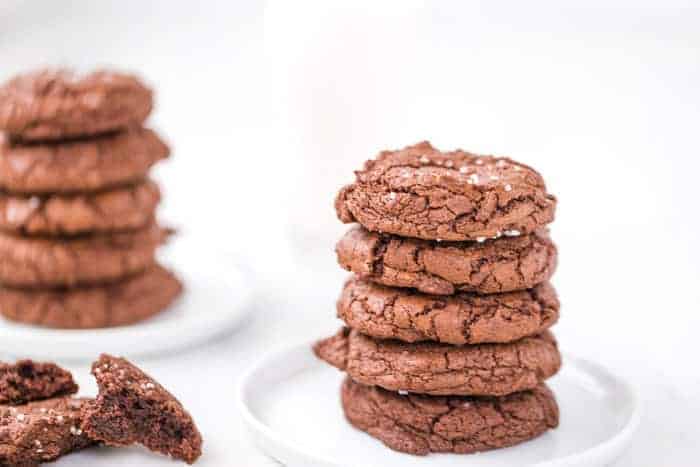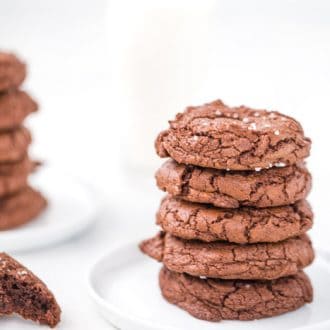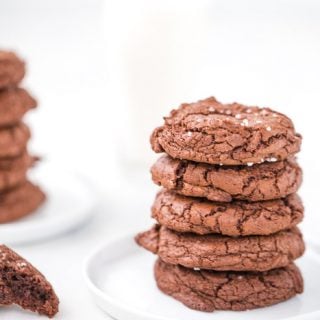 Yield: 10 cookies
Chocolate Brownie Cookies
Rich, fudgy chocolate brownie cookies that are perfect every time.
Ingredients
7 ounces dark chocolate, finely chopped
½ cup unsalted butter, diced
¾ cup granulated sugar
½ cup light brown sugar
2 large eggs
1 cup all-purpose flour
3 tablespoons cocoa powder
1 teaspoon baking powder
1/4 teaspoon salt
flaked sea salt for sprinkling
Instructions
Preheat oven to 350 degrees F. Line two baking sheets with parchment paper.
In a heatproof bowl, combine the chocolate and butter. Set the pan over a pot of gently simmering water. Let melt, stirring occasionally, until fully melted. Remove the bowl from heat and set aside.
In the bowl of a stand mixer or medium bowl fitted with the whisk attachment, whisk the sugars and the eggs together for 5 minutes on medium speed.
Add in the melted chocolate and mix to combine for about a minute.
In a separate medium bowl, sift together the flour, cocoa powder, baking powder and salt. Add the dry ingredients into the batter and mix until just combined. You can use a spatula and mix by hand one last time.
Using a medium cookie scoop, scoop out cookie dough onto prepared baking sheets, spacing each at least 2 inches apart. Sprinkle each with a little flaked sea salt.
Bake cookies for 12 minutes. They should come out crinkled and slightly domed.
Remove from oven and let cool on baking sheet for at least 20 minutes before transferring to a cooling rack to cool completely.
Store left overs in air-tight containers at room temperature for up to 3 days.
Recommended Products
As an Amazon Associate and member of other affiliate programs, I earn from qualifying purchases.
For more chocolate cookie recipes, try these: