Chocolate Chip Cookies with Chocolate Frosting

These Soft and chewy Chocolate Chip Cookies with chocolate frosting are easy and perfect to make with kids. Just imagine your favorite chocolate chip cookies topped with a sweet chocolate frosting and decorated with seasonal sprinkles. This recipe is been sponsored by NESTLÉ.  All thoughts and opinions are my own. Thank you for supporting the brands that make it possible for me to create more recipes for you!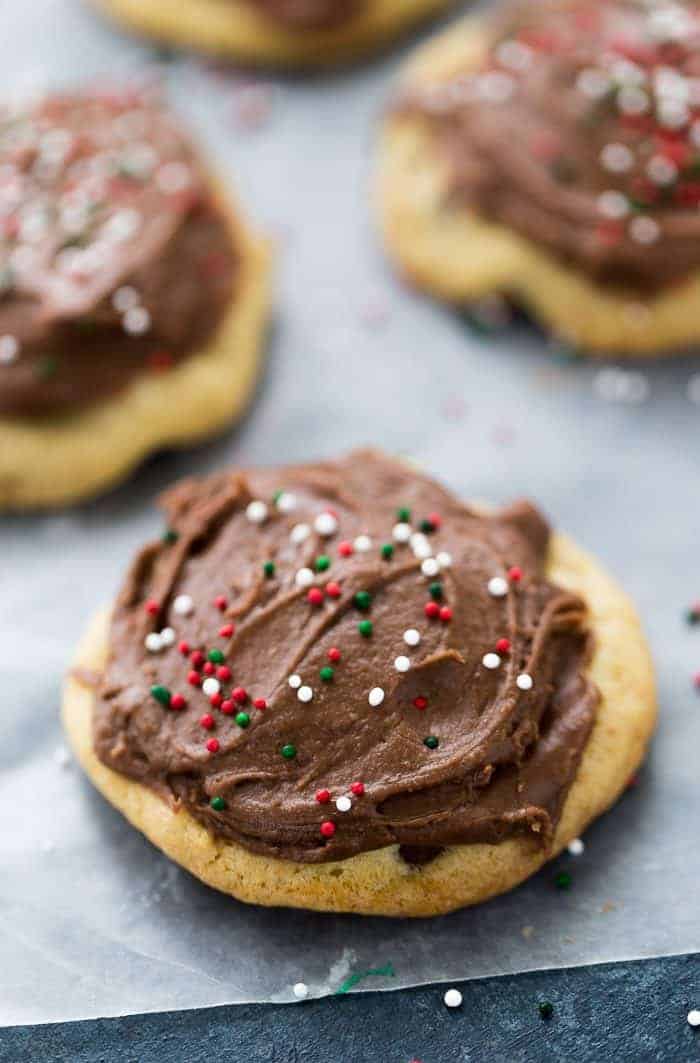 I have another easy and delicious cookie recipe for you today! These chocolate chip cookies with chocolate frosting are going to be an instant hit at your next holiday party or cookie exchange. Seriously, there's nothing better than warm gooey chocolate chip cookies over the holiday season except when you top said chocolate chip cookie with sweet chocolate frosting. That's exactly what these cookies are and they need to be on your holiday baking list.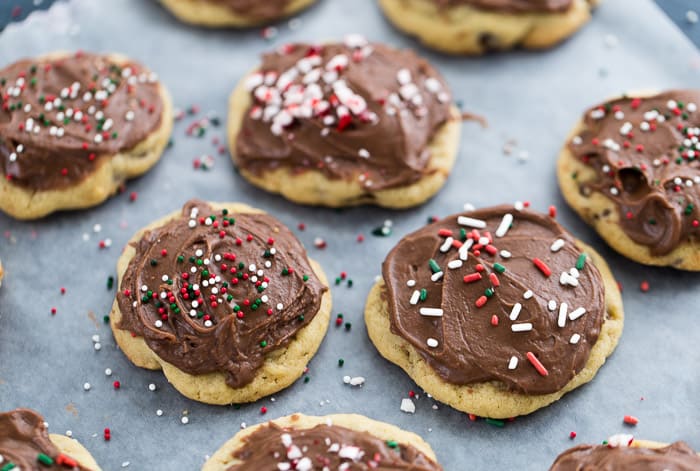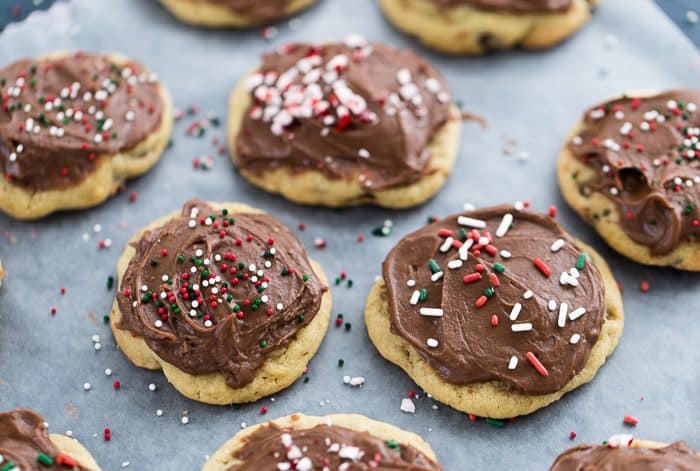 I made these cookies last weekend with my toddler Elliott. He is getting more and more interested in helping mommy bake and one of the things he likes adding (ahem eating) are the chocolate chips. He eats them while counting and only a few make it into the cookie dough or cake batter. Slows me down when I have a to-do list as long as the weekend but I enjoy having him in the kitchen with me especially when he bribes me with kisses. And I don't mind that he eats handful of chocolate chips because I know NESTLÉ® TOLL HOUSE® Real Semi-Sweet Chocolate Morsels are made with ingredients I know and trust. Win win!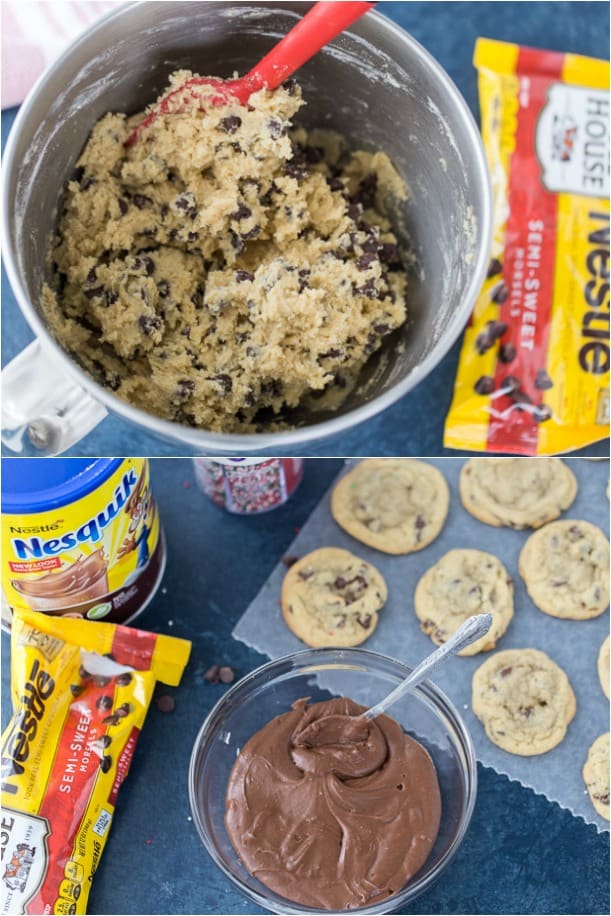 For these cookies, I used the classic Nestlé® Toll House® recipe at the back of the bag. I can always count on it and a few years ago I realized my husband's grandma's chocolate chip recipe is basically the back of the bag recipe + ground cinnamon. He still doesn't know this (shhhh!) and I still bake his "grandma's" cookies when he asks for it.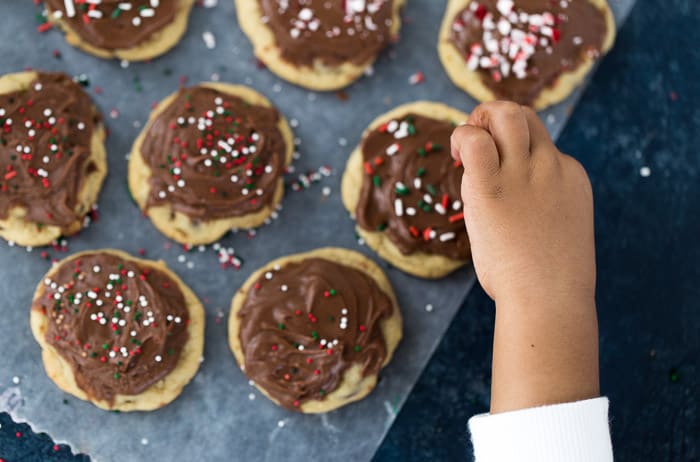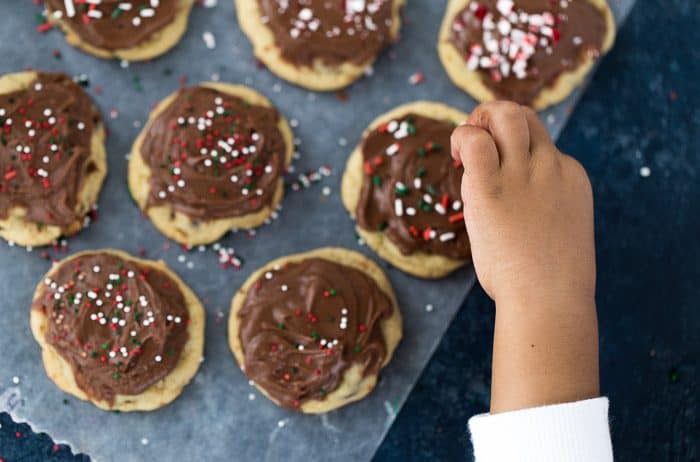 Anyway, Elliott and I added chocolate frosting to the cookies because I wanted to try the NESTLÉ® NESQUIK® Chocolate Powder I picked up at my local Walmart. It's an easy way to make chocolate milk at home but also great in chocolate frosting.
These cookies are fun to make with kids and the whole family. You can have the cookies made ahead of time and people can frost and decorate together. I can even see these for Valentine's Day with some pink and heart shaped sprinkles.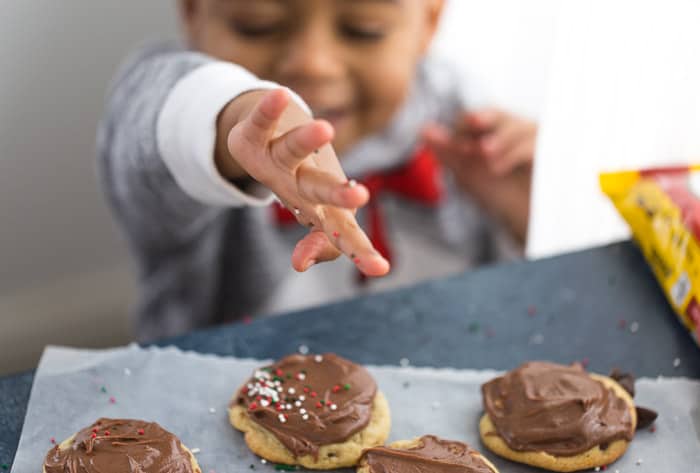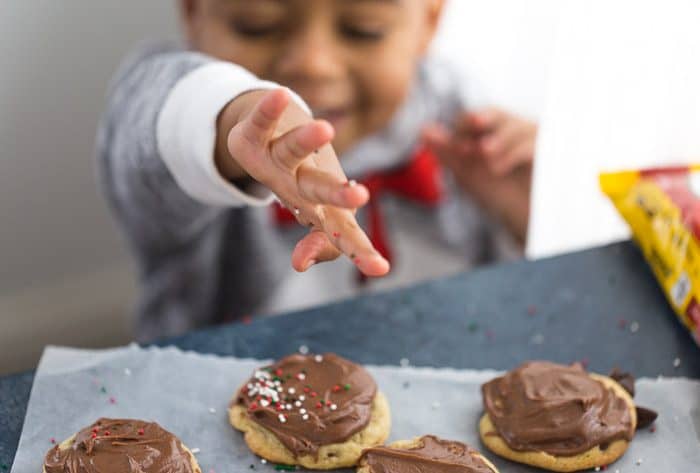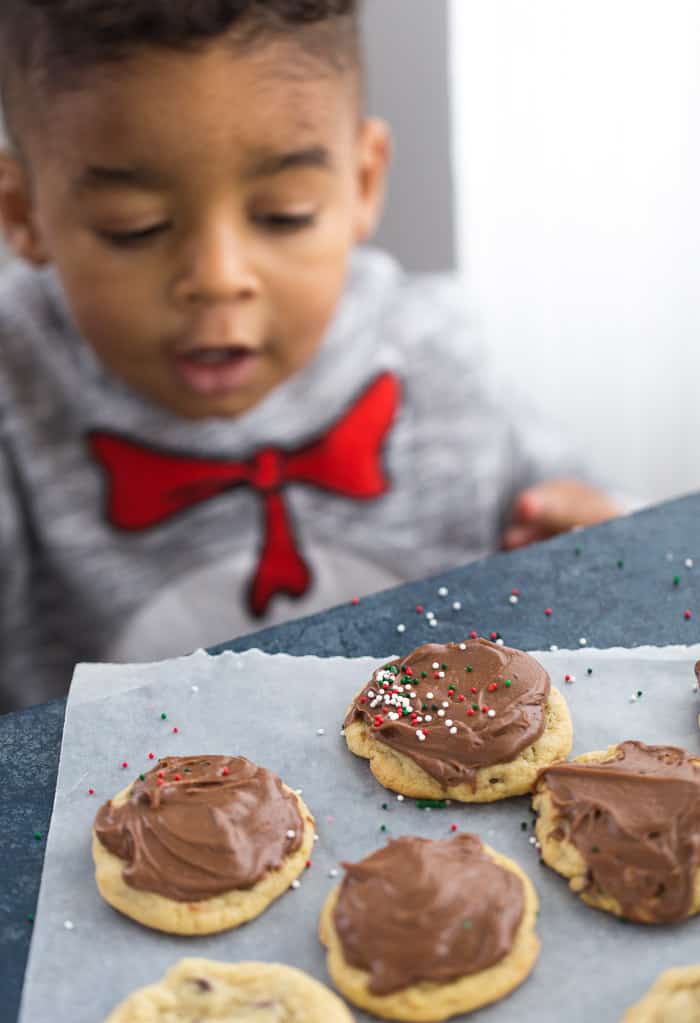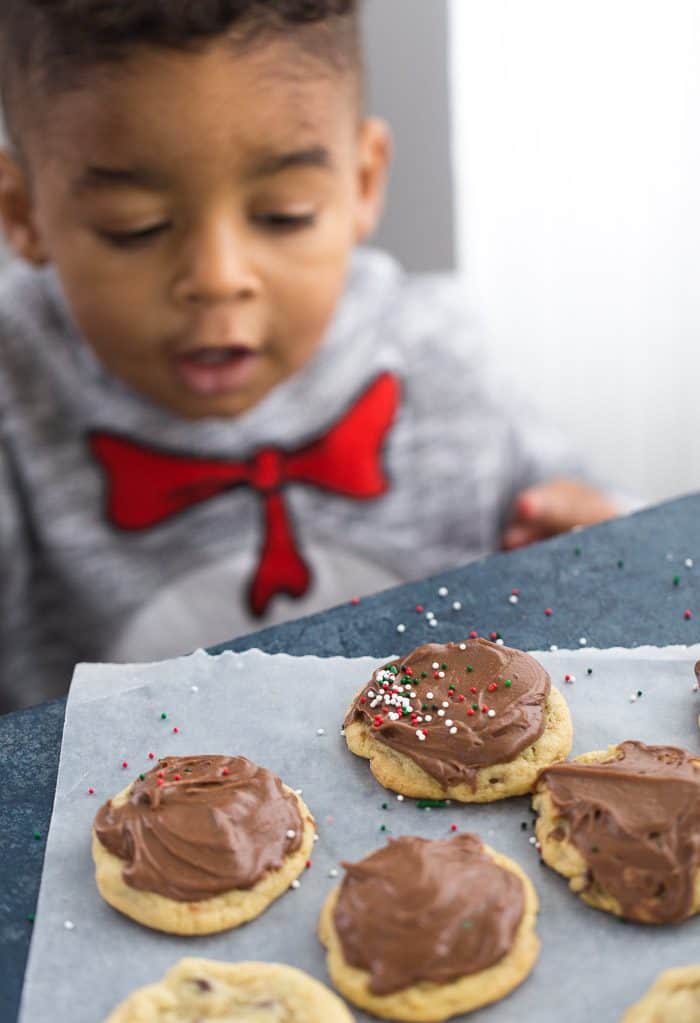 As you prepare to entertain and spend time with family this holiday season, grab a few of the Nestlé Toll House® products with ingredients you know and trust  at your local Walmart store . Nestlé® has a variety of products like this available at Walmart, ranging from family meals to desserts! Find all of them online with this new tool.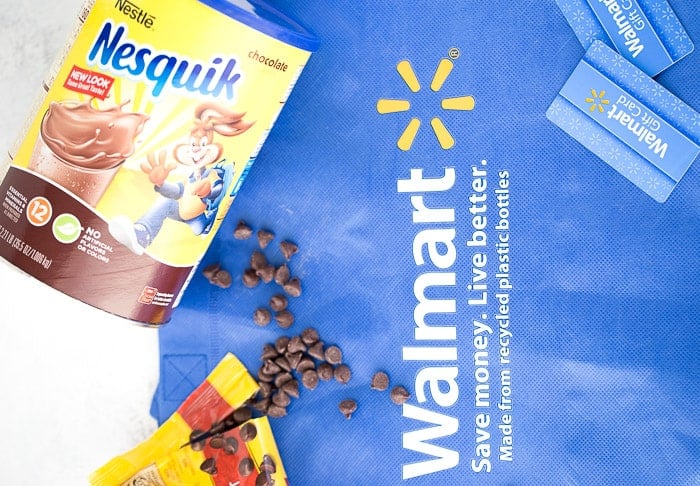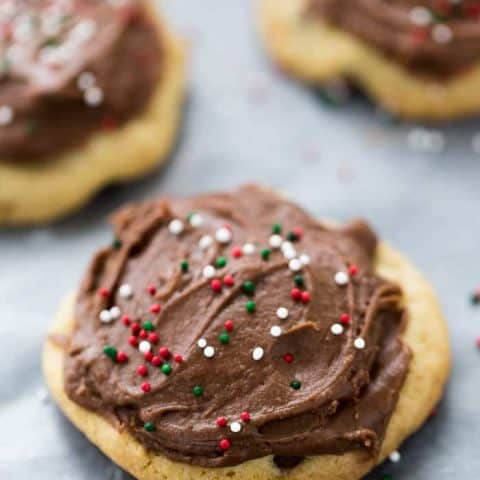 Yield: ~24 cookies
Chocolate Chip Cookies with Chocolate Frosting
Ingredients
For the cookies:
2 ¼ cups all-purpose flour
1 teaspoon baking soda
1 teaspoon kosher salt
¼ teaspoon ground cinnamon
1 cup (2 sticks) unsalted butter, softened at room temperature
¾ cup granulated sugar
¾ cup packed brown sugar
1 teaspoon pure vanilla extract
2 large eggs, at room temperature
2 cups (12 oz package) NESTLÉ® TOLL HOUSE® semi-sweet chocolate morsels
For the chocolate frosting:
1 ¼ cup powdered sugar
½ cup NESTLÉ® NESQUIK® Chocolate Powder
¼ cup (1/2 stick) unsalted butter, melted
¼ cup milk
¼ teaspoon pure vanilla extract
Instructions
Preheat oven to 375 degrees F. Line two baking sheets with parchment.
In a medium bowl, whisk together the flour, baking soda, salt and cinnamon.
In a large bowl or bowl of a stand mixer, cream together the butter, granulated sugar and brown sugar until light and fluffy, about 3-5 minutes on medium speed.
Beat in the vanilla extract and eggs one at a time. Gradually beat in the dry ingredients mixture. Fold in the chocolate morsels.
Using a large cookie scoop out cookie dough. Place onto cookie sheets.
Bake cookies for 9 to 11 minutes or until golden brown. Let cool on baking sheet for 2 minutes before removing to a wire rack to cool completely.
Meanwhile, make the chocolate frosting. In a medium bowl, whisk together all the ingredients.
Frost each cookie with a dollop of frosting. Decorate with sprinkles as desired.