Coconut Lemon Creme Waffles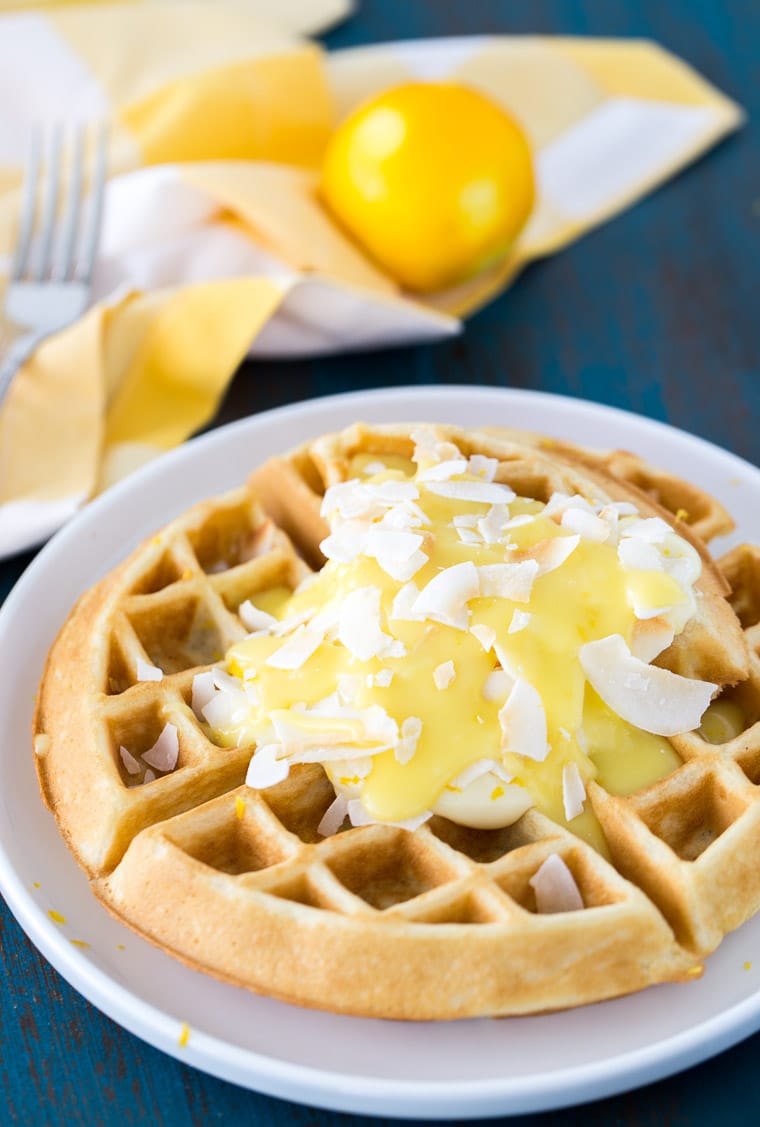 Hello friends! I hope you all had a wonderful Easter weekend.
How's the slowly warming weather in your neck of the woods? We keep going in and out of winter temps but there are signs everywhere that Spring is on its way. I can't wait because I am dying to put lemon and lavender in everything. I started with some lavender green tea and now these coconut lemon creme waffles are adding to that to spruce up my weekend breakfast.
As with all my waffle recipes here on the blog, I used my favorite Krusteaz waffle mix to start. I've been extremely lucky and glad to be a brand ambassador (and Baker's Dozen) for this family owned company that makes simple mixes with quality ingredients this past year. I love using their mixes to create recipes that make any day special. From Spring perfect Meyer Lemon Pound Cake, to Christmas cookies like these Cranberry Orange Vanilla Cookies and to the hubs all time favorite Snickerdoodle Peanut Butter Cookie Cake, you've joined me in reinventing these mixes and I cannot thank you enough!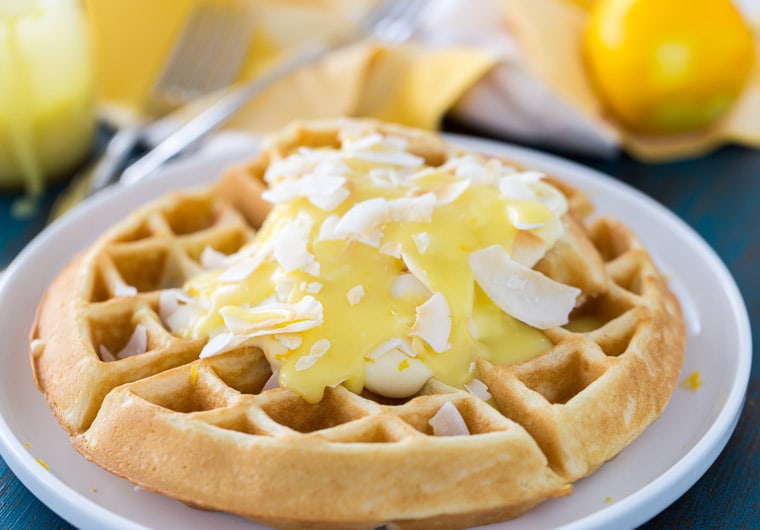 To round off the year with Krusteaz, these coconut lemon creme waffles only made sense since we started with lemon (Meyer Lemon Pound Cake). For these, I used coconut milk instead of water to make the waffles and added some fresh lemon zest. The topping is really where the action is. I started with a basic lemon pie filling, not the canned stuff but homemade and I whisked in some coconut milk to the pie filling as I was making it. The resulting coconut lemon pie filling is amazing; sweet, tart and lip-pukering. I am scaling the recipe up to make an actual pie soon because I can see it being just wonderful.
To this coconut lemon pie filling, I added some whipped cream cheese which resulted in a creamy topping that is oh-so-great!! The hubs declared it the best waffles and we've actually had them twice already in a week. I am pretty sure you will enjoy this if you are a lemon and/or coconut fan! This recipe is taking your waffles beyond maple syrup because why should every weekend be ordinary?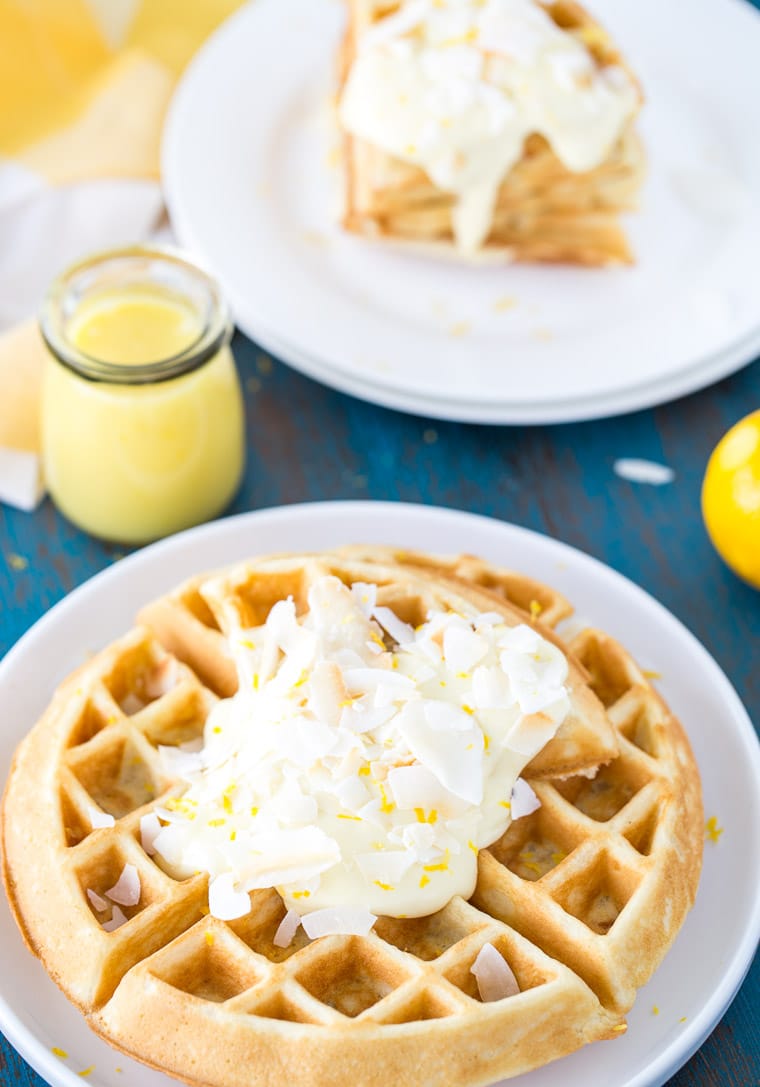 If you have not yet tried Krusteaz, I urge you to grab one of their mixes soon (they are in most grocery stores)! You will love them as much as we do and don't forget to check out my year of recipes using their mixes for inspiration!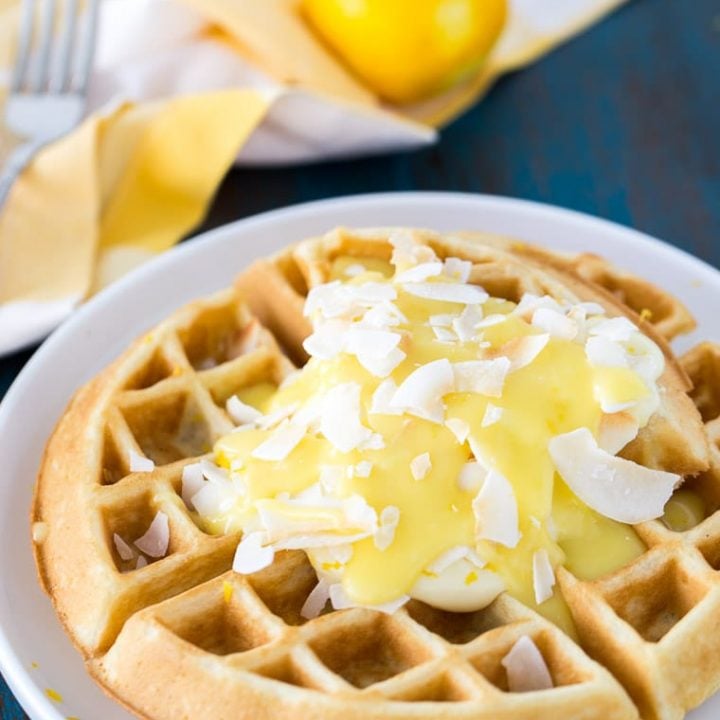 Yield: 4-5 waffles
Coconut Crème Waffles
Prep Time 20 minutes
Cook Time 10 minutes
Total Time 30 minutes
Ingredients
3 cups Krusteaz Belgian Waffle Mix
2 large eggs
1/3 cup oil
1 ½ cups coconut milk
2 tablespoons lemon zest
Toppings:
1 cup (8 oz package) cream cheese, softened
1 2/3 cups coconut lemon pie filling (recipe below)
1 teaspoon lemon zest
1/4 cup coconut flakes, toasted
Coconut Lemon Creme Pie filling:
1/2 cup sugar
1 tablespoon cornstarch
1 tablespoon flour
Dash of salt
1/2 cup coconut milk
1 egg yolk, slightly beaten
1 tablespoon unsalted butter
1/4 teaspoon lemon peel
2 tablespoons lemon juice
4 ounces cream cheese
Instructions
Heat and grease a conventional waffle iron.
In a medium bowl, whisk together the waffle mix, eggs, oil, zest and coconut milk. Mix until not lumpy. Pour batter onto waffle iron and cook 3-4 minutes or until golden brown.
In a medium bowl, whisk together the cream cheese, lemon zest and coconut pie filling. Serve waffles with crème topping and coconut flakes.
Lemon Coconut Pie Filling:
In a small saucepan, whisk together sugar, cornstarch, salt and coconut milk. Set over medium heat and bring to a boil. Cooking, stirring constantly, for 2 minutes. Add a small amount of the hot mixture into the egg yolk. Return the egg yolk mixture into the saucepan and bring to a boil again. Cook for another two minutes until thickened. Remove from heat and stir in the butter, lemon zest and lemon juice. Let cool.
When ready to serve, mix the cream cheese with the pie filling.
I am sharing this recipe in partnership with Krusteaz, for whom I am proud to be a brand ambassador. As always, all opinions are 100% mine. For more recipe ideas and inspiration, follow Krusteaz onFacebook,Twitter and Pinterest.