Apple Pie Protein Pancakes
Thank you Krusteaz for sponsoring this Apple Pie Protein Pancakes recipe!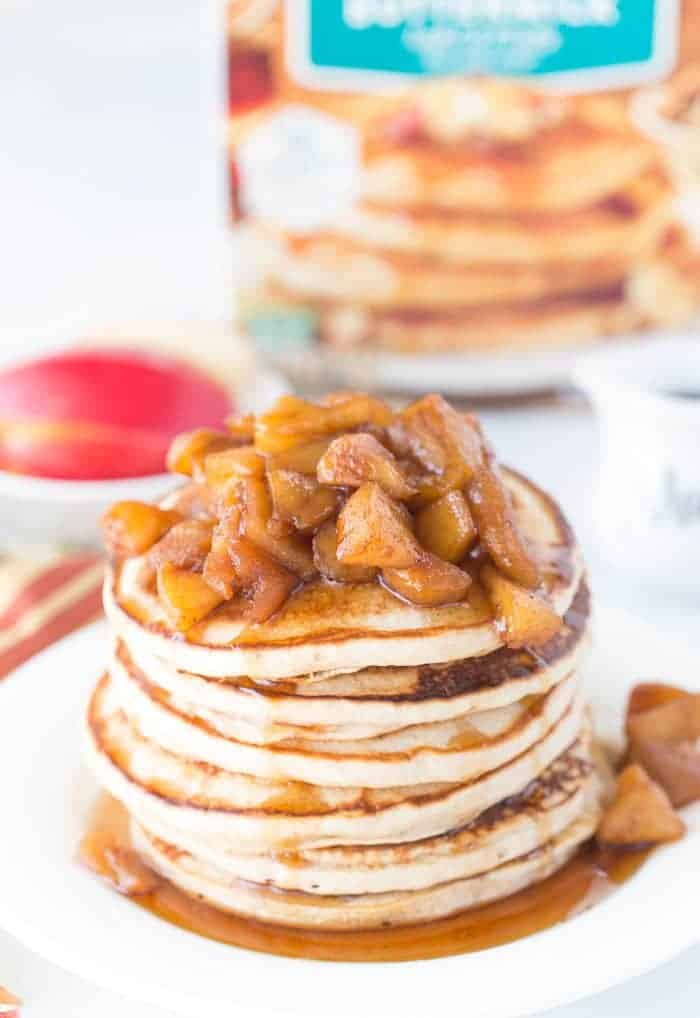 Hi friends! We are starting the week off with a hearty breakfast in the form of Apple Pie Protein Pancakes. With a whopping 13g of protein, these pancakes will keep you filled and excited for fall. Now that we must accept it is fall, we might as well start indulging in fall flavors, right? Nothing like starting the day with all your favorite fall flavors; warm spices, apple pie filling and maple syrup.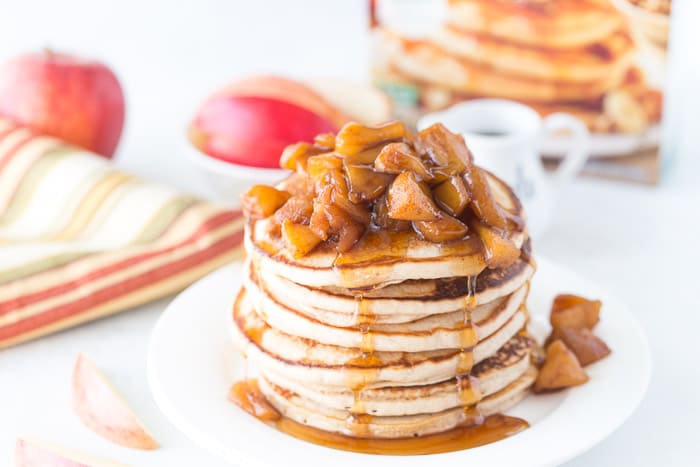 These pancakes start with my newest Krusteaz must-have pancake mix. A buttermilk protein pancake mix with 13g of protein a serving is a great way to keep the family full and satisfied. If you haven't tried it yet, you have to.
The fluffy buttermilk pancakes are spiced with cinnamon, nutmeg and cloves. The pancakes are topped with an equally delicious apple pie filling; warm apples cooked in spices. Finally, they are topped with sweet maple syrup. You can skip the syrup if you like, but it's a great addition to the fluffy pancakes. These apple pie protein pancakes will be perfect for any fall brunch. The pancakes also freeze very well. I made a few extras and froze for easy breakfasts during the work week.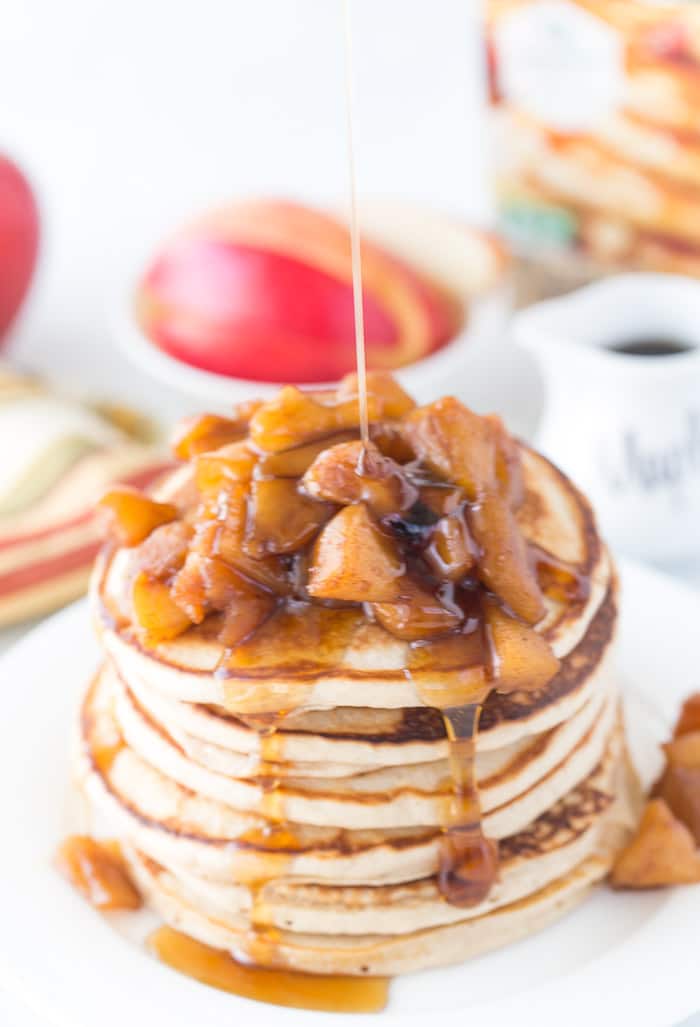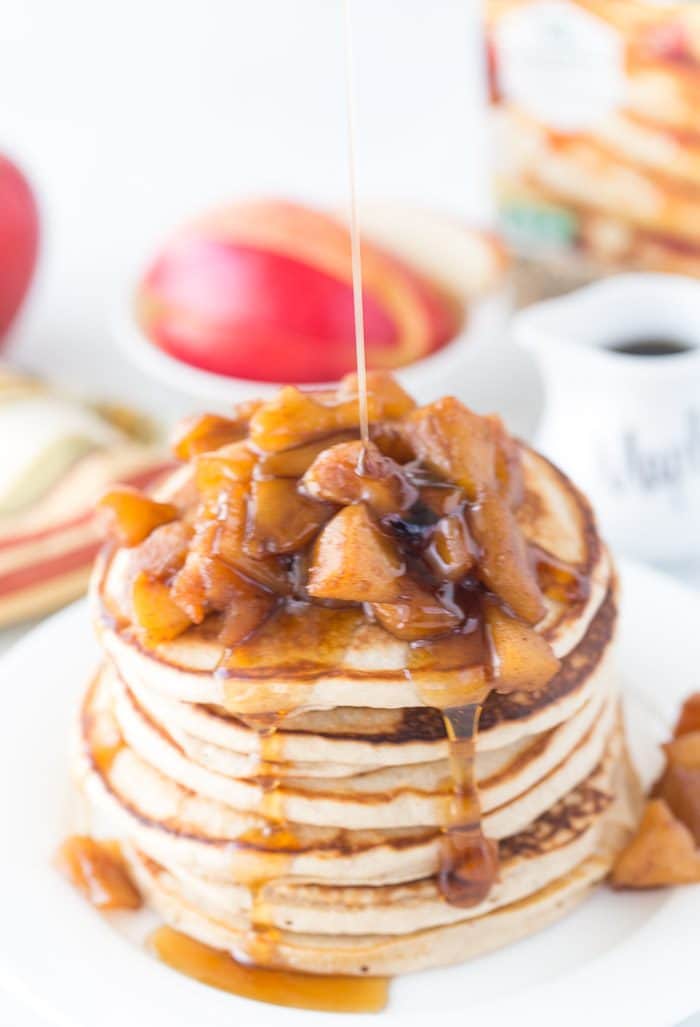 Check out this short video of how to whip up these easy apple pie protein pancakes recipe! Enjoy!
Get the full recipe here on Krusteaz.com where I am sharing it with their readers too!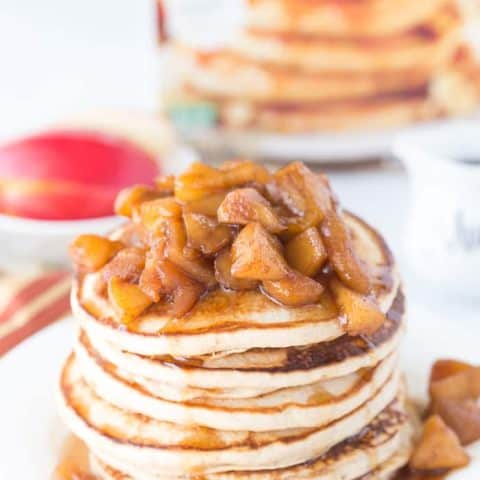 Yield: 4-6 servings
Apple Pie Protein Pancakes
These apple pie protein pancakes are packed with seasonal flavors and are filled with hearty protein to keep you filled all morning. They are perfect for easy breakfasts to send the kids off to school. Top with maple syrup and enjoy!
Additional Time
20 minutes
Ingredients
For Pancakes:
2 cups Krusteaz Protein Complete Buttermilk Pancake Mix
1 teaspoon apple pie spice or ground cinnamon
¼ teaspoon of nutmeg
a pinch of cloves
½ cup water
½ cup milk
2 large eggs, whisked
2 tablespoon vegetable oil
For topping:
2 medium apples, cored and chopped
3 tablespoons brown sugar
½ teaspoon ground cinnamon
dash of cloves
Maple syrup (for serving)
Instructions
Heat a pancake griddle to 375°F (medium heat). Lightly grease griddle.
In a large bowl, whisk together the pancake mix, apple pie spice, nutmeg, and cloves. In a small bowl, whisk together the water, milk, eggs, and vegetable oil. Pour the wet ingredients into the dry ingredients. Mix until just combined. Do not over-mix but mix until combined. Let the batter stand for at least 2 minutes.
Spoon about 1/4 cup batter per pancake onto the griddle. Cook 1- 2 minutes per side. For light and fluffy pancakes, flip only once, when the tops bubble and bottoms are golden browns.
For the topping, cook the apples, brown sugar, cinnamon, and cloves together until the apples softened.