Rustic Apple Galette with Caramel Sauce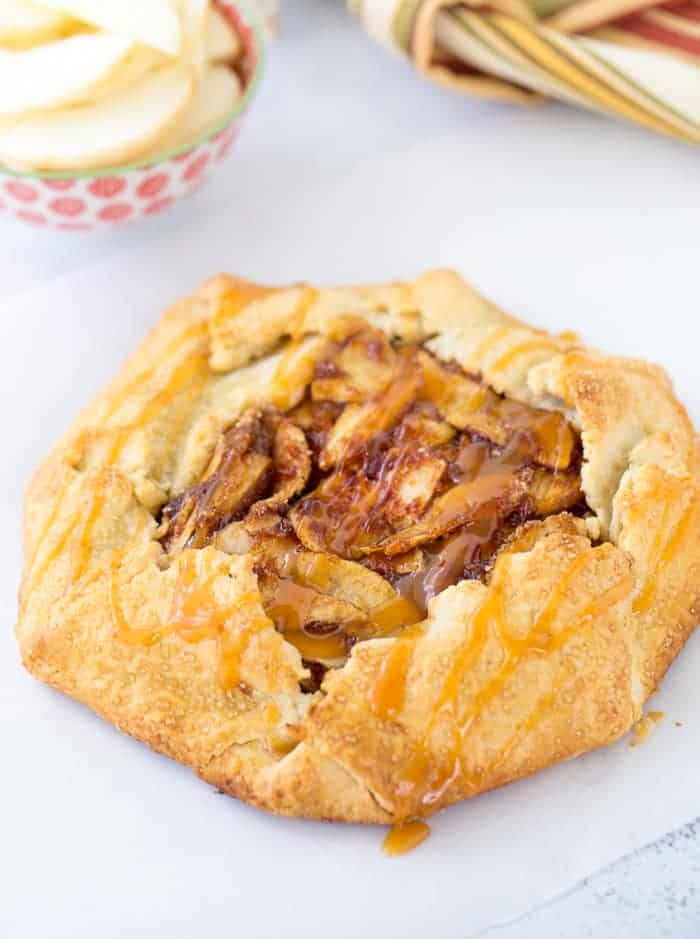 Happy September friends! How is it the that time of the year already? Even though we still have two more weeks of (official) summer left, the weather here in Upstate NY has been chilly and we've all broken out the sweaters. Which means it's time to start the fall baking season!!! I'm starting with a basic galette using some of our favorite fall flavors. This rustic apple galette is easy, no-fuss and drizzled with caramel sauce for a killer apple pie without the hassle.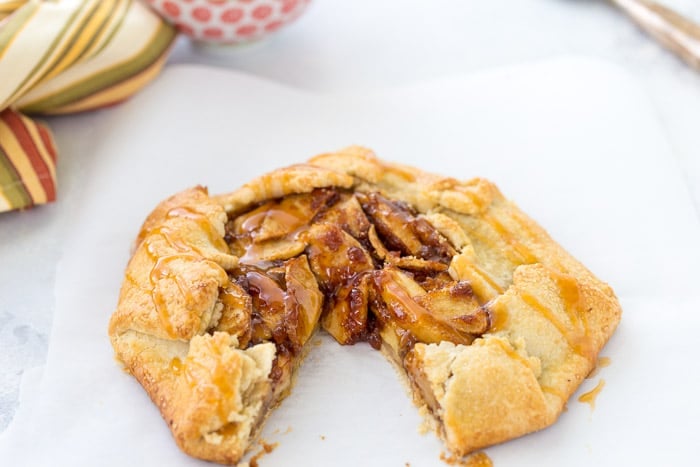 It's almost my way of keeping summer alive while looking forward to apple season. Like a traditional apple pie recipe, we have apple pie filling with all the cozy spices of cinnamon, nutmeg and cloves baked inside a flaky, buttery crust and it's all drizzled with some warm melty caramel. I love using my homemade caramel sauce recipe for fall recipes, just make a batch and store in the fridge to adorn on all your apple (and pumpkin!) treats.
Every slice of this apple galette is a piece of comfort especially if you serve with a scoop of ice cream. So delicious!
Despite missing summer already, I'm excited to start fall baking and have so many new recipes I want to share with you. Also, I have my usual fall bucket list I can't wait to get started on. From apple picking, to hot cider runs and fall fashion, my favorite season is in the air!! Here's to sweaters, scraves, boots and apples!!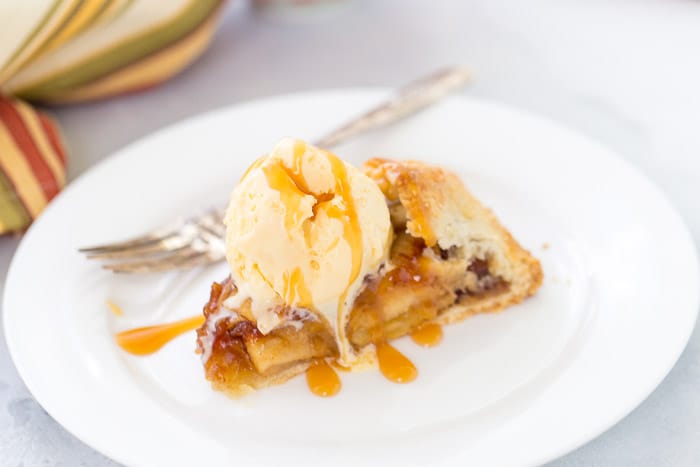 What are you looking forward to the most this fall?
More Apple Pie Recipes to try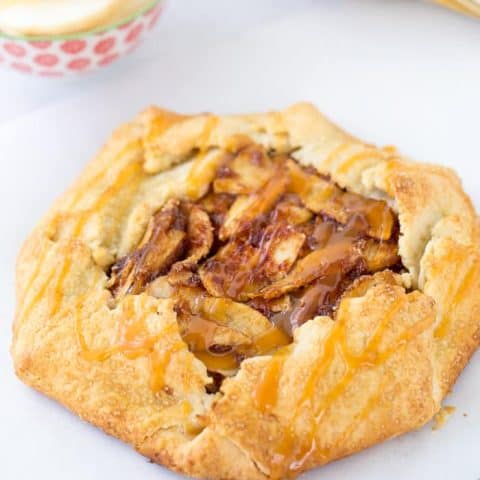 Yield: 1 9-inch galette
Apple Galette with Caramel
Ingredients
For the Crust:
1¼ cup all-purpose flour
6 tablespoons unsalted butter, cold and cut into cubes
2 tablespoon shortening, cold and cut into cubes
2 tablespoons granulated sugar
¼ cup ice cold water
For the Filling:
2-3 medium apples, peeled, cored and thinly sliced
1/2 cup light brown sugar
1 teaspoon ground cinnamon
1/4 teaspoon allspice
1/8 teaspoon nutmeg
zest and juice of half a lemon
1/4 cup cornstarch or pie filling enhancer
1 egg, beaten for egg wash
2 tablespoon turbinado sugar, for sprinkling
1/4 cup caramel sauce ,for drizzling
Instructions
For the Crust:
Combine all the ingredients in a food processor except the water. Process a few times until butter is about the size of a pea. With processor on, slowly drizzle in ice cold water to mixture, one tablespoon at a time, until dough comes together. Remove dough from bowl and pat down into a disc. Wrap in plastic wrap and chill for at least an hour.
In a large bowl, toss together the apples, brown sugar, cinnamon, allspice, nutmeg and lemon juice. Add in the cornstarch or pie filling enhancer. Gently mix to combine.
When dough is chilled, roll out into a 12-inch circle. (I rolled mine onto a well-floured parchment to make transfer easy). Transfer to a baking sheet. *Note: Alternatively, you could divide dough into three and make three mini galettes.
Spoon the apple mixture into the center of the crust, leaving 2-3 inch borders. Fold up the sides, gently tucking in over the fruit in a folding/pleating pattern. Transfer dough to freezer and let chill for 15 minutes.
Preheat oven to 375 degrees F. Remove galette from freezer and brush dough with egg wash. Sprinkle dough with turbinado sugar. Bake galette for 50-55 minutes until crust is golden and juice from the fruit runs out. Let cool before serving warm. Drizzle caramel sauce over galette before serving.