Apple Cheddar Cranberry Pie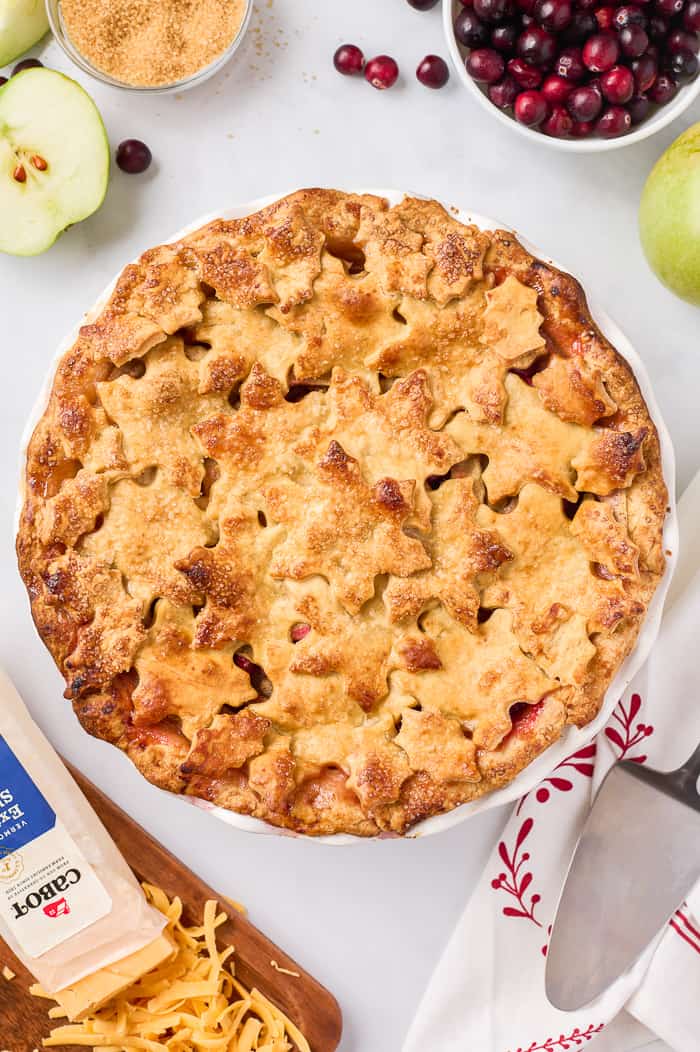 This Apple Cheddar Cranberry Pie recipe is sponsored by Cabot Cheese. All opinions are mine. Thank you for supporting brands I love and making it possible for me to continue creating recipes for you.
Hey there my friends! Can you imagine a holiday meal without a gorgeous, and delicious pie steaming away on the dessert table? I certainly can't! The end of the year goes by so quickly for all of us. After Halloween, the holidays come and go in a blink of an eye and all we can do is soak up the memories made with friends and loved ones.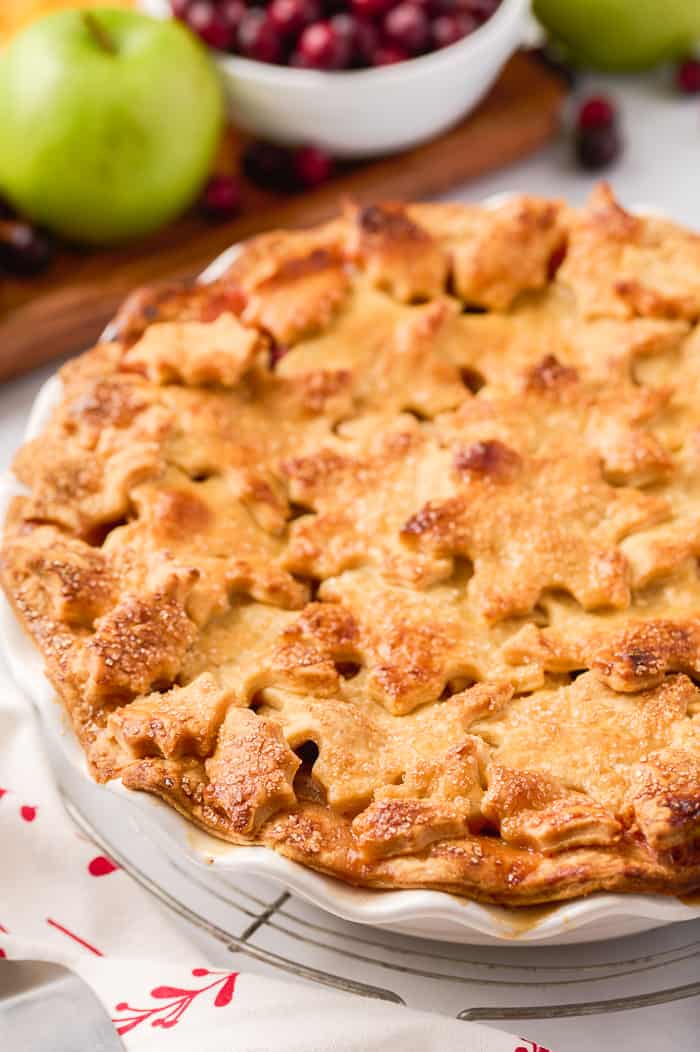 We share memories, laughs, and create new ones while sharing some of our favorite foods. Make sure your dessert table is memorable by adding this Apple Cheddar Cranberry Pie. Think apple pie but elevated with extra sharp cheddar in your crust and some seasonal tart cranberries.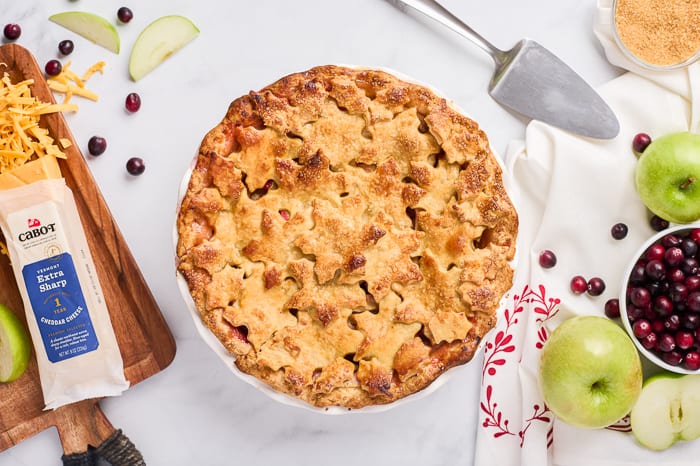 Whether I am baking or cooking, you know Cabot Cheese is my preferred option for infusing cheese into my dishes. The rich and tangy flavor of the various cheddar cheeses enhances any dish it goes into. This apple cheddar cranberry pie is no different. Made with the Cabot Creamery Extra Sharp DELI bar, the pie crust has a subtle flavor kick.
Why Cabot? Besides being a favorite of mine, they have award-winning cheese and dairy products. They are a certified B Corporation, which means they care about people and the planet. The award-winning dairy products they make are created with a purpose. It's been great highlighting their products over the past year and sharing how I use them in my kitchen (savory cheddar twist bread, apple cheddar twist bread, cheddar biscuits, and more). I hope some of you have brought this wonderful cheese into your life.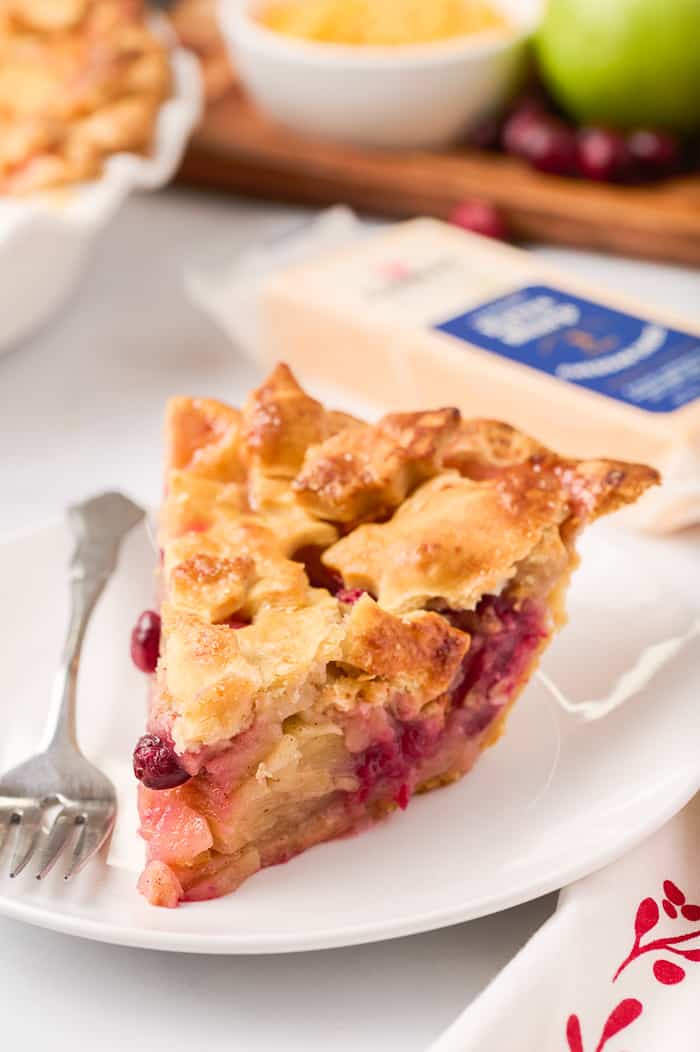 Okay, back to the recipe!! Apples and cheddar are a pair made for each other so why not combine them in a dessert? That is what we do here and the result is incredible. The cheese-infused crust is filled with an apple cranberry combination. A variety of sweet and tart apples and fresh cranberries are tossed with brown sugar and fall spices including nutmeg and ginger for warmth. This filling is baked until apples are tender and the cranberries release their juices. The mix is incredible! A little sweet with a little tartness.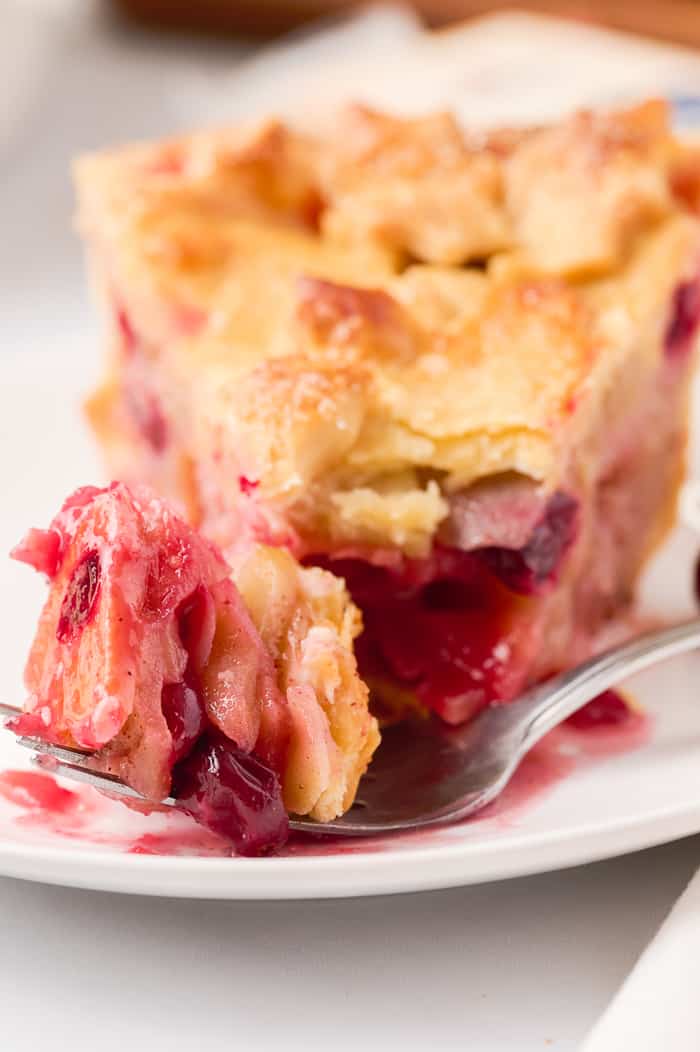 Now that our taste buds are woken up and your mind is intrigued, let's get to baking our perfect holiday treat. If you don't want to see the step-by-step then simply scroll down to the bottom for the full recipe.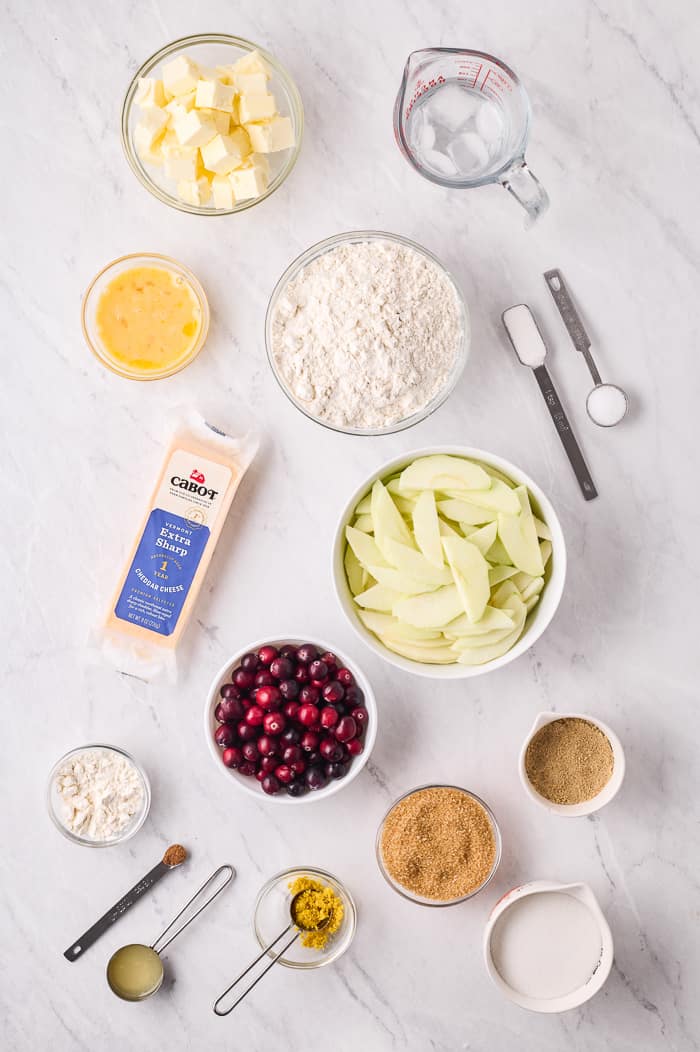 Let's start off with making the pie crust. This is an easy method for pie crust and my lazy way to get it done in less than 20 minutes.
I use a food processor to make the dough as it is quick and easy. You can do all this in a bowl and knead with your hands.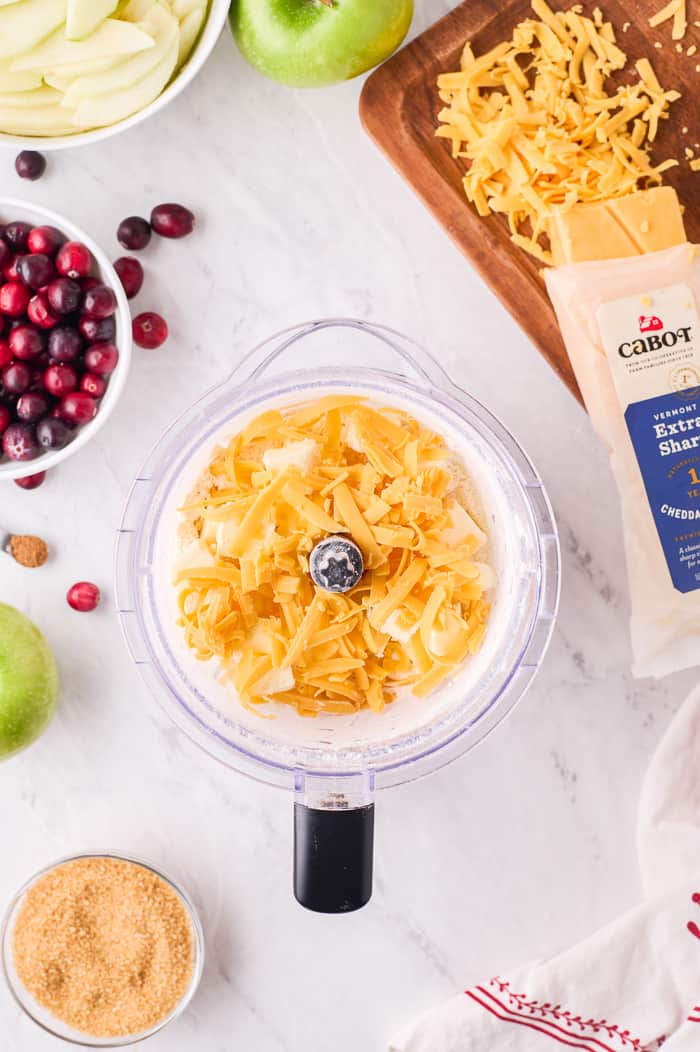 Pulse flour, salt, and sugar. Add ½ of the butter and pulse for a few seconds. Add the remaining butter and cheese. This time, make sure they are cut into the flour mixture. The Key is NOT to over process as you will lose the magic of the dairy bits in your dough. Bring it all together with a few tablespoons of ice water.
Separate your dough and chill in the fridge. Before you roll out the dough make sure it has time to come to room temperature.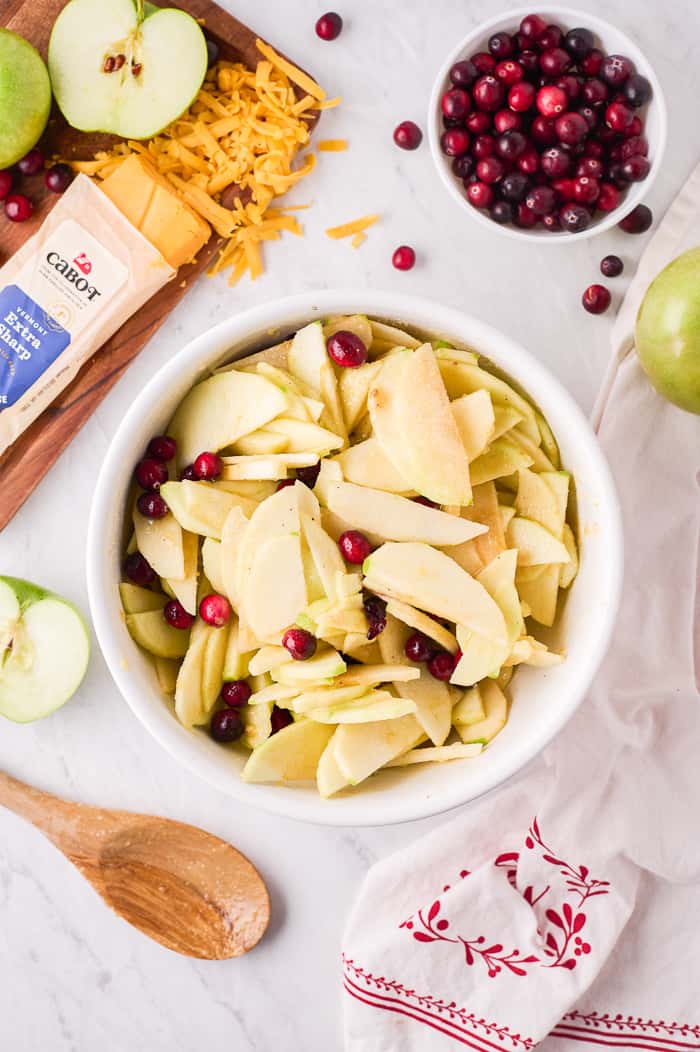 While that chills, we make the filling. Simply just combine all the ingredients in a bowl; apples, fresh cranberries, sugar, spices, and lemon juice. I like letting the filling site for 20 to 30 minutes to get the juices and flavors running.
Spoon your filling into your crust. Notice I said spoon as you will not be using the liquid that may have gathered.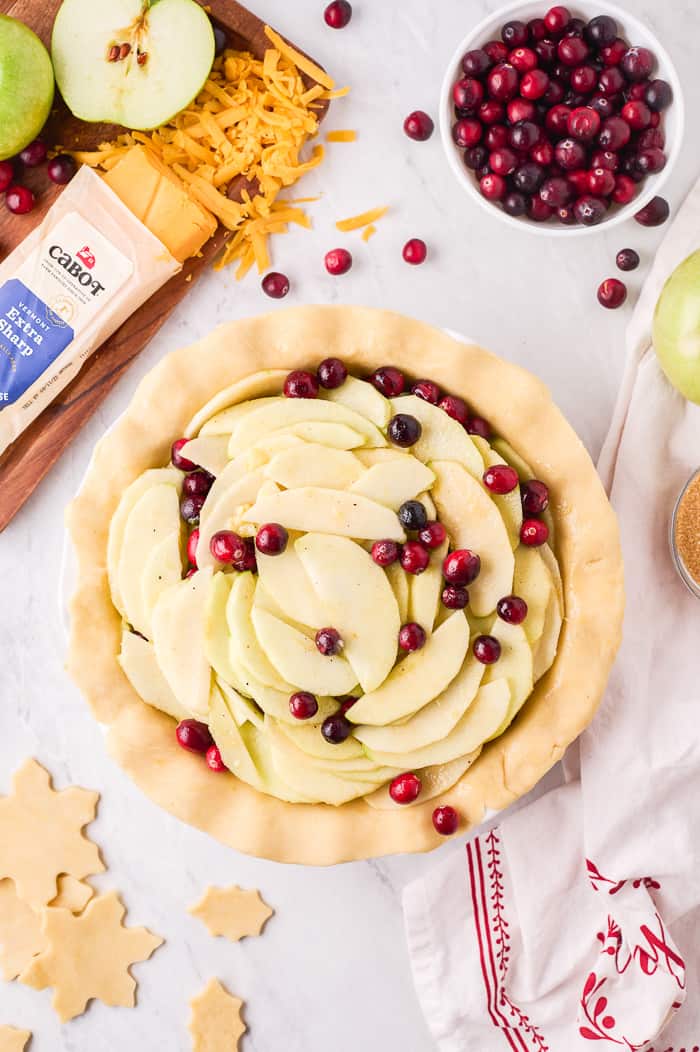 The final step is decorating the top of your pie. The second disc can be used for any design. Lattice, simple full top, or a cut-out like I did here.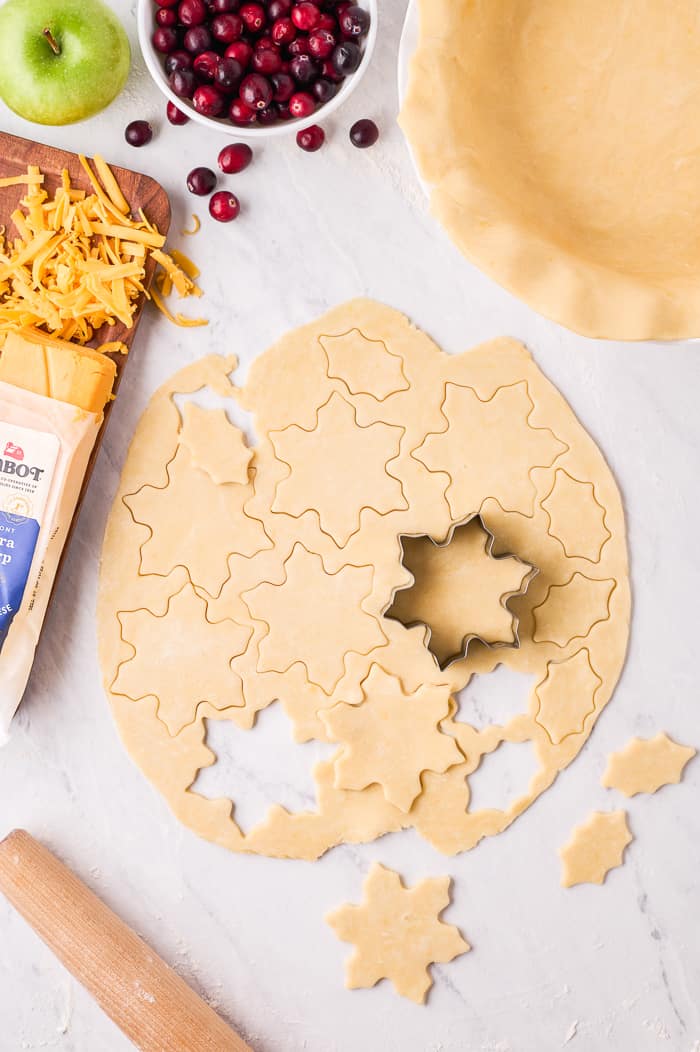 Whatever design you choose, brush with milk and sprinkle with sugar.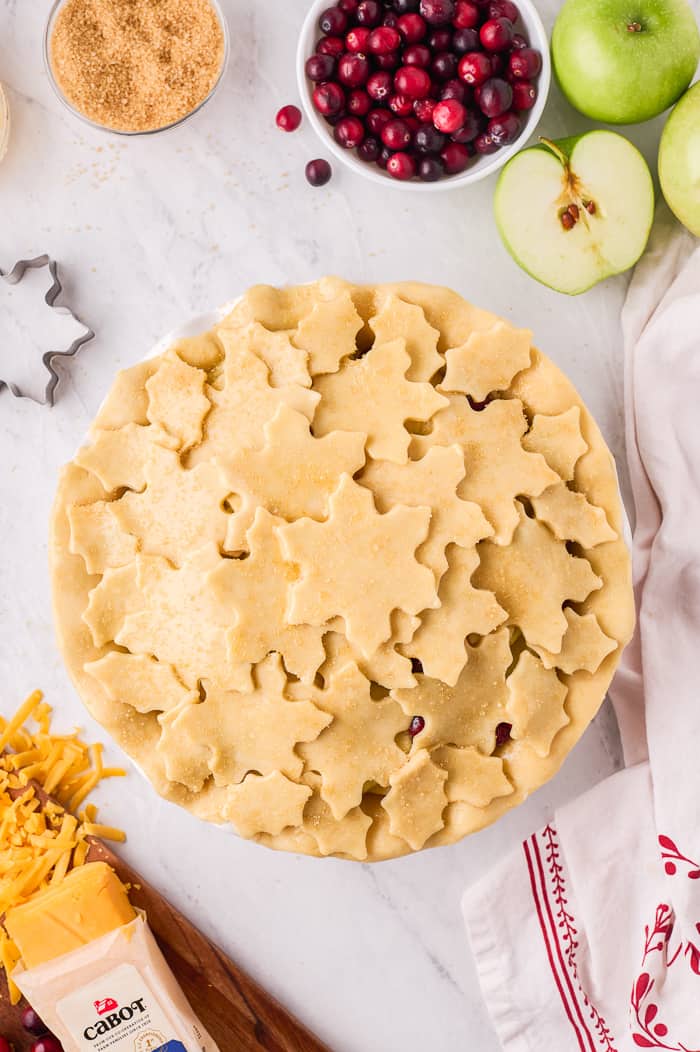 Bake until filling is bubbly and the top crust is golden brown.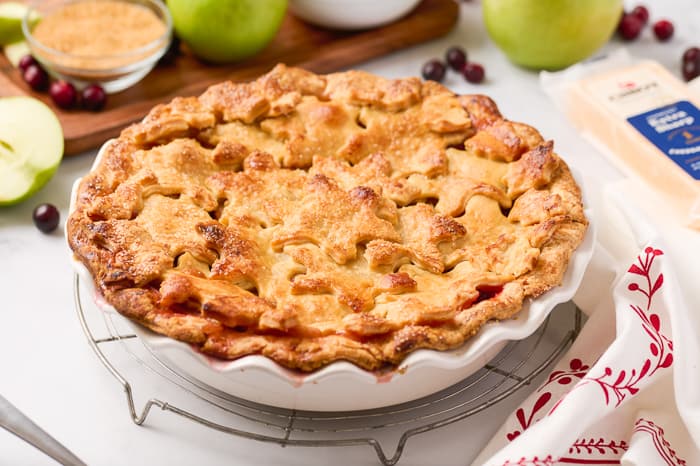 And that's it!!
With all the other desserts that are a staple on my family's table, they will get a surprise when this new Apple Cheddar Cranberry Pie comes out and steals the show.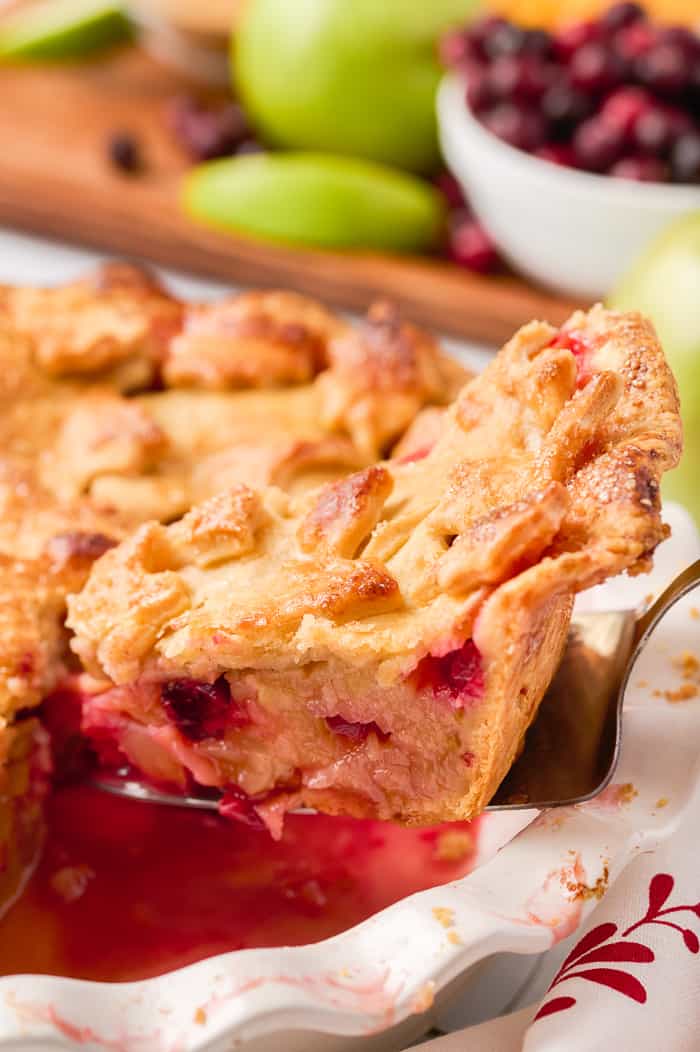 If you like this pie, then you definitely need to try Caramel Apple Pie with Cheddar, or Cranberry Ginger Pear Pie. I have so many more classic twist recipes for the holiday season for you to explore here.
More Pies to try
Cabot is a co-operative owned by farm families throughout New England & New York and 100% of profits go back to the farmers. For more recipes inspired by Cabot cheese, check out their website, Instagram or Facebook.
Until next time, happy baking!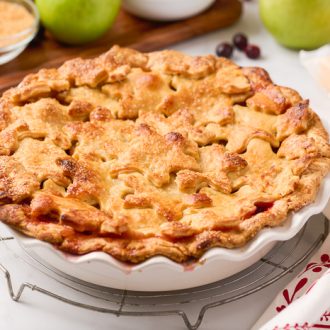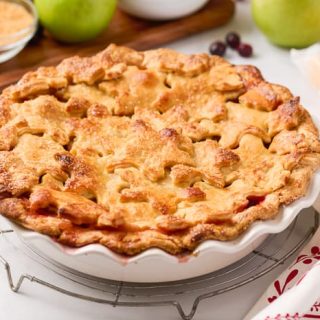 Apple Cheddar Cranberry Pie
Additional Time
40 minutes
Total Time
2 hours
25 minutes
Ingredients
FOR PIE CRUST
• 2 ½ cups all-purpose flour
• 1 teaspoon salt
• 1 teaspoon sugar
• 14 tablespoons cold unsalted butter, cut into cubes
• ½ cup grated Cabot Creamery Extra Sharp Cheddar, cold
• Ice cold water
• 1 egg, beaten
• Turbinado sugar for sprinkling
FOR FILLING:
• 1/2 cup granulated sugar
• 1/4 cup (packed) golden brown sugar
• 1/4 cup all-purpose flour
• 1 tablespoon lemon juice
• 2 teaspoons grated lemon peel
• 1/8 teaspoon ground nutmeg
• 3 pounds apples, peeled, cored, thinly sliced
• 1 cup fresh cranberries
Instructions
Prepare ½ cup ice-cold water and keep it in the fridge. In a food processor, pulse flour, sugar, and salt. Add in half of the butter and pulse for 30 seconds. Add in the rest of the butter and cheese and pulse until the mixture looks like a coarse meal. Sprinkle about 6 tablespoons cold water over the mixture and pulse until the dough comes together in clumps. If dry, add a little bit more water (1 teaspoon at a time). Remove dough from processor and form into a disk.
Divide dough into two disks; one slightly bigger than the other and wrap in
plastic wrap. Chill for at least an hour. The dough can be made up to 3 days
ahead. Keep chilled. Let stand at room temperature 15-30 minutes before rolling out.
Roll out the larger disk of dough on a lightly floured surface to a large 12-inch circle. Fit into an ungreased 9-inch pie dish, crimping the edges into your desired style. Refrigerate for at least 30 minutes
Preheat oven to 400 degrees F.
In a large bowl, whisk together the sugars, flour, lemon juice, lemon peel, and nutmeg. Add in the peeled apples and cranberries and toss in the mixture. Let sit for at least 20 minutes.
Add the filling to the prepared pie crust. Roll out the second dough disk on the floured surface. Cut out about 12 strips (I did a combination of wide and narrow strips). Arrange half of the strips across the pie and the other half diagonally to form a lattice. Gently press the ends into the crust edges. Brush the top of the pie with milk and sprinkle with turbinado sugar.
Bake pie for 10 minutes. Reduce oven temperature to 375 degrees F. Continue baking pie until juices bubble and the crust is golden brown, about 1 hour 20 minutes. If the crust is browning too fast, cover the pie edges with foil and continue baking.
Let cool on a rack for at least 1 hour. Serve warm with a scoop of ice cream.
Recommended Products
As an Amazon Associate and member of other affiliate programs, I earn from qualifying purchases.