Peanut Butter Blossom Cookies
These peanut butter blossom cookies are soft on the inside with a sugary texture on the outside. It's impossible not to pop the whole thing in your mouth while reaching for another!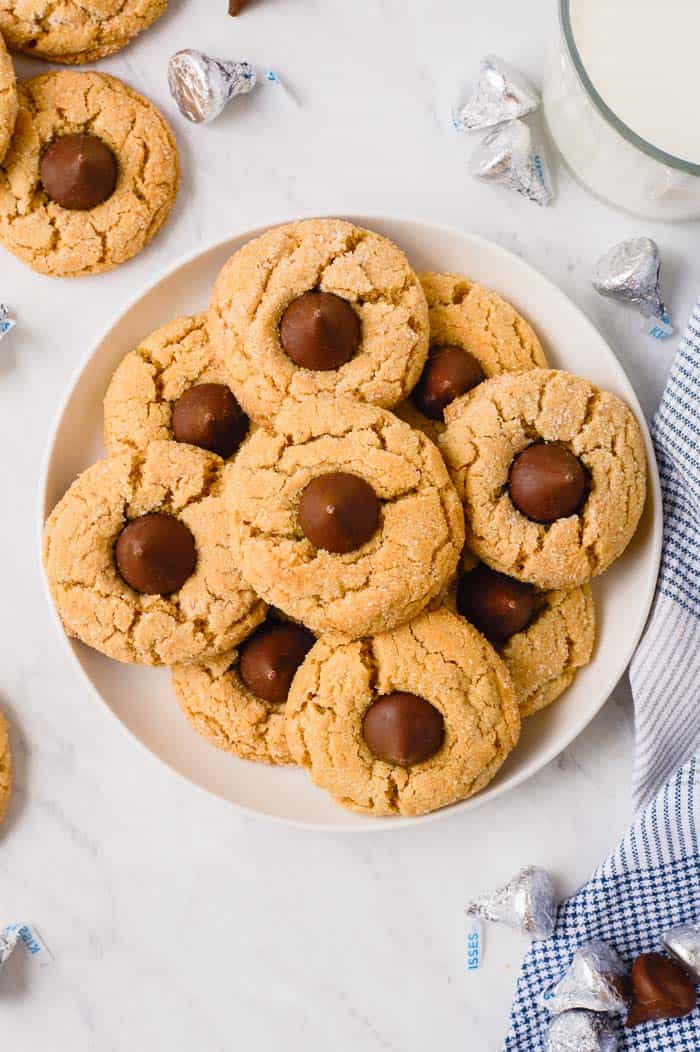 Hello, again my friends. Most of us are old enough to remember those classic holiday commercials from the '90s. With the snowman coming inside and melting into a little boy once he takes a bite of chicken noodle soup, the polar bears drinking a coke, and my favorite of them all were the red and green Hershey kisses playing "We Wish You A Merry Christmas".
Hershey Kisses have been a holiday staple for years. A bowl of silver, green, and red bite-sized chocolate treats you put out for your guests to enjoy every time they come to visit throughout the season. But, there is another seasonal favorite that uses Hershey Kisses and always makes the cut for holiday baking days. That would be these Peanut Butter Blossom Cookies.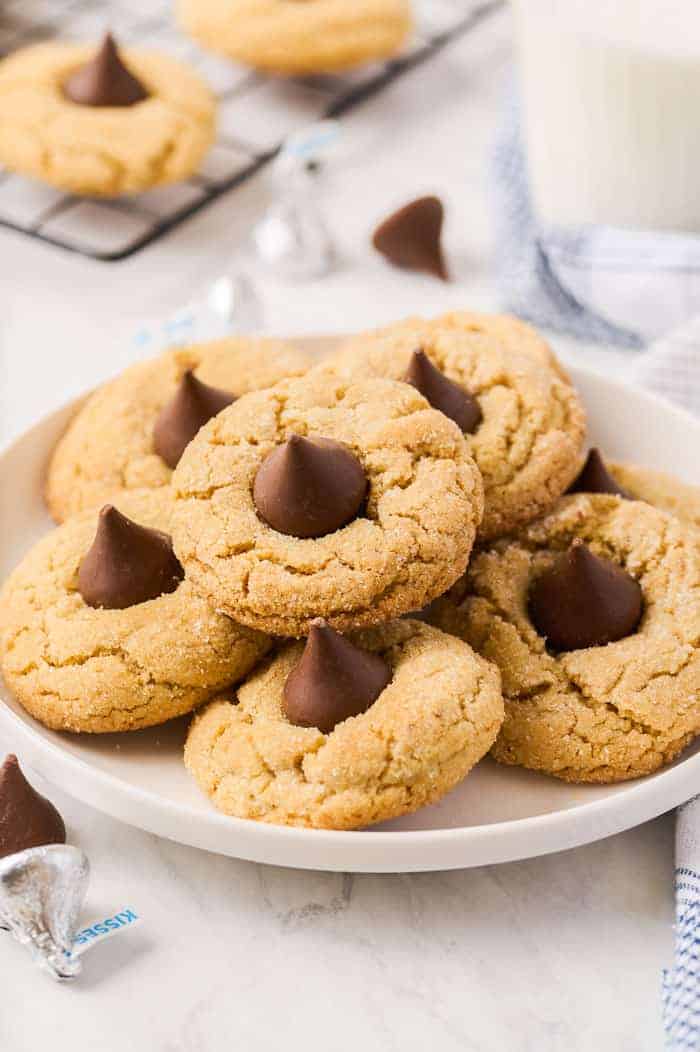 Such a simple dessert that is easily recognizable and gives most of us adults a true nostalgic feeling of baking these with your grandmother. A soft peanut butter cookie baked till golden brown and topped with a single creamy Hershey Kiss that melts to combine into one amazing snack.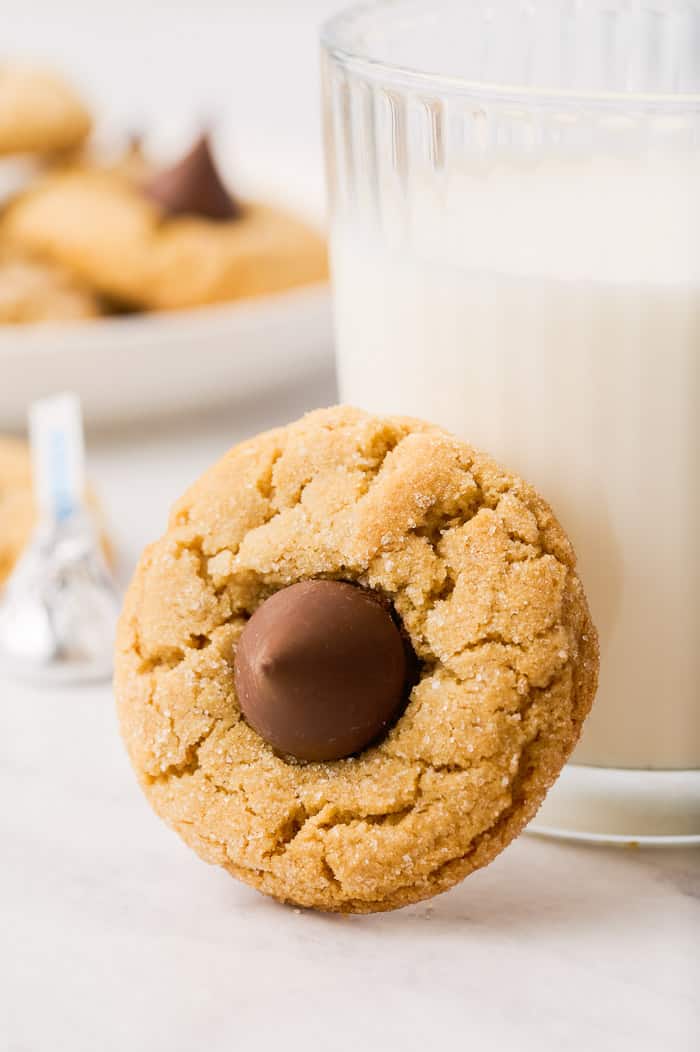 These Peanut Butter Blossom Cookies take just 30 minutes to mix, bake and serve. There are so many different ways to jazz this classic up but with this recipe, we are sticking to the classics.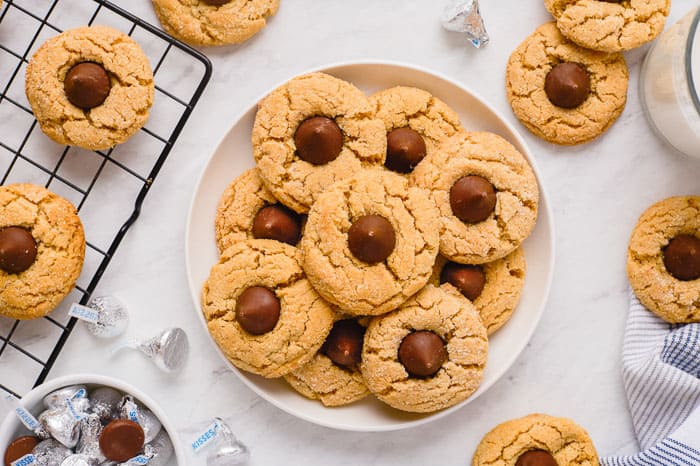 Let me walk you through the easy step-by-step instructions for you to create these treats at home with your family and friends. If you don't want to see the step-by-step now you can simply scroll to the bottom for the full recipe.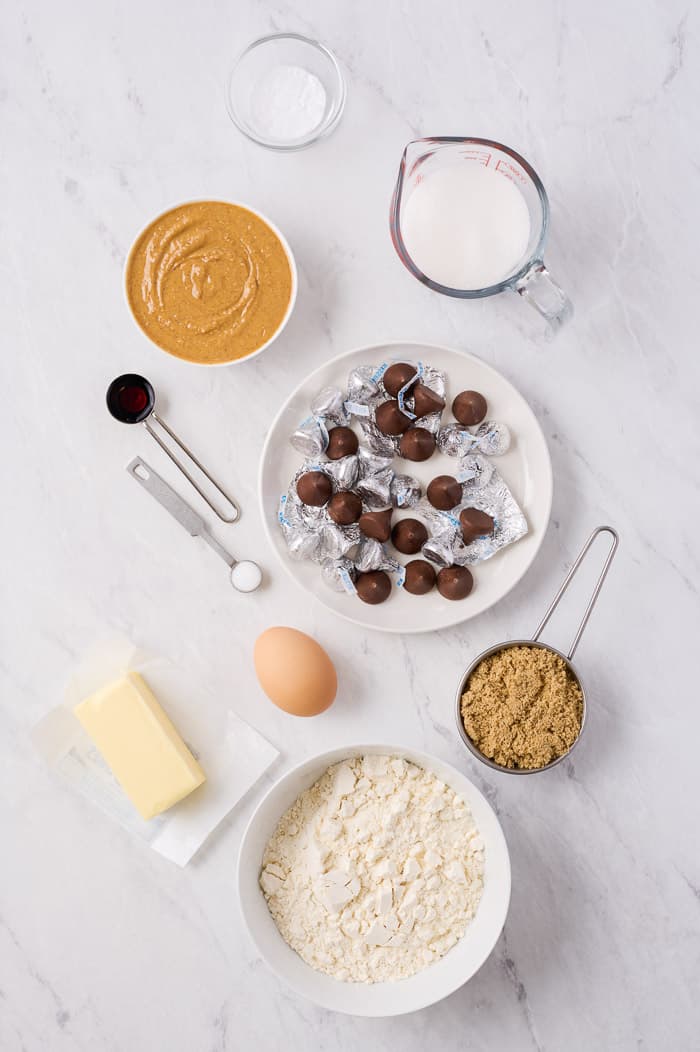 Cream together the sugars with the butter and peanut butter.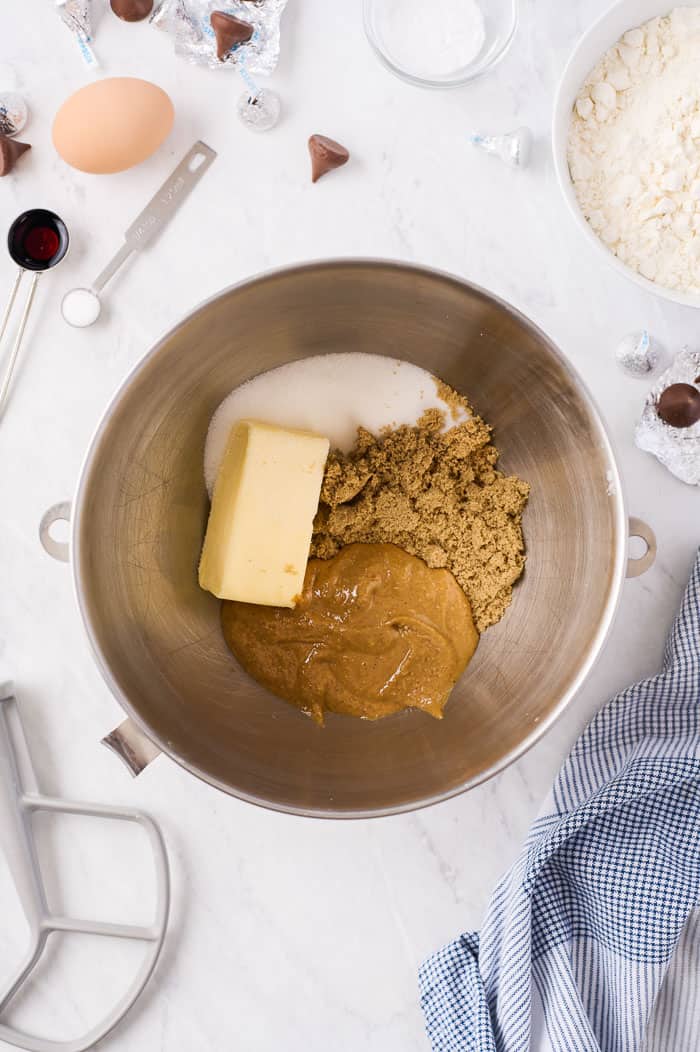 Make sure it is well combined and creamy.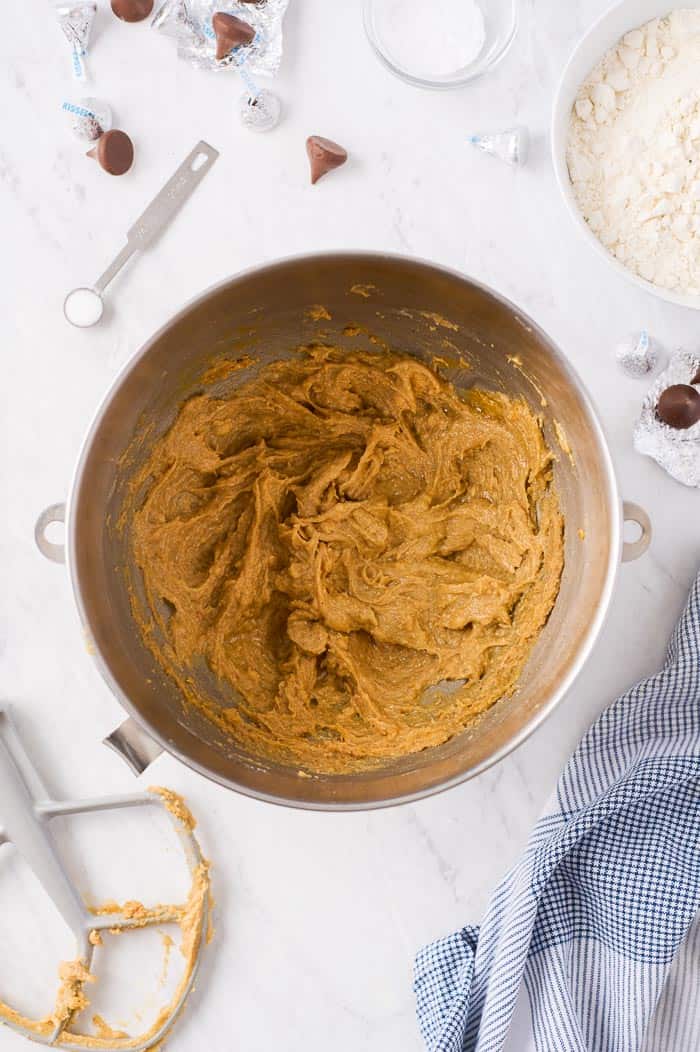 Stir in the dry ingredients and mix until your dough forms.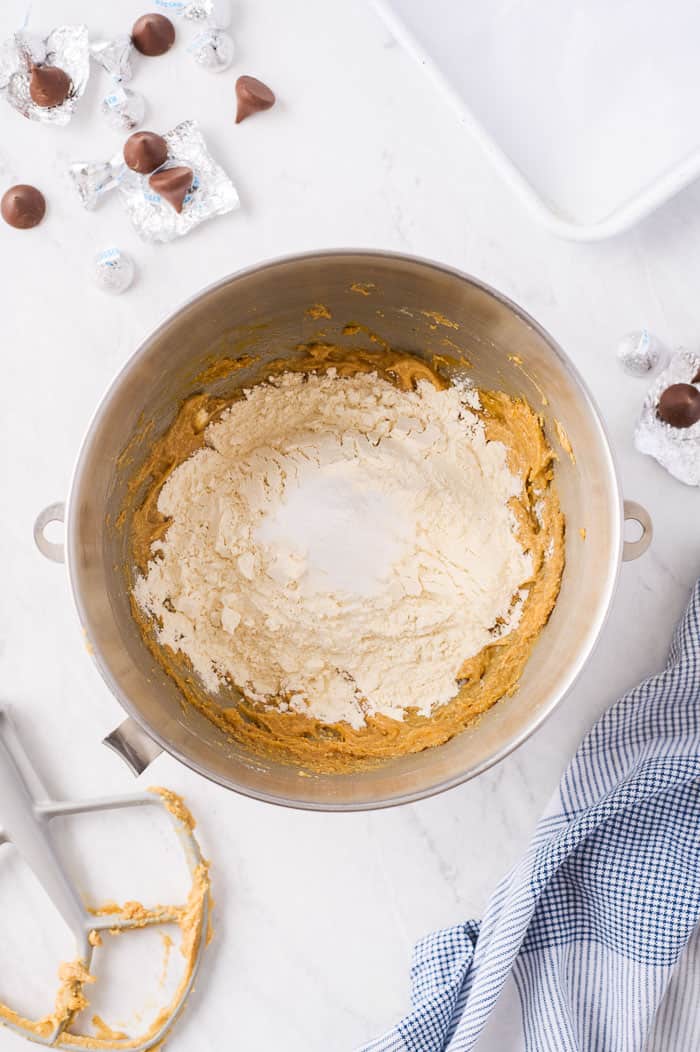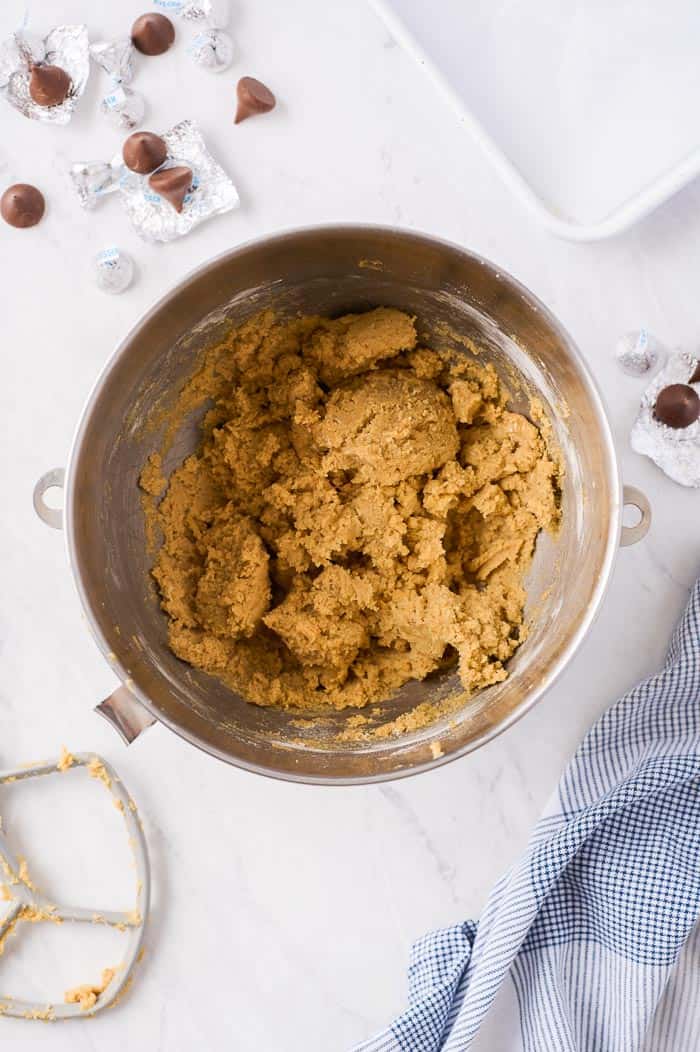 Make dough balls about 1.5 inches large and roll in the sugar till fully coated.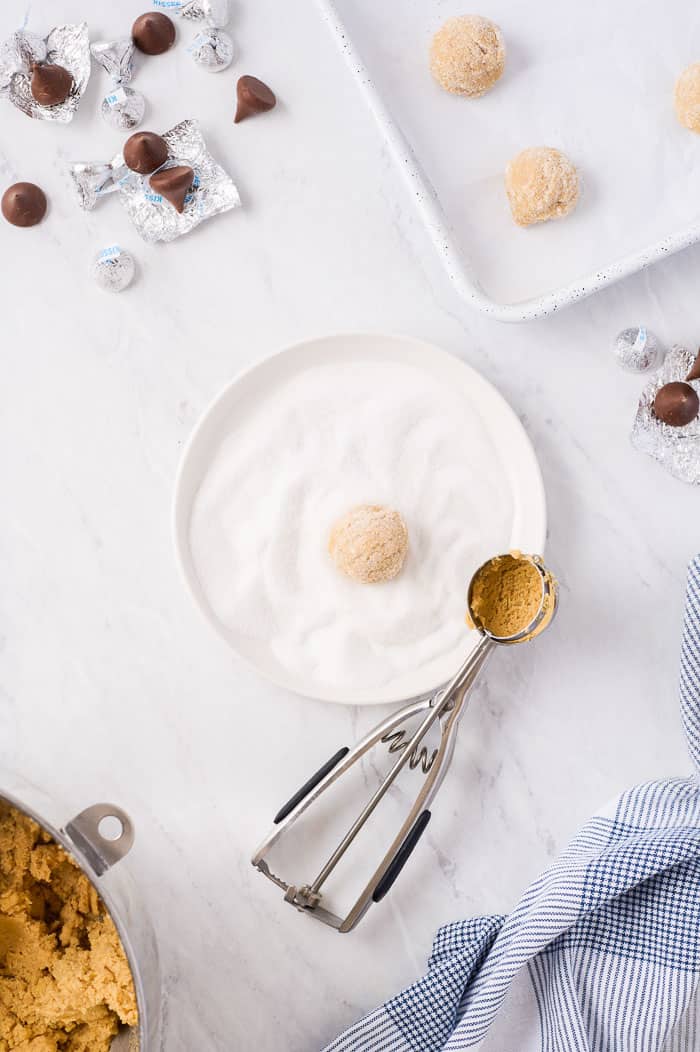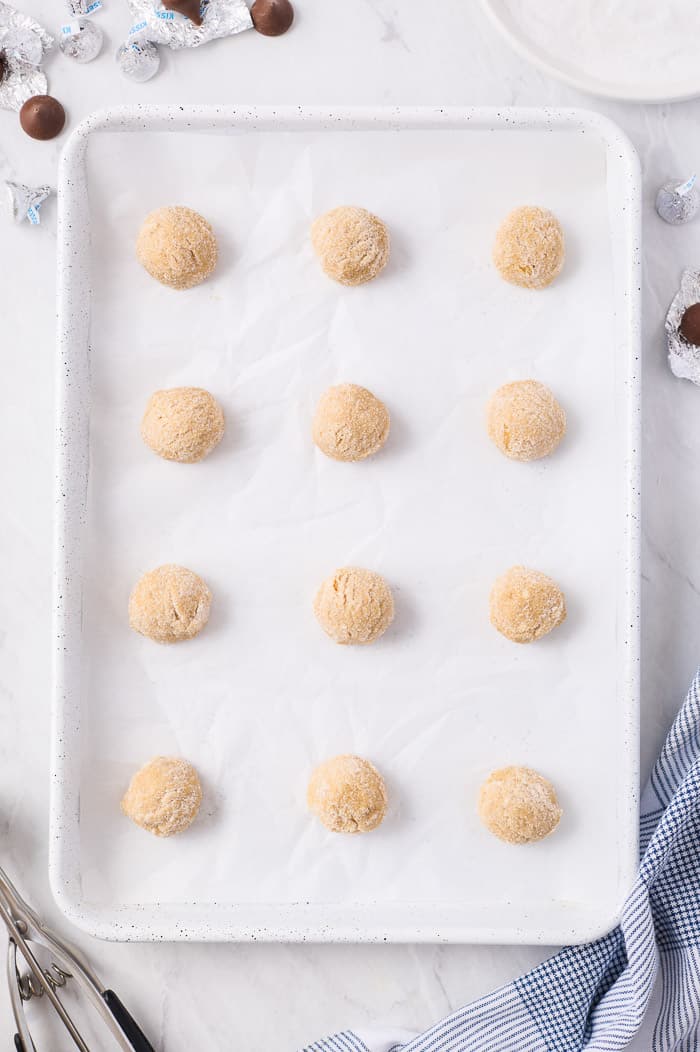 Bake until soft and the tops start to crack.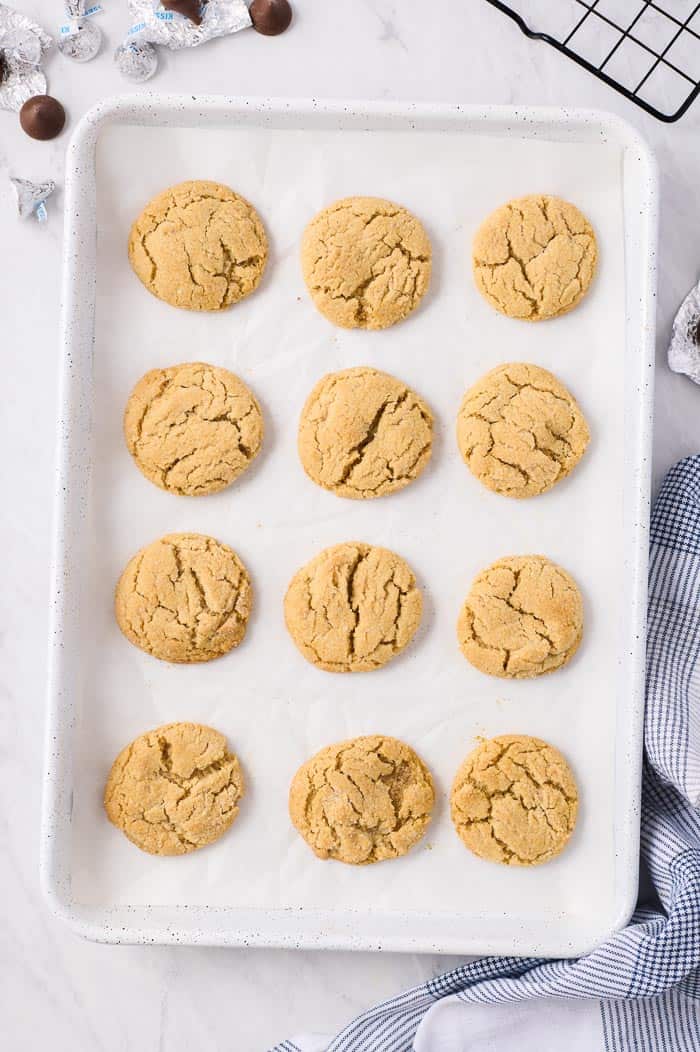 After you remove them from the oven immediately press your Hershey Kiss in the centers of each cookie.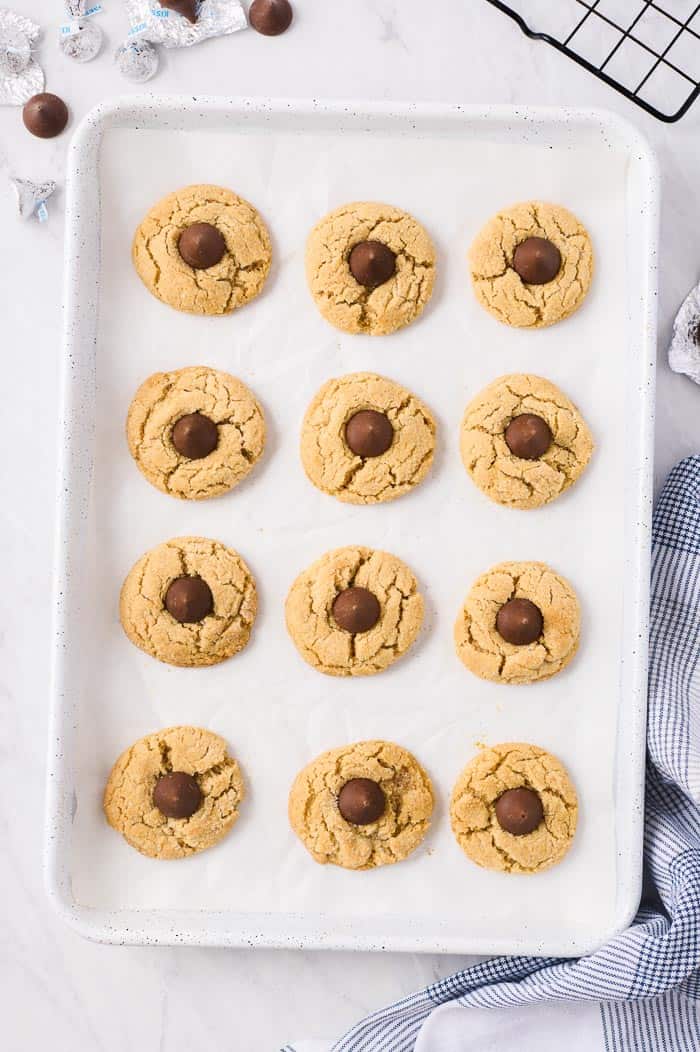 See, I told you how simple these Peanut Butter Blossom Cookies were to make!
Fill your cookie tins with all your favorite holiday treats and sprinkle these cookies in the mix to really capture the essence of the holidays.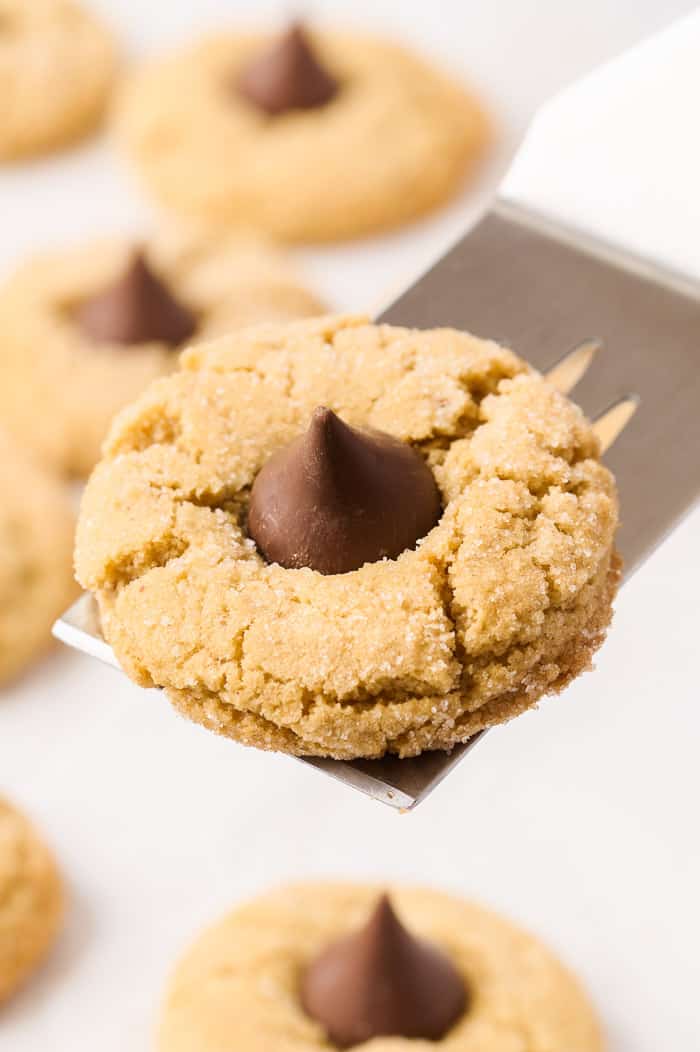 I always have to make a batch for my family and another for my tins because they stand in the kitchen waiting for me to give them the ok to eat them and they disappear within minutes.
If you are looking for some other cookie tin inspiration recipes you should definitely check out these Chocolate Dipped Spiced Shortbread Cookies, Caramel Pretzel Delights, or any from my Christmas section.
Are these Peanut Butter Blossom Cookies making it to your tin? Let me know in the comment section below what you thought of this wonderful recipe. When you post all your holiday baking and these cookies are included, make sure to tag #aclassictwist so I can see this recipe come to life!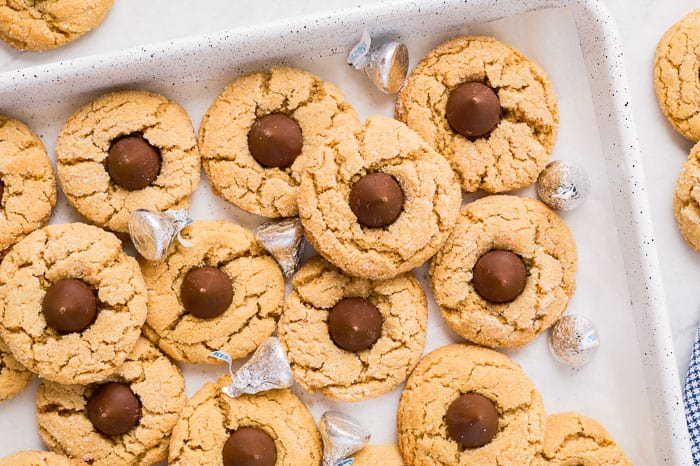 Happy holidays everyone!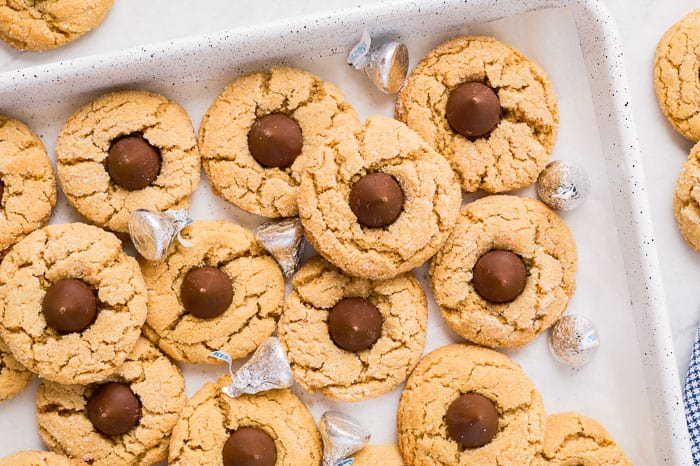 Yield: 25 cookies
Peanut Butter Blossom Cookies
These peanut butter blossoms are soft on the inside with a sugary texture on the outside. It's impossible, not to pop the whole thing in your mouth while reaching for another!
Ingredients
3/4 cup granulated sugar, divided
1/2 cup light brown sugar
1/2 cup unsalted butter, softened
1/2 cup creamy peanut butter
1 large egg
1 teaspoon vanilla extract
1 1/2 cup all-purpose flour
1 1/2 teaspoon baking soda
1/4 teaspoon salt
25 chocolate kisses, unwrapped
Instructions
Preheat the oven to 375°F. Line two baking sheets with parchment paper and set aside. Add 1/4 cup of granulated sugar to a shallow bowl and set aside as well.
In the bowl of a standing mixer fitted with the paddle attachment, beat 1/2 cup granulated sugar, brown sugar, butter, and creamy peanut butter on medium speed until combined. Add the egg and vanilla extract and beat again on medium speed until incorporated.
Add the flour, baking soda, and salt to the mixture and mix at a low speed for 10 seconds, scrape down the sides, and continue to mix until just combined. Scrape down the sides again as needed.
Use a medium cookie scoop to create balls of dough about 1.5 inches large. Roll the balls of dough in the prepared bowl of sugar, making sure to fully coat them.
Place them about 2 inches apart on the baking sheet and bake for 10 minutes. They should be soft and cracked across the top of the cookie.
Immediately press a chocolate candy into the center of the cookie with the point up, and then move to a wire rack to cool.
Serve with a glass of milk and enjoy!