Spiced Cranberry Wine Spritzer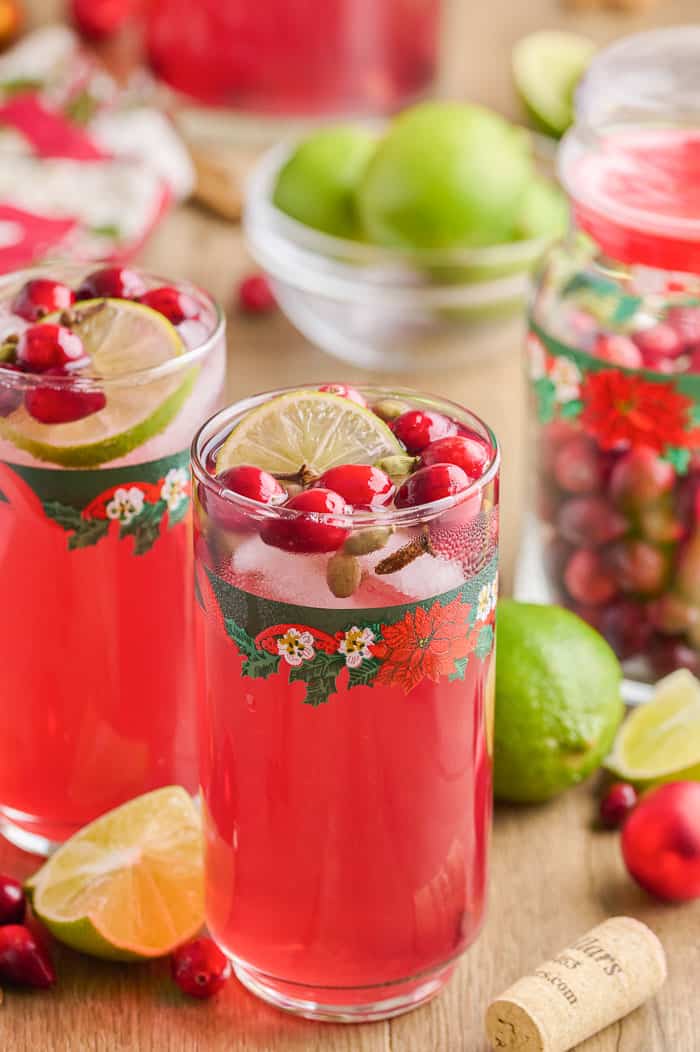 Hello everyone! No holiday celebration is complete without the bubbles flowing, belly laughs, and some family member having one too many. Usually, that ends up being one of the uncles or maybe a freshly turned 21-year-old cousin. Instead of just going over to your liquor cabinet and pulling out the old bourbon or fancy champagne, make something that captures the essence of the season like this Spiced Cranberry Wine Spritzer.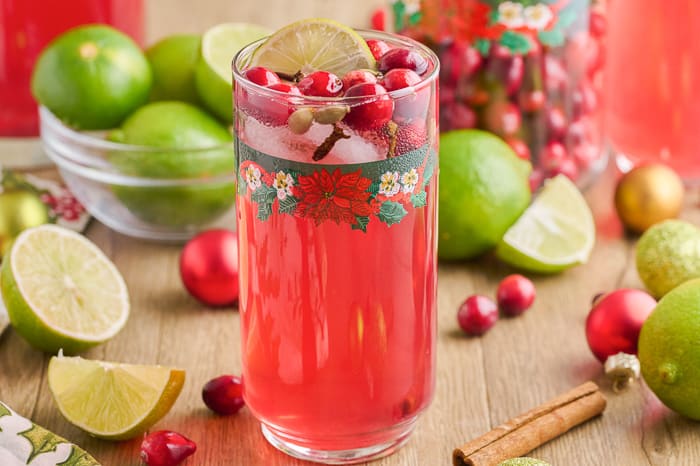 This recipe doesn't just use that dry wine you don't want so you serve it on holidays, but instead a sweet and full-bodied Cranberry Wine. It's the perfect wine to mix into any cocktail because the flavor blends so well with the cardamom soda, cloves, and cinnamon. I've tried the cranberry wine in mulled wine recipes too but that's a story for another day.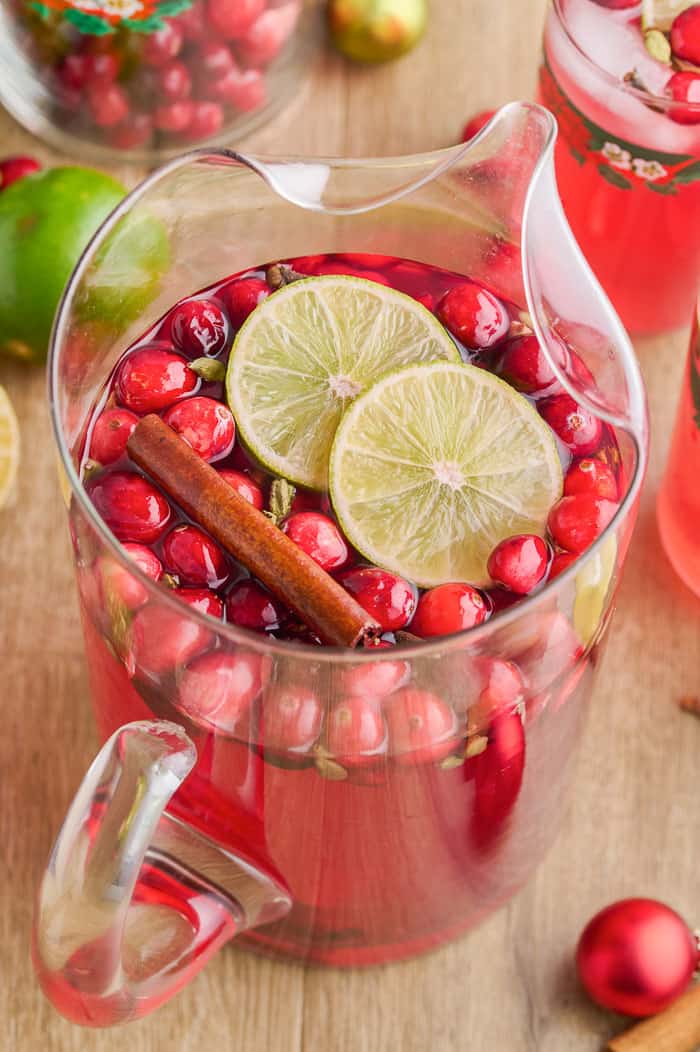 This Spiced Cranberry Wine Spritzer is my go-to for any holiday event I host this year. Not only does it have a unique and delicious flavor, but it's so gorgeous! Make in your favorite punch bowl and serve with your most festive glasses, and garnishes in a decorative dish. It's easy as 1,2,3! For all of you that have hosted during the holidays, you know how stressful that day is for us as everyone else is sitting in the living room sharing laughs and memories of holidays past. Don't make your day any harder than it needs to be. Make this spritzer as early as you want, chill in the fridge until ready to serve, and focus your efforts on that gorgeous turkey or ham.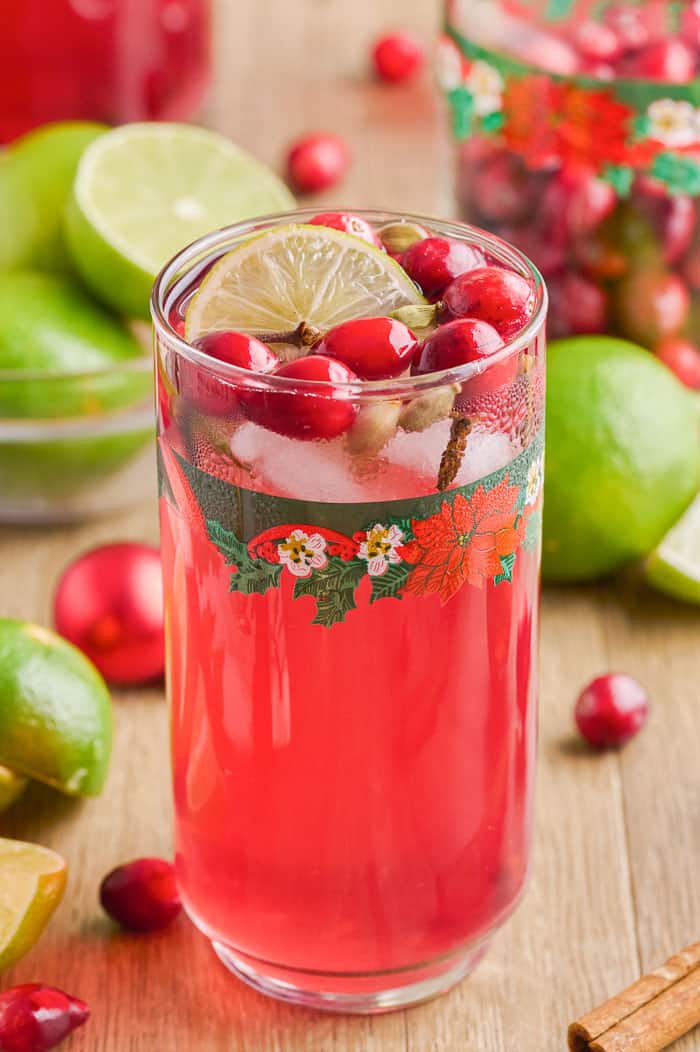 Let me walk you through just how easy it is to create for your holiday celebration. If you don't wish to see the step-by-step, then you can simply scroll down to the bottom now for the entire recipe.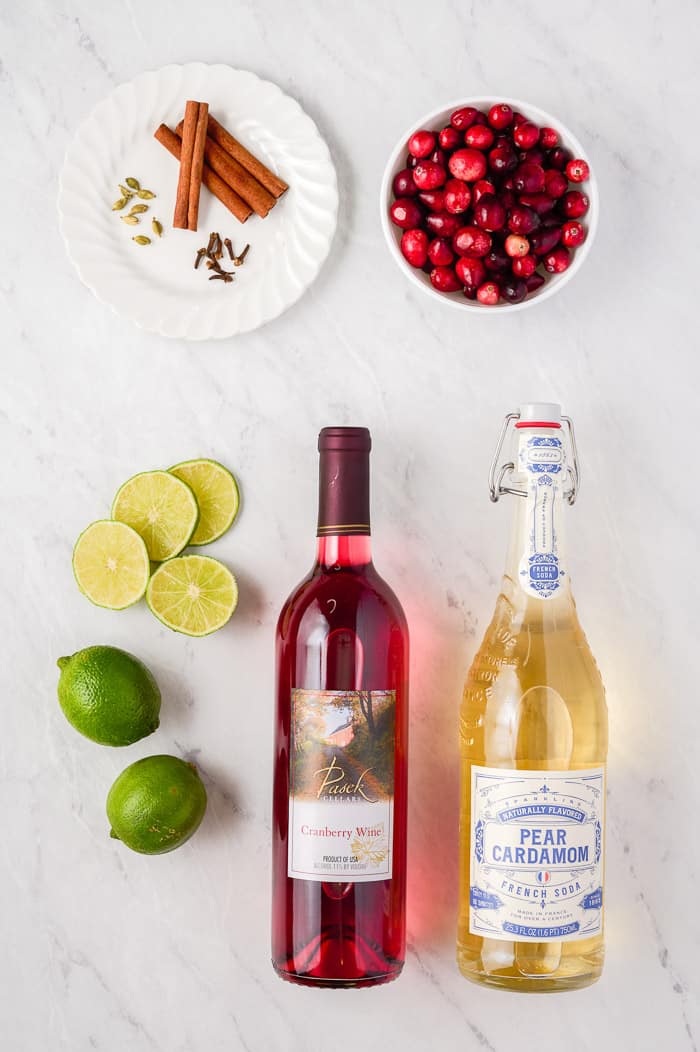 Add those first five ingredients to a large pitcher and stir well.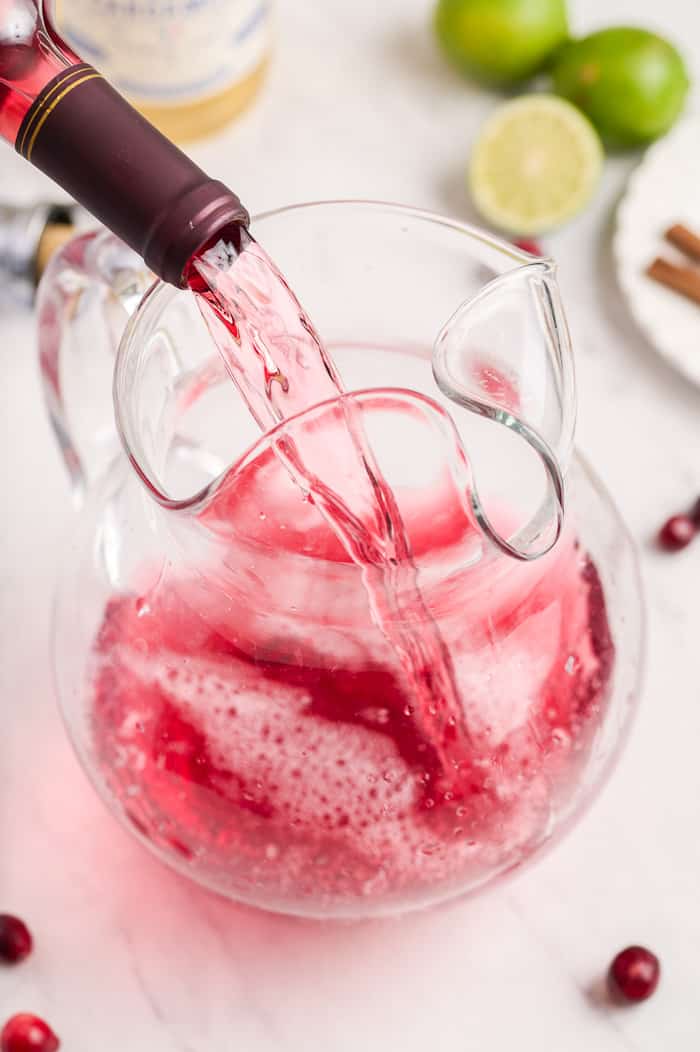 Squeeze your lime juice into the pitcher by hand or with a citrus squeezer to avoid any of the pulp is included.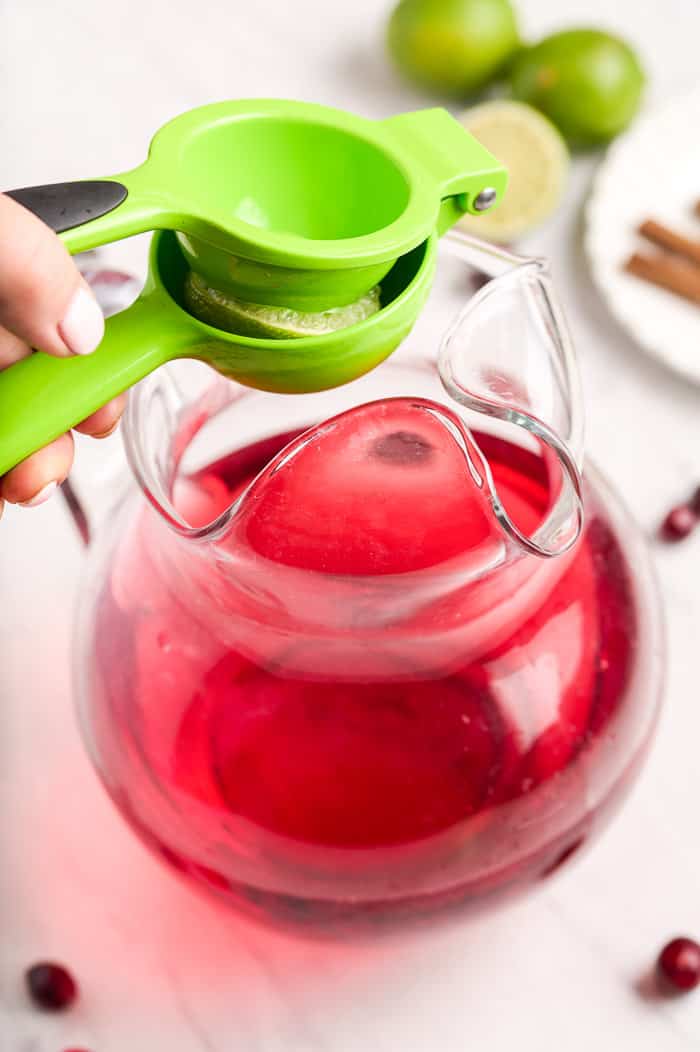 Stir then add your lime and cranberries to garnish as desired.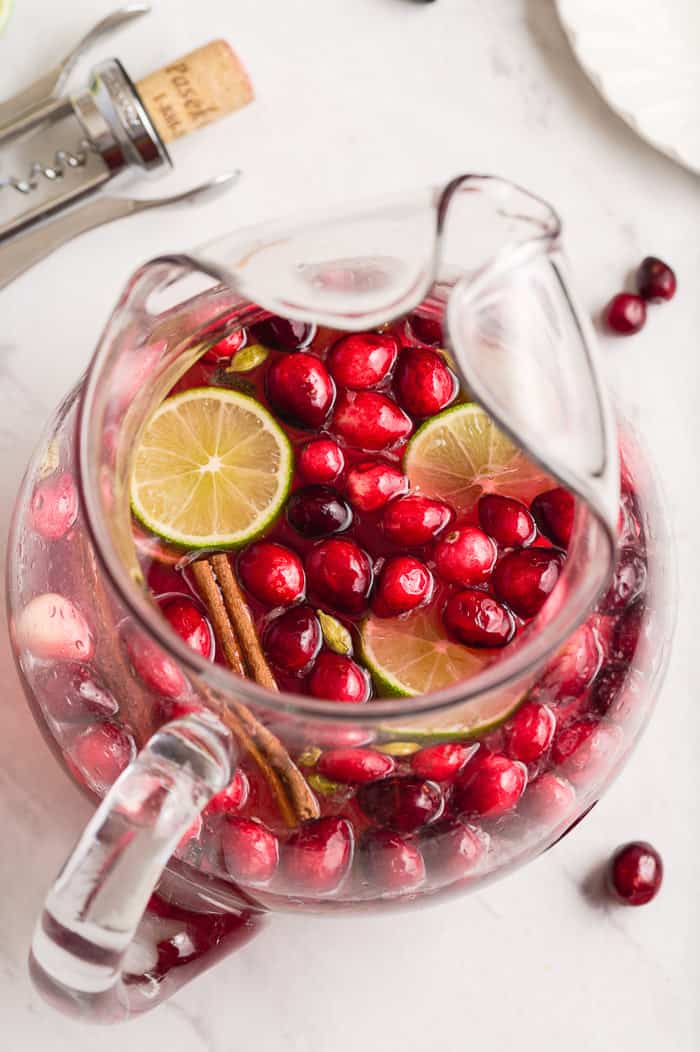 Pour into a glass over ice and top with more garnish.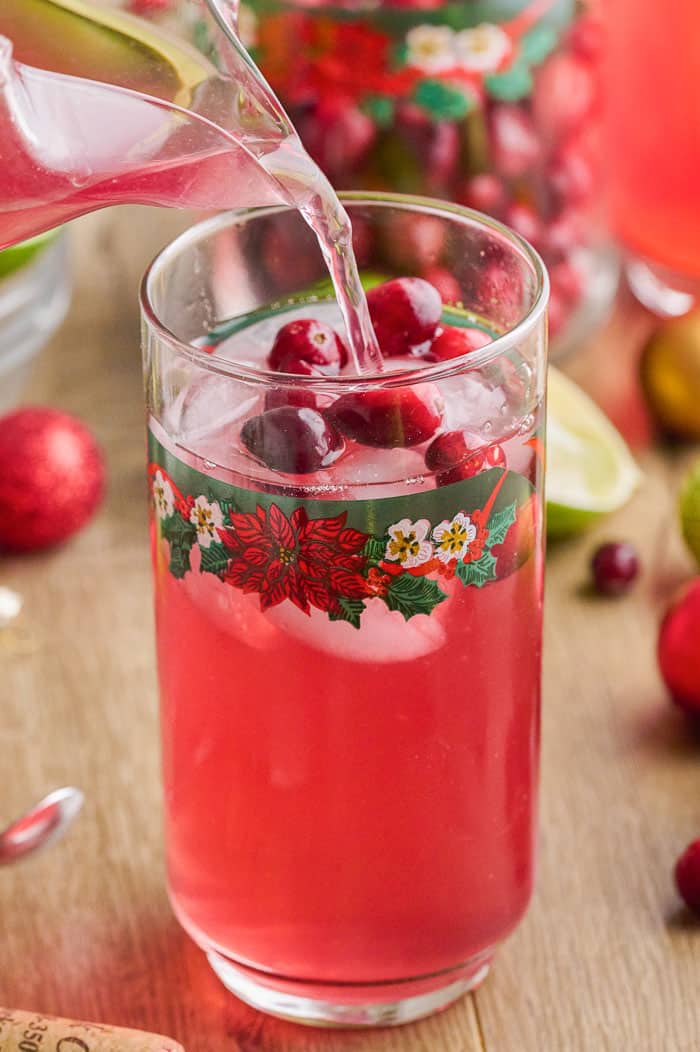 That's it, easy peasy lime squeezy :-).
For the best results, make sure your wine and soda are chilled or the Spiced Cranberry Wine Spritzer is chilled in the fridge for a few hours prior to serving. This drink is intended to be served ice cold but I assure you, it will warm you up from the inside out.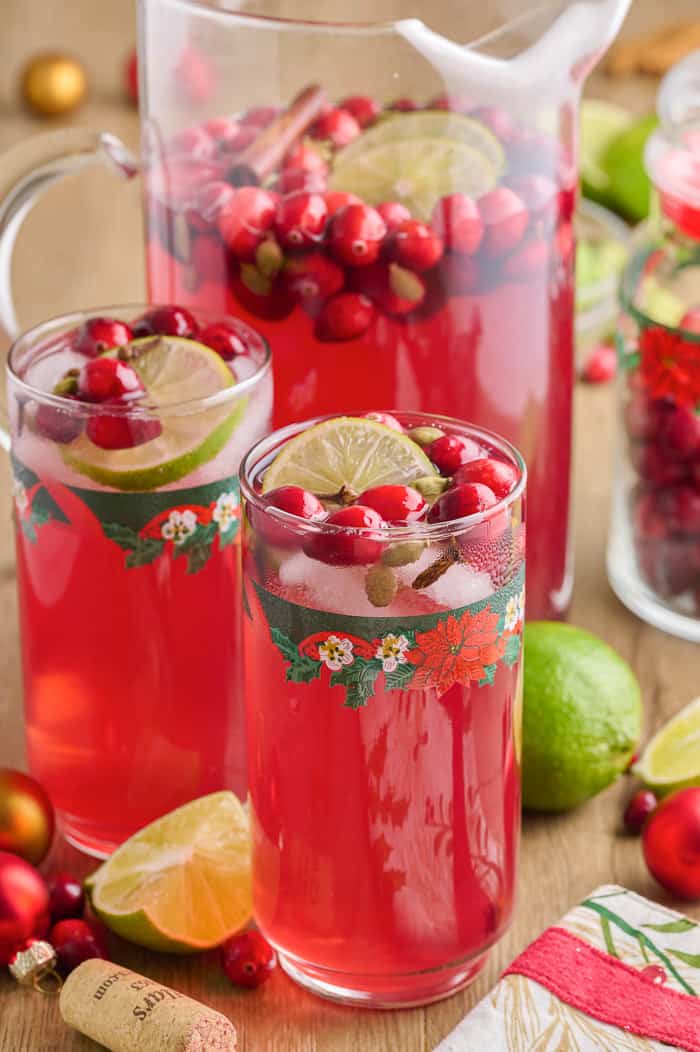 If you want some holiday-inspired drinks, then check out my Cranberry Moscow Mules, Peppermint Mocha Cocktail, or this Pomegranate Sparkler.
So spice up your holidays and make them memorable. What do you think about this recipe? Let me know in the comment section below what you think. Whether you make this recipe after a stressful Monday or celebrate the season, I'm sure you will share your beautiful drink on social media. If you do, make sure to tag #aclassictwist so I can see your lovely cocktail come to life.
Happy holidays everyone :-).
Here are some frequently asked questions about this recipe.
What ingredients will I need to complete this recipe?
You will need the following ingredients:
Wine: this recipe features this Cranberry wine from Pasek Cellars, which you can find in the wine section at Cost Plus World Market. If you can't find this or another cranberry wine, zinfandel or riesling would make a great substitution. Look for something light, refreshing, and sweet with a hint of tartness.
Soda: We use French Soda's Pear Cardamom sparkling soda which can also be found in the drinks section at World Market. The pear and cardamom round out traditional holiday flavors and work well with the cranberry.
Whole spices: adjust the amount and variety of spices to your preferences. We used whole cinnamon sticks, cloves, and cardamom pods, but you could also add star anise, perhaps a pinch of ground nutmeg, or remove anything that doesn't suit your palette.
Limes: Use fresh limes (not lime juice!) for this recipe. Both the wine and soda are fairly sweet and the sourness of the limes balances the beverage. Add additional lime wedges or slices to the pitcher for a festive garnish.
Cranberries: These are for garnish purposes only. If you wanted to add a little tartness to your drink, muddle a few at the bottom of your cup before filling it with ice.
What is a wine spritzer?
A wine spritzer is one of the easiest drinks to make! Pour wine and some soda over a glass of ice and you're done! This large batch spritzer is perfect for holiday parties and gatherings but could be made by glass as well. Simply add ice to your glass, fill three-fourths full with wine, top with soda and desired garnishes. Cheers!
Can I make this drink ahead of time?
Sure! If you wanted a deeper flavor from the whole spices, you can fill the pitcher with the spices, wine, and lime juice and let it sit in the refrigerator for a few hours and up to overnight. Top with soda before serving the next day.
What variations can I make to this drink?
Too sweet? Add some tonic water in lieu of the soda.
Not sweet enough? Add some granulated sugar or simple syrup to make it sweeter.
You can also switch up the flavor of the soda. The French Soda brand has other fun flavors, like a Cranberry-lime, that you could try. You could also try adding ginger ale or sprite.
Spiced Cranberry Wine Spritzer
This wine spritzer is perfect to serve around the holidays! It's full of winter flavors like cranberry, pear, cardamom, cinnamon, and clove. Make it in a large pitcher to serve at the next Thanksgiving gathering or Christmas party.
Ingredients
750 milliliters cranberry wine (one bottle), chilled
400 milliliters Pear cardamom soda (2 cups), chilled
8 whole green cardamom pods
8 whole cloves
4 cinnamon sticks
Juice of 2 ½ fresh limes plus extra for garnish, optional
½ - 1 cup Fresh, whole cranberries for garnish, optional
Instructions
Add the wine, pear cardamom soda, cardamom pods, cloves, cinnamon sticks to a large pitcher.
Squeeze the juice from the limes into the pitcher using a citrus juicer or by hand over a strainer to catch the pulp.
Gently stir all the ingredients together. Add additional lime slices and cranberries for garnish as desired.
Fill a glass a quarter of the way with ice and pour the wine spritzer over. Cranberries and lime slices should pour into the glass with the beverage, or can be added to each glass as served.
Cheers!
Notes
Using chilled wine and soda is a key feature of a wine spritzer. This is a cold drink, intended to be refreshing!
This could easily be a sangria as well. I'd add some more chopped fruit, perhaps pear slices to go with the pear cardamom soda along with orange slices, and granulated sugar.
Allow chilling for a few hours in the refrigerator.