Cranberry Moscow Mules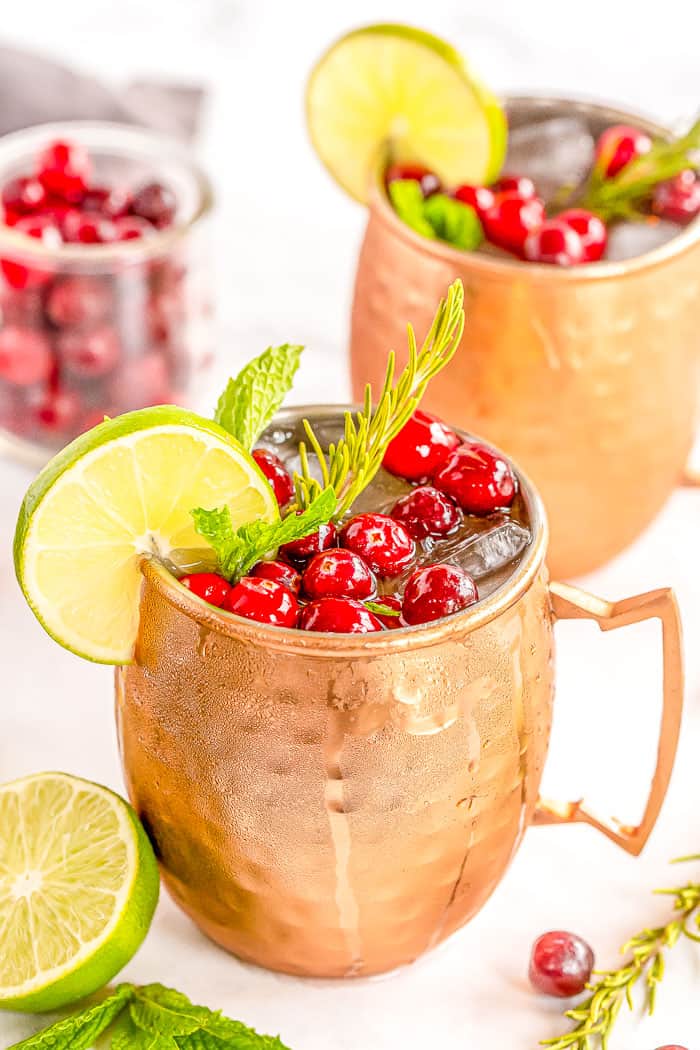 With the holiday season off to a start, I thought it would be the perfect time to share with you a light and refreshing cocktail to serve. As you start planning your family get-togethers these cranberry Moscow mules are definitely something you should have on your menu. This is a delicious copycat Moscow mule just like you would order from your favorite brunch spot.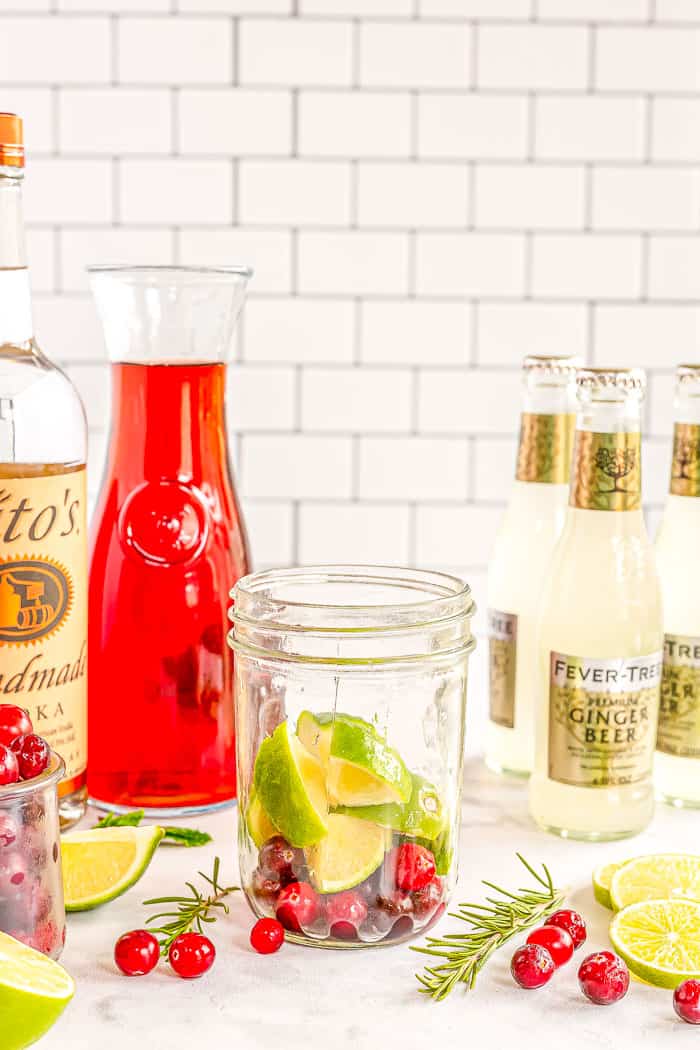 Let's get down to how simple this recipe truly is: cranberry juice, Vodka, and Ginger Beer served with limes, cranberries, and mint leaves. It can't get much simpler! I mostly serve it with Tito's vodka but any good vodka will do.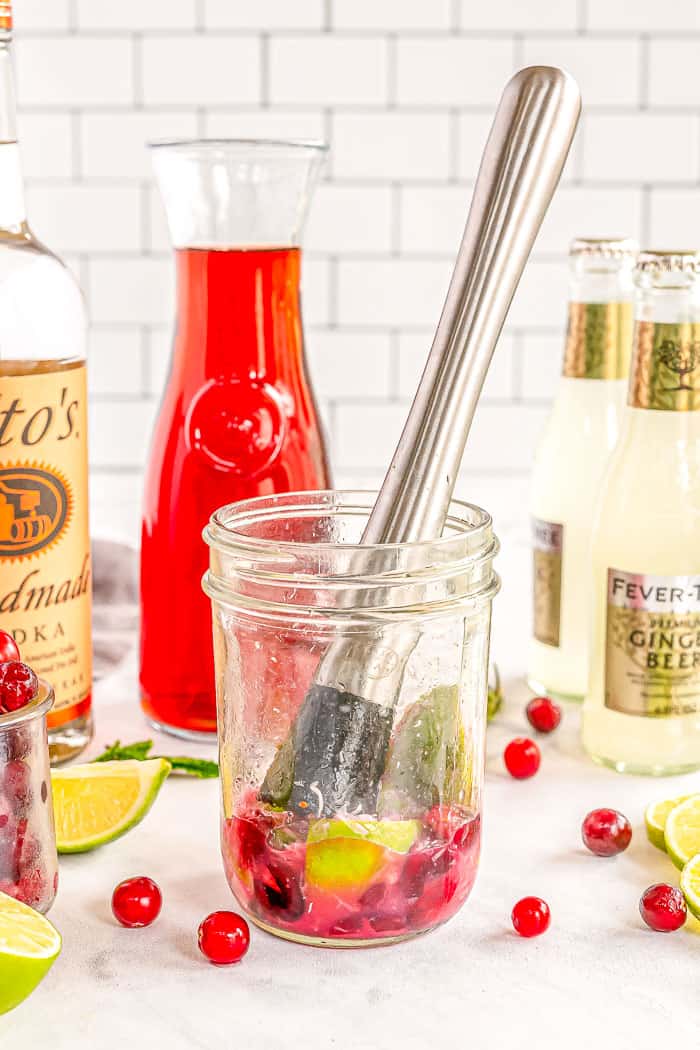 Garnishing with the cranberries, fresh mint and of course, the key to Moscow Mules is the mug. While you could put them in cocktail glasses or wine glasses, there is just something about sipping your cocktail from a cold copper mug. It is so satisfying and I have to say the mugs are so cute.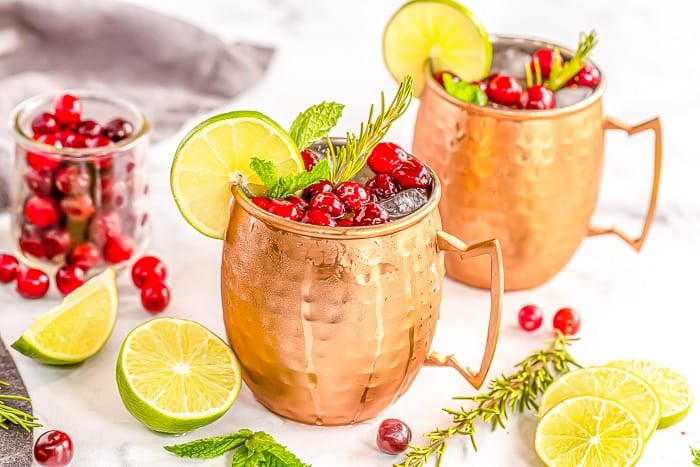 While I think this simple cocktail may be my new favorite drink, you can definitely put a fun spin on this original cranberry cocktail and come up with your own variations. It's one of the best things about mixing a cocktail.
Here are similar cocktails to recreate at home during the holiday season; Blood Orange Moscow Mule, Apple Cider Mojito.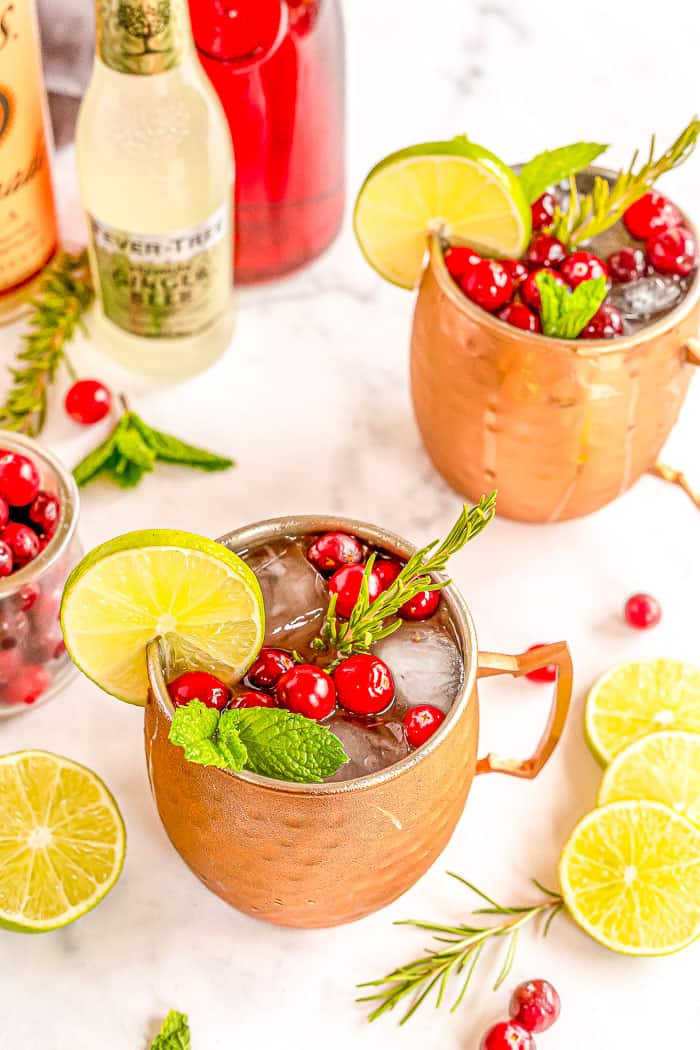 Before pulling out your bar cart, here are some answers to some most asked questions as a "bartender".
What will I need to make this cocktail?
Limes, Mint Leaves, Cranberries, Cranberry Juice, Vodka, and Ginger Beer
What supplies do I need?
Muddler and Copper Mugs
What is another variation I can make?
Try adding cranberry apple juice instead or 2-4 ounces of apple cider, it makes a wonderful addition to this classic drink!
Where did you get Ginger beer?
You can get a ginger beer at any local grocery store. You can usually find it in the soda section next to the classic root beer. Most liquor stores also carry ginger beer.
What kind of cranberry juice should I get?
Make sure you get the cranberry juice cocktail without additives and sugar.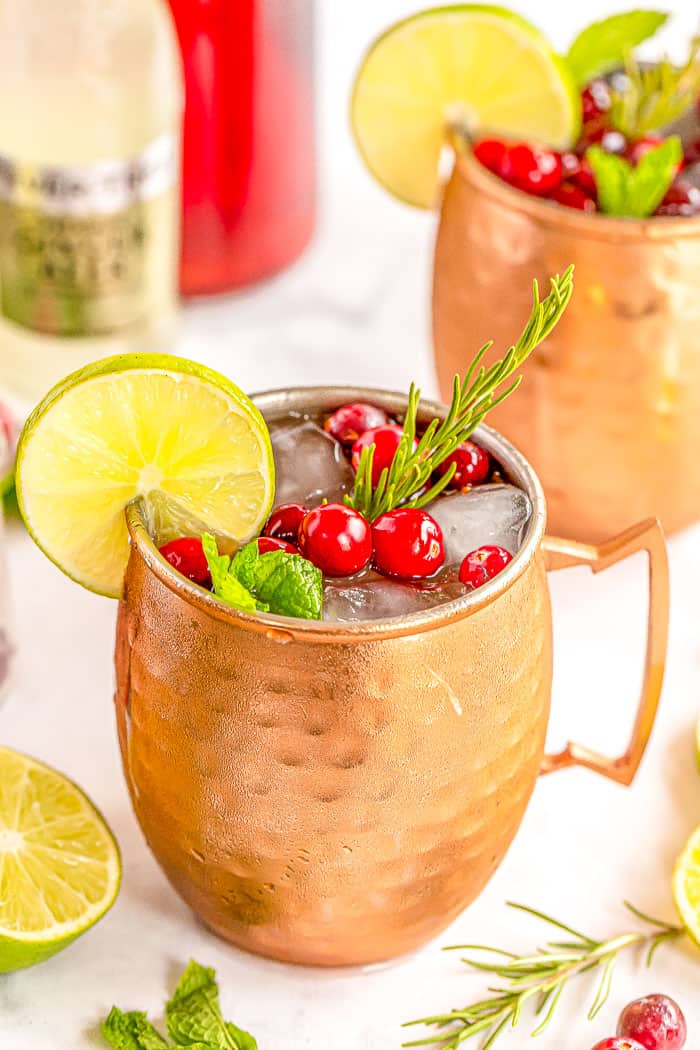 What is a muddler and why is it used?
A muddler is a bartender's tool that is long and thin with a flat head at the end that may or may not contain grooves or ridges. It is used to mash or muddle fruits or herbs in the bottom of the glass to release flavors.
Why should I muddle my lime, cranberries, and mint, can't I just squeeze it?
Muddling your lime and mint leaves releases the oils, juice, and aromatics of the fruit to increase the flavor of the juice making your drink so much better!
No matter when you serve this cocktail, it's always 5' o'clock somewhere. It's sure to be a crowd-pleaser or even a delicious nightcap. Come back and leave me a comment! I'd love to know if you followed the recipe exactly or if you came up with your own variations.
Cheers, friends!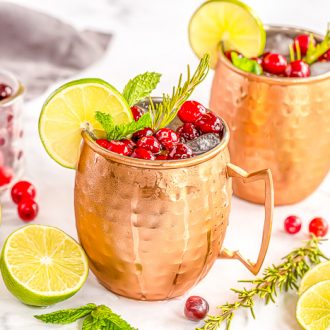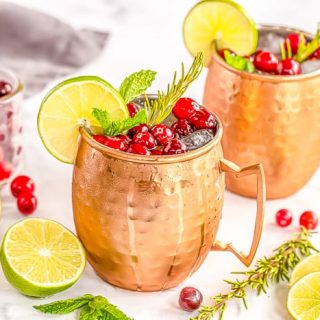 Yield: 1 Mule
Cranberry Moscow Mules
This cranberry Moscow mule is not only beautiful to look at but it is a simple seasonal twist on a classic cocktail. Serve this festive holiday drink at your next holiday celebration, it is the perfect drink for entertaining!
Ingredients
1 lime - cut in quarters, muddled
3 tablespoons frozen cranberries
Mint leaves
Ice
2 ounces good quality vodka- (I used Titos)
4 ounces cranberry juice cocktail
3 ounces ginger beer ( I used Fever Tree)
Lime slices for garnish
Fresh or frozen cranberries
Sprig of fresh rosemary
Mint leaves for garnish
Instructions
In the bottom of a thick glass or metal shaker, add quartered
lime. Muddle with medium force to release the juice from the lime. Add 3
tablespoons of cranberries and mint leaves and lightly muddle it 1-2 times
releasing the flavors.
Add 2 ounces (two shots) of vodka.
Add Ice to the top of the glass.
Pour in cranberry juice.
Pour in ginger beer and stir with a spoon.
Top with lime slices, cranberries, a sprig of rosemary, and a few more mint leaves for garnish
Enjoy!