Apple Cider Mojito
This apple cider mojito is a fall spin on a classic cocktail recipe that will keep you warm during those chilly days!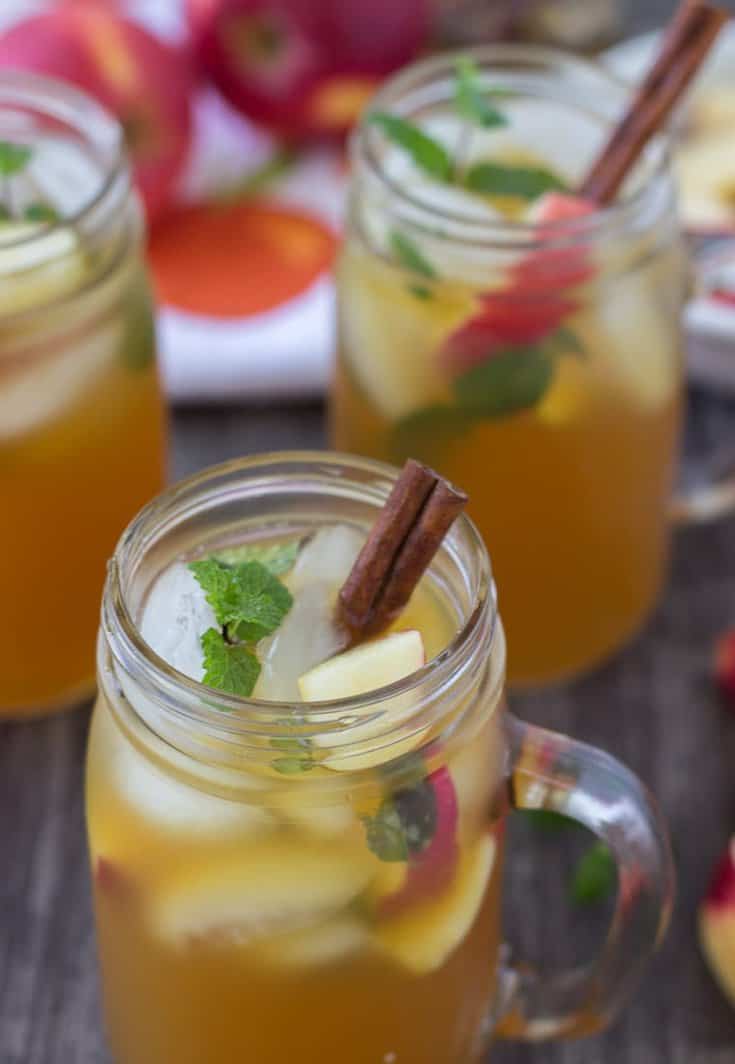 Happy Monday friends! I think we all need a cocktail to start the week and this apple cider mojito will get you going.
To be honest, I am using this mojito to drink my feelings (responsibly!). I head back to work tomorrow and I have mixed feelings about this whole working mother thing. My little one is 10 weeks old and he is doing so well with everything. My mom is here and she is going to be staying home with him for the next two months. So technically we are all set and I have no reason to be sad about going to work. Key word, technically.
However, in reality I am terrified. Not about getting back in the game but about leaving my baby 🙁 What if something happens to him and I am not there? What if he hates me for going away? He already is cranky in the evenings and those are the only times the hubs gets with him. Now we have to share him for just two hours before bedtime??
During the past month when I was home, I got sick of sitting all day with the same routine on the clock (eat, play, sleep…repeat at least 6 times a day) and was wishing I could go to work and talk to some adults. At some point, I even resented the husband for 'getting away' from it all everyday while I was 'stuck' at home. But now that it is time for me to head back, I don't want to. I don't want to leave him. These 10 weeks have been amazing getting to know him, taking care of him and loving him. And now that he is starting to engage with his environment, play more and smile, I am about to miss it all. The struggle is too real and why I made this apple cider mojito last week as I moped around.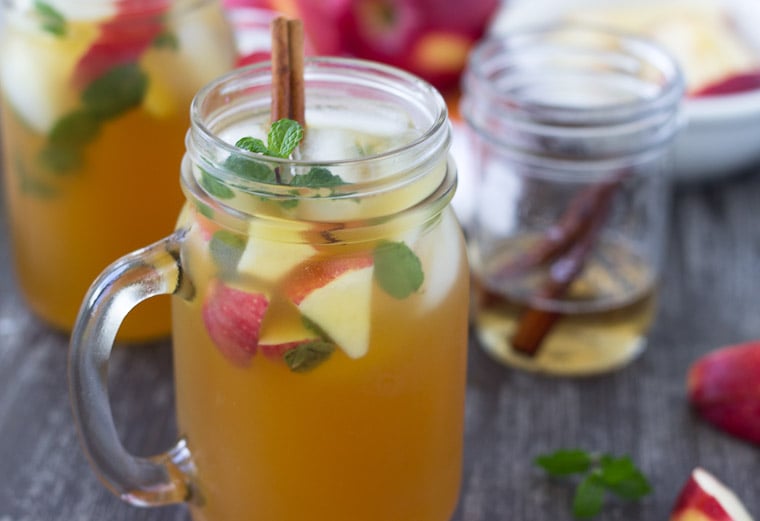 I may have had two servings in a day and had to pump-and-dump my supply to be safe but it was well worth it. Thanks to a lot of apples still in my possession and some freshly pressed apple cider from the orchard, these mojitos are nothing short of amazing. A fall spin on a classic cocktail is all I needed to deal with reality of being a working mom soon. Time to wear my big girl panties and face the music…wish me luck!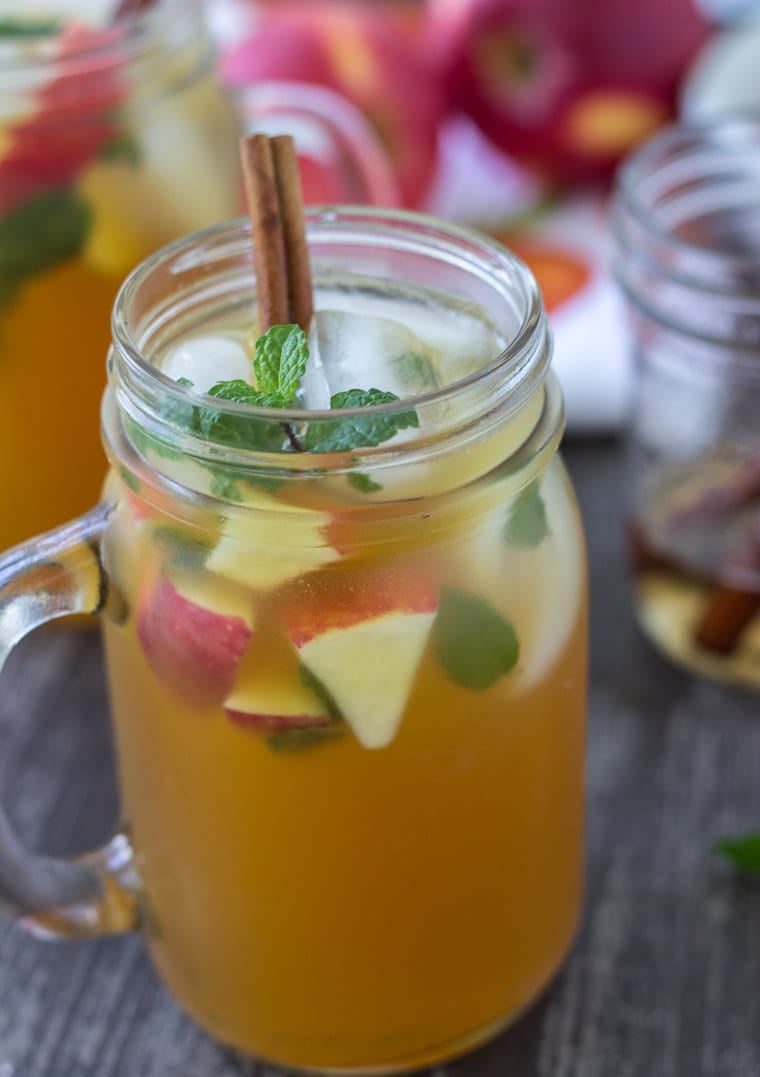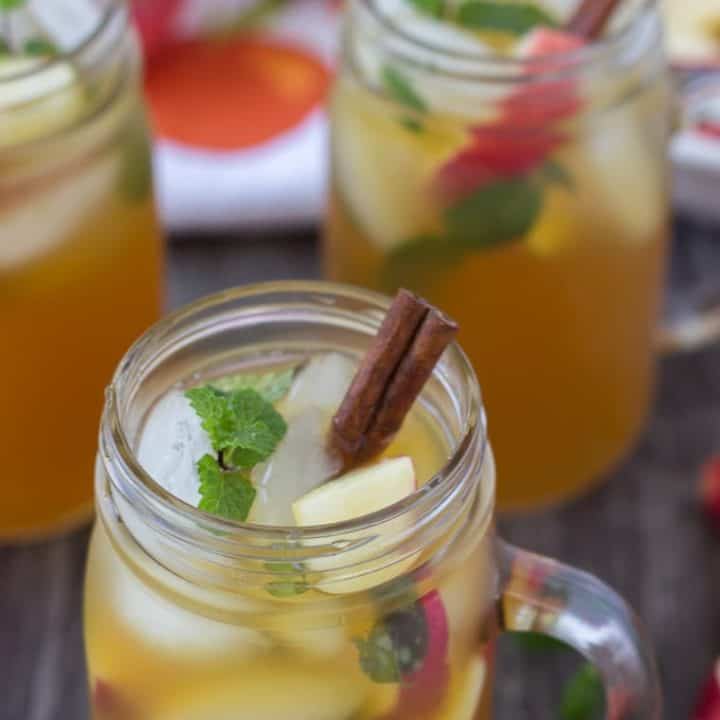 Yield: 3
Apple Cider Mojito
Prep Time 15 minutes

Total Time 15 minutes
Ingredients
1 cup apple cider
1/4 cup cinnamon simple syrup (below)
1/4 cup rum (I used Bacardi's Gold Rum)
Sparkling hard cider (optional)
1 teaspoon orange zest
2 tablespoons orange juice
a handful of mint leaves
1 apple, chopped
A splash of sparkling water
Cinnamon sticks for garnish
Cinnamon Simple Syrup
1/2 cup water
1/2 cup granulated sugar
2 cinnamon sticks
Instructions
To make cinnamon simple syrup: Combine ingredients in a small saucepan and bring to a boil over medium heat. Reduce heat to low and let simmer for 5 mins. Remove from heat and pour syrup into a glass jar and let cool.
For cocktails:
In a cocktail shaker or glass measuring cup, combine the apple cider, simple syrup, hard cider, rum, orange zest and orange juice. Mix well.
In three serving mugs, divide the mint leaves and muddle together. Top glasses with ice cubes and chopped apples. Pour the cider mixture into the glasses and mix. Top with a splash of sparkling water. Garnish with cinnamon sticks and mint leaves