Pumpkin Roll Cake with Ginger Buttercream
This classic pumpkin roll cake with a spiced ginger cream cheese frosting is a simple and delicious cake that's perfect for your fall baking list!!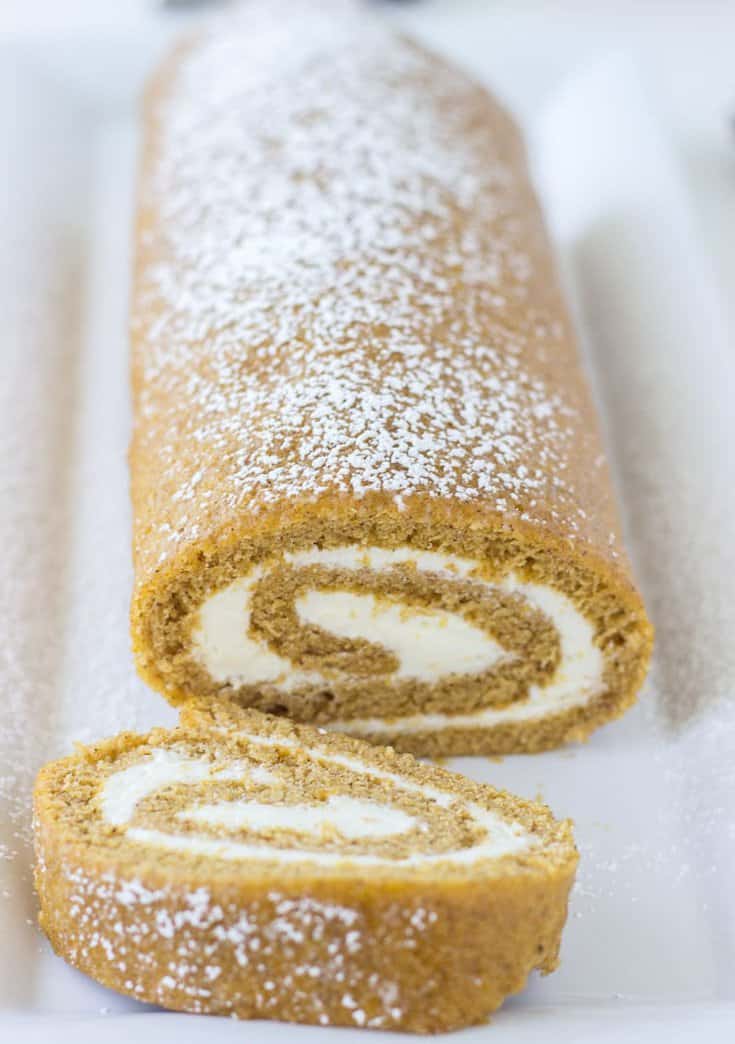 I am on a stint with classic fall recipes right now it seems. I've never made a pumpkin roll cake before and it's one of the most requested cakes by the hubs and some friends whenever pumpkin is in season. My mother-in-law apparently makes a killer pumpkin roll cake and I was scared to try making one as the hubs will always compare mine with hers. But I got over myself and finally decided to give it a go after seeing a beautiful one in this month's Food Network Magazine.
And it was incredibly easier than I thought (like most things after you get over the fear)!! Roll cakes are light, bouncy cakes that will melt in your mouth with every bite. And they are the easiest to whip up.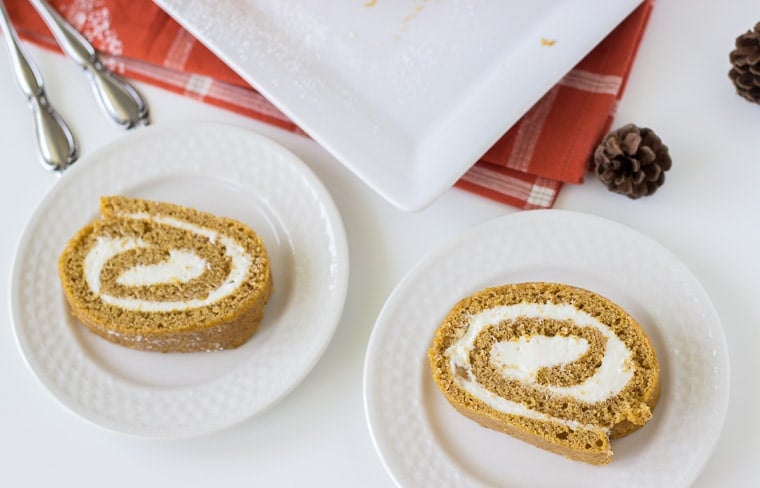 This pumpkin roll cake is paired with a sweet ginger cream cheese frosting. Because the cake is perfectly spiced with cinnamon, ginger, and nutmeg, the ginger frosting is a great fit in the flavor profile here. The hubs approved of it and even though his mother remains his favorite, he loved the ginger cream cheese frosting twist in this cake. I guess that's all I can ask for…after all mom's treats are always the best.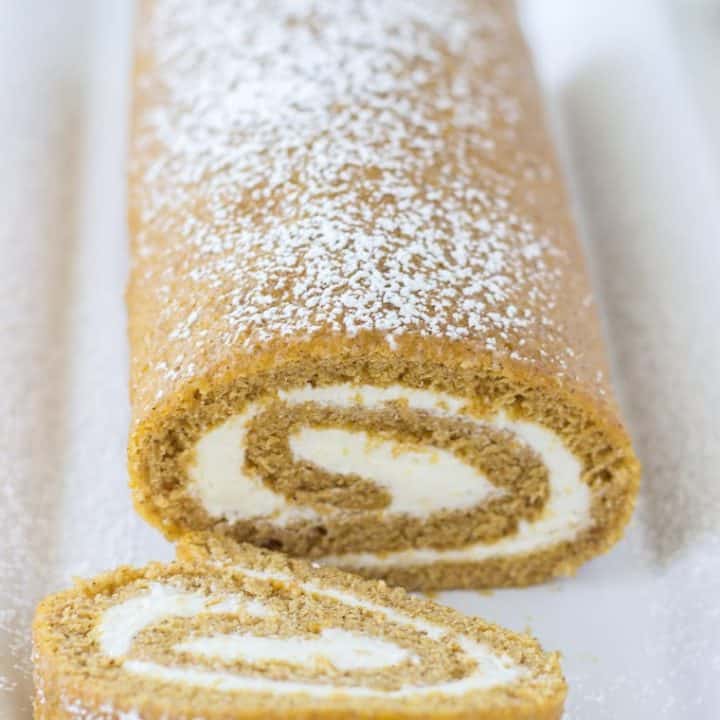 Yield: 1 roll cake
Pumpkin Roll Cake with Ginger Buttercream
Ingredients
For Cake:
¾ cup all-purpose flour
½ teaspoon baking powder
½ teaspoon baking soda
1 teaspoon ground cinnamon
1 teaspoon ground ginger
¼ teaspoon ground nutmeg
½ teaspoon kosher salt
4 eggs, room temperature
1 cup granulated sugar
¾ cup canned pumpkin (not pumpkin pie filling)
¼ cup confectioner's sugar, plus more for dusting
For Filling:
8 ounces cream cheese, room temperature
½ cup unsalted butter, room temperature
2 cups powdered sugar
2 tablespoons heavy cream
1 teaspoon ground ginger
¼ cup minced crystallized ginger (optional)
Pinch of salt
Instructions
Heat oven to 350 degrees. Light butter and flour a 13 x 18 x 1-inch sheet pan. Line with parchment and grease parchment.
In a medium bowl, whisk together the flour, baking powder, baking soda, cinnamon, ginger, nutmeg, and salt.
In the bowl of a stand mixer fitted with the paddle attachment, beat the eggs and sugar on high speed until pale yellow and thickened, about 3 minutes.
Reduce speed to low and beat in pumpkin. With the mixer still on low, slowly add in the flour mixture and beat until just incorporated. Finish incorporating by hand using a spatula.
Pour the batter into the prepared sheet pan and spread evenly.
Bake for 10-12 minutes, until the top springs back gently when touched.
While cake bakes spread a thin cotton towel on a flat surface. Sift the ¼ cup confectioner's sugar all over the towel.
When the cake is done, loosen the edges with a bread knife and immediately invert onto the prepared towel. Remove the parchment paper and prepare to roll the cake. Gently roll the warm cake and towel together, starting at the short end of the cake. Place rolled cake on a wire rack and allow to cool completely.
To make the filling, beat together the cream cheese and butter using an electric mixer until smooth. Add in the rest of the ingredients and mix on low for 1 minute. Then increase speed to medium-high and beat for 3 minutes until light and fluffy. Stir in crystallized ginger if using.
To assemble, unroll the cake onto aboard. Spread the filling evenly and re-roll the cake in a spiral. Trim the edges with a sharp knife to make a neat edge. Dust with more confectioners sugar and serve sliced.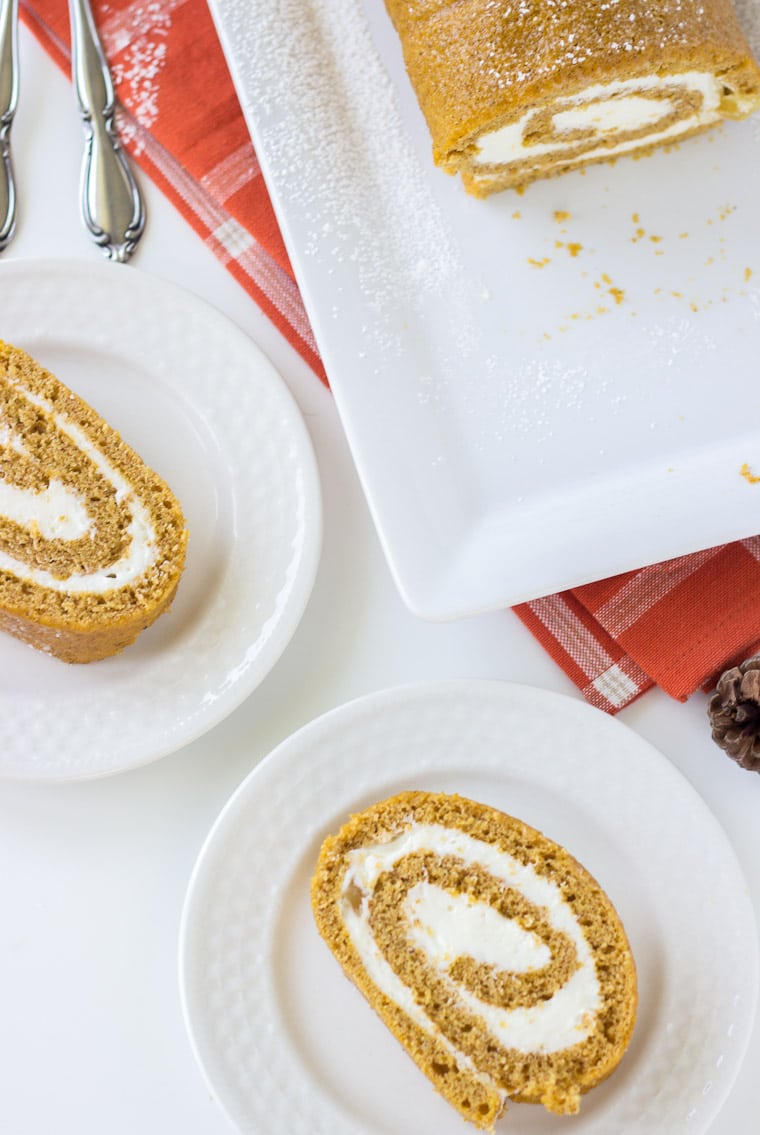 ** I would LOVE for you to take my reader survey to help me improve on this space we all love! Thank you. Survey: https://goo.gl/forms/KLlt0olnta
** Don't forget to enter the KitchenAid Stand Mixer giveaway going on now. ENTER HERE for a chance to win a Raspberry Pink Stand Mixer.