Coconut Chocolate Chunk Cookies (Dairy Free)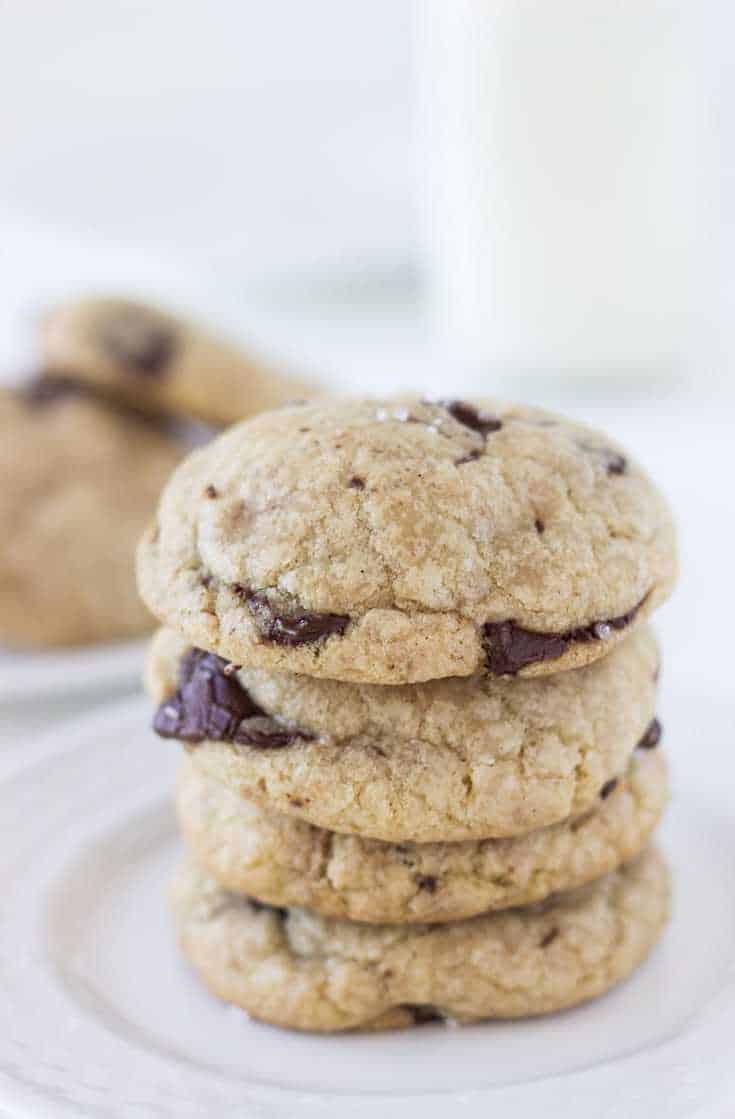 Boy, do I have a treat for you today! These coconut chocolate chunk cookies are going to be your new best friend in just a day.
I was craving chocolate chip cookies really bad the other day so I went in search of a new recipe. I love trying out new CCC recipes as everyone claims to have the best. But because I am currently on a dairy-free diet to determine if my little man is lactose-intolerant while breastfeeding, I needed a recipe that didn't use butter. Of course, coconut oil is already a staple in my pantry so one that will substitute butter with coconut oil will be a great choice.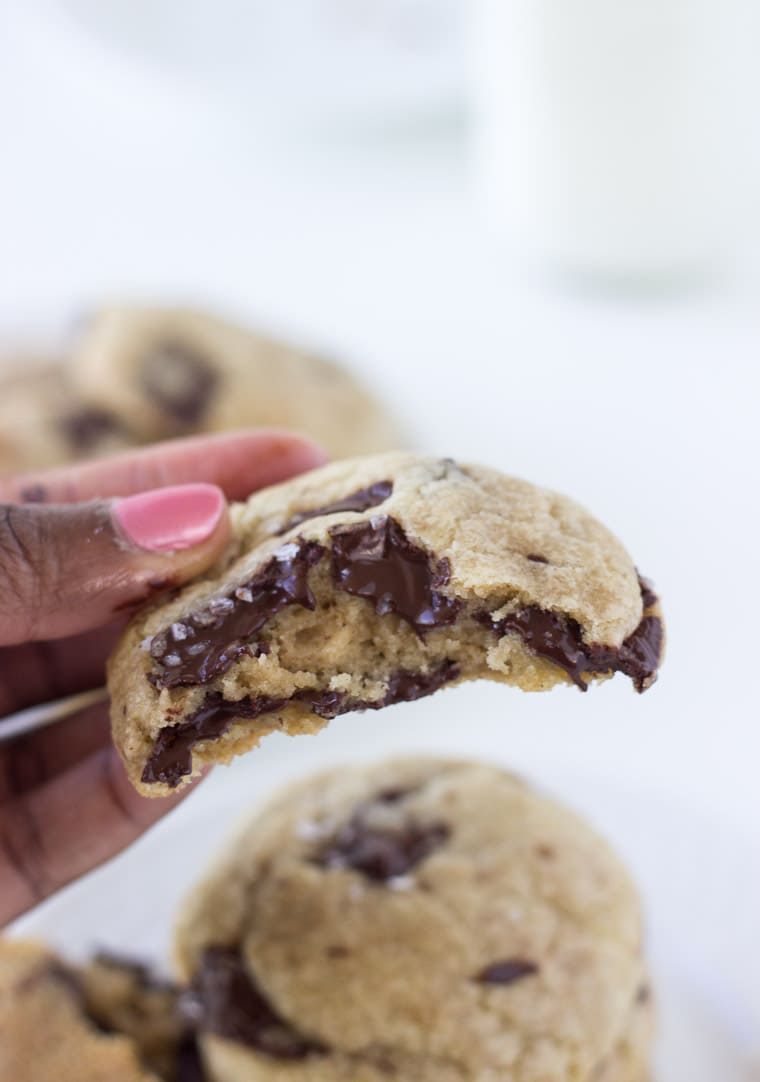 And then I ran into Ali's recipe. I immediately knew I would love it because she always has stellar recipes. And boy was I in for a treat. They are just amazing!! Thick, soft and chewy chocolate chip cookies with coconut oil. I had to remake them after that first try as they were gone in two days. My second try, I added a hint of cinnamon to them (a trick I learned from my mother-in-law) and some sea salt to balance the flavors. I also used chocolate chunks instead of chocolate chips. The cookies are still THICK, SOFT and CHEWY and the best cookies I've made to date.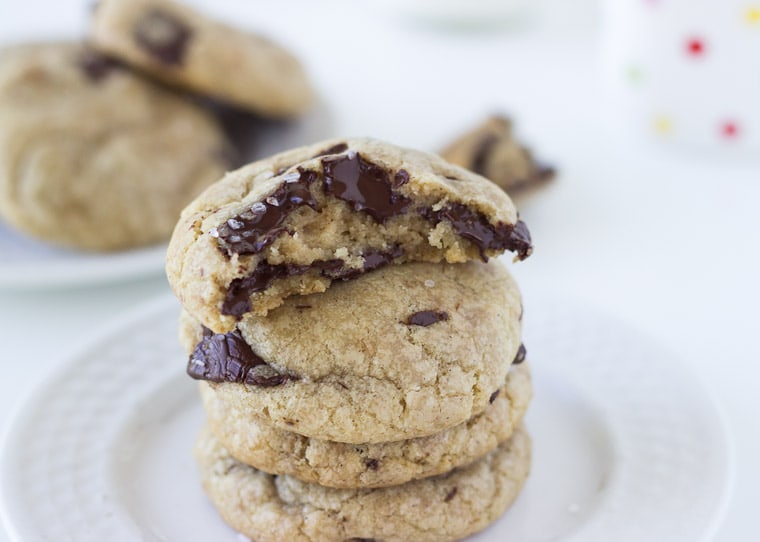 So my friends, if you are looking to try a new chocolate chip cookie recipe, these coconut chocolate chunk cookies should be next. Make them!! And please chill them…I tried not chilling for the recommended time and they were OK but after chilling they are AMAZING. So it's worth the wait. Plus two hours is a great time to go for a walk, hit the gym or some yoga to enable you to indulge later guilt-free in these cookies.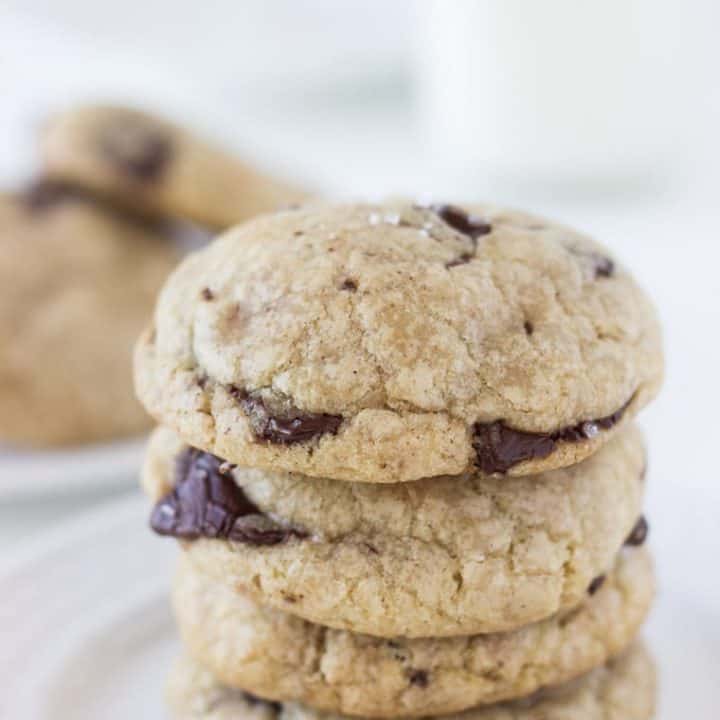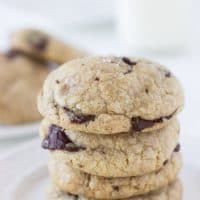 Yield: ~12 cookies
Coconut Chocolate Chunk Cookies
Ingredients
1/2 cup coconut oil, softened but not melted
1/2 cup brown sugar, packed
1/3 cup granulated sugar
1 large egg
2 teaspoons pure vanilla extract
1 1/2 cup all-purpose flour
1 teaspoon ground cinnamon
2 teaspoons cornstarch
1 teaspoon baking soda
1/4 teaspoon kosher salt
4 ounces Chocolate Baking Bar, chopped into chunks (be sure to use a dairy-free chocolate)
Topping: coarse sea salt
Instructions
Line a cookie sheet with parchment paper or a silicone baking mat.
In a medium bowl, beat together the coconut oil, sugars, egg, and vanilla extract until light and fluffy, about 3 minutes on medium speed. Add in the flour, cinnamon, cornstarch, baking soda, and salt. Beat until just combined and a dough forms. Using a rubber spatula, fold in the chocolate chunk.
Using a large cookie scoop, scoop and shape dough into balls. Place balls two-inches apart from each other onto the cookie sheet. Chill cookie balls for at least two hours before baking.
When ready to bake, heat oven to 350 degrees F. Bake chilled cookie doughs for 10-12 minutes or until edges are just set. The centers will not be quite done but they will finish cooking when cooling. Remove the baking sheet from the oven and sprinkle immediately with sea salt. Let cookies cool on the baking sheet for 5 minutes. Transfer cookies to a wire cooling rack to continue cooking. Enjoy immediately warm or store at room temperature in an airtight container
** I would LOVE for you to take my
reader survey
to help me improve on this space we all love! Thank you.
Survey:
https://goo.gl/forms/KLlt0olnta
** Don't forget to enter the KitchenAid Stand Mixer giveaway going on now. ENTER HERE for a chance to win a Raspberry Pink Stand Mixer.