Pink Lemonade Cupcakes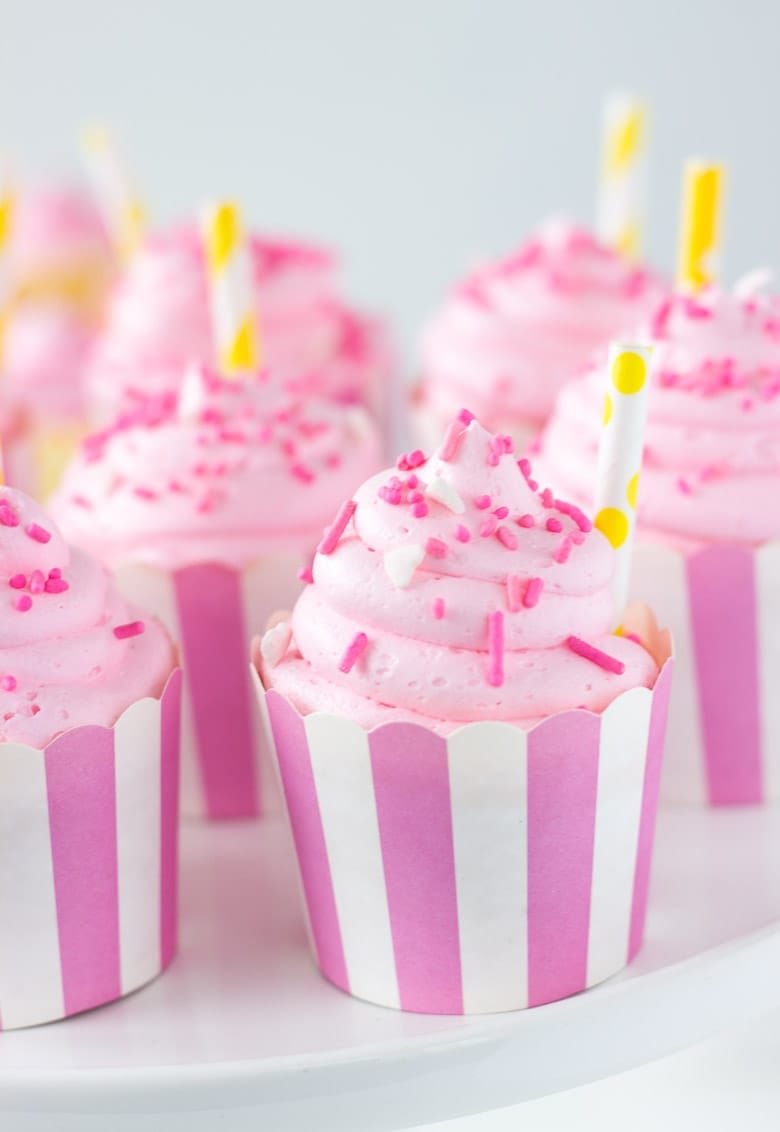 Pink Lemonade Cupcakes in October??? You must think I have my seasons mixed up, but I don't. October is Breast Cancer Awareness Month and I've partnered with KitchenAid to help support the fight against breast cancer through their 10,000 Cupcakes One Great Cause program. This year for each person who shares an original cupcake recipe on Twitter or Instagram with the hashtags #10000Cupcakes and #Donate, KitchenAid will donate $1 to Susan G. Komen to help support the fight against breast cancer, up to $10,000. In addition,KitchenAid will donate $450,000 or more to Susan G. Komen® through the Cook for the Cure® program and sales from the pink product collection.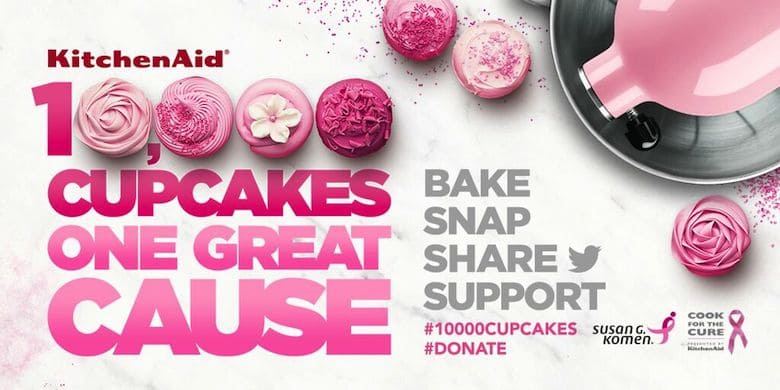 Isn't that awesome? I mean we all bake cupcakes anyway so why not put them to good use by simply snapping a picture and posting on our social media? Let's face it, you will post it there anyway. So PLEASE join me to support this great cause as I am sure everyone or someone you know has been touched in some way by cancer. The only way we can beat this terrible disease is by supporting organizations like Susan G. Komen that sponsor research. We cannot cure a disease if we don't understand the causes entirely (the scientist in me knows this for a fact!)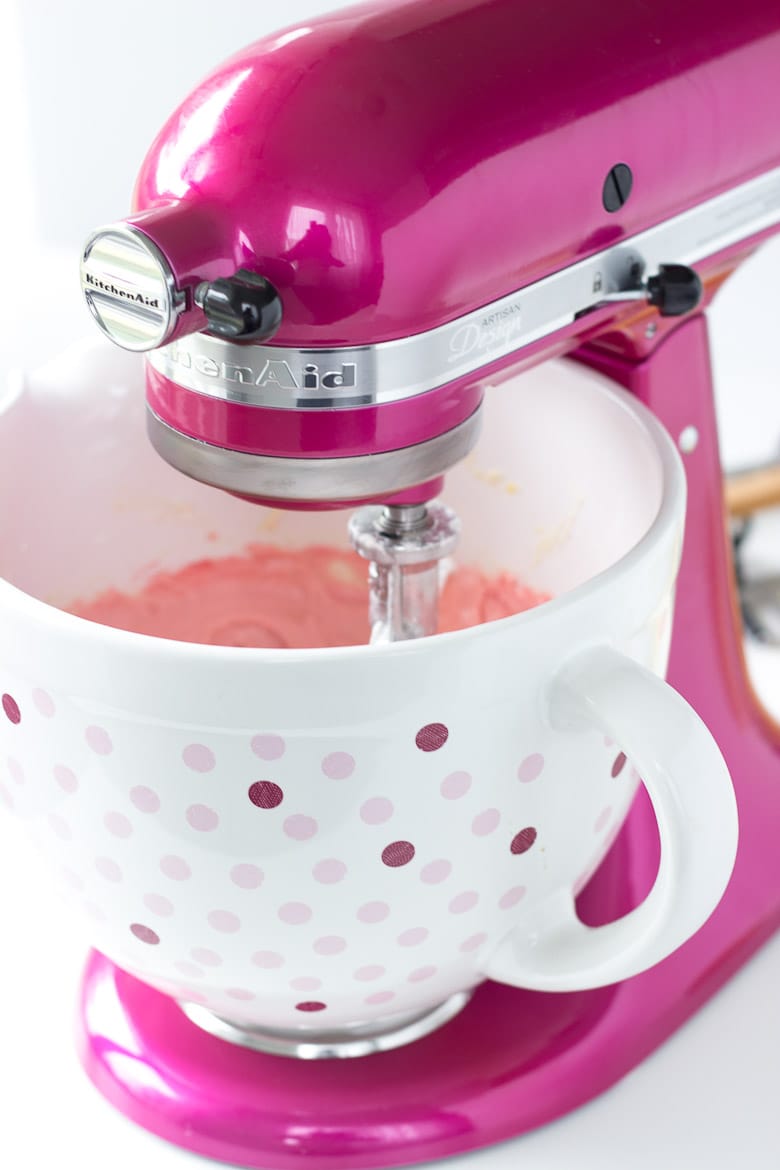 To help this cause, I made these easy yet pretty pink lemonade cupcakes using the Raspberry Ice Stand Mixer and polka dot Ceramic Bowl (a special KitchenAid product supporting Breast Cancer Awareness Month). Who says we can't have one of our favorite summer drinks anytime we want? I say we all bake pink lemonade cupcakes even if we can't have a pink lemonade now. These cupcakes are refreshing, tangy and sweet with a fluffy lemon cupcake topped with a sweet lemon buttercream.
I hope you will help me and Kitchenaid raise money for this great cause by baking cupcakes!! Any cupcake as long as you tag them on Twitter or Instagram with #10000Cupcakes and #Donate. To participate, please visit the hub on KitchenAid to read about rules and regulations for the program and information about Cook for the Cure in general.
Now for an extra encouragement, Kitchenaid was generous to donate ONE Raspberry Ice Stand Mixer and pink polka dot Ceramic Bowl (pictured above) to ONE lucky reader. Yes that is YOU! Use the widget below to enter for a chance to win.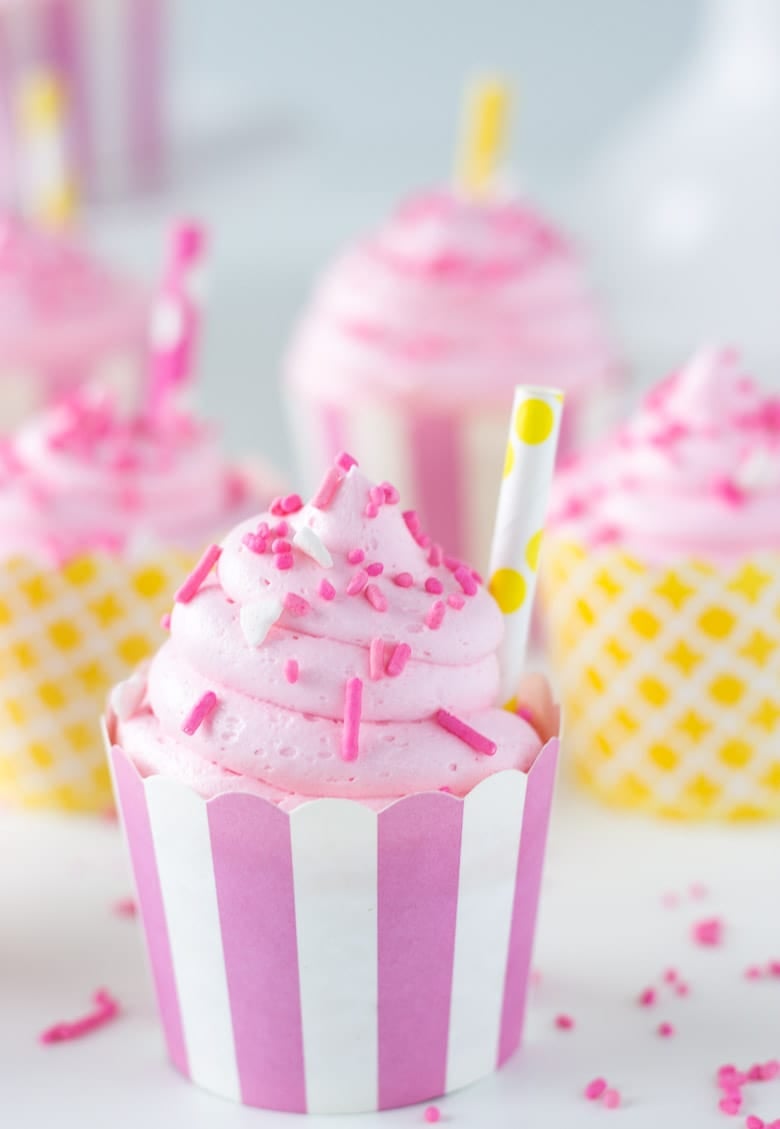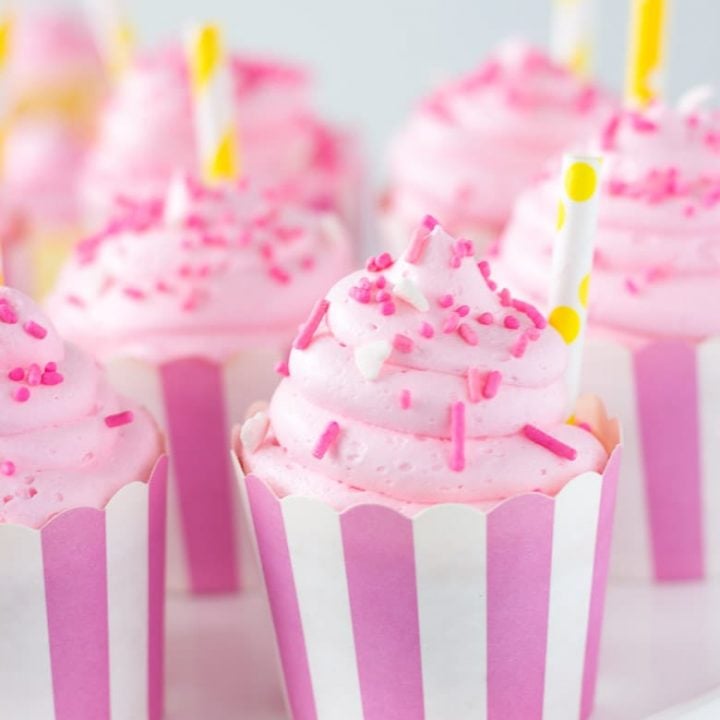 Yield: ~24 cupcakes
Pink Lemonade Cupcakes
Ingredients
For Cupcakes:
2 ½ cups all-purpose flour
2 ½ teaspoons baking powder
¼ teaspoon salt
1 ½ cups granulated sugar
1 tablespoon lemon zest, from about 2 lemons
¾ cup unsalted butter, softened at room temperature
2 large eggs, room temperature
2 teaspoons vanilla extract
½ cup freshly squeeze lemon juice, from about 3 lemons
¾ cup milk
a few drops red food coloring (optional)
For Pink Lemonade Frosting:
1 ½ cups unsalted butter, at room temperature
3-4 cups powdered sugar
1 lemon, zest + juice
a few drops red food coloring (optional)
Instructions
For Cupcakes
Heat oven to 350 degrees. Line two muffin tins with cupcake liners.
In a medium bowl, whisk together flour, baking powder, and salt.
In the bowl of an electric mixer, combine the sugar and lemon zest. Rub together zest and sugar until fragrant. Add in the butter and beat butter and sugar on medium speed until light and fluffy, about 3-5 minutes. Add in eggs, one at a time, and mix until combined after each addition. Beat in the vanilla extract and lemon juice. Alternatively add the flour mixture and milk, beginning and ending with the flour. Beat well after each addition. Beat in the food coloring if using.
Divide the batter into the prepared muffin tins. Bake cupcakes until the center springs back when touched and a tester comes out clean, about 18-20 minutes. Let cupcakes cool completely on a cooling rack.
For frosting:
In a large mixing bowl, beat the butter on high speed until pale and smooth, about 3-4 minutes. Add the powdered sugar, lemon zest and juice (and food coloring if using). Mix on low speed for a minute and then increase to medium-high speed to beat until well combined. Frost cupcakes with buttercream. Decorate with sprinkles and hearts.
OR Enter HERE: https://promosimple.com/ps/8336
Giveaway is sponsored by KitchenAid. Ends October, 11 2015 at midnight. One winner will be selected at random.