Kit Kat Cupcakes
Kit Kat cupcakes are a great Halloween treat! A moist chocolate cupcake, frosted with a whipped Kit Kat candy bar buttercream.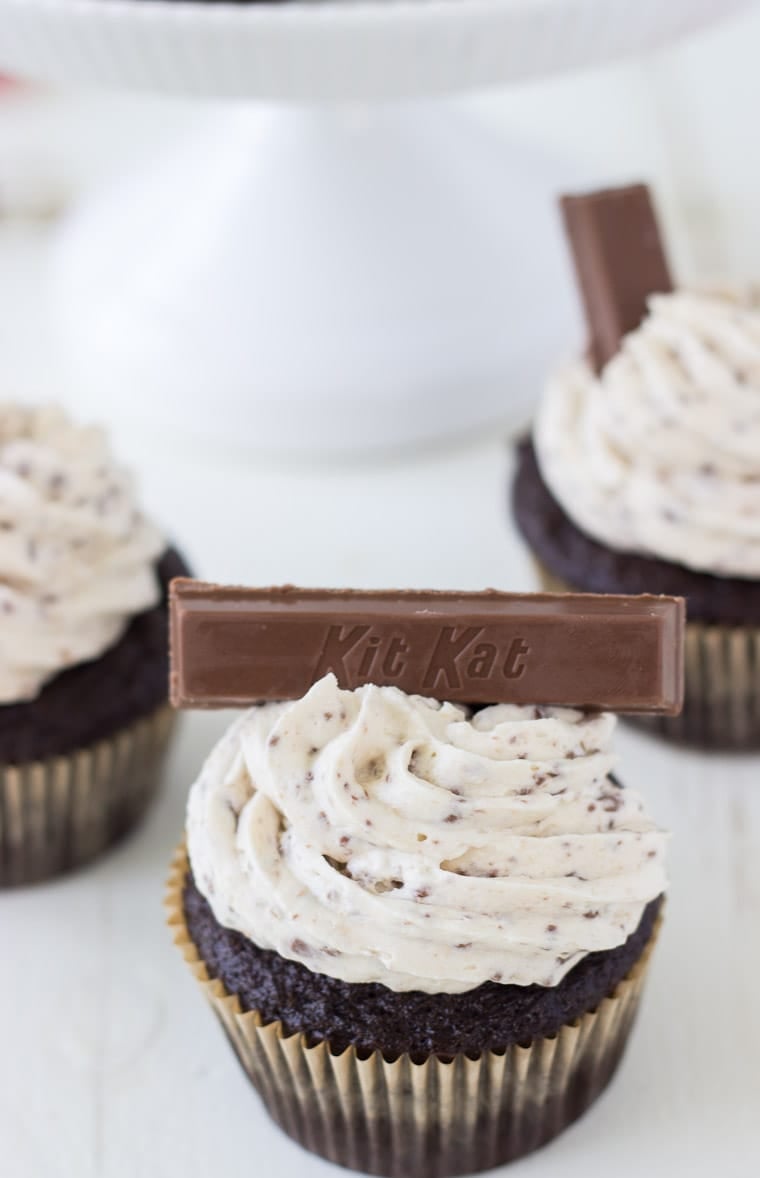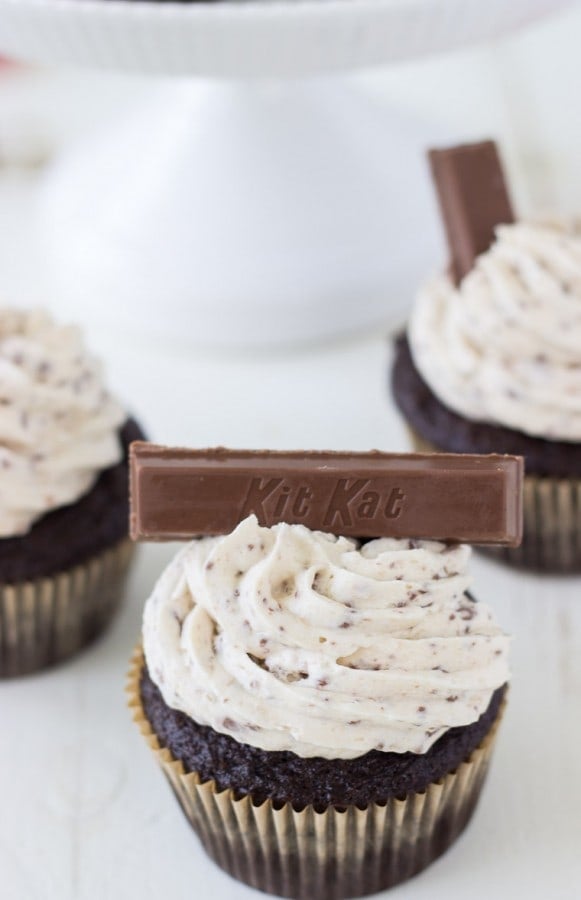 Before I get started on these Kit Kat Cupcakes, I just wanted to say THANK YOU very much for the outpouring support on my first day back to work (re: last post). It was hard, as expected, but I made it and came home and cuddled with my little man for a good hour! Thankfully, he missed me too and just wanted to be held by mommy. I think it will get easier as we get into a routine, but for now I just have to treasure those moments we share at night.
Okieee dokieee these cupcakes!! You guys they are amaze-balls!! These are my cupcakes to start the celebration of Halloween around here. I am not really a fan of the creepy stuff that goes along with Halloween and probably why I ignore it as a real holiday but just like football season, I am a fan of the food and not the show. So I take to stuffing my candy in cupcakes and frostings.
Last year, we had some Chocolate Milky Way Cupcakes, filled with caramel and this year, I made you Kit Kat cupcakes using my favorite one bowl chocolate cupcake recipe. To go with the moist chocolate cupcake, I made a delicious whipped Kit Kat buttercream (using high quality Irish butter from Kerrygold) with crushed Kit Kats. It's crunchy, indulgent and a great treat for any Halloween party!!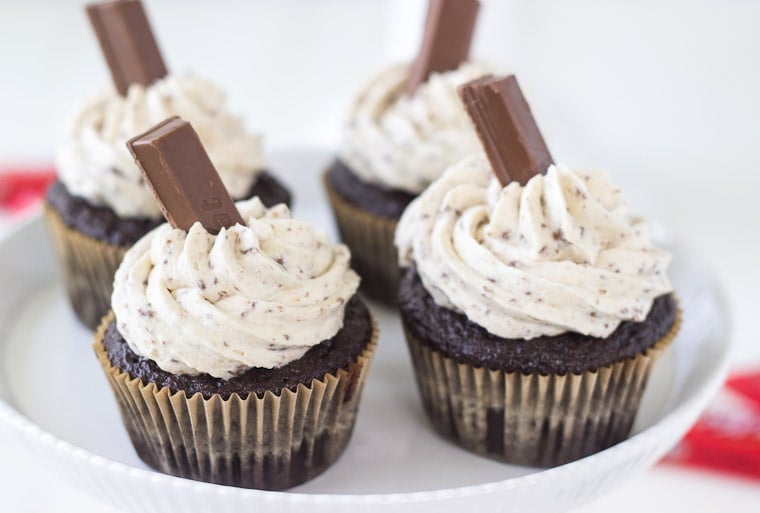 You HAVE to make these Kit Kat cupcakes!
I know you will love them as much as we did! And they will be a great thing to make with all those leftover Halloween candy.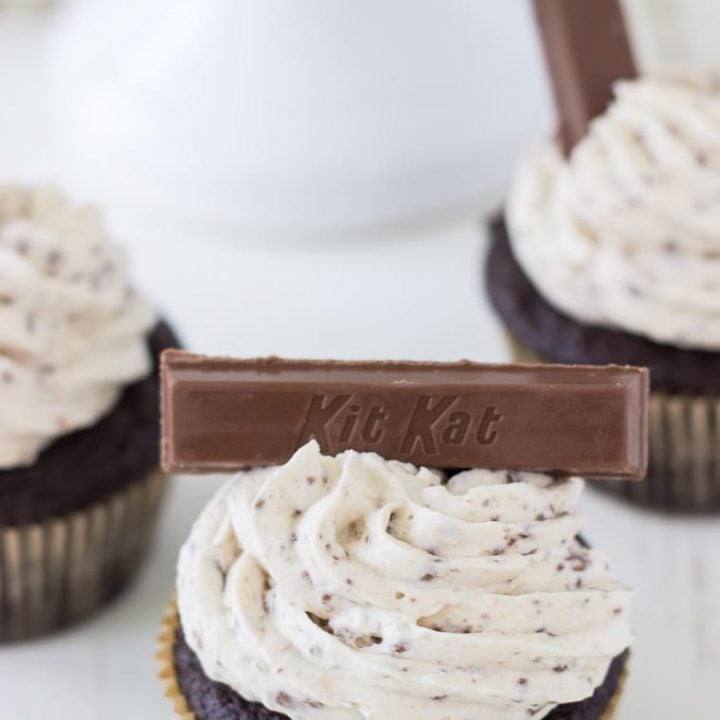 Yield: 12-15 cupcakes
Kit Kat Cupcakes
Ingredients
For Chocolate Cupcakes:
1 cup all-purpose flour
1 cup granulated sugar
⅓ cup unprocessed cocoa powder
1 teaspoon baking soda
½ teaspoon baking powder
½ teaspoon salt
1 large egg, at room temperature
½ cup buttermilk, at room temperature
½ cup hot coffee or hot water
¼ cup vegetable oil
1½ teaspoons pure vanilla extract
For Kit Kat Frosting
1 cup (2 sticks) unsalted butter, at room temperature
3-4 cups powdered sugar
2 teaspoons pure vanilla extract
Pinch of salt
2-3 tablespoons heavy cream
6-7 snack size Kit Kats, chopped finely (or processed in a food processor)
Instructions
For the Cupcakes:
Preheat oven to 350 degrees F. Line muffin tins with cupcake liners. Sift together all the dry ingredients into a large bowl. In a medium bowl, combine all the wet ingredients, including egg, using a whisk. Be sure to whisk the egg last into the wet ingredients to avoid scrambling with the hot coffee.
Using a mixer, mix the dry ingredients on low speed for 1 minute. Stop the mixer and add the wet ingredients. Mix for 2 minutes on medium speed and scrape down the sides and bottom of bowl. Mix for additional minute on medium speed.
The batter will be thin. Divide evenly among the cupcake liners.
Bake for 12-15 minutes or until a toothpick inserted in the center comes out almost clean.
Cool cupcakes on wire racks completely. Meanwhile you could start on the frosting.
For Frosting:
Whip butter on medium speed for about 2-3 minutes in the bowl of a stand mixer fitted with the paddle attachment until light and creamy. Add the powdered sugar, vanilla extract, salt and heavy cream and mix on low for 1 minute until combined. Increase speed to medium-high and whip for 6 minutes. Add in the chopped Kit Kats and mix until combined.
Use frosting immediately to frost cooled cupcakes.
Store leftovers in an airtight container at room temperature for up to 3 days.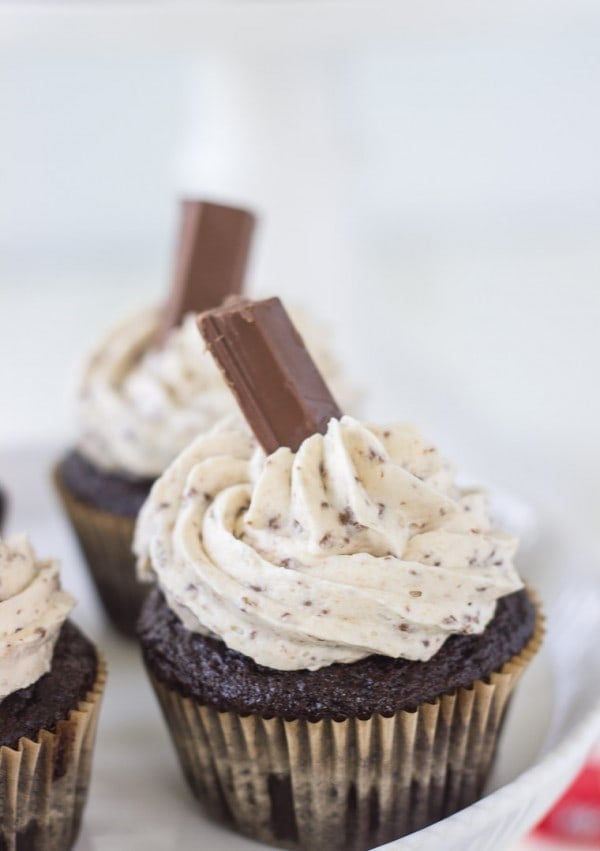 Tools I used in this recipe: (Some affiliate links included)