Chocolate Milky Way Cupcakes
I created these Chocolate Milky Way Cupcakes as part of a sponsored post with Collective Bias for Game Day!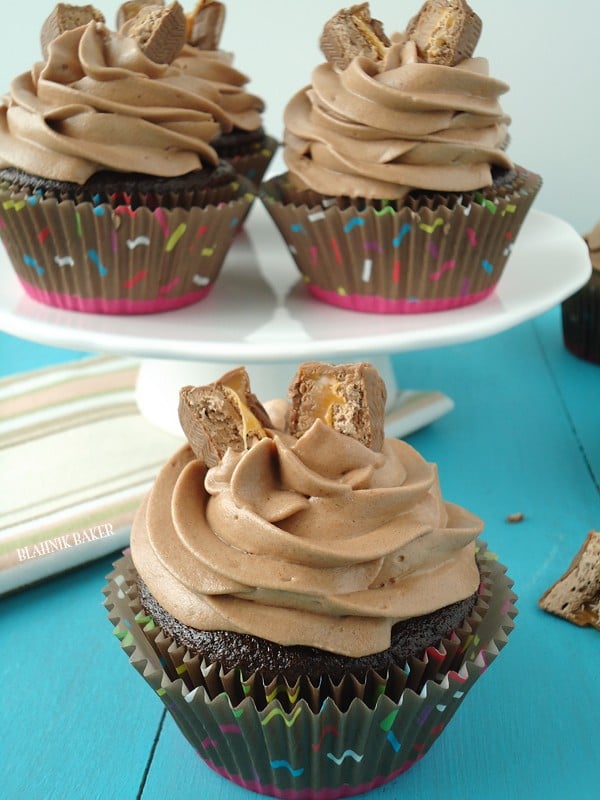 Have you seen the new MARS SNICKERS and Milky Way Bites candy?? When I saw them I knew I was in trouble. Like real trouble. They are UNWRAPPED!! I mean…all the work is taken out of the equation here making them the perfect snack (with caution of course!) on game day. Or if you have no sense of self-control like me, you decide to hide them away in a chocolate cupcake so it doesn't look too bad that you can't stop yourself.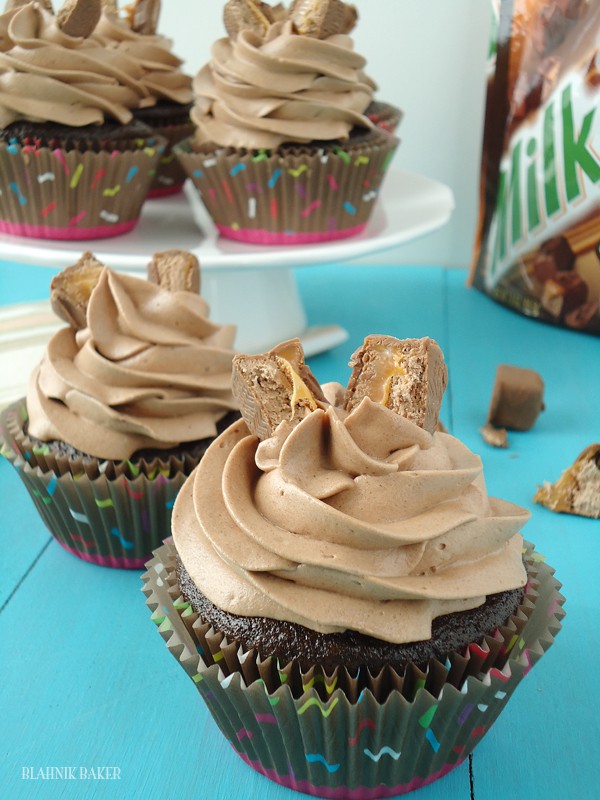 Talking about game day, are you guys football fans? Do you spend Saturdays and Sundays watching football? I do! But not the football you think. I watch soccer most Saturday afternoons to keep up with European soccer leagues and this involves a lot of game day bites. Even though I don't keep up with the NFL, I do my due diligence by creating and enjoying fun tailgating recipes like these chocolate milky way cupcakes!! In my opinion, the food is one the best parts of football season and exactly why I throw a Super Bowl Party each year.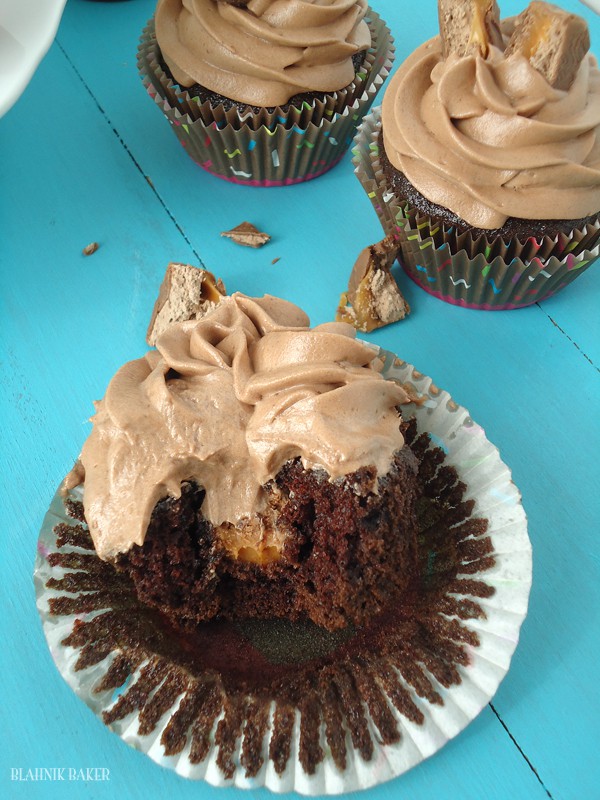 For these chocolate milky way cupcakes, I made my favorite chocolate cupcakes and halfway through cooking, I placed one milky way bite in the middle. I topped the cupcakes with a whipped malted chocolate frosting. These cupcakes are super moist, soft and decadent. The surprise milky way bite in the middle is partially melted and oozing caramel. Such goodness.
So for whatever type of football you watch this weekend, grab these new Milky Way bites to enjoy on game day! Better yet, make these cupcakes and share with your peeps because after all football is a social sport. If you are not into football, then my friends make these just because you want to treat yourself!
Here is a coupon to get you started: Coupon!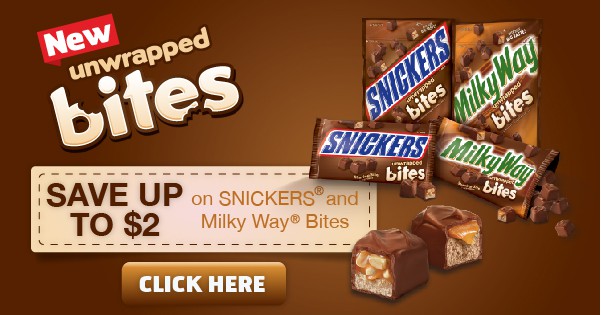 PS: If you share this coupon with friends the value doubles!! So share away 🙂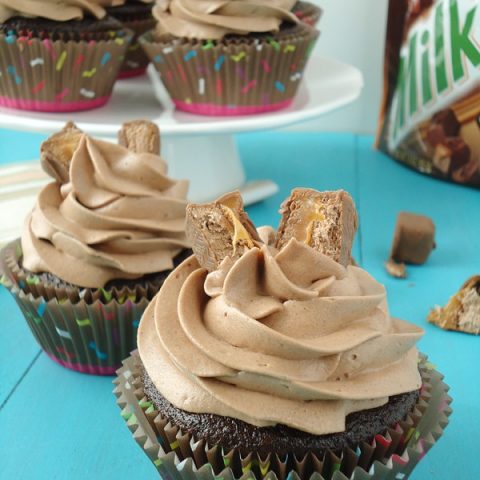 Yield: 15 cupcakes
Chocolate Milky Way Cupcakes
These cupcakes are super moist, soft and decadent. The surprise milky way bite in the middle is partially melted and oozing caramel. Such goodness.
Prep Time 20 minutes
Cook Time 15 minutes
Total Time 35 minutes
Ingredients
For Chocolate Cupcakes:
1 cup all-purpose flour
1 cup sugar
⅓ cup Cocoa powder (I used Ghirardelli)
1 teaspoon baking soda
½ teaspoon baking powder
½ teaspoon salt
1 egg, at room temperature
½ cup buttermilk, at room temperature
½ cup strong black coffee, hot
¼ cup vegetable oil
1½ teaspoons vanilla extract
15-18 Milky Way unwrapped bites (or more if you have no self control)
1 cup (2 sticks) unsalted butter, at room temperature
2 cups confectioners' sugar, sifted
¼ cup + 2 tablespoons Ovaltine Classic (brown in color)
2 teaspoons pure vanilla extract
Pinch of salt
4 ounces semisweet chocolate, melted and cooled
2 tablespoons heavy whipping cream
Instructions
For the Cupcakes:
Preheat oven to 350degrees F. Line muffin tins with cupcake liners.
Sift together all the dry ingredients in the bowl of an electric mixer.
In a medium bowl, combine all the wet ingredients using a whisk.
Mix the dry ingredients on low speed for 1 minute. Stop the mixer and add the wet ingredients. Mix for 2 minutes on medium speed and scrape the sides and bottom of bowl. Mix for additional minute on medium speed.
The batter will be thin. Divide evenly among the cupcake liners.
Bake for 7 minutes. Stuff each cupcake with one milky way bite and continue baking for another 7-8 minutes or until a toothpick inserted in the center comes out almost clean.
Cool cupcakes on wire racks completely. Meanwhile you could start on the frosting.
For the Malted Chocolate Frosting
Beat the icing sugar and butter on low speed for about 1 minute in the bowl of a stand mixer fitted with the paddle attachment.
Add the malt powder, vanilla and salt and beat on low speed for about 2 minutes until well combined.
Add the cooled chocolate and beat for additional 2 minutes on medium speed until smooth.
Add whipping cream and beat on medium-high for an additional minute or two.
Frost cupcakes and decorate with one Milky Way bite.
Have a great weekend!