S'mores Cupcakes with Marshmallow Frosting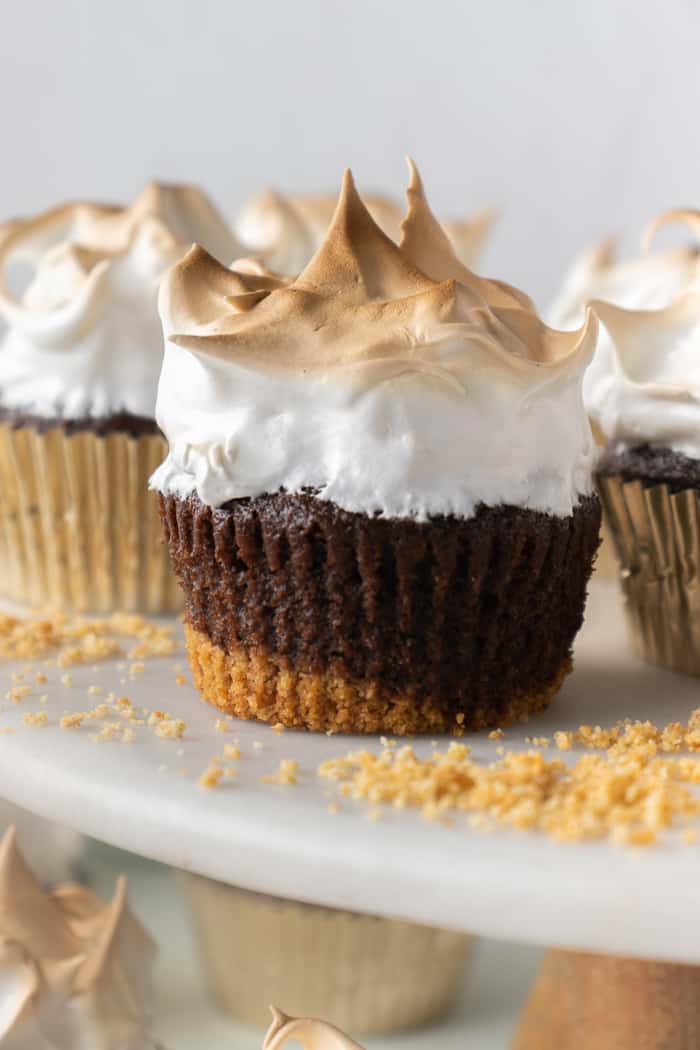 Hey, there dear friends! I have new and improved S'mores Cupcakes for you today. But why S'mores in February you ask? We are in the thick of winter here on the East Coast and have been experiencing colder weather than I can recall in years. The weather is so cold it's almost impossible to leave the house without looking like the little kid from The Christmas Story movie. Bundled up from head to toe ensuring no body part is exposed to such brisk temperatures. Which has inspired me to bring the joys of summer to some of my winter recipes.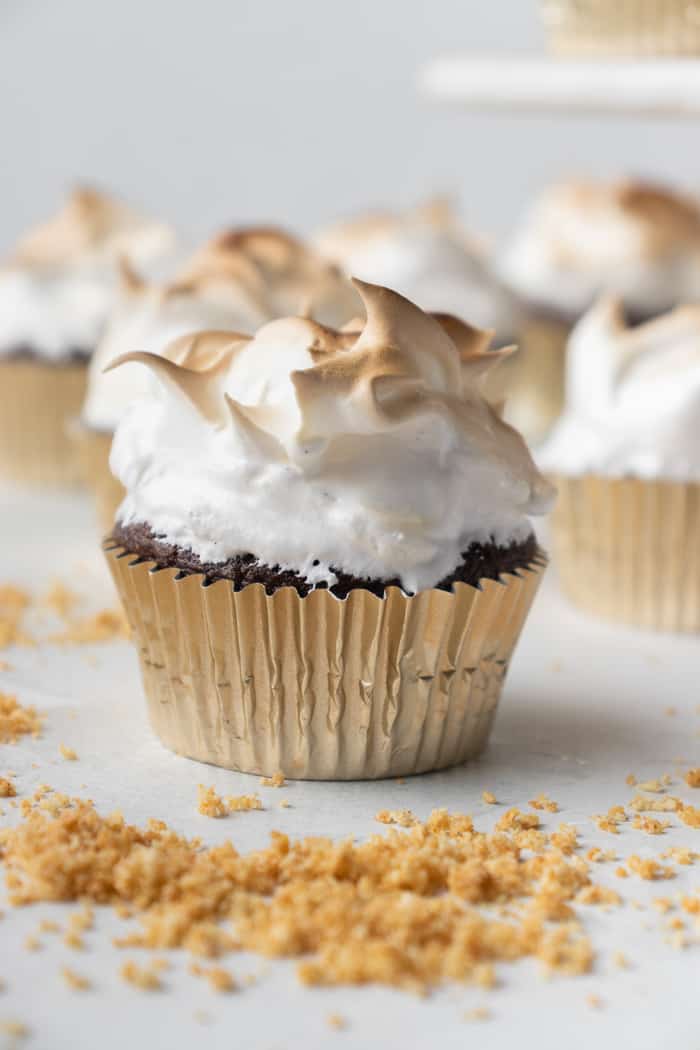 Whether you are camping in the woods or just spending time with loved ones on a warm summer's night, I think most of us can agree that there is one snack a bonfire is not complete without. These S'mores Cupcakes are the bee's knee's for the summer and fall season. An easy and inexpensive snack that brings joy to everyone of all ages. Now you can enjoy that gooey sweet treat any time of the year.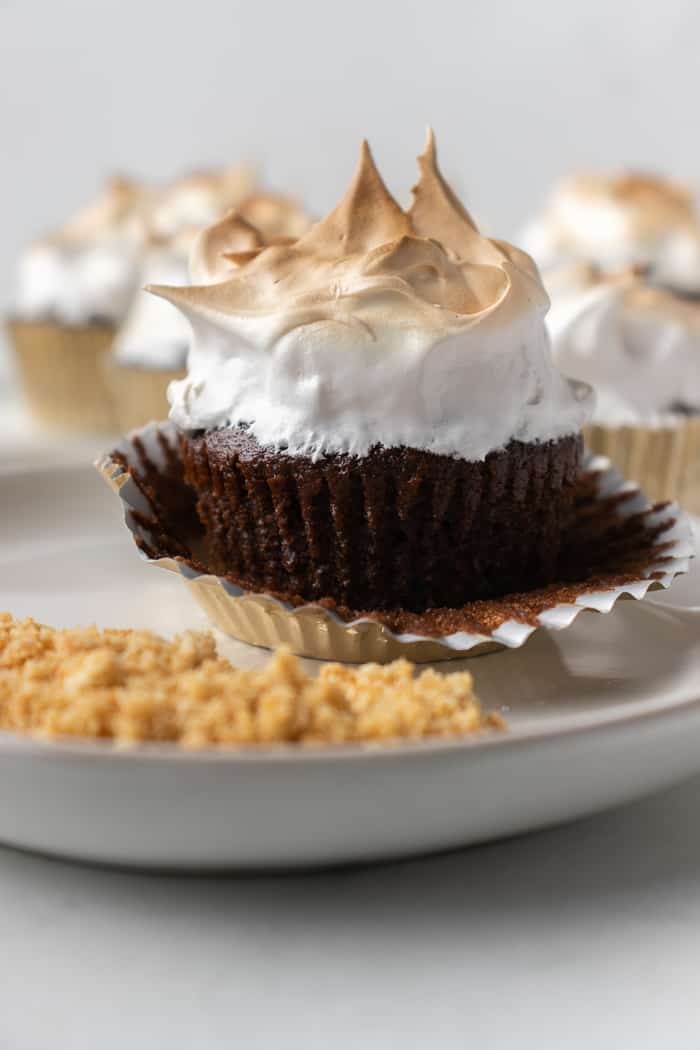 These S'mores Cupcakes are assembled in a way to give you the full effect of enjoying a burnt marshmallow, melted chocolate swished between two graham crackers. Each cupcake has a crunchy graham cracker base with a moist chocolate cupcake and is finished with a fluffy marshmallow frosting.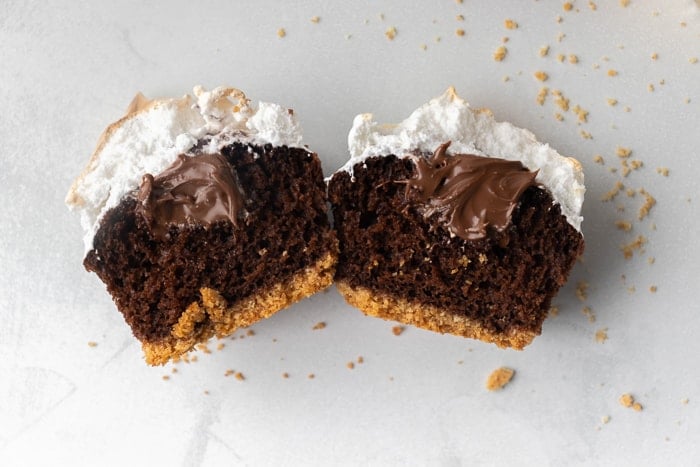 Now that your mouth is watering, let's get into baking!
Start by adding all the ingredients for the graham cracker base in a food processor until it feels like wet sand.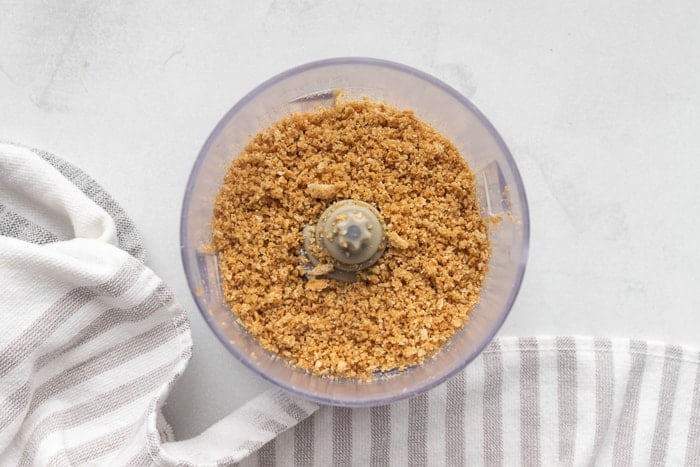 Add a scoop to each cupcake tin and flatten until even and smooth.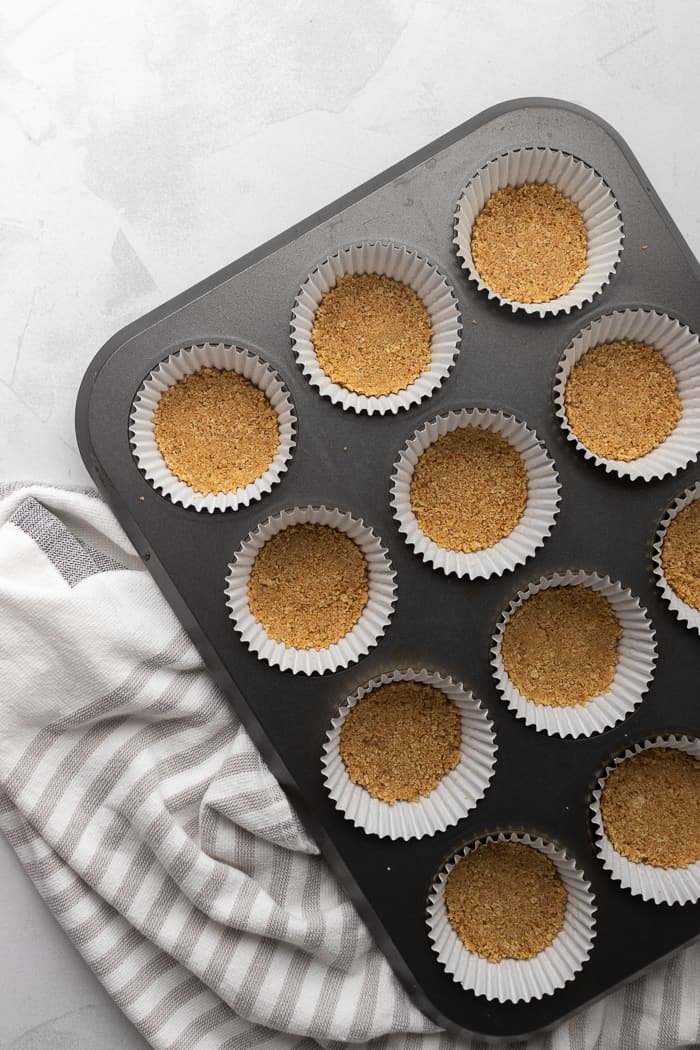 For the cupcakes, make a one-bowl chocolate cupcake batter. It is as easy as whisking the dry ingredients with the wet ingredients. Fill each tin about ¾ of the way with the batter.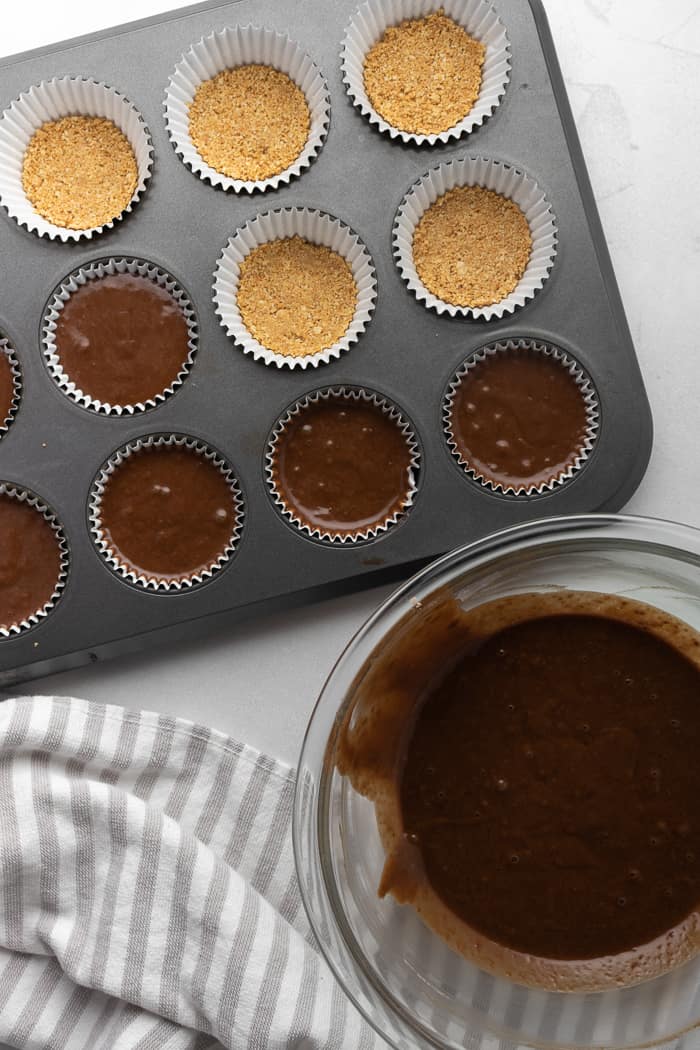 Bake for 18 minutes or until a toothpick comes out clean, set aside to cool.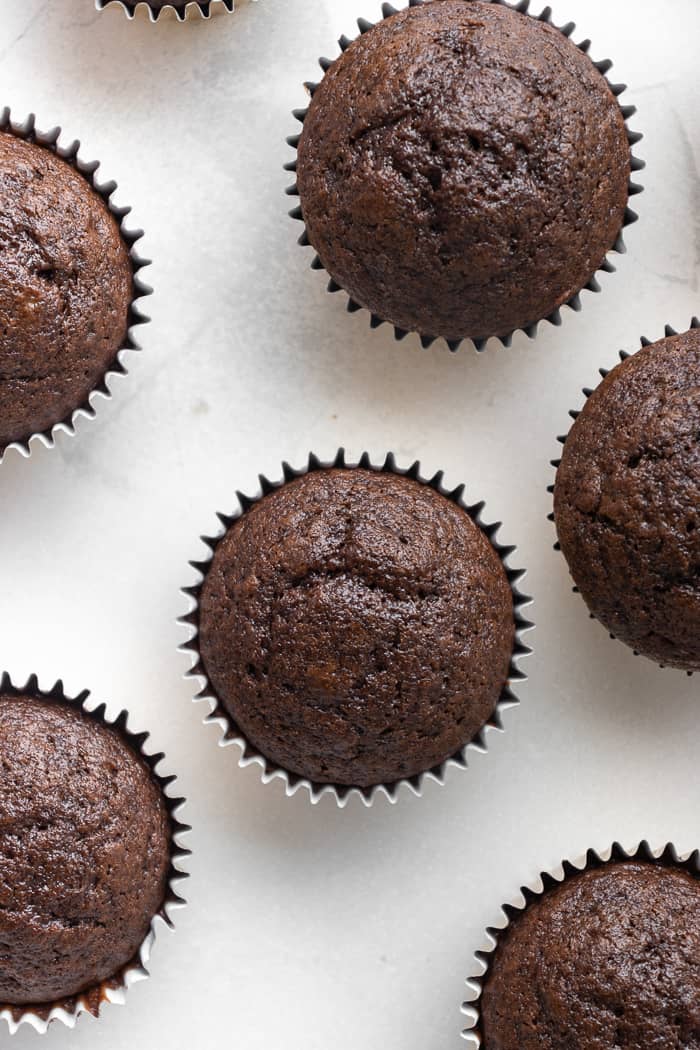 Next, make the Marshmallow frosting,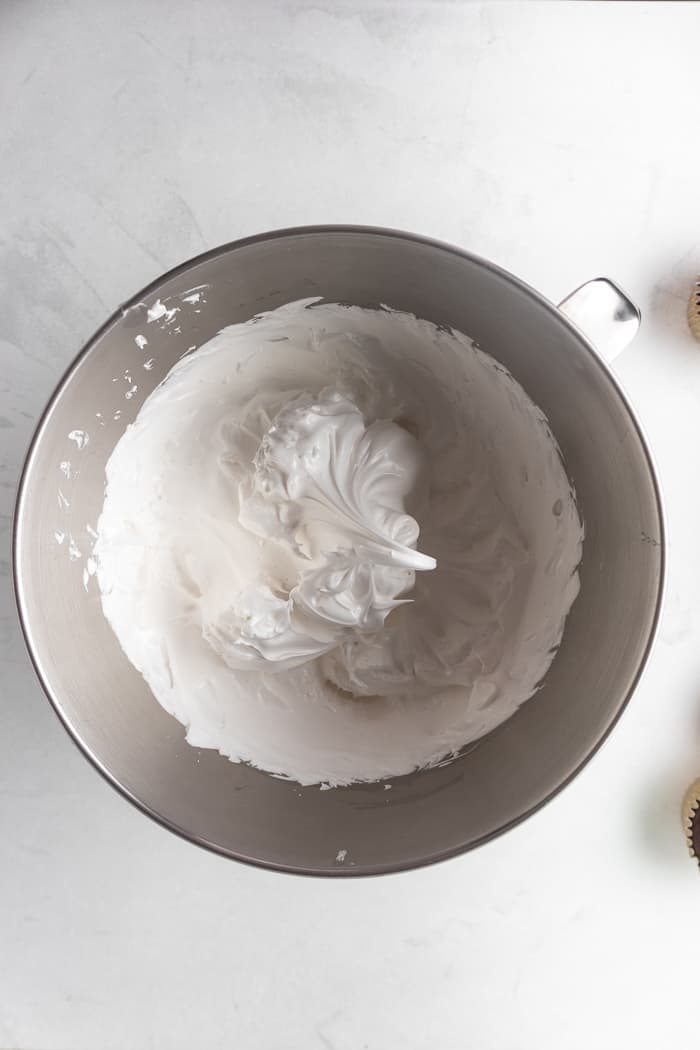 Use a spoon to remove the center of each cupcake. Pipe one tablespoon of Nutella into the center.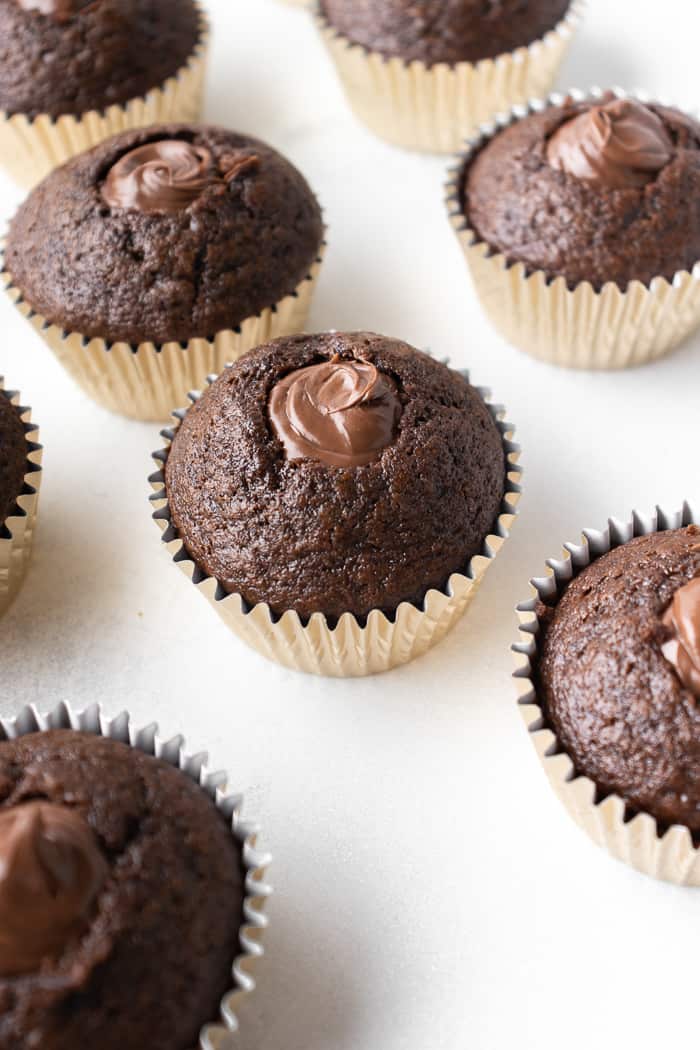 Use a piping bag or spoon to apply the marshmallow frosting. Torch lightly for the charred effect.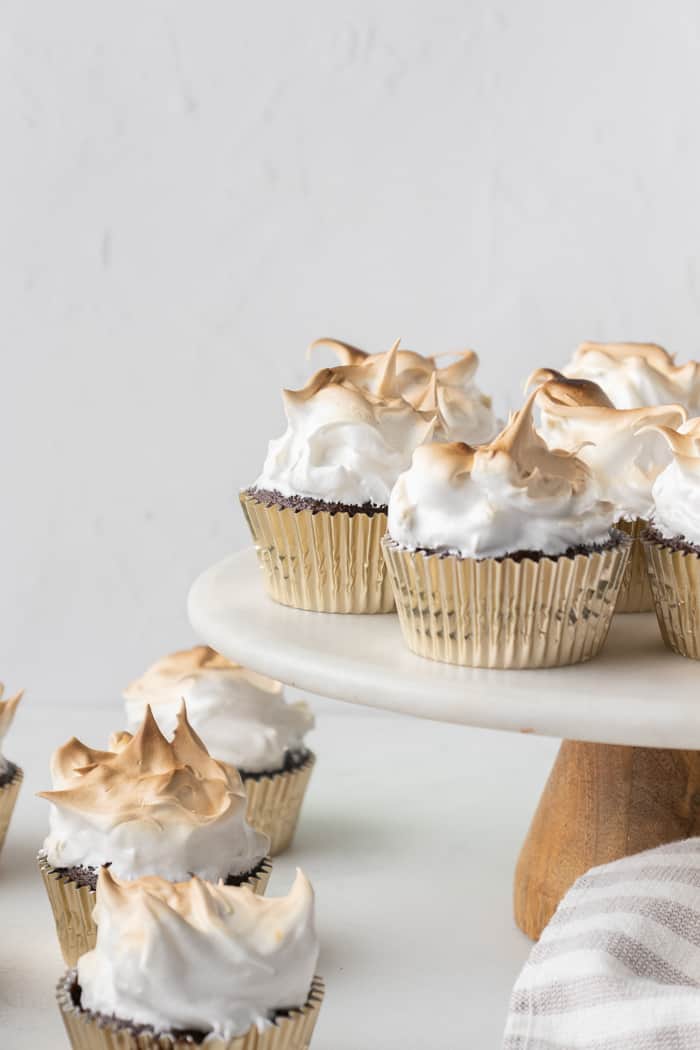 All there is to do now is enjoy and see how much of the frosting ends up on your kid's faces. Make sure to have a wet rag handy if you have messy eaters as I do lol.
Serve these S'mores Cupcakes on a chilly day with the fire going and transcend yourself to the campground. What could be better?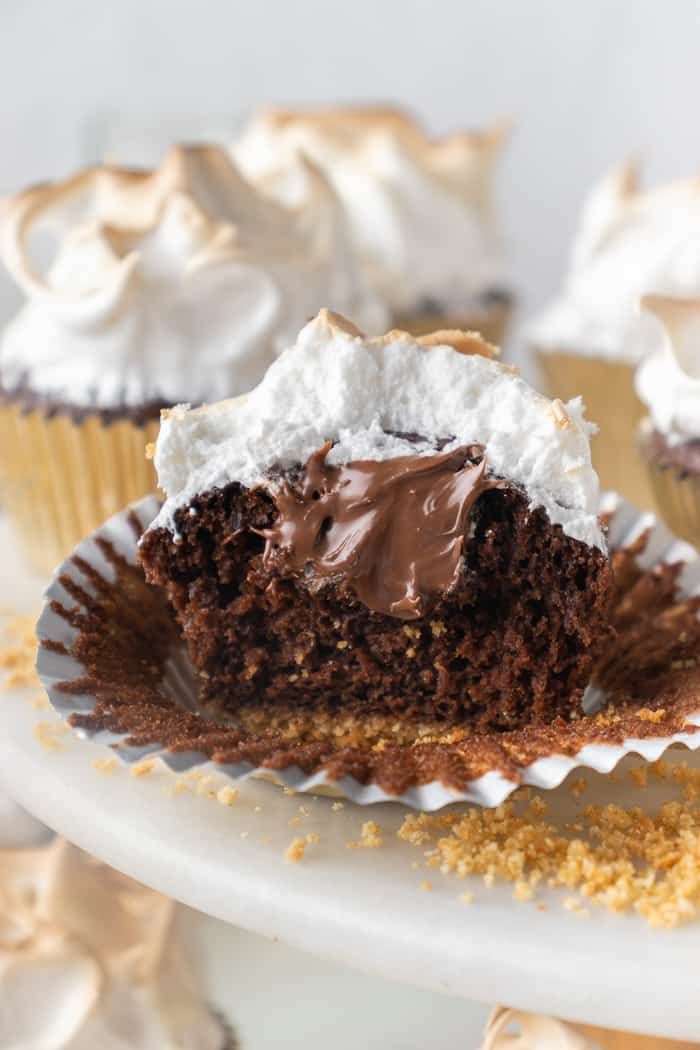 If you are like me and craving the warmer months, you may want to also try S'mores Bundt Cake, S'mores Rice Krispie Treats, or S'mores Chocolate Chip Cookies.
If you love cupcakes try out these milky way cupcakes.
What do you think of this perfect combination of flavors and textures? Let me know in the comment section below. If you share across social media, make sure to tag #aclassictwist so I can see all your beautiful creations come to life.
Until next time, happy baking friends :-).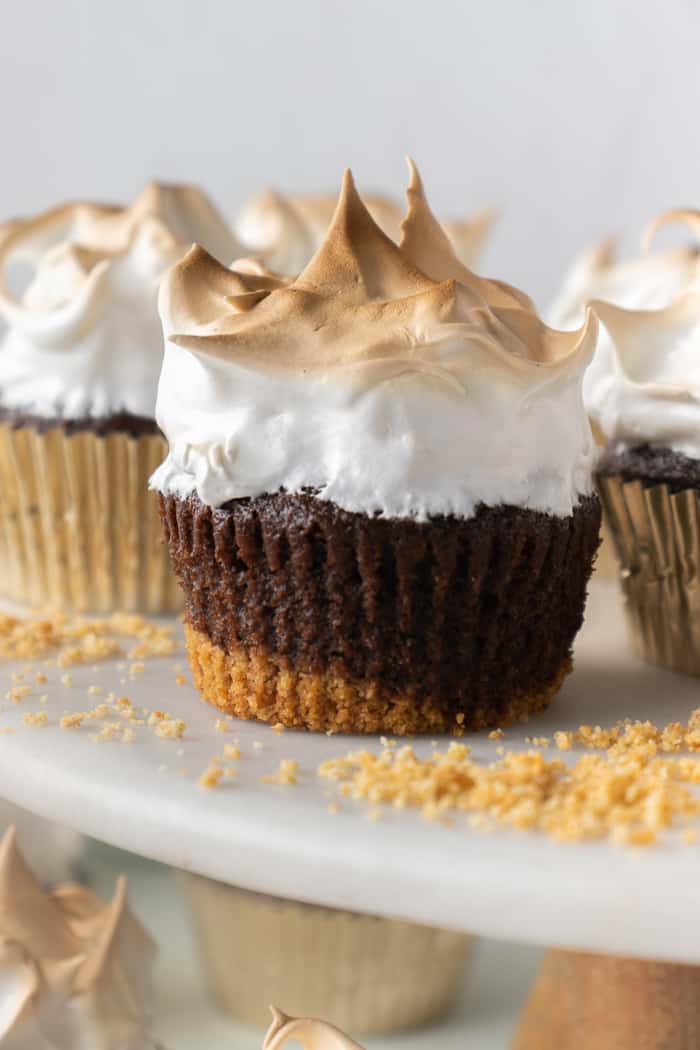 Yield: 12 cupcakes
S'mores Cupcakes with Marshmallow Frosting
Ingredients
Graham cracker Base:
1 pack graham crackers
4 tbsp melted butter
1 tsp honey
Chocolate cupcake:
1 cup AP flour
1/3 cup cocoa powder
½ tsp baking powder
½ tsp baking soda
¼ tsp salt
½ cup granulated sugar
¼ cup light brown sugar
1 egg, room temperature
¼ cup vegetable oil
½ cup sour cream, room temperature
½ tsp vanilla extract
½ cup coffee
Marshmallow frosting:
1 cup granulated sugar
4 egg whites, room temperature
½ tsp vanilla extract
¼ tsp salt
To assemble:
Instructions
Base:
Preheat the oven to 350 °F. Line a cupcake pan with liners.
Add all ingredients to a food processor and process until it resembles wet sand.
Add 1 tbsp of the base in each cupcake pan and compress it using a flat surface.
Chocolate cupcakes:
Sift the flour, cocoa powder, baking powder, baking soda, salt, granulated sugar, and light brown sugar together in a large bowl.
Add the egg, vegetable oil, sour cream, and vanilla extract and mix until incorporated.
Pour the coffee and carefully whisk until combined.
Distribute the batter evenly in the cupcake pans, filling each pan 3/4ths of the way.
Bake for 18 minutes or until a toothpick comes out clean once inserted in the cupcakes.
Remove from the oven and let them cool.
Marshmallow frosting:
Mix the sugar and egg whites in the stand mixer bowl.
Set the bowl over a pot of barely simmering water over medium heat. Don't let the bottom of the bowl touch the water.
Whisk the syrup occasionally until the sugar has fully dissolved.
Remove from the double boiler and begin to whip with a stand mixer for 3-5 minutes on high speed until soft peaks form.
Add the vanilla extract and salt and mix to combine.
To assemble:
Use a small spoon to remove the center of the cupcakes.
Pipe or spoon about 1 tbsp of Nutella in the cupcakes.
For a more rustic look, use 2 spoons to add the marshmallow frosting on the cupcakes. Alternatively, you can use a piping bag.
Use a torch to toast the marshmallow frosting
Notes
Store the s'mores cupcakes in the fridge for up to 4-5 days.
The fresher the marshmallow frosting the better. It should not be made ahead of time and left in the bowl or piping bag because it will deflate and won't form a nice shape. It will hold its shape nice once it is piped.