Valentine's Day Chocolate Truffles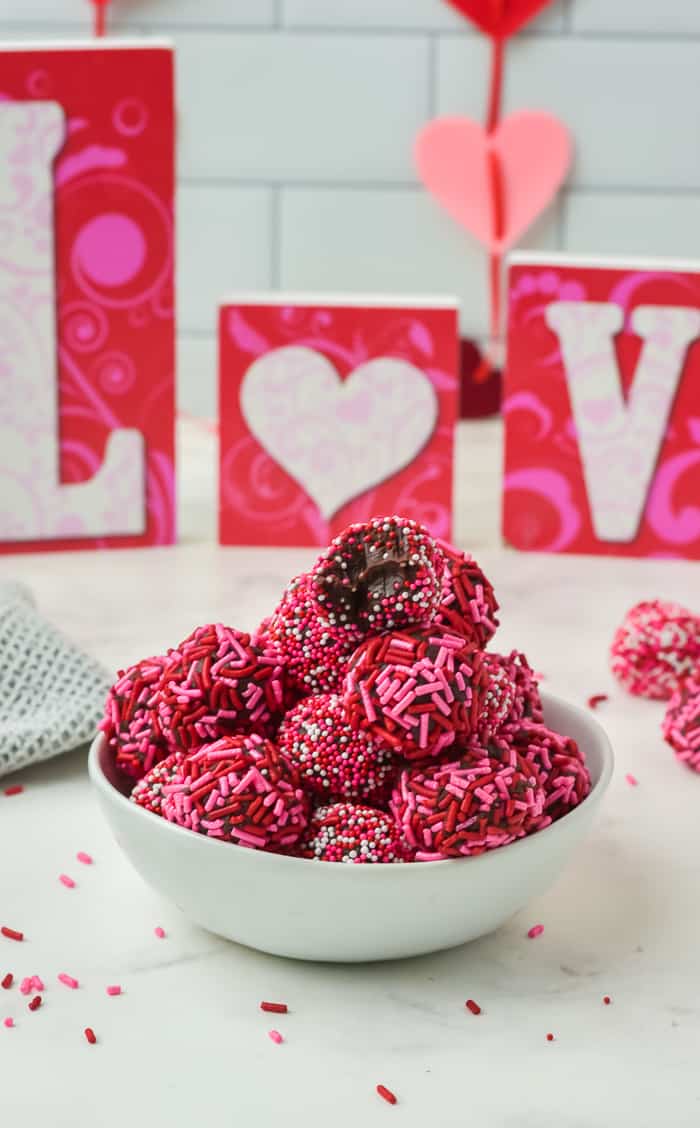 Hey there friends! Today, I have these Valentine's Day Chocolate Truffles. Valentine's Day is the holiday we all look forward to red roses, a thoughtful card, and a box of prepackaged chocolate. But, let's be honest, most of the time, our partners are running around the day before grabbing our favorite things to make our day special, but they deserve the same shower of love right?!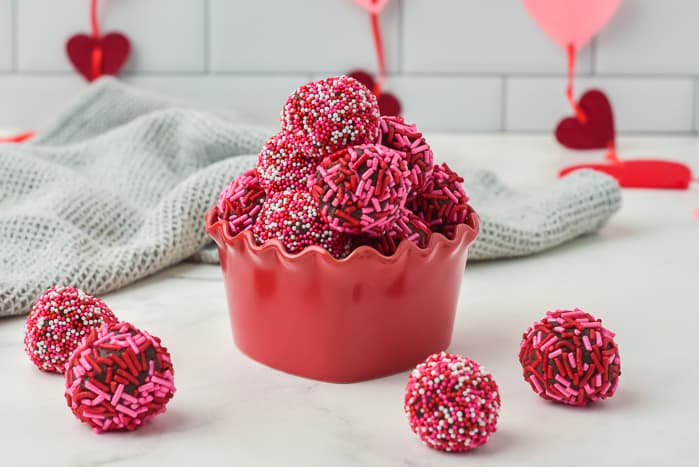 So while they are running around last minute, you can easily whip up these Valentine's Day Chocolate Truffles with three simple steps that will have them perplexed on how you made such a decadent treat without breaking a sweat.
I created these using a combination of sweet and dark chocolate, but you can use any type of chopped chocolate you want to make it unique to your flavor preference (and maybe your partner's, lol). Now for the fun surprise that makes these adult-friendly snacks, bourbon! So let the kids keep their candy hearts and those small snacks you buy for their class exchange and keep the good stuff for you and your partner!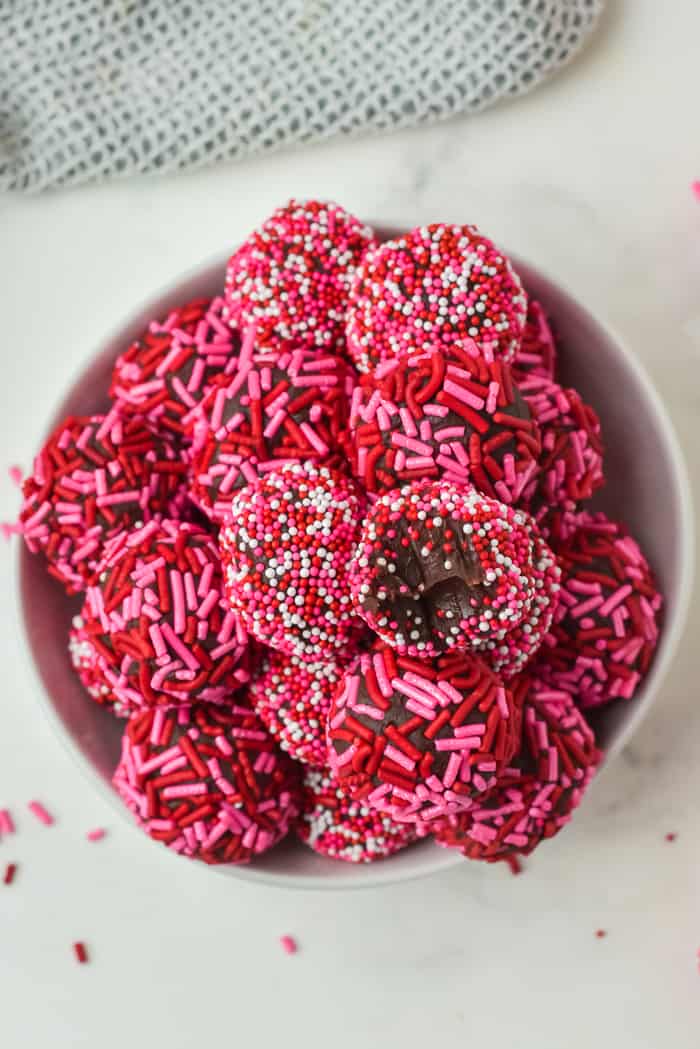 The bourbon adds just a slight hint of bitterness to the chocolate with a smoky touch (depending on what type you use) that is enough just to set your romantic mood in the right direction.
Now, decorating is always my favorite part because it is where you can truly show your creative side and make it your own. I used vibrant pink and red sprinkles for the festive feel with some chopped nuts to add some depth and texture to your festive food. The cocoa powder is really a binder to ensure your toppings stick to your truffles and don't flake off when you bite into them but melt into the rich chocolate with each bite.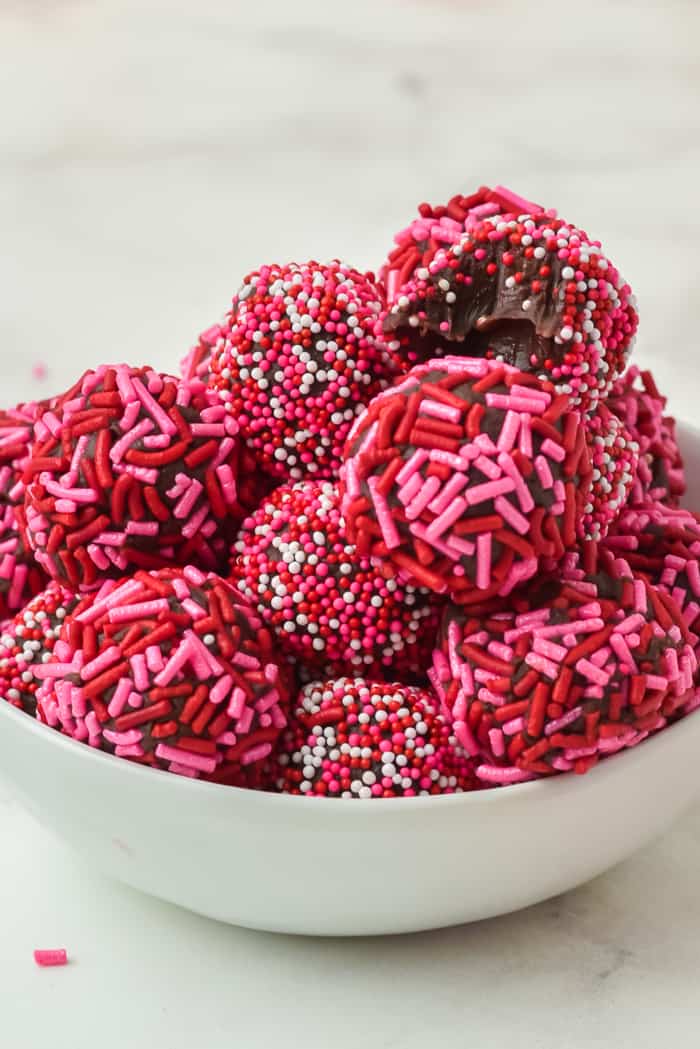 Valentine's Day Chocolate Truffles are just one of the many holidays of love recipes I offer for everyone in the family. Make sure to check out those recipes here. Whether you have a sweetheart or not, you deserve to enjoy these truffles! I promise you won't be able to just have one or two. They are that good!
I would love to know what you think of these so let me know in the comment section below. If you share across social media make sure you tag #aclassictwist that way I can see what twists you add to this recipe.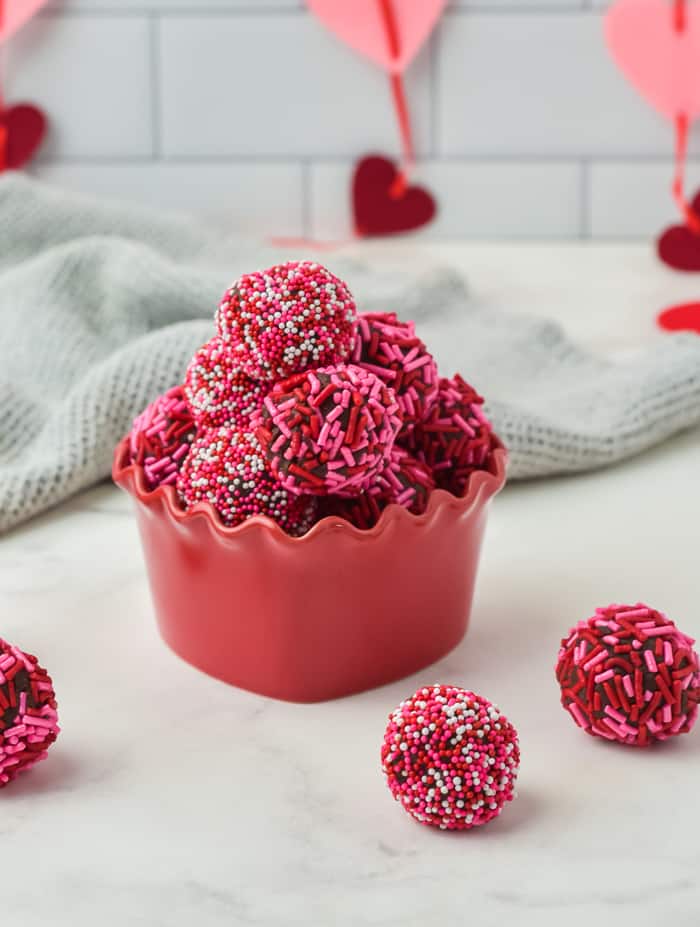 Until next time, happy baking and enjoying everyone :-).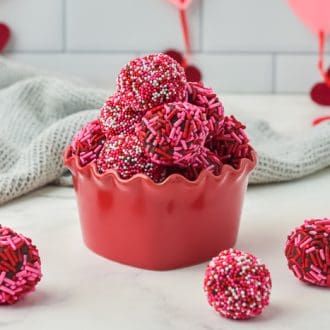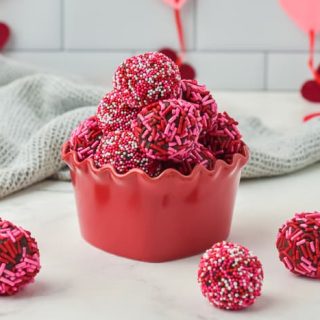 Yield: ~30 truffles
Valentine's Day Chocolate Truffles
Chocolate truffles are decadent, creamy and indulgent. They are a homemade classic holiday treat, and you won't be able to stop at one. Trust me!
Ingredients
¾ cup heavy cream
2 tablespoons unsalted butter
10 ounces chocolate, chopped (I used a mix of milk chocolate and dark chocolate)
1 tablespoon Bourbon (or more to taste; optional)
For Rolling:
Sprinkles, cocoa powder, chopped nuts (almonds, walnuts, pistachio)
Instructions
Place chopped chocolate into a medium bowl.
Over medium heat, bring heavy cream to boil in a small sauce pan. As soon as it starts boiling, remove from heat and pour over chocolate. Let chocolate sit for 2-3 minutes without stirring. Then stir until smooth. Stir in bourbon if using. Cover with plastic wrap and refrigerate overnight (or at least 3 hours).
Line a baking sheet with parchment paper. Using a spoon, scoop chocolate and roll into balls and place on baking sheet. Roll balls in sprinkles, cocoa powder or chopped nuts. Refrigerate for 30 minutes before serving. Store refrigerated.
Recommended Products
As an Amazon Associate and member of other affiliate programs, I earn from qualifying purchases.