S'mores Bundt Cake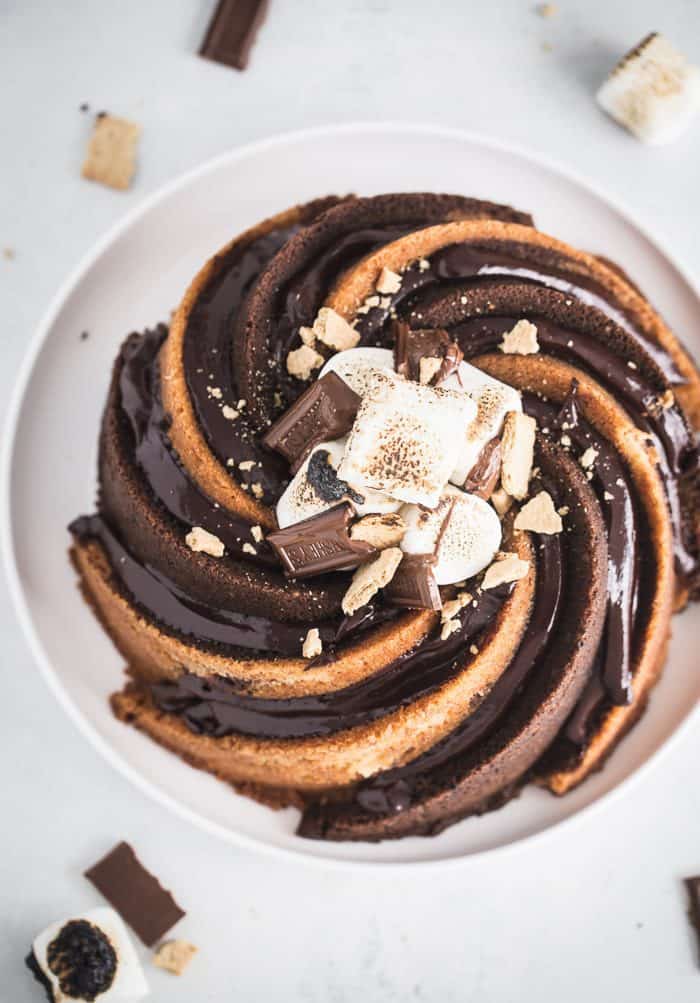 Hello friends! I'm trying to get in as much summer as I can these last few weeks before we head into September. This s'mores bundt cake came at the right time to help send off summer in my books. Of course, there is still a whole month left of the season but with Labor Day here in the US being the unofficial end of summer, I figured this might be a good time to say adios to what was a very hectic season for me.
I am not going to lie, I did not enjoy my summer as much as I wanted. I was busy doing everything but relaxing and I barely even got to bake. But that's okay! In life, there are always seasons of challenges that require more time to attend to and I am glad I was able to be present for my family, friends and loved ones. There will always be more summers to check off that bucket list.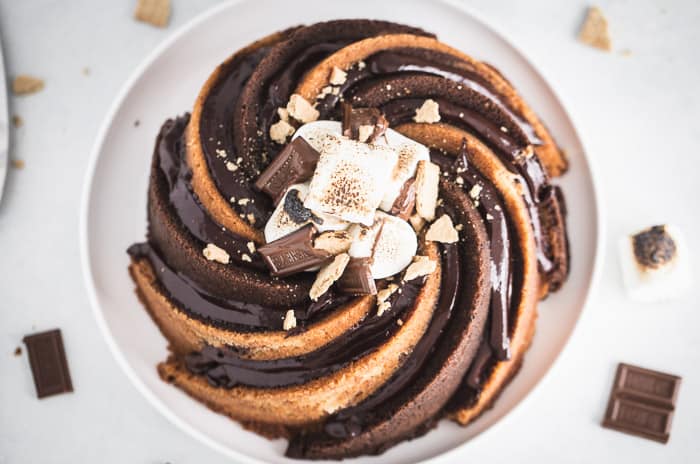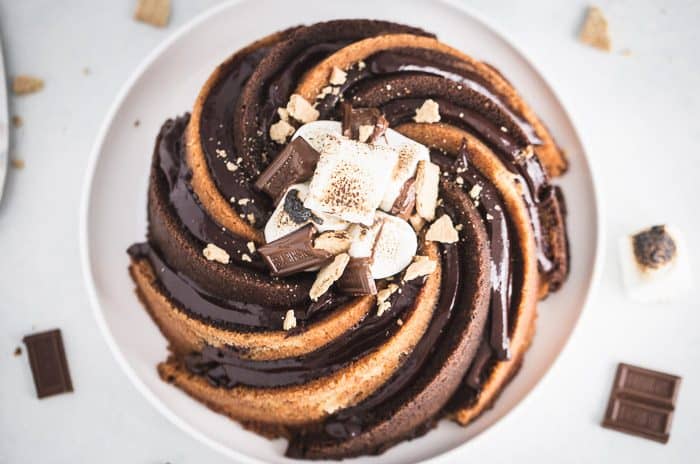 But lucky for me, I was able to make this cake for myself. Have you ever seen a recipe that you just had to make right away?? This smores bundt cake is one of those and I love when a recipe inspires me to get into the kitchen ASAP. I signed up for Bake from Scratch's Bundt of the Month club earlier this year as I am a bundt lover (duh!!). August's bundt recipe came into my inbox on a Thursday and I immediately spent Friday night making it as it not only looked great, it sounded unique. A s'mores cake that marbles chocolate and graham cracker batter in my favorite Nordic Ware heritage bundt pan!!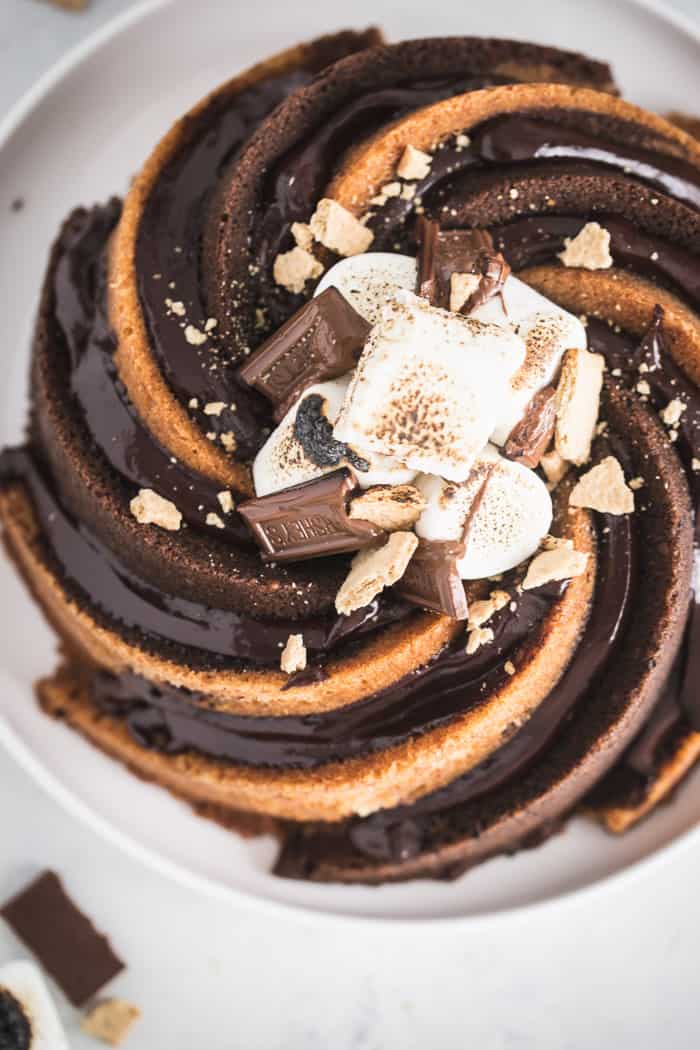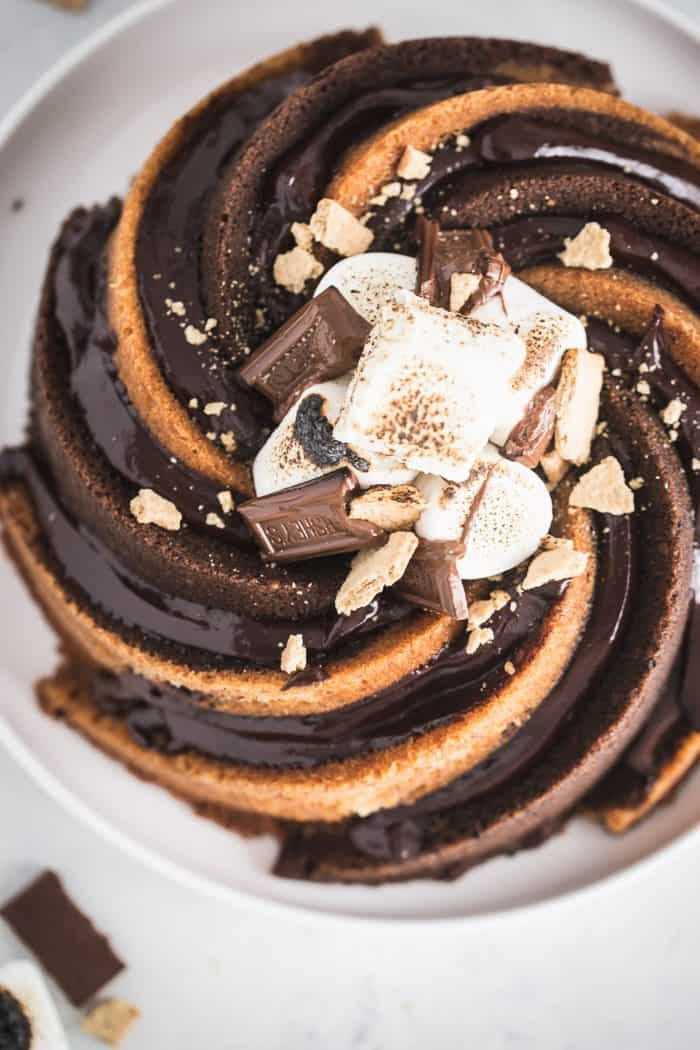 Everything about this s'mores bundt cake screams summer. From the rich graham cracker batter to the addition of cocoa in half of that batter to the toasted marshmallows to serve. Just like the classic s'mores, we have the flavor of honey graham crackers, sweet chocolate and gooey marshmallows in this s'mores cake. It's truly incredible and worth every minute it takes to make it. Don't forget the chocolate glaze that is drizzled on top.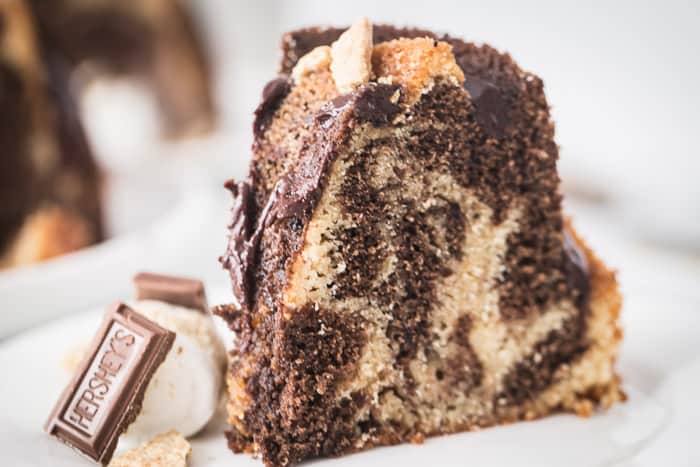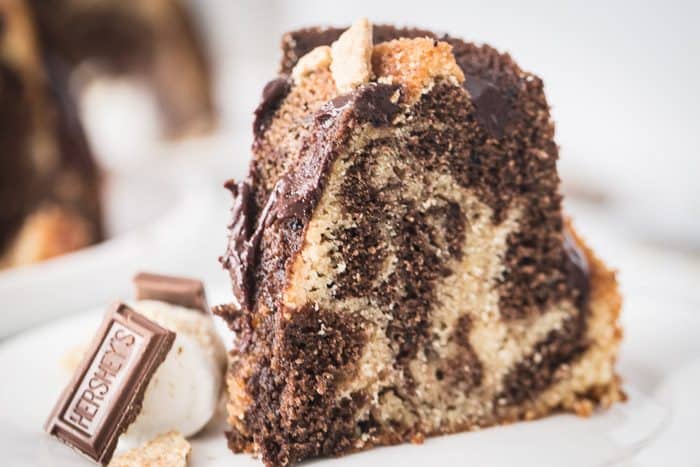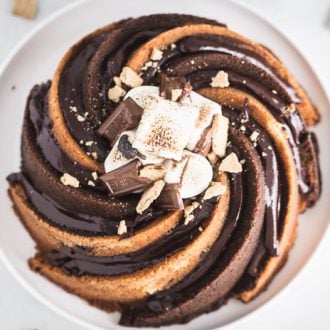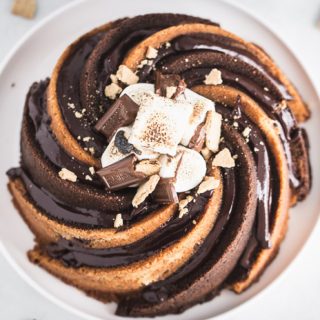 Yield: 1 12-cup bundt cake
S'mores Bundt Cake
A sweet s'mores bundt cake that swirls graham cracker and chocolate batter in one pan.
Total Time
3 hours
30 minutes
Ingredients
1 ½ cup unsalted butter, softened at room temperature
2 2/3 cups granulated sugar
6 large eggs, at room temperature
2 ¼ cups cake flour, sifted
⅔ cup finely ground graham cracker crumbs
1 ½ teaspoon kosher salt
½ teaspoon baking soda
1 cup whole buttermilk, at room temperature
2 tablespoons pure vanilla extract
1/4 cup black cocoa powder
½ teaspoon espresso powder
Milk Chocolate Ganache:
6 ounces milk chocolate bars, chopped
⅓ cup heavy whipping cream
Toppings:
Large marshmallows
Garnish: broken milk chocolate bars, roughly crushed graham crackers
Instructions
Preheat oven to 325 degrees F. Grease a 12-cup bundt pan with baking spray. Freeze pan for about 20 minutes, as you prepare the batter.
In the bowl of a stand mixer with the paddle attachment, cream the butter and sugar, on medium speed until light and fluffy, about 5-6 minutes.
Add in the eggs, one at a time and mixing between each addition. Scrape down the bowl as needed.
In a separate medium bowl, whisk together the flour, graham cracker crumbs, salt, and baking soda. In another small bowl, whisk the buttermilk and vanilla extract.
Reduce the mixer to low. Alternatively add in the flour mixture and the buttermilk, beginning and ending with the flour, beating until just combined after each addition.
In the medium bowl, transfer about 4 cups batter. Add in the cocoa powder and espresso powder. Fold in until well combined.
Spoon 1 cup of the black batter into a large piping bag. Cut off the tip of the piping bag. Spoon 1 cup of the plain batter into another large piping bag. Cut off the tip of the piping bag. Into the prepared pan, alternatively pipe batters directly into the grooves to within ¾ inch o the top of the center tube and the outside rim. Use an offset spatula to carefully spread batter into the grooves and up the sides of the pan. Continue to alternatively pipe and spread more batter into each groove, closing any gaps between the batter.
Refill the piping bags with remaining batter and repeat the process until there is no more. Tap the pan on the counter to spread the batter into grooves and remove
any air bubbles.
Bake the cake until a cake tester inserted into the center comes out clean, about 45-50 minutes. Let cake cool in the pan for 10 minutes. Loosen the sides of the cake from the center of the pan. Invert cake onto a wire rack and let cool completely.
To make the ganache, warm up the heavy cream in a microwave-safe bowl until hot. Pour the hot heavy cream over the chopped chocolate in a medium bowl. Let sit for 1-2 minutes before stirring until smooth. Use immediately.
When ready to serve, transfer to a cake plate. Place the milk chocolate ganache into a large piping bag with a large round tip. Carefully pipe the ganache into the grooves of the cooled cake. Fill the center with large marshmallows. Using a kitchen torch, toast the marshmallows. Garnish the cake with graham crackers and chocolate.

Recommended Products
As an Amazon Associate and member of other affiliate programs, I earn from qualifying purchases.