Strawberry Basil Iced Tea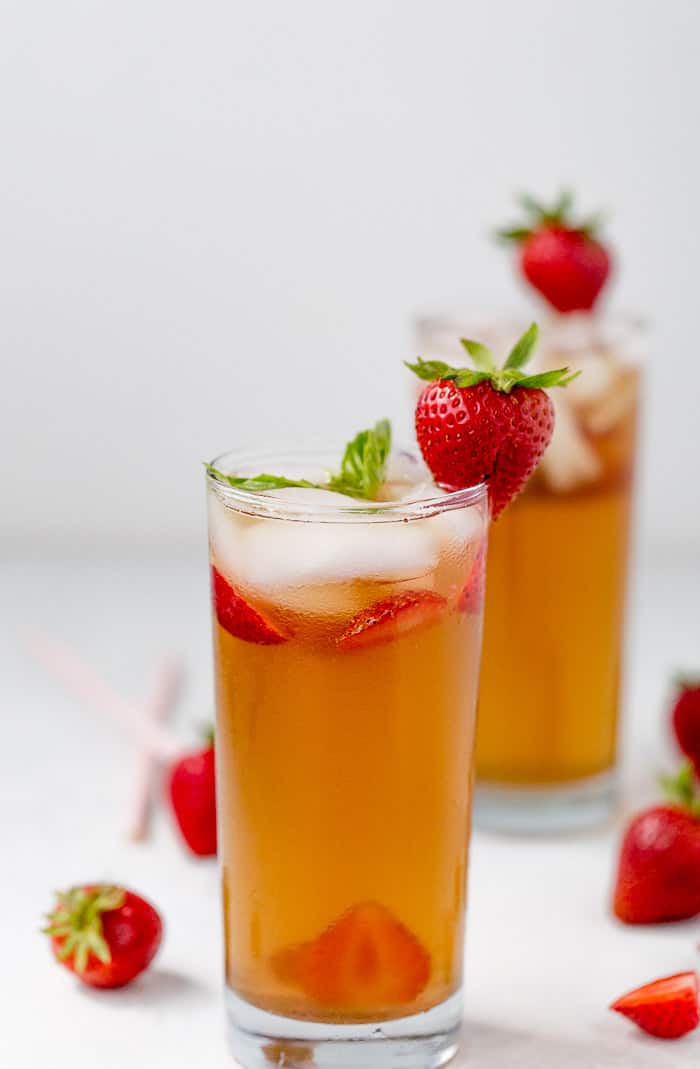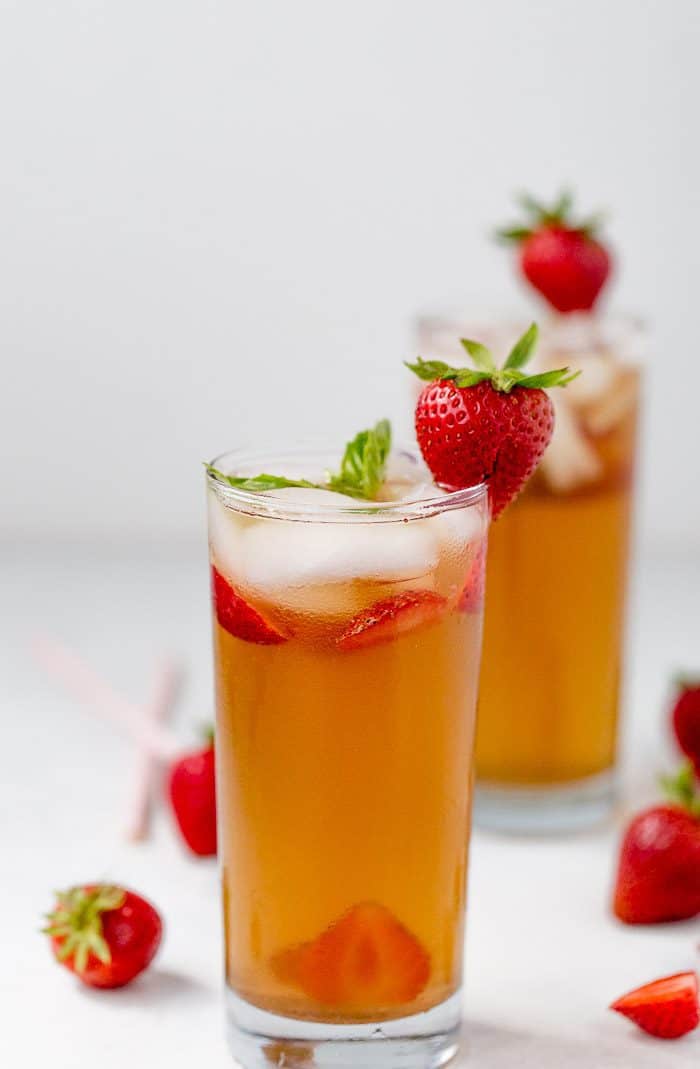 Hi friends, Happy Friday! How are you doing?? It's been a few weeks. I hope you are enjoying the tail end of summer as we all try to squeeze in one more summer trip or check more things off our summer bucket list before school starts. Here's hoping you have a few more summer days and nights for you to enjoy this homemade strawberry basil iced tea. It is a refreshing, sweet and flavorful tea that would be perfect for any summer picnic or backyard BBQ.
I know I've been a bad blogger this summer and I apologize for that. But every now and then, something has to give when life gets busy. No one prepared me for how much work it is to transition from one to two kids. I feel like the transition from zero to one was easier in some way. This new addition and the transition has kicked my butt and I find myself struggling to do it all; work, mom, wife, blog and be a good human.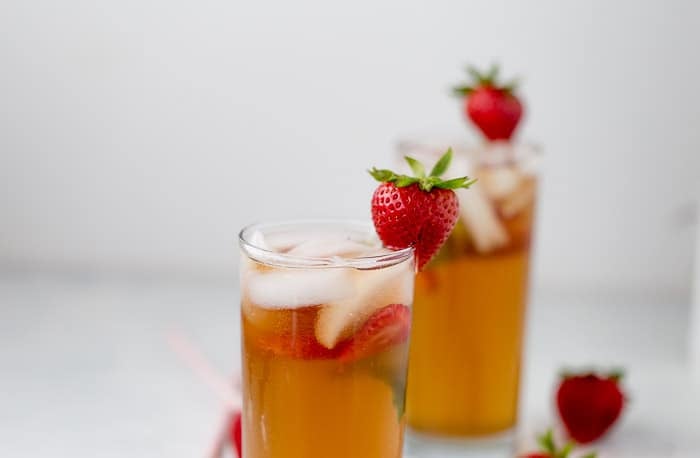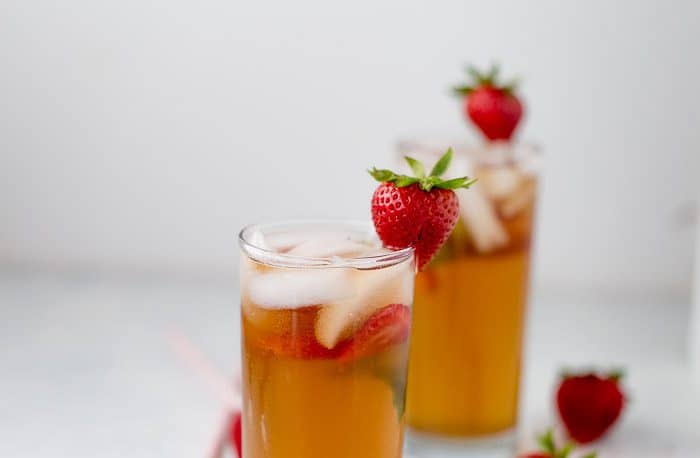 So naturally, the blog took a back burner for a few months so I could survive. I wish I could say I am back from under it but I need a few more weeks for things to settle. But I will be back just in time for fall baking 🙂 In the meantime, please enjoy the extensive summer recipe archives that six years of blogging has accumulated.
With the hiatus in blogging, I've been baking less and spending less time exploring new recipes. Which is a vicious cycle as I get so much joy from baking and I've been missing that satisfaction. But last month's (or the month before??) Food Network Magazine had a focus on refreshing ice teas and a blueberry basil iced tea caught my eye and inspired me to get in the kitchen. It's an easy way to enjoy more summer berries while keeping hydrated.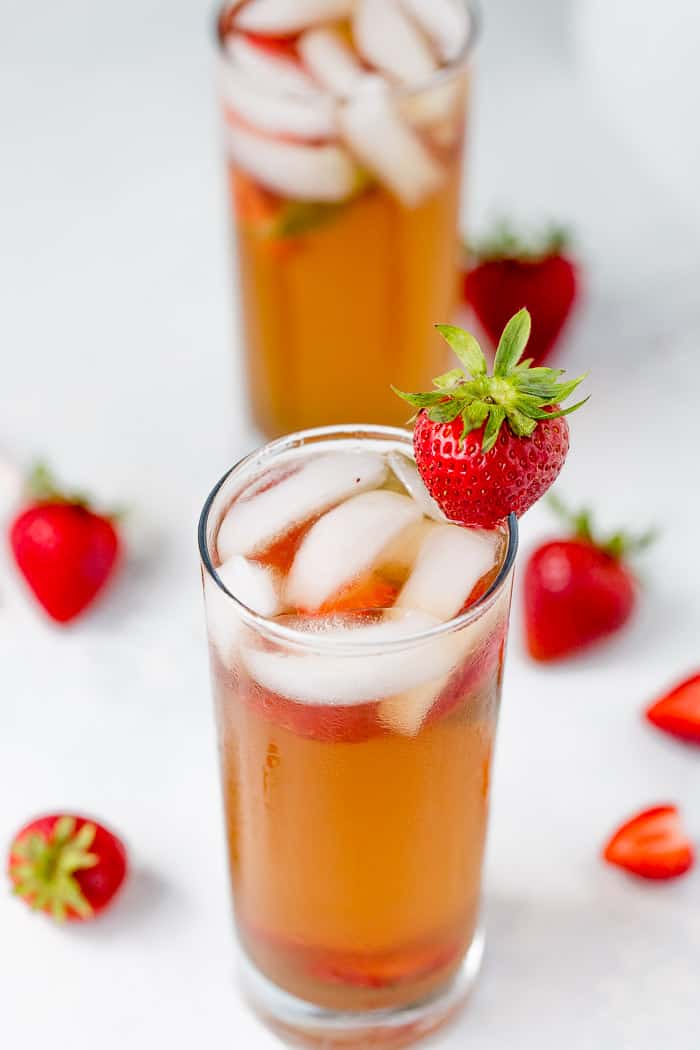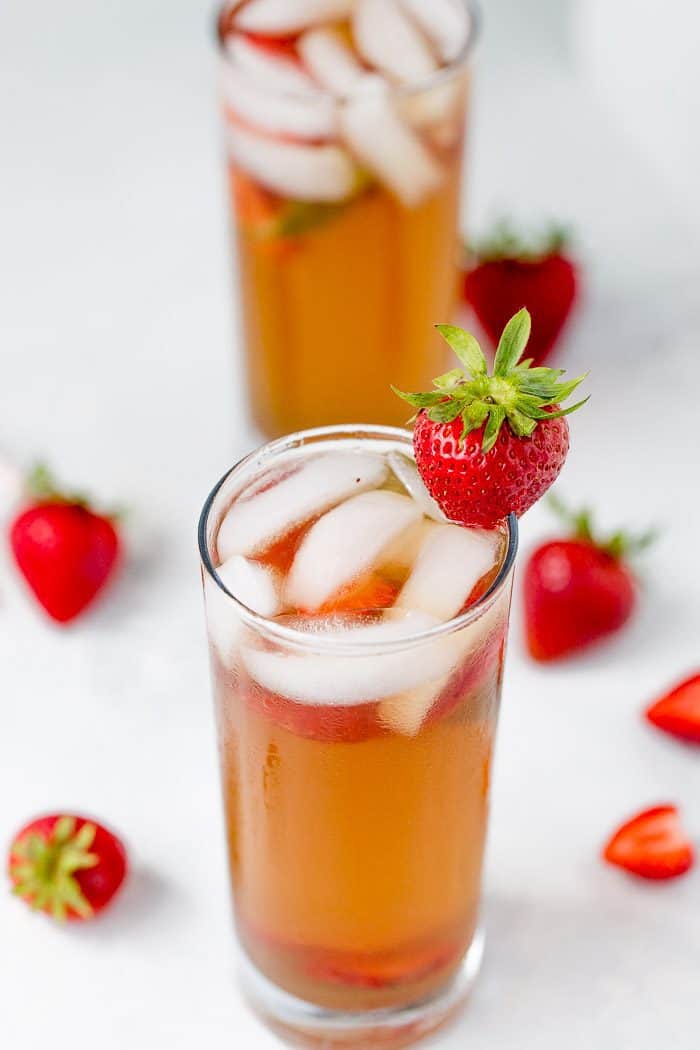 My Strawberry Peach Iced Tea from a few years ago has been my favorite for a long time and it was time to add some new options to my rotation. For the recipe I'm sharing with you I used strawberries as my chosen berries and green tea for the tea part. Like most berry recipes, you can customize this iced tea to fit your taste. Use blueberries, raspberries, blackberries or even peaches if you like. Similarly, you can use whatever tea you like. I used green tea as it is refreshing and I love it with strawberries. But feel free to use black tea, white tea or an oolong tea.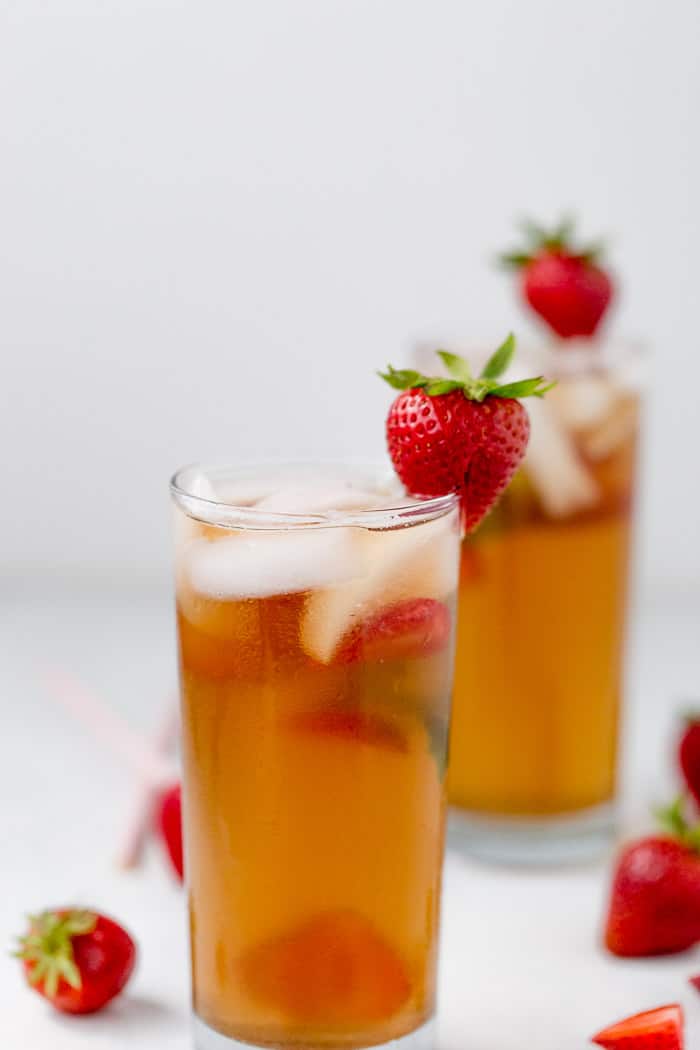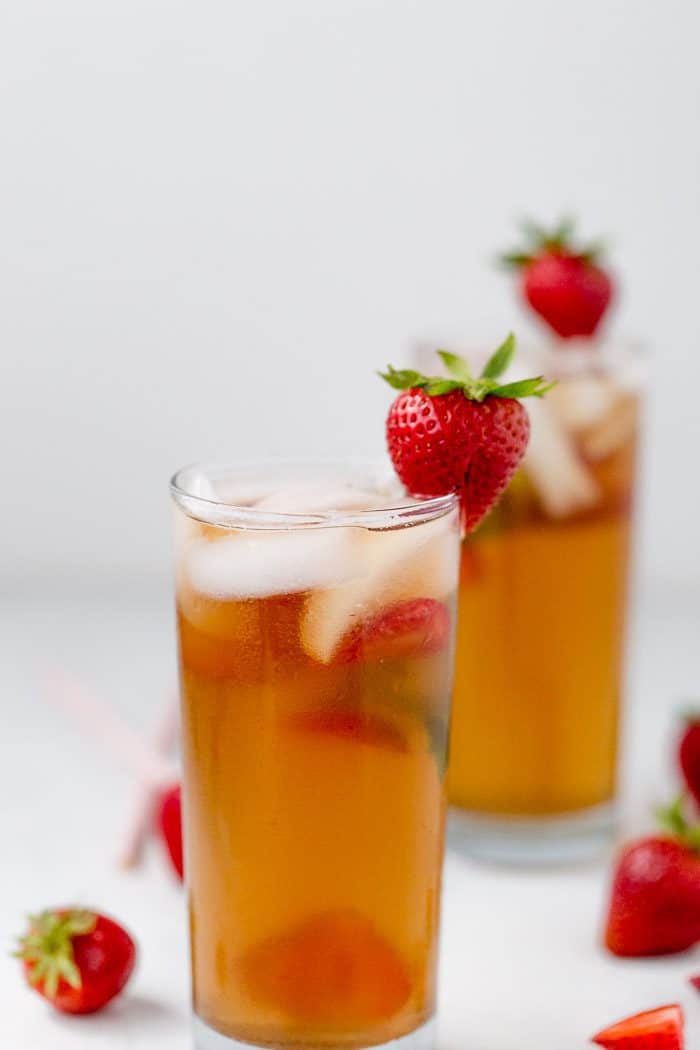 To make this strawberry basil iced tea, we steep our fruits and basil in hot water for 5 minutes before adding the tea bags to maximize flavor extraction. Strain out the fruit and tea bags, add some cold water and adjust the sweetness. You can steep the fruit, basil or tea bags longer if you would like any more of those flavors to be the prominent one. For this recipe, I find the basil is perfect when it is just a hint and not overpowering. But that is my preference.
Anyway, as you continue enjoying your summer, I hope you can find time to make yourself this homemade strawberry basil iced tea. It's a great way to say goodbye to summer.
For more Iced Tea or Lemonade recipes, check out the archives here.
I'll be back soon with some back to school recipes and get geared up for fall baking!!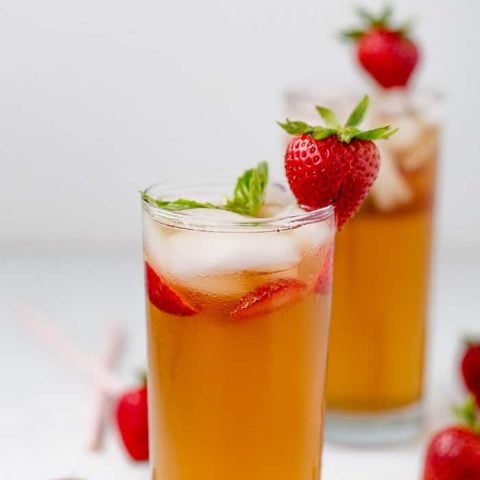 Yield: 7 cups
Strawberry Basil Iced Tea
A refreshing strawberry basil iced tea that's perfect for any summer gathering.
Prep Time 15 minutes
Chill Time 4 hours
Total Time 4 hours 15 minutes
Ingredients
1 cup fresh strawberries, sliced
1 cup fresh basil
12 green tea bags
1/3 cup sugar
To serve: ice, fresh strawberries, fresh basil
Instructions
Bring 4 cups of water to boil. Transfer to a heat safe bowl.
add in the fresh strawberries, basil and sugar.
Stir until sugar dissolves and let sit for 5 minutes.
Add in the tea bags. Steep for 5 minutes.
Pass the tea through a sieve removing the bulk strawberries and basil. be sure to press the strawberries into the sieve.
Add in 3 cups of cold water. Taste the tea and adjust sweetness to desired taste.
Chill for at least 4 hours or overnight.
Serve chilled tea over ice. Add in sliced strawberries and basil.
Enjoy!
Notes
You can use your favorite berries for this recipe as well as any kind of tea.
Recipe modified from Food Network Magazine