Fresh Strawberry Cupcakes with Strawberry Frosting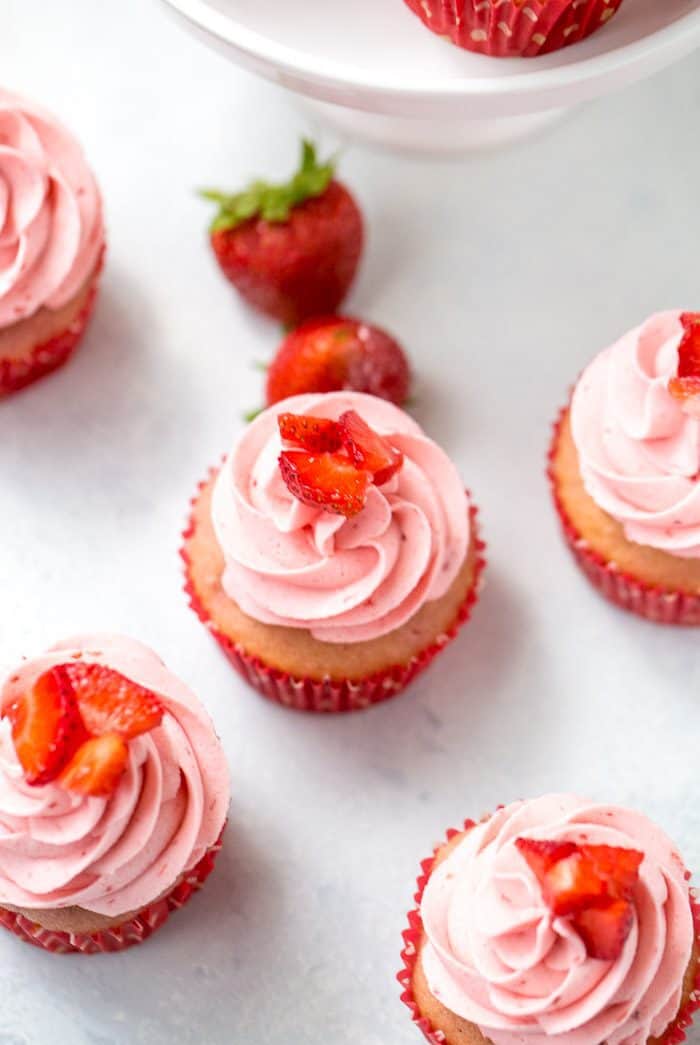 Hello friends!! I've been a bad blogger this summer and haven't shared any new recipes with you since June. Even though I made these fresh strawberry cupcakes weeks ago for a summer outing, I didn't get around to sharing them.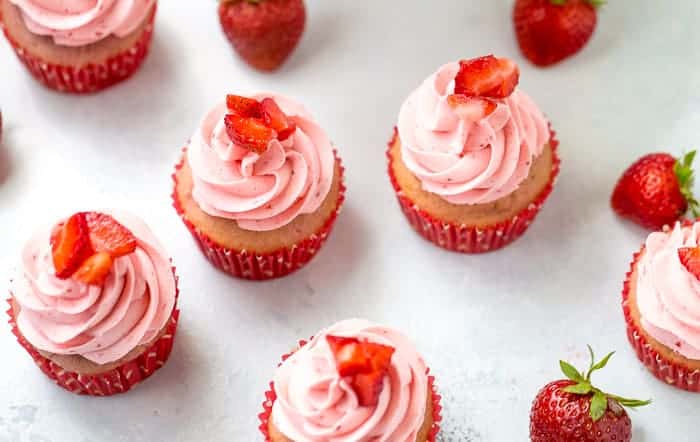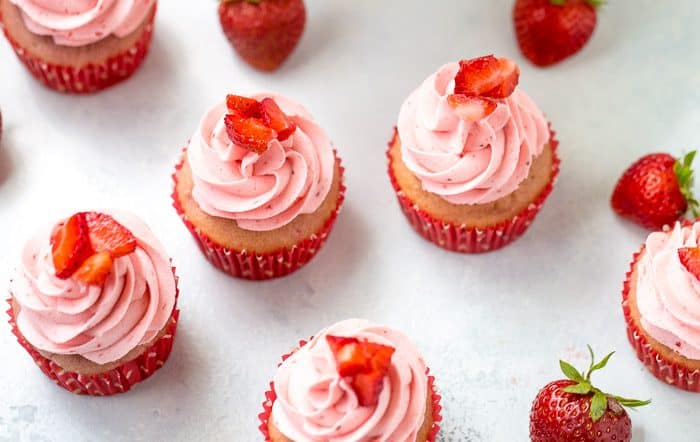 See my life has been hectic lately. Why didn't someone warn me about the transition from 1 to 2 kids?? I thought after doing it once, I'd get the hang of it but having two kids is a whole new ball game and man is it busy! Add in several trips including an epic one to Greece (I'll share more on this), family celebrations and house guests, I've had zero time to create, photograph and share new recipes with you. The blog always gets deprioritized in these seasons of balancing the act of a working mom. I apologize and I hope you are too busy enjoying your summer to notice. And if you did notice, I hope you were able to find new-to-you recipes in my extensive summer recipe archive.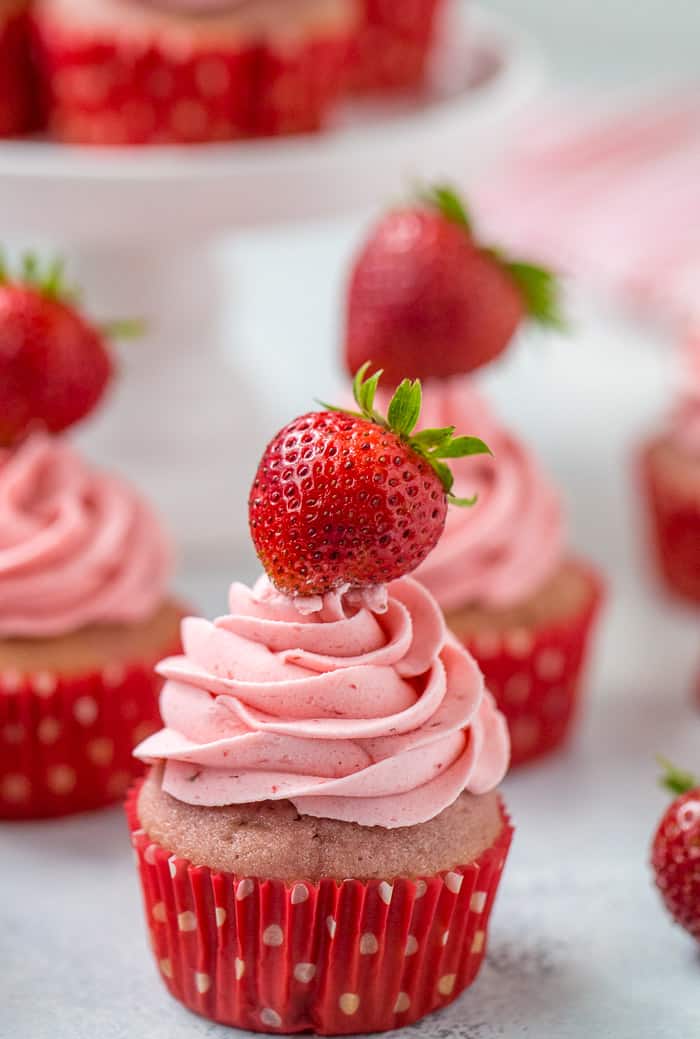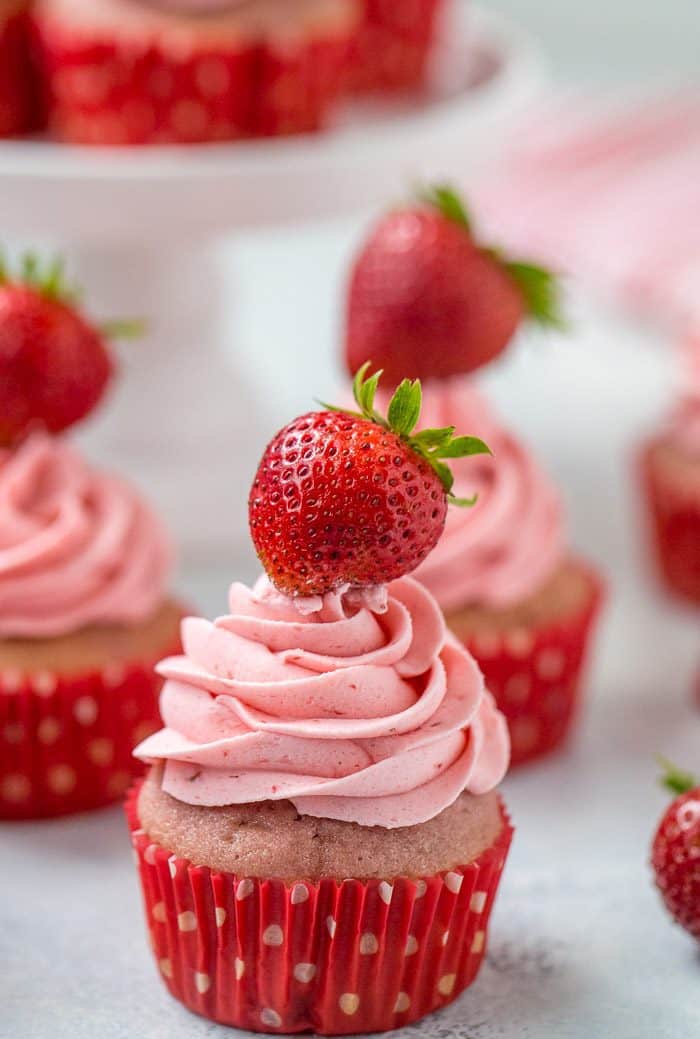 Talking about summer, is there anything better than fresh strawberries in the summer? I was unable to go strawberry picking this year but I grabbed a few pounds from local stands to be able to enjoy them at their peak. Of course, I had to bake a few treats. I made my go-to mixed berry pie but had a request for strawberry cupcakes for an event. I have a few strawberry cakes from a few years ago that are great but I wanted an update that would work easily for cupcakes and packed in more strawberries.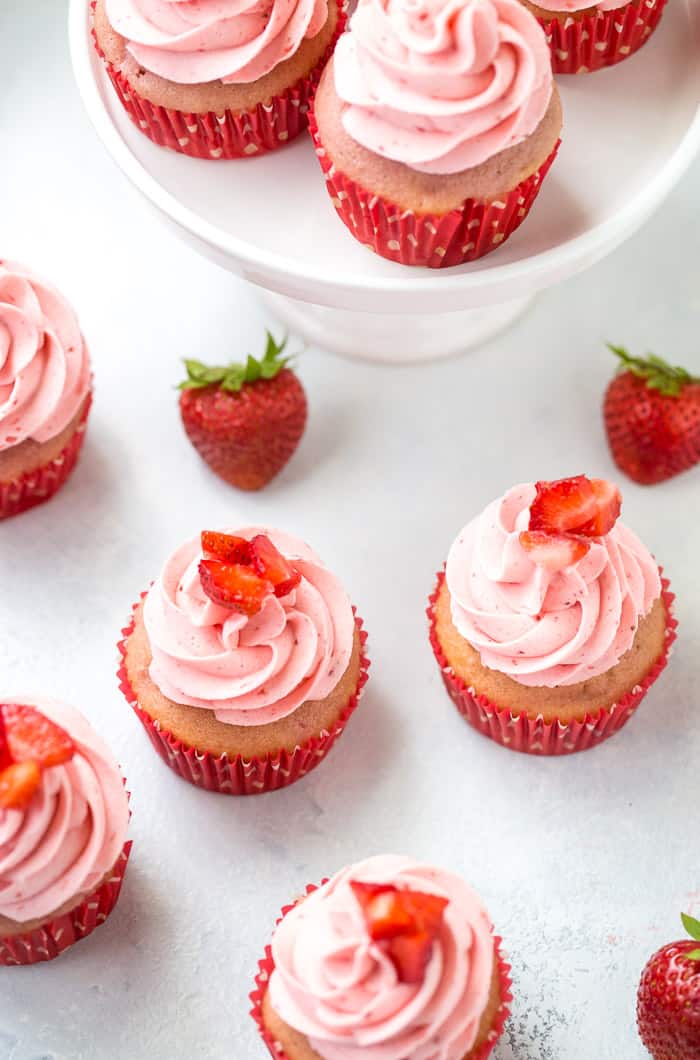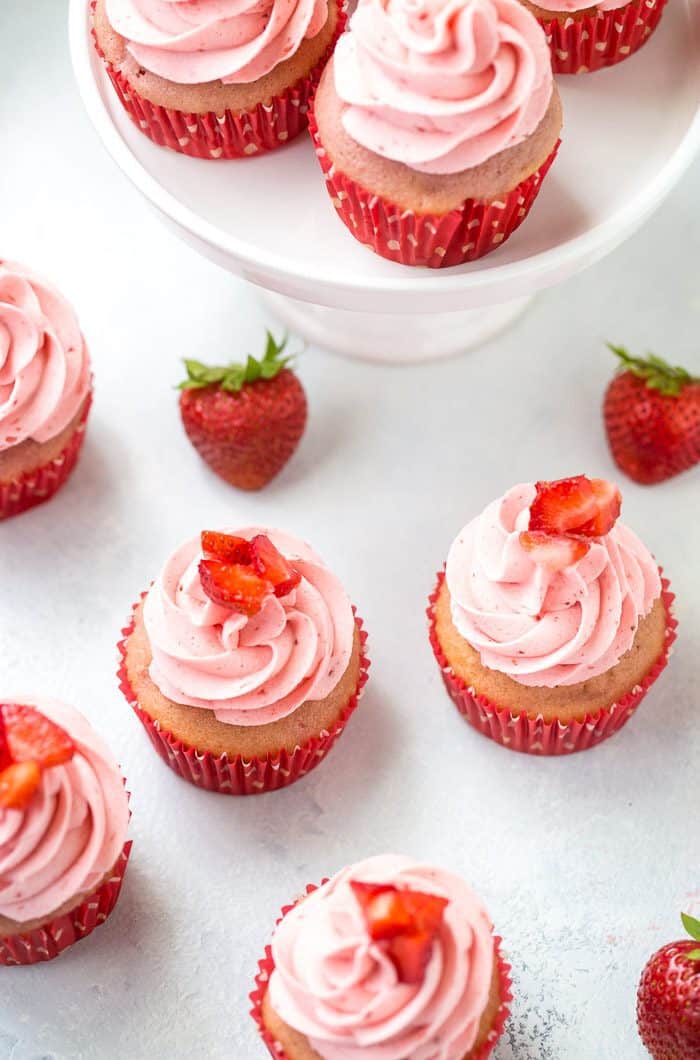 These fresh strawberry cupcakes have fresh strawberry puree AND chopped strawberries in the batter. So you get a healthy dose of strawberry flavor in a very light and moist cake. It is topped with a sweet strawberry frosting that complements the cupcakes. If you are looking for a true strawberry cupcake recipe, this one is for you!! It's what summer dreams are made of.
I hope you are having a great summer and checking off things on your summer bucket list. I have one month to go on mine and I intend to start now 🙂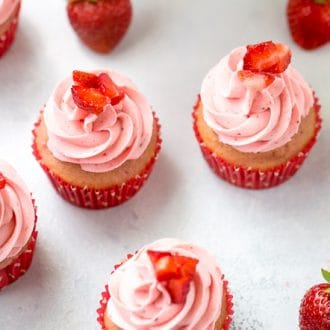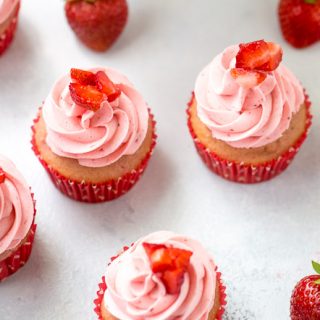 Yield: 12-15 cupcakes
Fresh Strawberry Cupcakes with Strawberry Frosting
These fresh strawberry cupcakes are packed with strawberry flavor with fresh strawberry puree and strawberry chunks in the cake! Topped with strawberry frosting, it is what summer is made of!
Additional Time
30 minutes
Total Time
1 hour
30 minutes
Ingredients
For Strawberry Cupcakes
1/2 cup fresh strawberries, sliced
1 3/4 cup all-purpose flour
3/4 teaspoon baking powder
1/4 teaspoon baking soda
1/4 teaspoon salt
1/2 cup (1 stick) unsalted butter, at room temperature
3/4 cup granulated sugar
2 large eggs, at room temperature
1/2 teaspoon pure vanilla extract
1/4 cup buttermilk, room temperature
food coloring (optional)
3/4 cup diced strawberries
For the Strawberry Frosting:
1/2 cup strawberry puree
1 cup (2 sticks) unsalted butter, at room temperature
3 cups powdered sugar
1/2 teaspoon pure vanilla extract
food coloring (optional)
Instructions
For the Cupcakes:
In the bowl of a food processor, puree the strawberries. You should have about 1/3 cup of puree. If you have less, add some more strawberries. If you have more, save it for the frosting.
Preheat oven to 350 degrees F. Line a muffin tin with cupcake liners.
In a large bowl, sift (please do!) together with the flour, baking powder, baking soda, and salt. In a large mixing cup, whisk together the 1/3 cup strawberry puree and buttermilk.
In the bowl of an electric mixer, beat the butter and sugar together over medium speed until light and creamy.
Beat in the eggs one at a time, scraping down the bowl after each addition.
Beat in the vanilla extract. If you are using food coloring, add in 3-4 drops of food coloring.
Reduce speed to low. Alternately add in the flour and buttermilk mixture, starting and ending with the flour. Mix well after each addition.
Fold in the diced strawberries into the batter.
Divide batter into prepared cupcake liners.
Bake cupcakes for 12-15 minutes or until a toothpick inserted into the center comes out clean.
For the Frosting:
In a medium saucepan, cook down the strawberry puree over low heat, stirring occasionally until it reduces to about a 1/4 cup. Remove from heat and let cool completely.
In a bowl with an electric mixer, beat the butter on medium speed until light and creamy, about 3 minutes.
Add in the rest of the ingredients, including the 1/4 cup cooled strawberry puree. Mix on low until combined, then increase speed to medium and beat the frosting for about 5 minutes until light and fluffy. Add in food coloring if using.
Using Wilton Tip 1M or your favorite decorating tip, frost the cooled cupcakes. Top with fresh strawberries and enjoy. Store leftovers refrigerated in an airtight container.
Notes
You can bake this recipe in two 8-inch round cake pans. Be sure to adjust the baking time.
Recommended Products
As an Amazon Associate and member of other affiliate programs, I earn from qualifying purchases.