Mixed Berry Pie (with Video)
Mixed berry pie begins with a buttery, flaky pie crust, then it's packed with a mixture of fresh berries.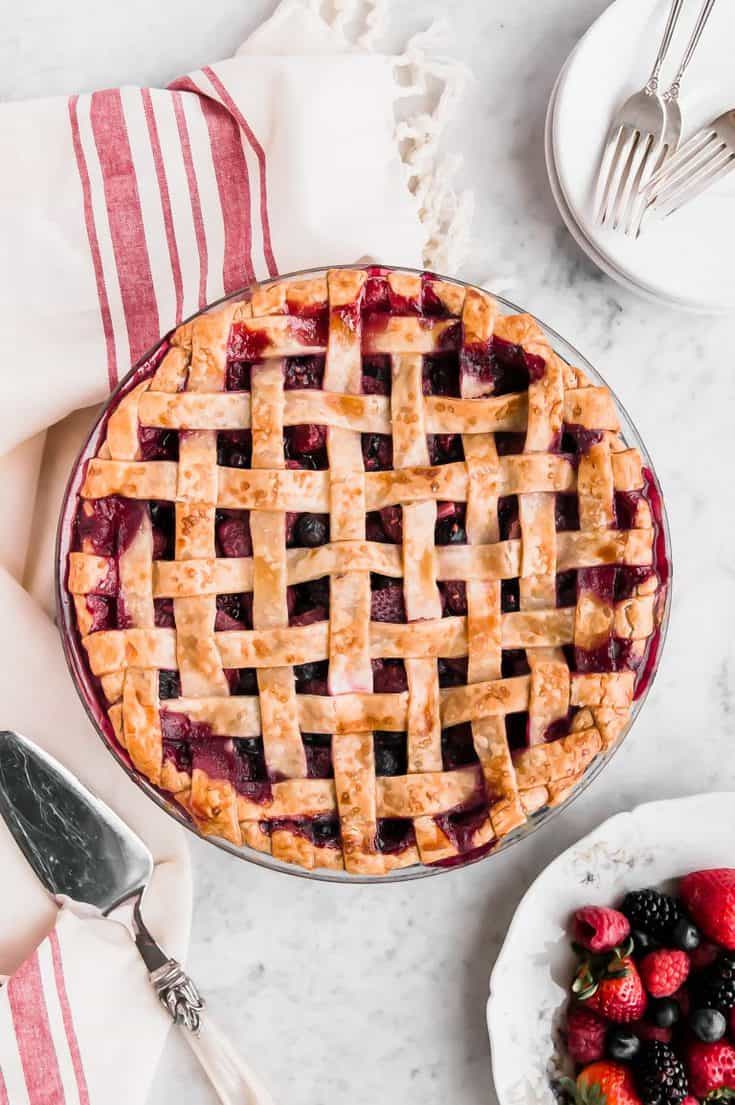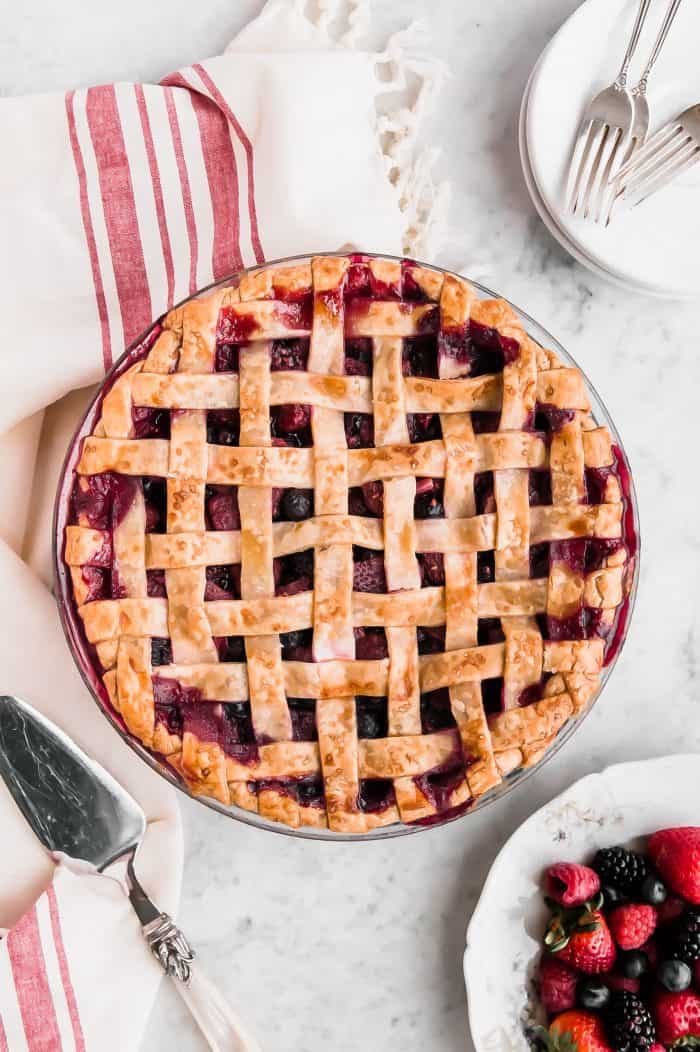 Hi friends! I hope you are all having a relaxing long weekend with family and friends, honoring the men and women who gave their lives so we can enjoy our freedom on this Memorial Day.
We had a relaxing weekend trying to get as many baby projects done. I've been slacking on that front but seeing there is barely 10 weeks to go, I need to get cracking. But I did find time on Saturday to bake this Mixed Berry Pie.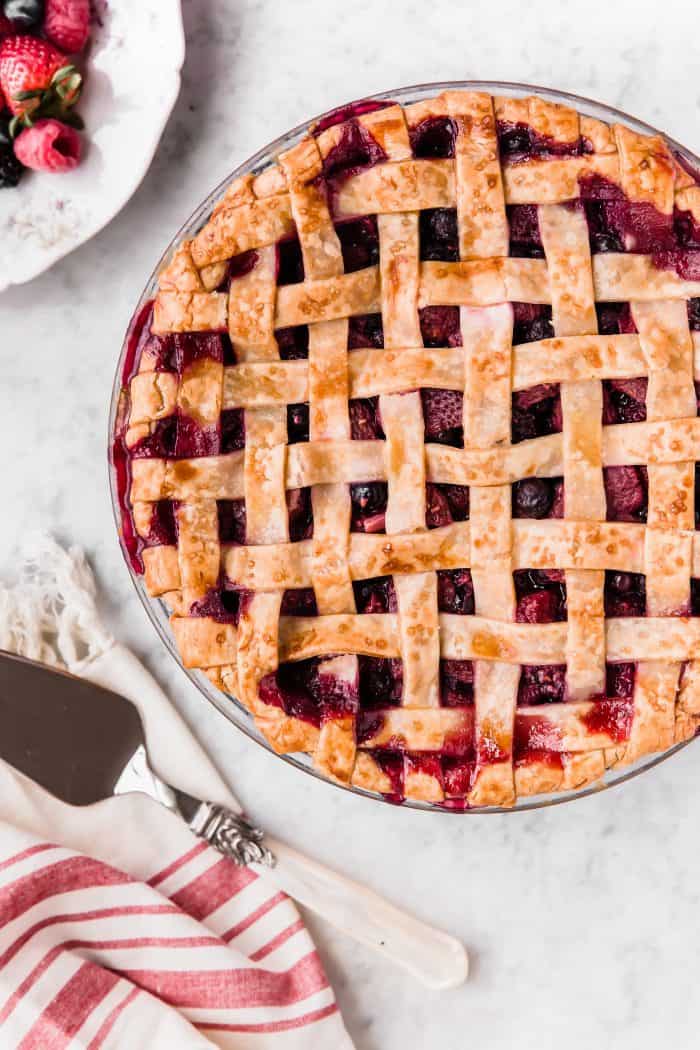 A lazy long weekend always calls for pie baking in my opinion. Especially now that it is officially summer and all the fresh berry pies in the world can be had. There is something just so slow and relaxing about pie baking that I save it for those days when I am getting little things done around the house.
If you love berry pies I know you will love my strawberry pie too!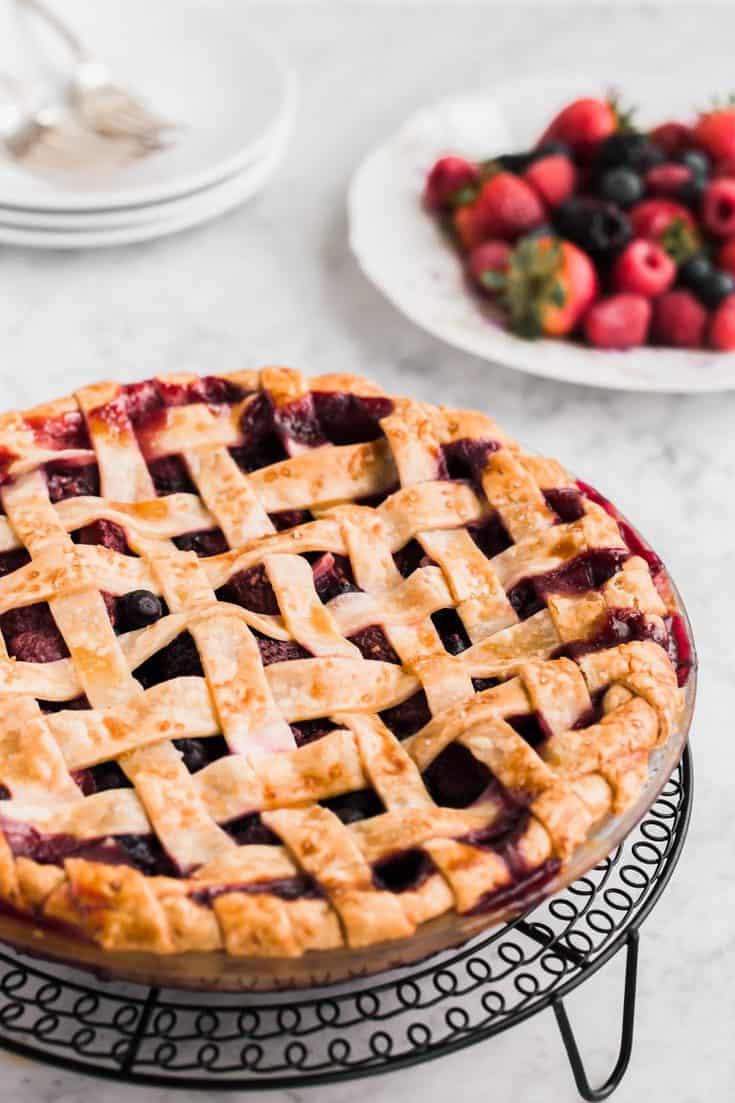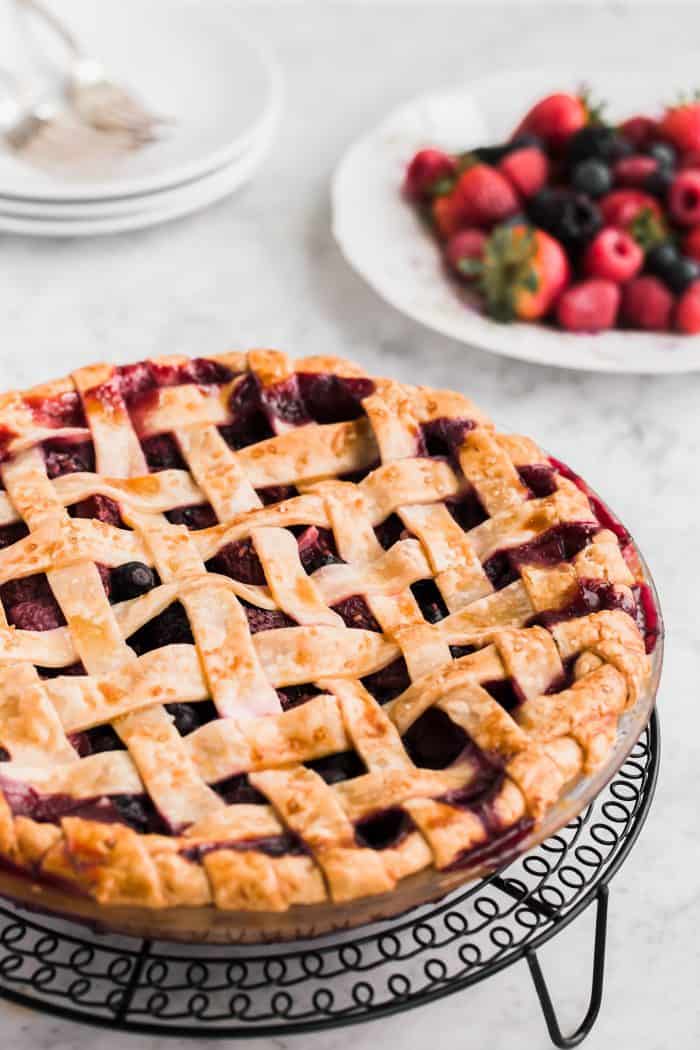 OK, let's get to this mixed berry pie; a classic summer pie recipe. It all starts with a good buttery, flaky pie crust. I used my go-to, which gives you the same result every time. Next, we toss some berries together. Use your favorite berries in any combination you like. I used strawberries, blackberries, blueberries, and raspberries. All THE berries.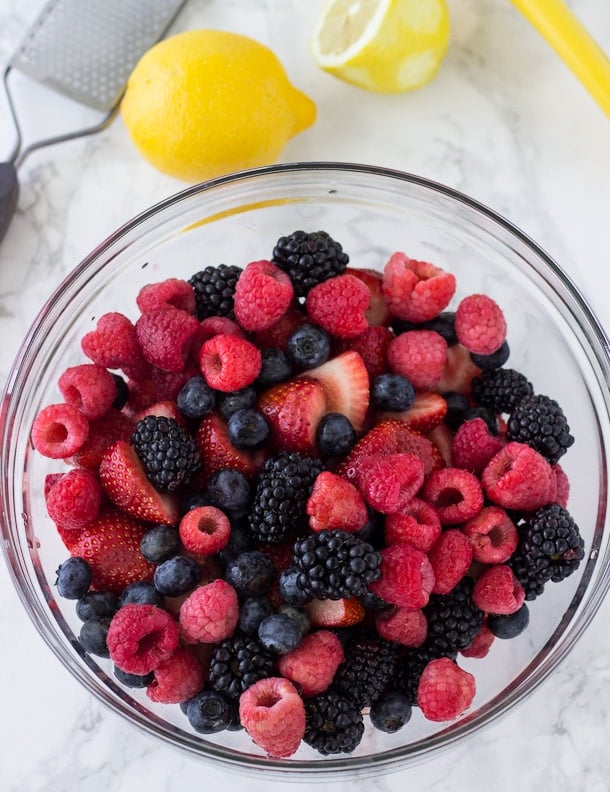 Toss those guys with some brown sugar, cornstarch, a pinch of salt, some ground ginger and a good dose of lemon juice and zest to bring out the flavor of the berries.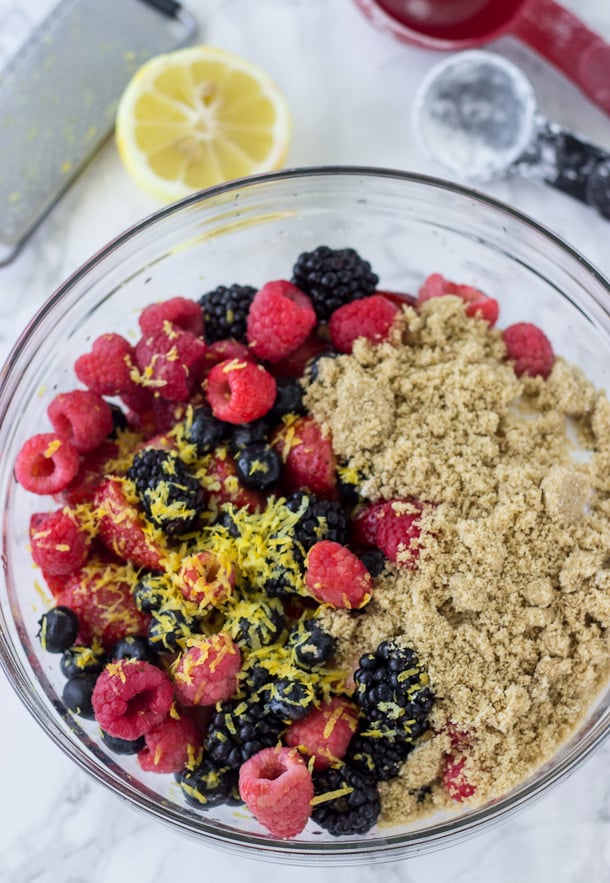 Pile it all high into your crust.
Make pretty with a lattice top (perfect or imperfect, it will all taste the same) or cover entirely for a double-crusted pie.
Finally, bake that sucker up for about an hour until the crust is golden and those berry juices are flowing. Always a good sign it's going to be good.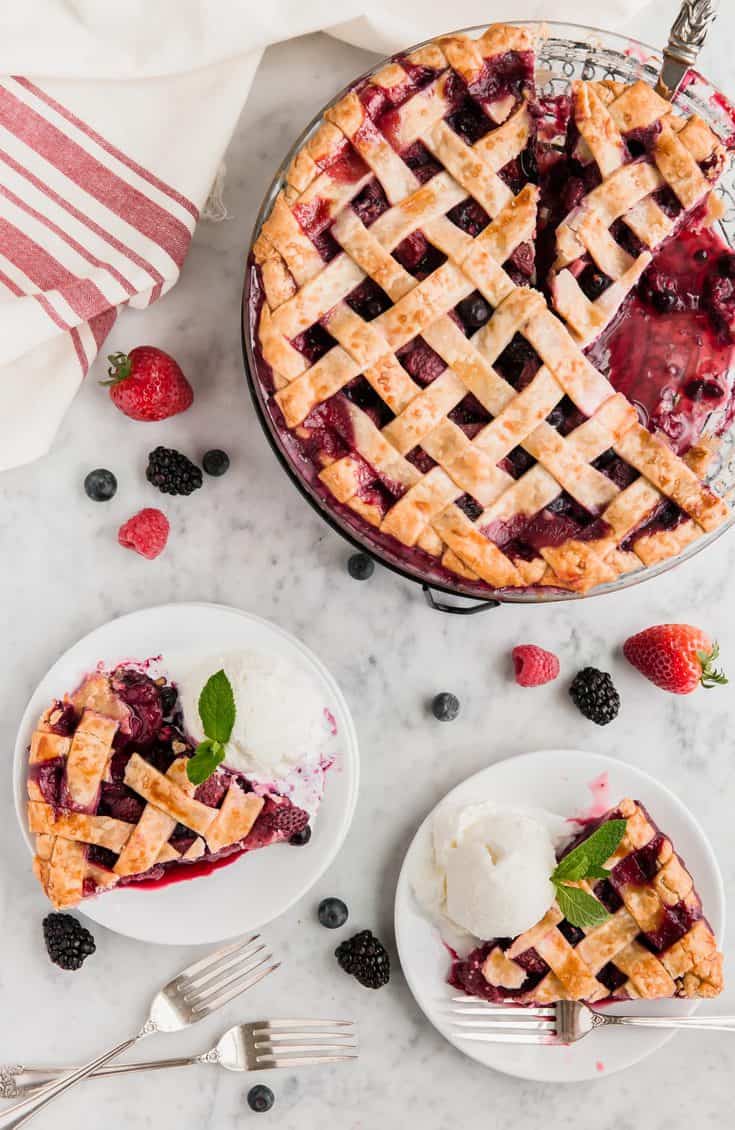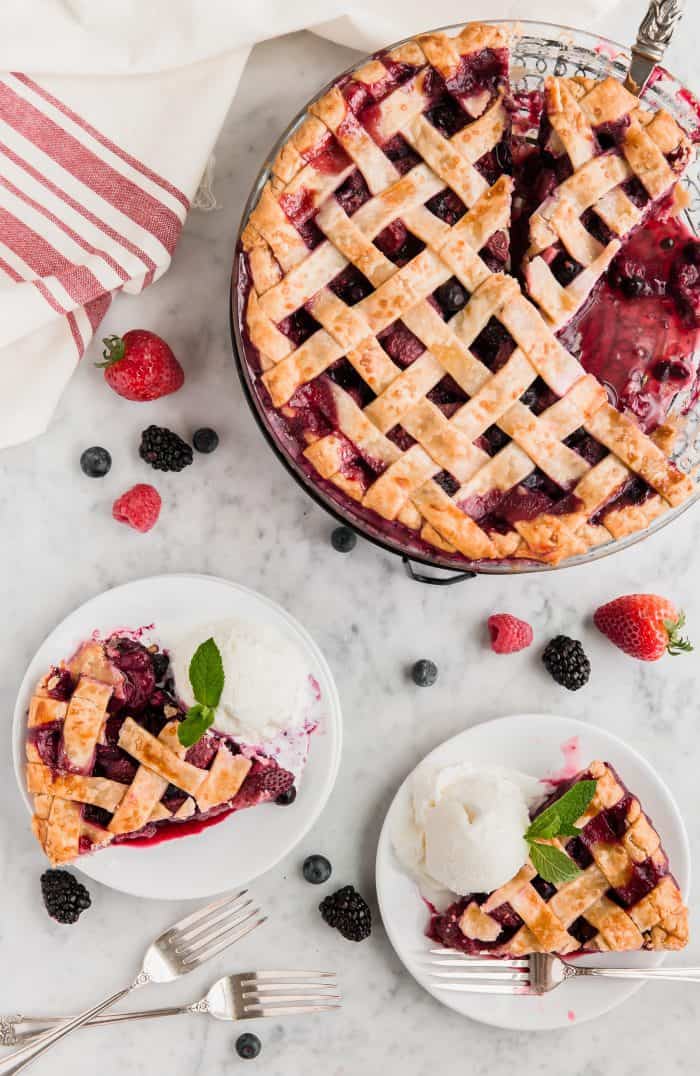 Just when you think it's time to enjoy the mixed berry pie, you realize you need to let the pie cool.
This is a crucial step as the juices need to sit, marinate and thicken as the pie cools. So be patient. Go do a load of laundry.
Once you are ready to serve, slice up and share with loved ones. It's pie after all and it's meant for sharing!
Now, let's bake pie all summer long!!
Here are real-life comments from bakers who LOVED this mixed berry pie: https://www.pinterest.com/pin/56787645278748197/activity/tried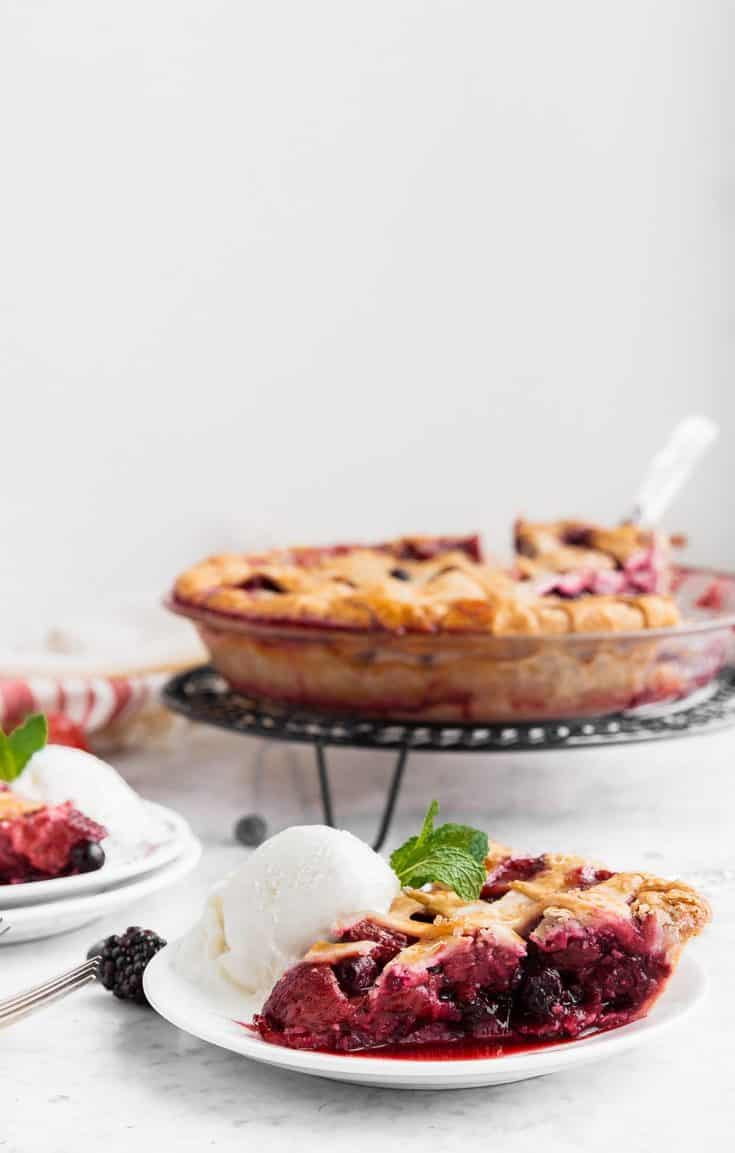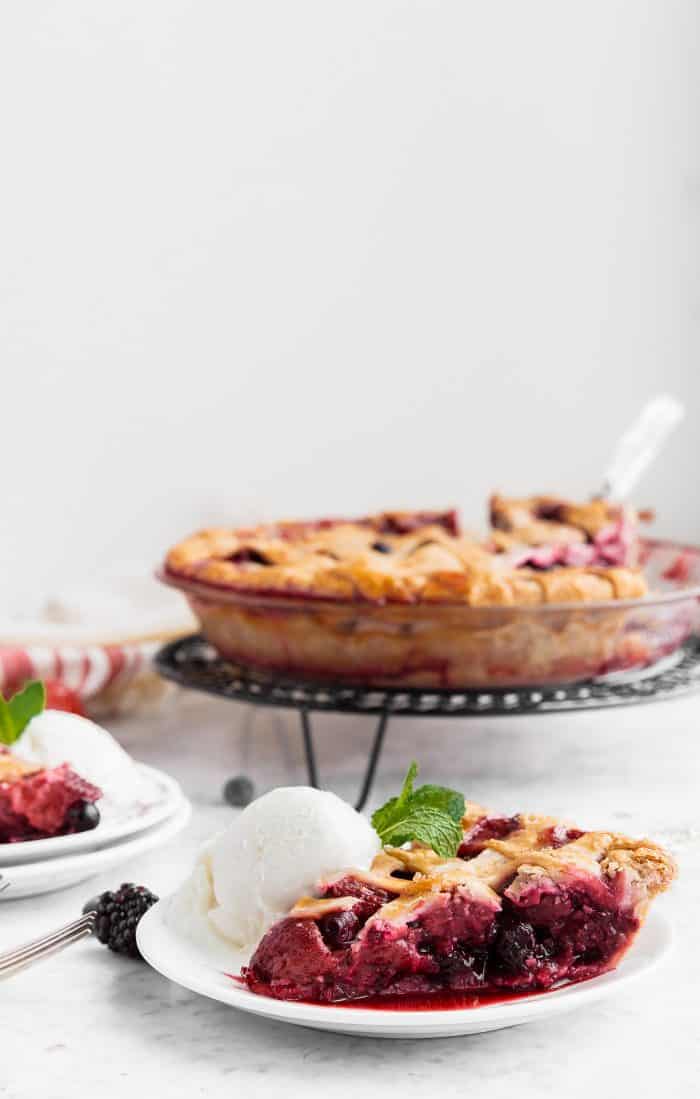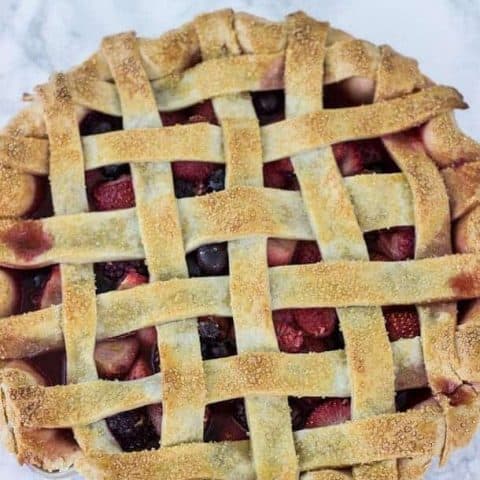 Yield: 1 9-inch pie
Mixed Berry Pie
This Mixed Berry Pie is a classic summer pie recipe with juicy berries wrapped in a flaky buttery crust.
Total Time
2 hours
25 minutes
Ingredients
Pie Crust:
2 ½ cups all-purpose flour
1 teaspoon salt
1 tablespoon granulated sugar
14 tablespoons cold unsalted butter, cut into cubes
Ice cold water
1 egg, beaten with 1 tablespoon milk for egg wash
Turbinado sugar for sprinkling
Filling:
5-6 cups fresh mixed berries (raspberries, blueberries, blackberries etc)
Zest and juice of a 1/2 lemon (or to taste)
1 teaspoon vanilla extract
1/4 teaspoon almond extract (optional)
½ cup granulated sugar
1/3 cup brown sugar
¼ cup cornstarch or all-purpose flour
a pinch of salt
¼ teaspoon ground ginger
Instructions
Prepare ½ cup ice-cold water and keep in fridge. In a food processor, pulse flour, sugar and salt. Add in half of the butter and pulse for 30 seconds. Add in the rest of butter and pulse until the mixture looks like coarse meal. Sprinkle about 6 tablespoons cold water over mixture and pulse until dough comes together in clumps. If dry, add a little bit more water (1 tablespoon at a time) until dough comes together.
Remove dough from processor and pat into a disk. Divide dough into two disks; one slightly bigger than the other and wrap in plastic wrap. Chill for at least an hour or overnight. The dough can be made up to 3 days ahead. Keep chilled.
Let stand at room temperature a few minutes before rolling out.
Roll out larger disk on a lightly floured surface to a large circle. Fit into an ungreased 9-inch pie dish, trim the edges leaving an inch or two overhang. Refrigerate for 30 minutes.
In a medium bowl, toss the berries with zest and lemon juice, vanilla extract and almond extract. Toss in sugars, cornstarch, salt and ground ginger and make sure berries are well coated and cornstarch disappears.
Fill the pie crust with the berry mixture, making sure you pile it high in the center.
Roll out the second dough and cut into strips to create a lattice top. Crimp the edges of the strips with the a fork.
Whisk egg and 1 tablespoon milk in a small bowl. Brush the top of pie with egg wash and then sprinkle with turbinado sugar. Chill for 15-30 minutes.
Preheat oven to 375 degrees F. Place pie dish on a baking sheet and bake for 50-60 minutes or until crust is golden brown and the filling is bubbly.
Let pie cool for at least 2-3 hours before serving.
Recommended Products
As an Amazon Associate and member of other affiliate programs, I earn from qualifying purchases.
Nutrition Information:
Amount Per Serving:
Calories:

0
Cholesterol:

0mg
Sodium:

0mg
Carbohydrates:

0g
Fiber:

0g
Sugar:

0g
Protein:

0g
More Summer Berry Pies:
Fresh Blueberry Pie – Eats Wells with Others
Cherry Apple Rhubarb Pie – For Your Pies Only
Strawberry Pie – Spoonful of Flavor
Blackberry Cherry Vanilla Bean Pie – bethcakes