Raspberry Lemon Meringue Tart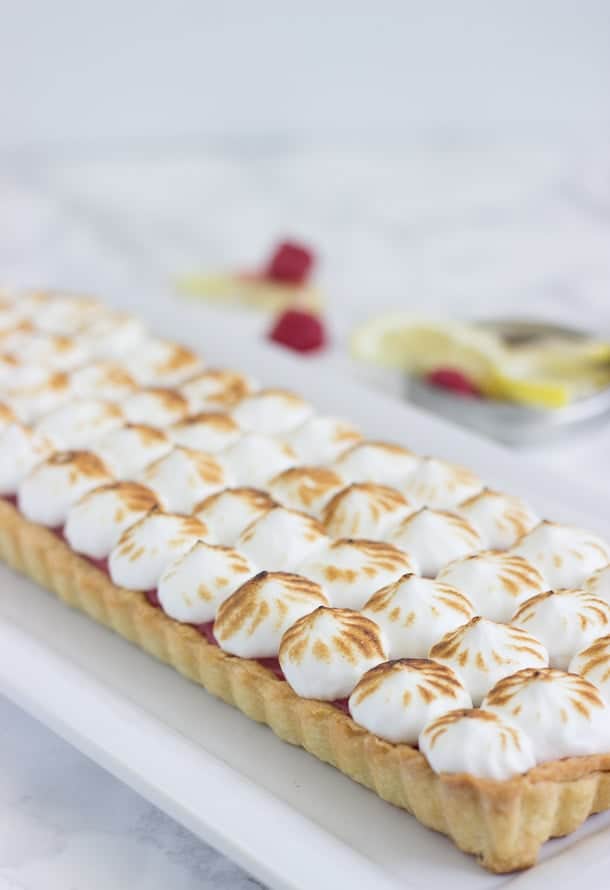 How is it Memorial Day weekend already?? I feel like we just got rid of the snow and Spring was only here for two weeks. Now, it's summer and all the BBQs and picnics are starting. I am so not ready….but yet I really want a hot dog. While everyone is grilling and sharing bbq recipes, I totally spaced. But I think these chocolate chip banana cupcakes with peanut butter frosting will be a great hit at any party and so would any berry-licious treat like this raspberry lemon meringue tart!
I love me the arrival of berry season, one of the great perks of summer in my opinion and I try to make use (abuse) of these juicy fruits in any possible way. This past weekend, I was craving a lemon treat but I also wanted some sweetness. So I whipped up a lemon raspberry curd, filled with fresh raspberry puree and tart lemon juice.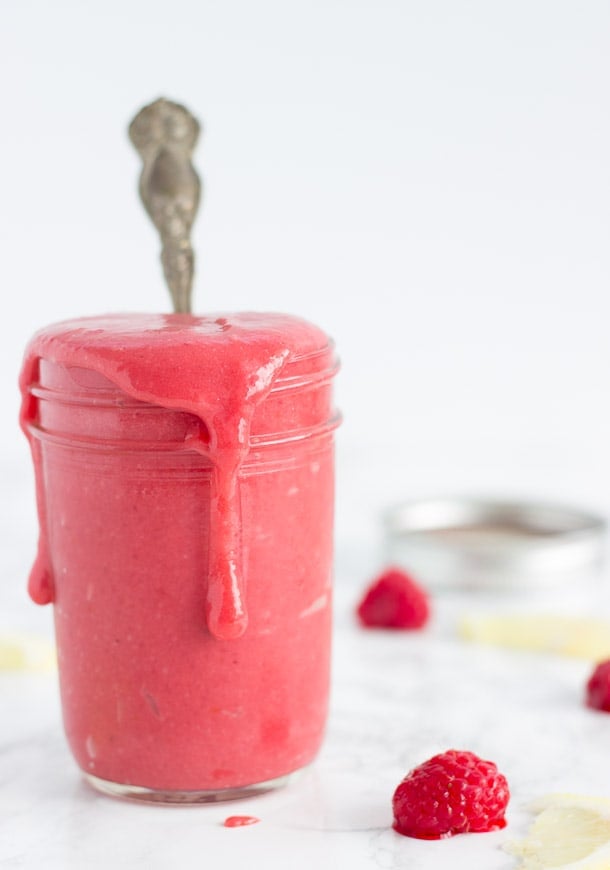 Look at that thick goodness?? Absolutely just want to eat it all up on it's own. But I decided to make a buttery pastry crust and use the raspberry lemon curd as a filling for a tart. Great idea right? Well, I thought so!! Because when the two combine (yummy berry curd + buttery crust), the result was amazing. Of course, I didn't stop there after chilling it, I added a sweet fluffy meringue topping! Why not?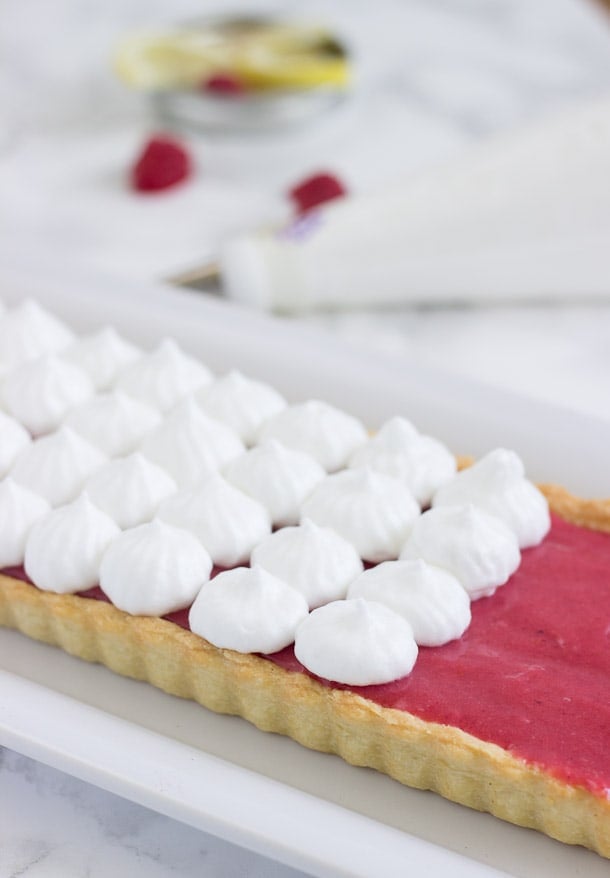 So if you are looking for a sweet, tart and elegant dessert to bring to summer parties, this is for you! It's easy to whip up (practically no-bake) and most of the components can be made ahead of time. I will recommend though you do the meringue topping on the day you plan to serve it, just because refrigerated meringue is not exactly wonderful.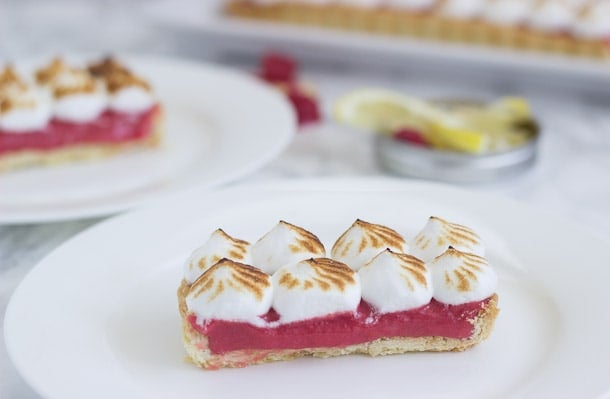 I hope you have a fun long weekend!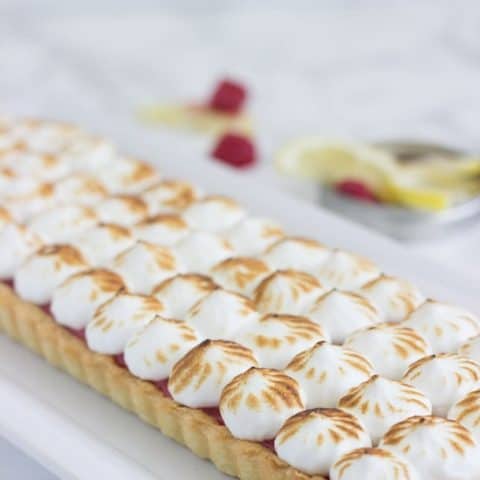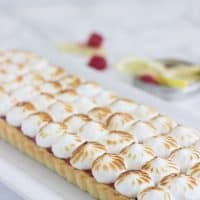 Yield: 1 rectangular tart
Raspberry Lemon Meringue Tart
Ingredients
For Raspberry Lemon Curd:
8 large egg yolks
zest of one lemon
1/3 cup freshly squeezed lemon juice
¾ cup sugar
½ cup unsalted butter, cold and cut into pieces
¼ teaspoon salt
½ cup raspberry compote/ puree
For Pastry Crust:
1 1/3 cups all-purpose flour
2 tablespoons sugar
¼ teaspoon salt
½ cup unsalted butter, cold and cut into cubes
1 large egg yolk, whisked with 2 tablespoons ice water
For Meringue:
1 cup granulated sugar, divided
½ cup water
1 tablespoon light corn syrup
4 large egg whites
Instructions
To make Raspberry Lemon Curd Filling:
In a medium saucepan, whisk the egg yolks, lemon zest and juice and sugar until well combined. Set saucepan over medium-high heat, whisking constantly, cook mixture until it's thick enough to coat the back of the spatula, about 3-5 minutes. (Note: unless you want scrambled eggs, you need to whisk constantly while the curd thickens.)
Remove from heat and whisk in the butter, one piece at a time, stirring constantly until smooth. Once smooth, whisk in fresh raspberry compote/ puree. Strain curd through a fine sieve into a small bowl. Press plastic wrap onto the surface of the curd and refrigerate until chilled, at least an hour or up to a day.
To make pastry crust:
In the bowl of a food processor, pulse the flour, sugar and salt together. Add in the butter pieces and pulse until the butter is cut into pea-sized pieces. Add in the egg yolk a little at a time, pulsing in between. Once egg yolk in incorporated, pulse for longer periods until the dough starts to clump. (Add more ice water if needed to bring dough together). Turn the dough out onto a lightly floured surface and use the heal of your hand to smear pieces together. Gather dough into a disc and wrap in plastic wrap. Chill dough for at least one hour. When ready to bake, let sit out at room temperature for 20 minutes. Grease a rectangular tart pan and set aside. Roll out dough onto a lightly floured surface into a rectangle, ½-inch thick.
Press the dough evenly over the bottom and up the sides of the pan. Prick the dough with a fork all over and chill for 30 minutes.
When ready to bake, preheat oven to 350 degrees. Line dough with parchment and fill with pie weights. Bake the crust for 20 minutes. Remove foil and pie weights and bake until firm and golden brown, about 10-15 minutes. Transfer to a cooling rack and let cool completely.
To make Meringue:
In a medium saucepan, combine 3/4 cup sugar, water and corn syrup. Bring to a boil over medium heat, stirring occasionally until sugar dissolves. Keep cooking, without stirring, until syrup reaches about 230 degrees.
In the meantime, whip the egg whites in a large bowl with a stand mixer on medium-high sped until soft peaks form. Gradually add in the remaining ¼ cup sugar to egg whites with mixer running.
When sugar syrup reaches 230 degrees, remove from heat. With mixer on low speed, carefully pour the syrup down the side of the bowl in a slow steady stream. (If you are using a hand mixer, get someone to do the pouring for you). Increase speed to medium high and whisk until the mixture completely cools and stiff peaks form, about 7 minutes.
Assembly:
Transfer the tart shell to a serving plate. Spread the raspberry lemon curd into the shell. Dollop the meringue (or pipe) on top of the curd and spread all over. Using a kitchen torch, toast the meringue. Slice and serve tart. Tart is best enjoyed the day of.
More Easy Tart Recipes from Across the Web:
Salted Caramel Chocolate Tart – Broma Bakery
Strawberry Tart – Grandbaby Cakes
Chocolate Peanut Butter Pretzel Tart– Girl Versus Dough