Chocolate Chip Banana Cupcakes with Peanut Butter Frosting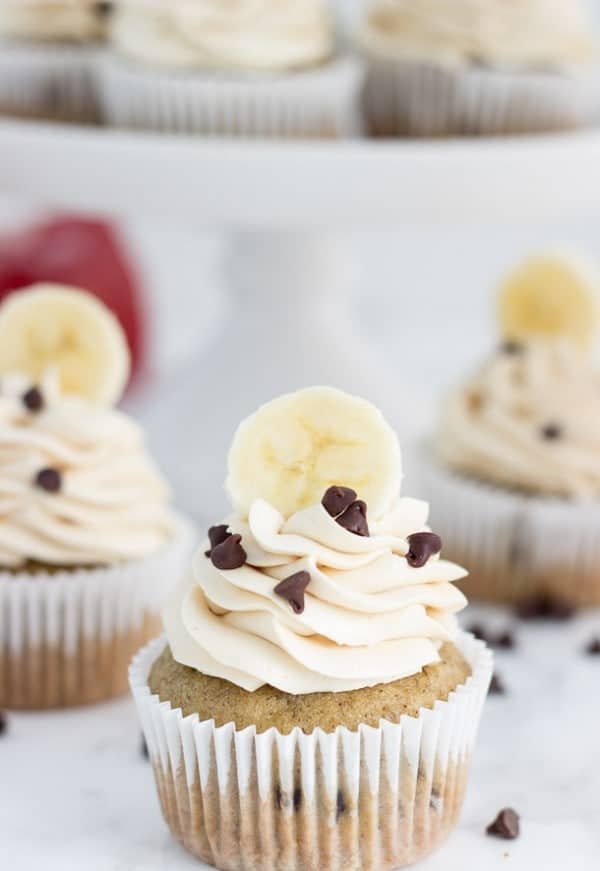 Uhmm, here I am again on another Monday with a cupcake! Mondays = cupcakes. That's the new way of life. You with me? Great, let's talk about these chocolate chip banana cupcakes then!
I realized the other day that I don't bake with bananas as much as I should. I mean besides the occasional banana bread or these banana macadamia muffins, bananas pretty much stay in my smoothies. I figured it was time to change that!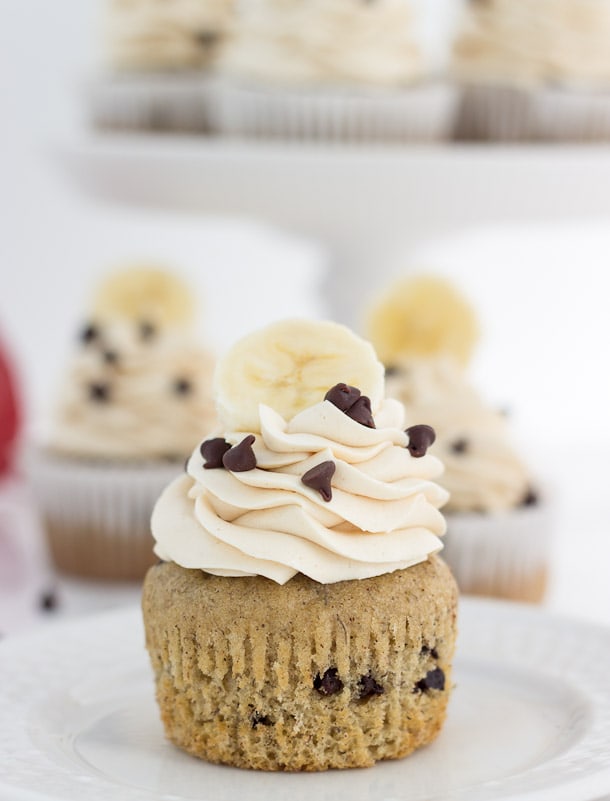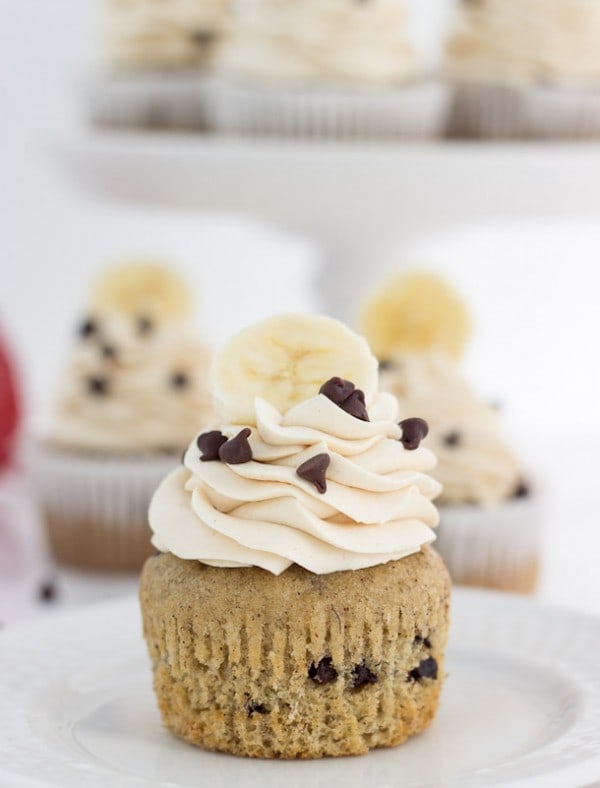 We had a BBQ at the in-laws last week and I needed to bring something to the party. So I whipped up these chocolate chip banana cupcakes to try on them. They are my guinea pigs for recipe ideas and I don't think they mind. They LOVED these cupcakes! I came home with zero leftovers.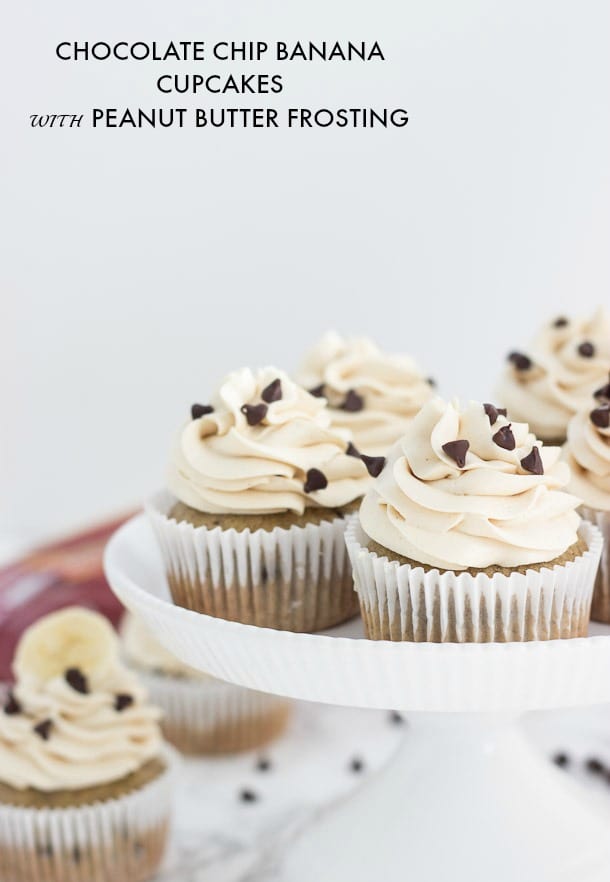 I think what makes these guys special is the classic combination of bananas, chocolate and of course peanut butter. A moist banana cupcake (not dense as most banana cupcakes) is dotted with mini chocolate chips and topped with a sweet peanut butter frosting. Each flavor is just enough … not overwhelming the rest but working together to make a delicious cupcake!!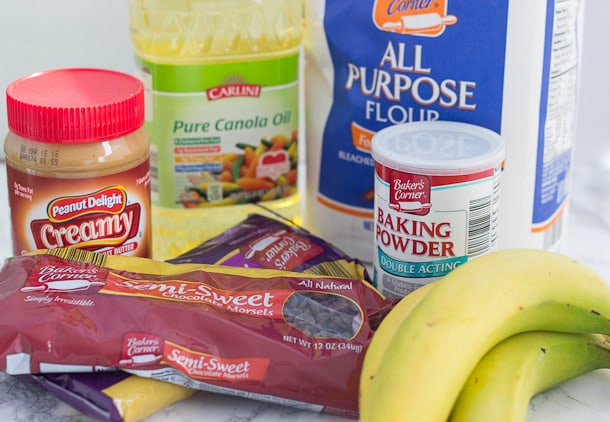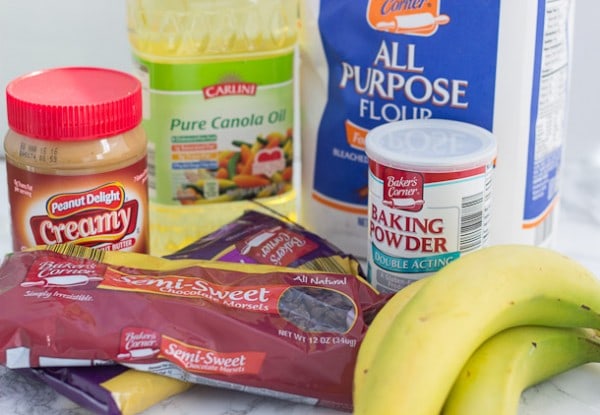 Since we are starting the summer season of baking and bbqs, I stocked up on baking ingredients at my local ALDI recently and got ingredients for these cupcakes there. Do you shop at ALDI? I love shopping there because they have a great variety of products for a whole lot cheaper. As a graduate student (a preggo one I should say), savings is high on my list these days and saving on grocery is a must. Next time you are looking to save on groceries, stop by your local ALDI.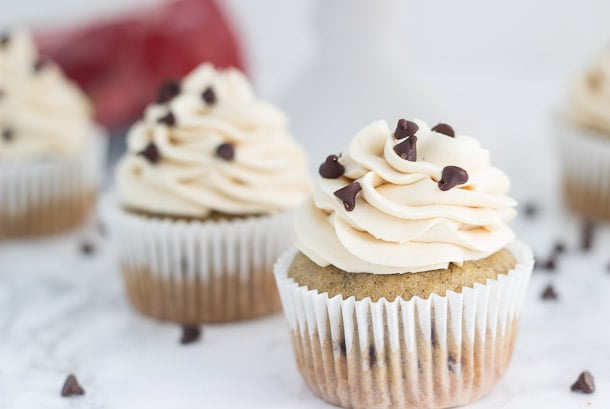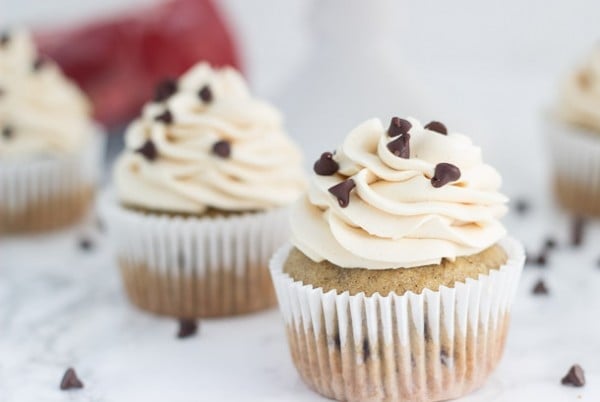 And of course make these cupcakes!! They are really goooooood!!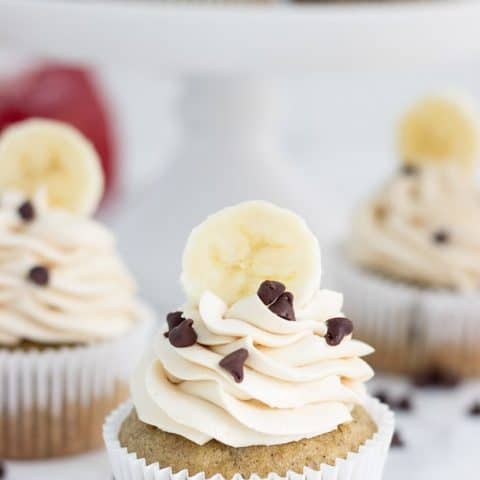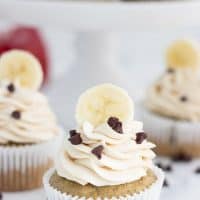 Yield: ~ 16 cupcakes
Chocolate Chip Banana Cupcakes with Peanut Butter Frosting
Ingredients
For Banana Cupcakes:
2 1/2 cups unbleached all purpose flour
1 teaspoon baking powder
1 teaspoon baking soda
1/4 teaspoon salt
1 teaspoon cinnamon
1/2 teaspoon nutmeg
3/4 cup granulated sugar
3/4 cup light brown sugar
2 eggs
1/2 cup buttermilk
1/3 cup vegetable oil
3 large ripe bananas, pureed
1 teaspoon vanilla extract
½ cup mini chocolate chips
Peanut Butter Frosting:
1 cup (2 sticks) unsalted butter, at room temperature
1/3 cup creamy peanut butter
3-4 cups confectioners' sugar, sifted
2 teaspoons pure vanilla extract
2-3 tablespoons heavy cream
Instructions
Preheat oven to 350 degrees F. Line your muffin tins with cupcake liners.
In a medium bowl, whisk together flour, baking powder, baking soda, salt, cinnamon and nutmeg.
Using a mixer, beat sugars and eggs together until pale and fluffy, about 2-3 minutes on medium speed. Add the buttermilk, beating until just combined. Slowly drizzle in the vegetable oil. Mix until combined. Add in bananas and vanilla extract.
Reduce mixer speed to low and slowly add half of the flour mixture to the batter. Beat until combined. Add the rest of the flour and mix. Scrape down the side of the bowl as needed. Do not over-mix. Fold in the mini chocolate chips into the batter by hand.
Divide batter into prepared tins. Fill each liner about ⅔ full. Bake cupcakes until lightly golden or a toothpick inserted into the center comes out clean, about 12-14 minutes. Remove cupcakes from pan and cool completely on a wire rack.
Whip butter and peanut butter for 8 minutes on medium speed using the paddle attachment of an electric mixer. Add the rest of the ingredients and mix on low speed for 1 minute. Then increase speed to medium and mix for 6 minutes until the frosting is light, creamy and fluffy.
Frost cooled cupcakes using your favorite decorating tip. I used Wilton Tip 2D for these cupcakes. Top with mini chocolate chips for decorations.
I'm sharing this recipe in partnership with ALDI. As always all opinions are 100% mine. Thank you for supporting the companies that make it possible for me to continue to create great recipes for you. For more information and recipe ideas, visit ALDI on Facebook, Twitter and Pinterest.