Strawberry Iced Tea Lemonade
A refreshing summer iced tea lemonade bursting with fresh strawberries!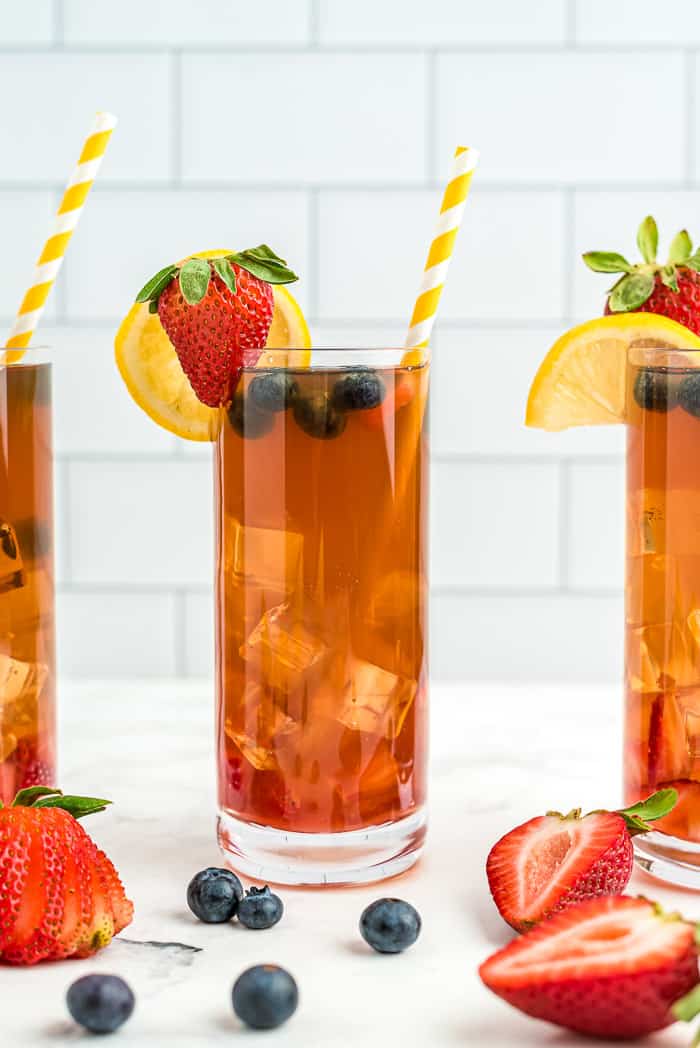 You guys, this weekend was the first real summer weekend for us. I've been out and about the past few weeks and this was the first weekend I was home when it was not raining and the weather was perfect. It was also the first weekend that my favorite strawberry farm was open for U-pick. Picking strawberries is one of my favorite summer activities and it always marks the start of the season. Of course, this means I will have an overload of strawberry recipes for you soon.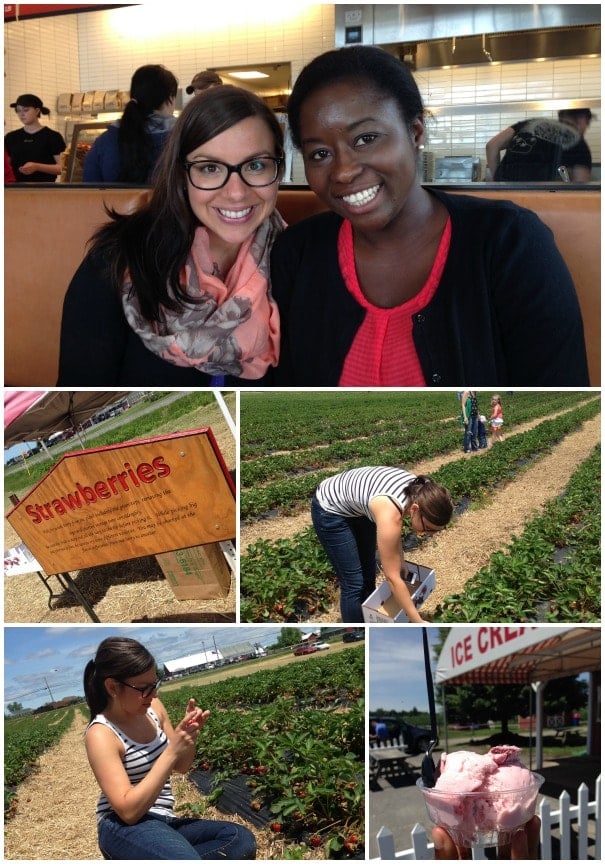 Luckily, my friend Julie from Montreal was visiting this weekend and we went strawberry picking together on this beautiful day. Julie blogs over at My Sweet and Healthy Life and we have been virtual friends for a long time. I was very excited to finally meet her. It's been a great week of meeting blogging friends in real life 🙂 We spent a wonderful afternoon at the farm picking pounds of strawberries after lunch at Chipotle. Did you know they don't have Chiptole in Canada? That was the first thing on her agenda lol! After an hour in the fields, we rewarded ourselves with some ice cream.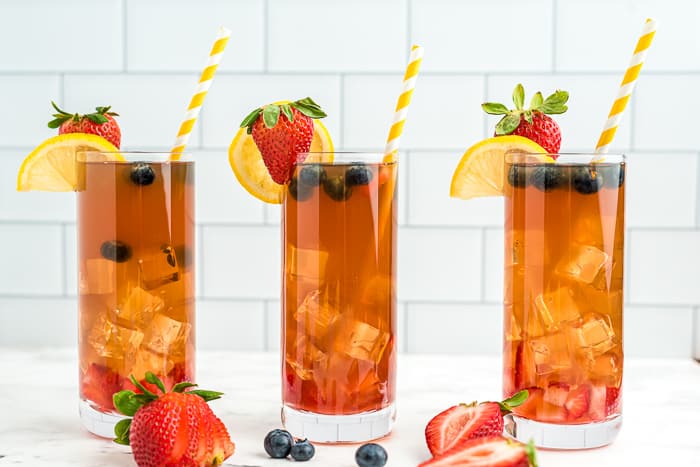 Staying refreshed in the heat after any summer activity is a must and that is where the new Lipton tea K-cups come in. They make it super easy to brew a refreshing cup of tea over ice to have a cold refreshing glass of ice tea ready in just minutes!! Thankfully they have 5 great flavors in stores, including the Iced Tea Lemonade that I used to make this strawberry blueberry ice tea lemonade.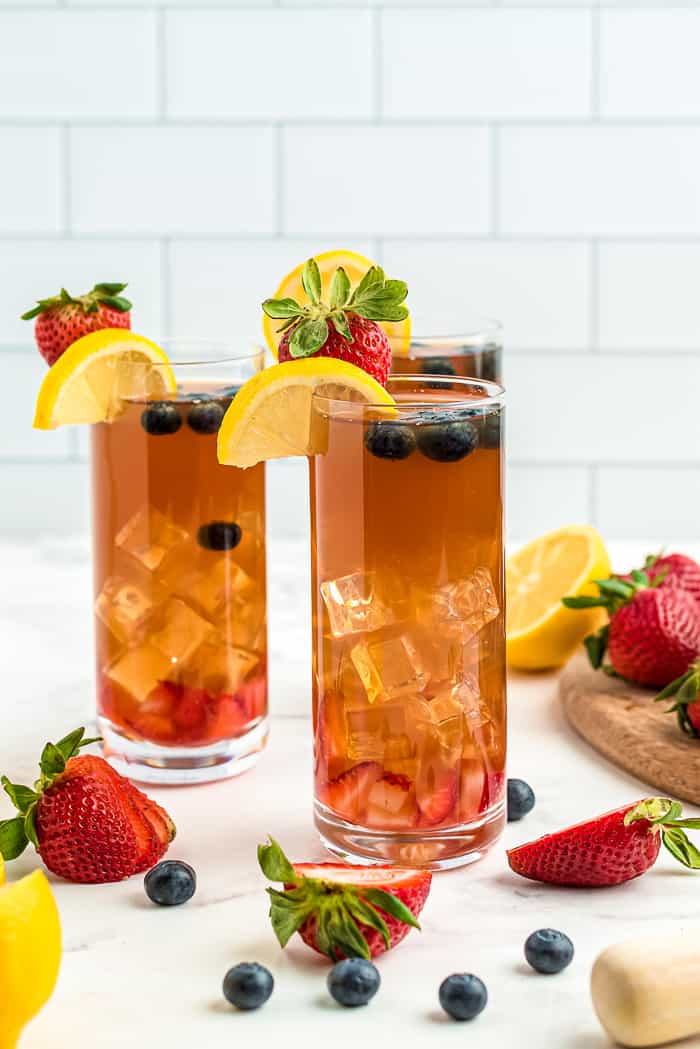 Strawberries make the most refreshing drinks but I think I am biased since I have 5lbs at the moment to eat through. I used a strawberry puree, lemon juice, and freshly brewed ice tea lemonade to make an on-the-go cup of this sweet tea!!
Since I had guests in the house, I used the tea K-Cups to brew up a bigger batch of the iced tea lemonade to serve. Perfect for summer entertaining in your backyard.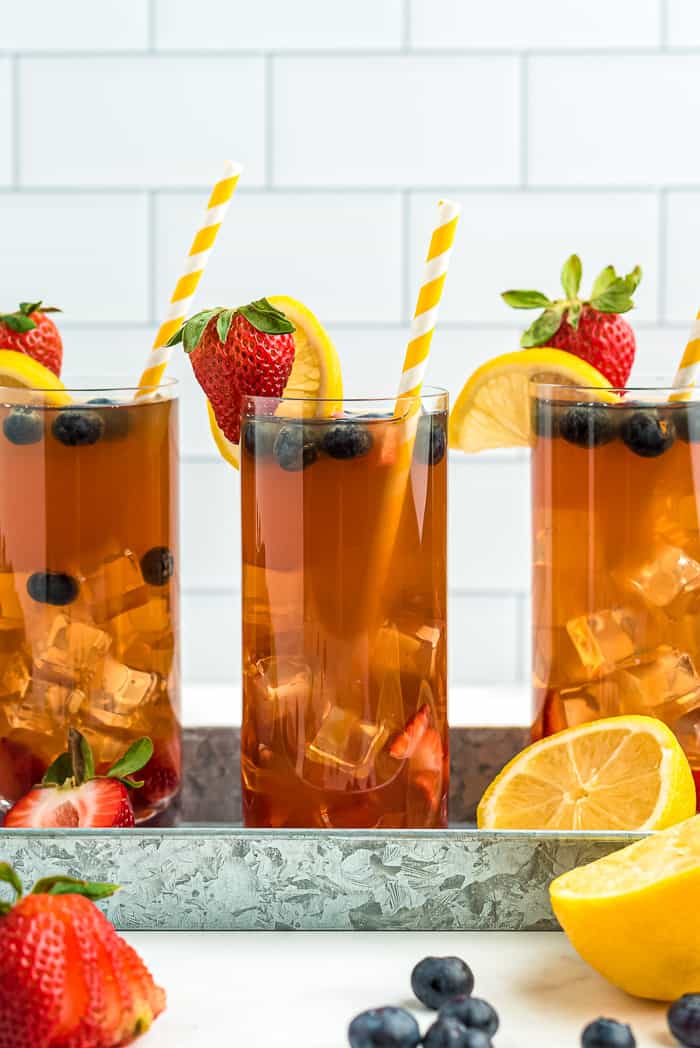 So whether you enjoy the strawberry blueberry iced tea lemonade on the go or at a BBQ, it is perfect for any blistering summer day!!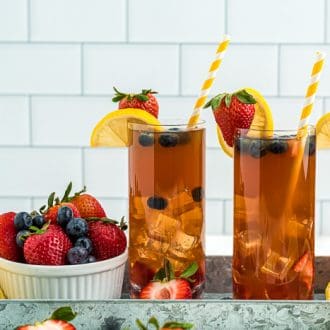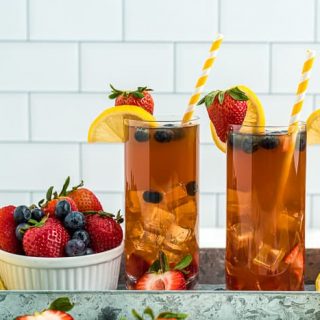 Yield: 2-4 drinks
Strawberry Blueberry Iced Tea Lemonade
Whether you enjoy the strawberry blueberry iced tea lemonade on the go or at a BBQ, it is perfect for any blistering summer day!!
Ingredients
1 cup fresh strawberries, hulled and chopped
1 lemon, juiced
2 cups freshly brewed Iced Tea Lemonade
A handful of blueberries
Instructions
For single serving:
Add a handful of chopped strawberries to a glass. Muddle to release the juices, Add in a squeeze of lemon juice. Top with ice cubes and brew Iced Tea Lemonade directly into glass. Mix and enjoy!
For Double servings:
Brew Ice Tea Lemonade from the Keurig. Let cool while you prepare the puree.
Blend strawberries in a food processor until smooth. Strain into a pitcher. Add in juice from one lemon and mix with strawberry puree.
Stir in brewed tea with ice cubes. Top off with fresh strawberries, lemon wedges and blueberries.