Hot Fudge Peanut Butter Swirl Brownie Sundae
I partnered with Price Chopper and Collective Bias to create this Hot Fudge Peanut Butter Swirl Brownie Sundae for our summer celebrations. A decadent chocolate brownie is studded with peanut butter chips and swirls to make this classic dessert an instant favorite and a must at every summer celebration! #PriceChopperBBQ #CollectiveBias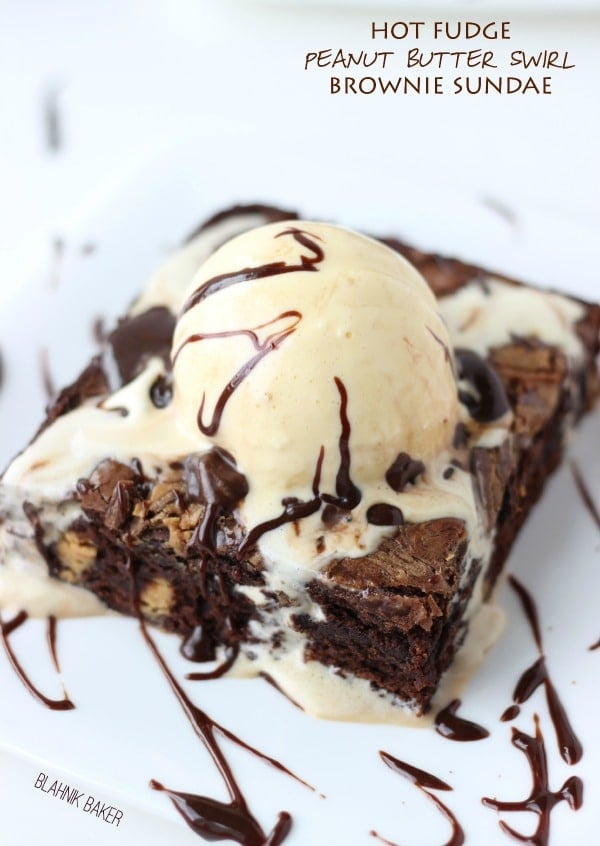 There are always classics that we need not mess with. Apparently Hot Fudge Brownie Sundae is one of them. This is a lesson I learned from my sweet husband. We quickly realized during our early dating months that we are both foodies (aka food lovers) as most of our dates, bonding experiences and explorations were food centered. Whether it was trying out a new restaurant in town, trying a new type of cuisine or cooking together from a new cookbook we always had a great time.
However, one of us is extremely particular in our taste (ahem, not me!). There are traditions that cannot be messed with. Like his mother's lasagna or his dad's scalloped potatoes which are wicked out of this world so I don't even attempt to convince him otherwise. Likewise when he finds a favorite dish at a restaurant, he will order that 9 out of 10 times.  Hot fudge brownie sundae is one of those. He orders it almost everywhere we go.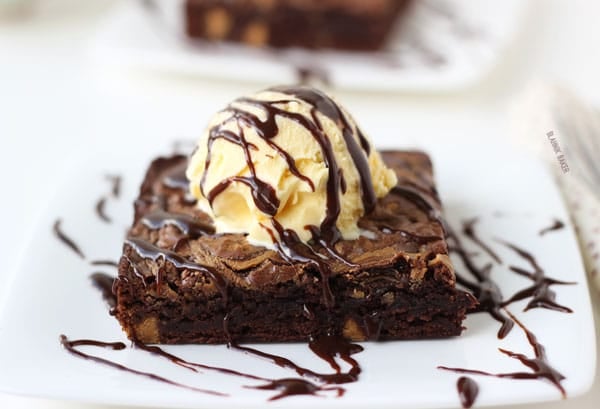 When I first suggested I make a brownie a few months ago, he goes " Some things should not be messed with you know?" And I was perplexed. Seriously? After all I make for you dude? He strongly believes boxed brownie mixes are the best and none other than Betty Crocker. I couldn't argue with his Betty Crocker choice because after my visit to the Betty Crocker kitchens last year, I understand how much love and recipe testing goes into every one of their products.
I caved last weekend as we were picking up our grilling essentials at Price Chopper's House of BBQ. Over the summer, our dinners are usually grilled protein with veggies. And we love shopping at Price Chopper for all our summer grilling essentials. Among our steak and veggies for dinner that day, I grabbed a box of Betty Crocker brownie mix to make the hubs' favorite classic dessert.
Being the baker that I am, I had to mess with it just a little. I added a swirl of creamy peanut butter to the moist dark chocolate brownie and some peanut butter chips just because. And knowing the man I married, peanut butter and chocolate rules anytime! This hot fudge peanut butter swirl brownie sundae is decadent, warm and a delicious treat we enjoyed at our last BBQ. Some classics are indeed not meant to be messed with…but a little twist doesn't hurt anything. Just makes it better!!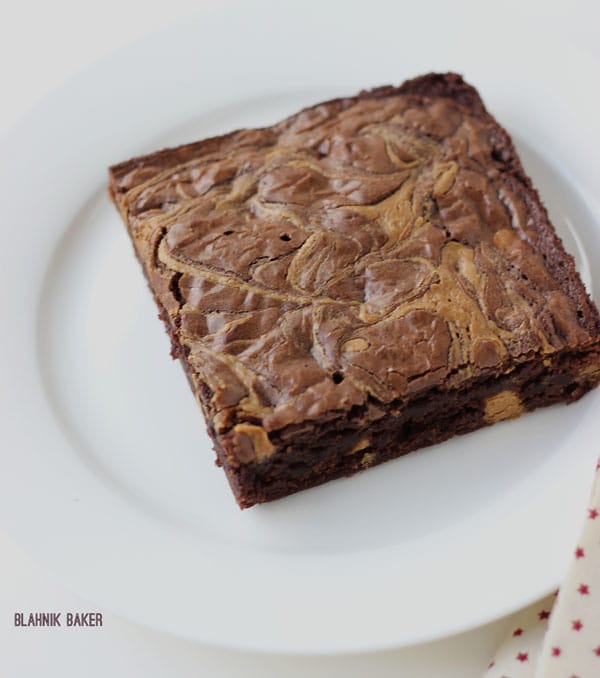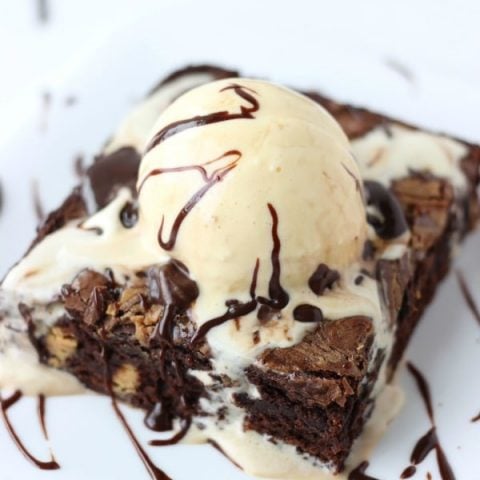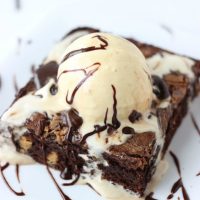 Yield: 6 sundaes
Hot Fudge Peanut Butter Swirl Brownie Sundae
A decadent chocolate brownie is studded with peanut butter chips and swirls to make this classic dessert an instant favorite and a must at every summer celebration!
Ingredients
1 Betty Crocker brownie mix
Water, vegetable oil and egg called for on brownie mix box
⅓ cup peanut butter chips
¼ cup creamy peanut butter, melted
French Vanilla Ice Cream
Hot Fudge
Instructions
Preheat oven to 350 degrees F. Grease a 8 x 8-inch square baking pan with baking spray. Line with parchment and grease parchment.
Prepare brownie batter as directed on the box. Fold in the peanut butter chips before pouring the batter into the prepared pan. Swirl the melted peanut butter on top of the batter.
Bake 25-30 minutes or until brownie springs back to touch and a toothpick inserted in middle comes out clean.
Let cool completely in pan. Remove brownie from pan and cut into squares.
Serve with a scoop of french vanilla ice cream and hot fudge.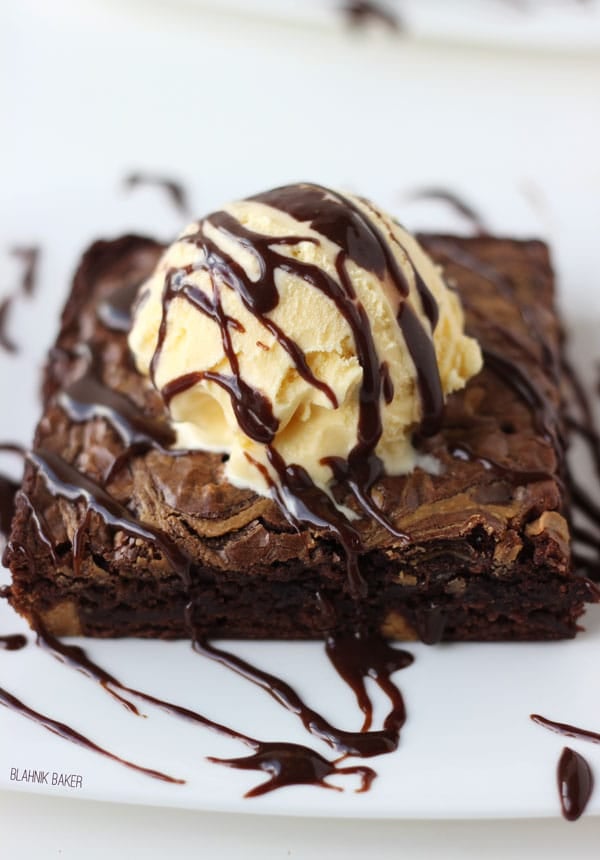 LOVE PEANUT BUTTER AND CHOCOLATE? Here are more recipes you might enjoy:
Peanut Butter Chocolate Ice Cream Cake