Peanut Butter S'mores Cups
Graham cracker cups filled with a peanut butter cup, marshmallow and chocolate ganache. These Peanut Butter S'mores Cups are the perfect little seasonal delights!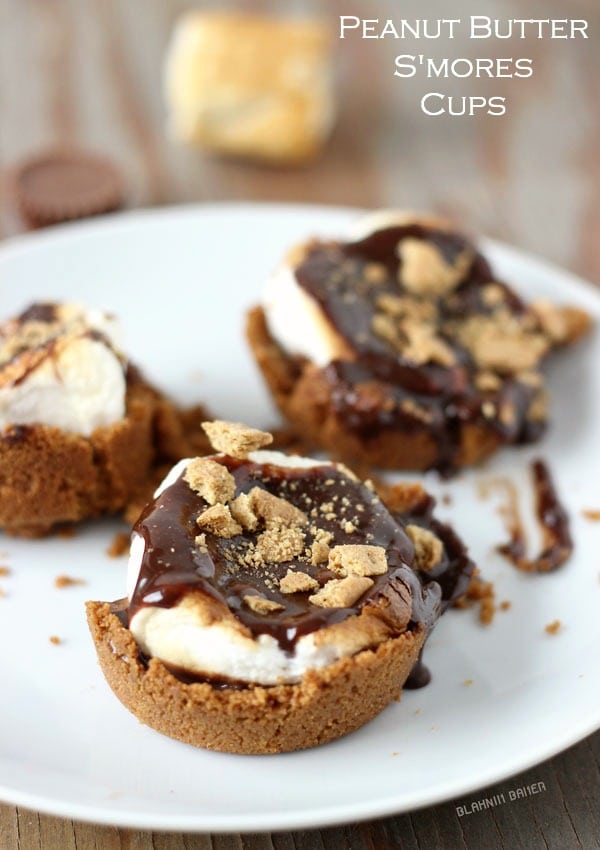 Welcome back to Day 2 of S'mores Week!! If you are just stopping by today, start with these Peanut Butter S'mores Muddy Buddies.  There is something about summer that just screams s'mores. Technically you can make any of these s'mores inspired recipes year round but the warm, clear summer nights are just perfect for s'mores consumption making them the season's greatest indulgence.
Today, I bring you another peanut butter s'mores concoction. I tell you my house is a PB and chocolate center 🙂 but I can't complain when Mr J comes up with an idea as delicious as these for S'mores Week. These Peanut Butter S'mores Cups are the bomb!! Like seriously people. Super easy, super chocolate-y, super delicious.
Wait, did I mention how easy they are to make? It's like graham cracker crust (10 minutes bake to get that together) + peanut butter cup (totally go full size instead of mini) + huge marshmallow + chocolate drizzle easy! It takes all but 20 minutes to have these seasonal goodies in your hand to devour. Except….if you forget to spray your pan yo. I was baking these with my niece and we were having so much fun snacking on these muddy buddies that I did not remember to spray the muffin tins. Of course I had no idea until it was time to remove them from the pan and then I was like "Oh shoot, I didn't use the PAM".

Who forgets to spray their pans? This girl!! I almost didn't share this recipe with you but I figured it was a great opportunity to share with you my secret weapon in the kitchen. PAM Baking Spray!!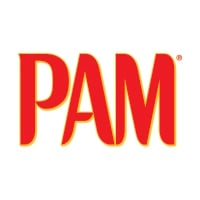 I cannot bake without it. My cake pans, bundt pans and cupcake tins (when I remember ahem) are always prepped with PAM baking spray before starting. It makes everything release easily (watch that bundt cake leave no mess behind) and pretty much makes clean up easy. If I had sprayed these muffin tins before baking the graham cracker crusts, you would have seen unbroken cups here (as intended!). But now you can learn from my mistake when you make these PB s'mores cups!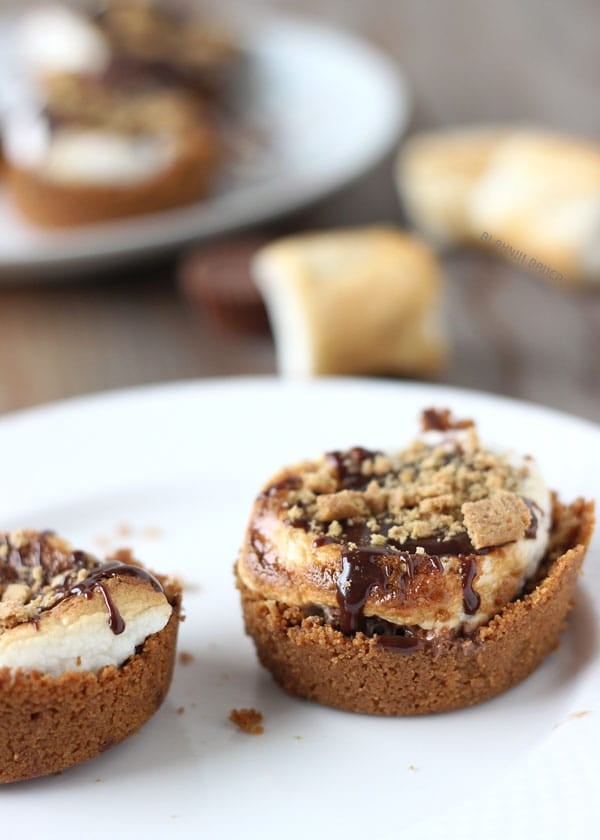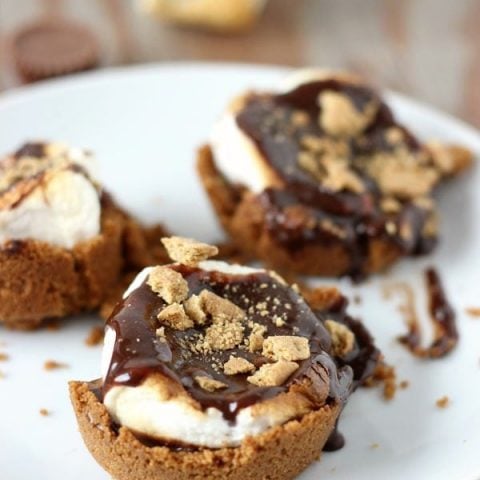 Yield: 6
Peanut Butter S'mores Cups
Graham cracker cups filled with a peanut butter cup, marshmallow and chocolate ganache. These Peanut Butter S'mores Cups are the perfect little seasonal delights!
Prep Time 5 minutes
Cook Time 10 minutes
Total Time 15 minutes
Ingredients
1 cup graham cracker crumbs
3 tablespoon unsalted butter, melted
1 tablespoon sugar
6 Reese's Peanut Butter Cups
6 regular sized Marshmallows
Chocolate ganache, fudge or syrup to top
Instructions
Preheat oven to 350 degrees F. Spray a regular size muffin tin with baking spray. Set aside.
In a medium bowl, mix the graham cracker crumbs and sugar with melted butter. Press the crust into the prepared cups. Make sure you press the crumbs down and up the sides of the muffin cups. Bake until set, about 8-10 minutes.
Let cool slightly. Place a peanut butter cup into each crust cup. Top each with a marshmallow. Brown marshmallows in oven for 1-2 minutes. Keep an eye on them so they don't burn. Once browned and slightly melting, remove from oven. Using a small spatula or dinner knife, remove individual cups from muffin tin. Place on serving plate. Top with chocolate ganache, fudge or syrup. Best enjoyed immediately! Store leftovers in an airtight container.
"Leaving up to 99% less residue, PAM is your ally in the kitchen and allows you to save time during prep and clean up."
Disclosure: Compensation was provided by ConAgra via Mode Media. The opinions expressed herein are those of the author and are not indicative of the opinions or positions of ConAgra.
Don't forget to check out some of the other S'mores recipes by my blogger friends also celebrating S'mores Week!

<!– inlinkz code end —>
MAKING THIS RECIPE? Share it with us on Instagram using #aclassictwist so we can see what you are baking up in your kitchen!