Peanut Butter S'mores Muddy Buddies
Enjoy this summer time crunchy snack with all-time favorite chocolate and peanut butter flavors!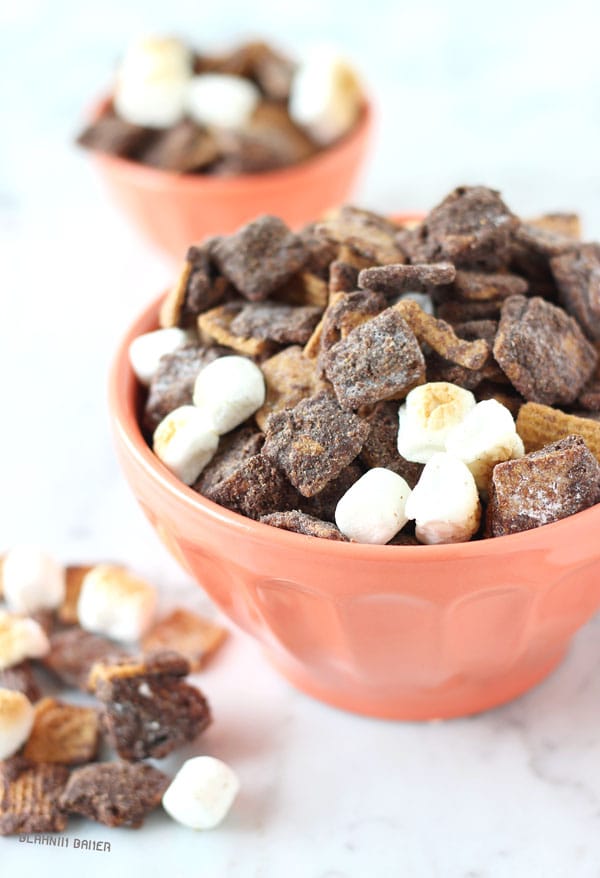 Welcome to S'mores Week!!!  This whole week, myself and some fabulous bloggers will be sharing with you our favorite s'mores creations. Why? Because who doesn't love some chocolate, marshmallow and graham cracker action? Thank you Lisa (Wine and Glue) for putting together this amazing idea.
I am so excited for a whole week of S'mores!! Since I am not really the camping kind of girl, my s'mores eating is restricted to backyard picnic fires and tons of s'mores inspired recipes like these peanut butter marshmallow cookies or these s'more cookie bars and now these peanut butter s'mores muddy buddies! It's the way I camp out in the city 🙂
When brainstorming for ideas for s'mores week, I consulted my trusted taste testers for suggestions; Mr J and my girlfriend Trista. They instantly lit up because they are well..serious chocoa-holics and were both super duper excited about a themed week (noted!). They started shooting ideas at me that they thought were original, creative and diverse! Apparently nothing else will be good enough. Mr J started on the peanut butter trail (duh) "Oh oh what if you put a whole PB cup in a graham cracker crust and top with marshmallow? I bet no one has done that before". Uhmmm yeah, I'm pretty sure it has been done but he was so excited about his idea, I didn't want to burst his bubble. Similarly, my friend was excited about her suggestion as well "Waitttttt, muddy buddies. OMG that is so out of character for Blahnik Baker. Make it!! Use those golden graham crakers, shake it with chocolate and oh my gosh with the cute marshmallows as well." And yet again, couldn't tell her it's all over Pinterest.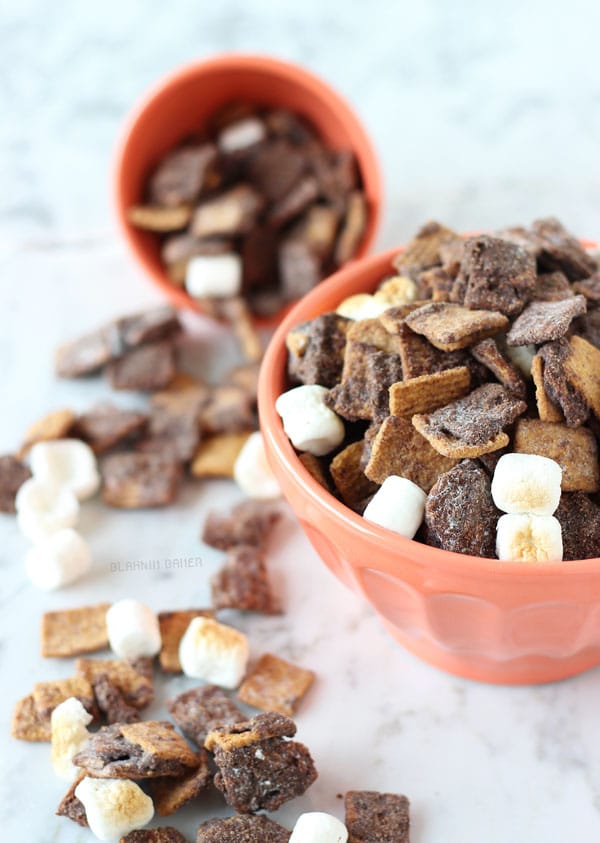 Don't you just hate that every great idea you seem to come up with has been done?? You get this amazing idea when you are in the shower and you Google it to see how unique it is and there you see millions of it on Pinterest. It's annoying sometimes and can be stifling to creativity but I learned from an early stage in my blogging years that I cannot NOT make something just because someone else has. Discovering new recipes, recreating old favorites and making food that my family and friends love is what my blog is all about. I make what THEY love and are excited about with the hope that it will bring some joy and excitement to your family too! So I will continue to create new-to me things and I hope some will be new to you as well 🙂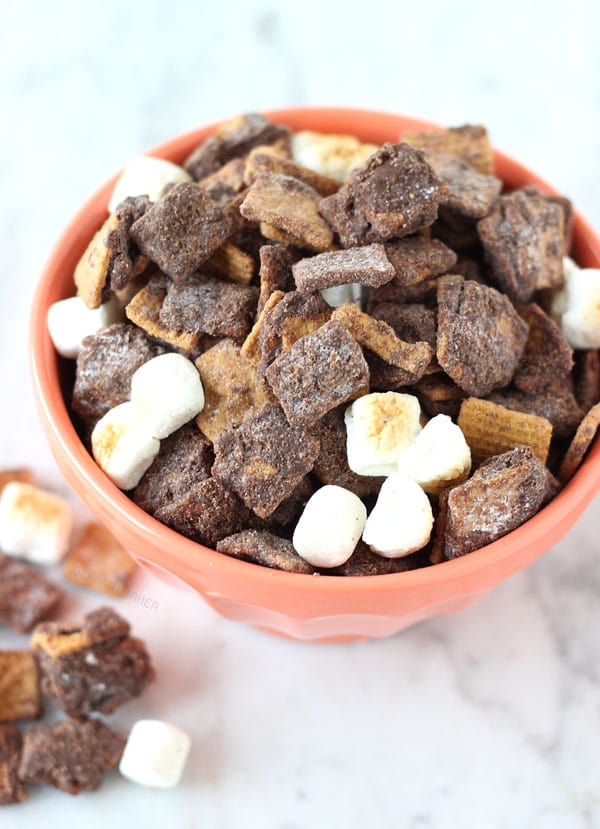 Anyhoo, I guess we should really talk about this really easy muddy buddies snack. I hope you are not like me and just discovering how seriously addicting they are now at age of almost 30!! My goodness, I was in the dark. I ended up making this with my 13-year old niece last weekend. Wait let's rephrase, she actually made it and I just photographed them 🙂 She is a peanut butter addict like her uncle so she threw in some peanut butter to the original idea. I've been enjoying it as a snack in the middle of the day at work or late night snacks as I blog. Since I don't really camp, I can only imagine (and suggest) that these will be perfect for camping as you chill out by the night fire.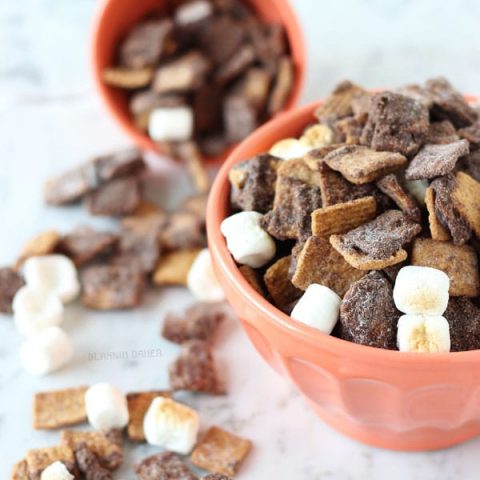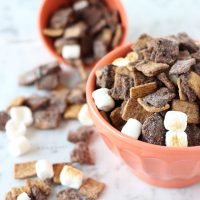 Peanut Butter S'mores Muddy Buddies
Enjoy this summer time crunchy snack with all-time favorite chocolate and peanut butter flavors!
Ingredients
¾ cup semi-sweet chocolate chips
½ cup peanut butter
1 cup marshmallow fluff
5 cups Golden Grahams cereal
1 cup mini marshmallow, toasted
1½ cups powdered sugar
Instructions
In a large saucepan, melt the chocolate chips and peanut butter on low heat. Stir until melted. Remove from heat and stir in marshmallow fluff until combined. Stir in cereal and toasted marshmallows. Mix until everything is covered in melted chocolate mixture.
In a large bowl, toss the muddy buddies with the powdered sugar and make sure they are coated.
Enjoy!
My friend Nancy from The Bitter Side of Sweet, who is as excited about S'mores week as I am,  happened to make Muddy Buddies too (thanks to Instagram.) Here's her S'mores muddy buddies (with a hint of strawberry).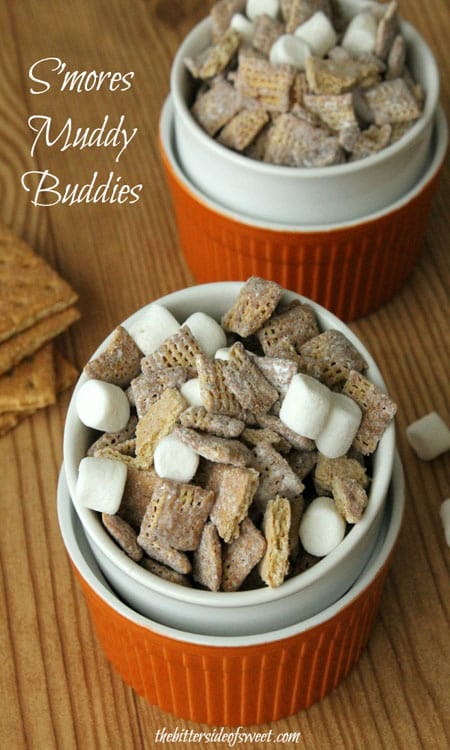 Check out all the S'mores inspired recipes below from S'mores Week participants!
<!– inlinkz code end —>