Mini Pineapple Lime Mojito Cakes
Inspired by my new favorite cocktail, these mini pineapple lime mojito cakes are sweet, soft and the perfect blend of tropical flavors. They will have you spinning! (Pictures updated April 2021)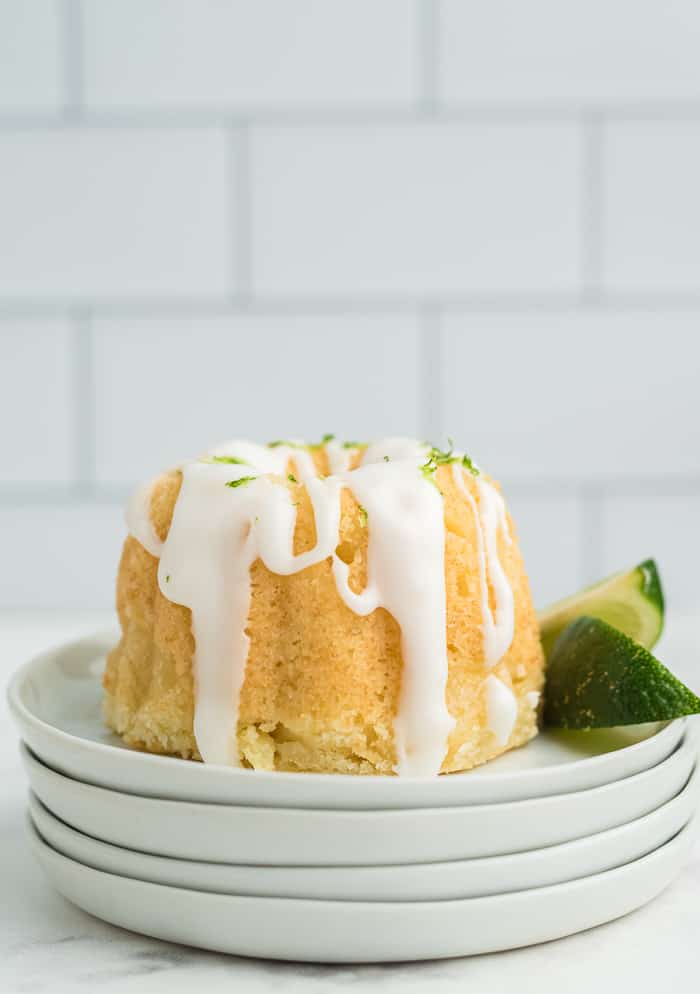 News flash: my new favorite cocktail is a pineapple lime mojito! I was being indecisive the other night in Boston and asked the bartender to just give me something fruity and sweet and she gave me this. It's so simple and divine that I am not sure why I have not combined these flavors before. The sweet and sour combo of pineapple juice with lime vodka (or rum) is just a pure tropical joy! Clearly, I've been obsessed with it since and made a rendition or two or three at home. As you can tell, these mini bundt cakes were inspired by the wonderful flavors of the drink!! If you can't drink cocktails all day long because you know that is frowned upon, then bake it 🙂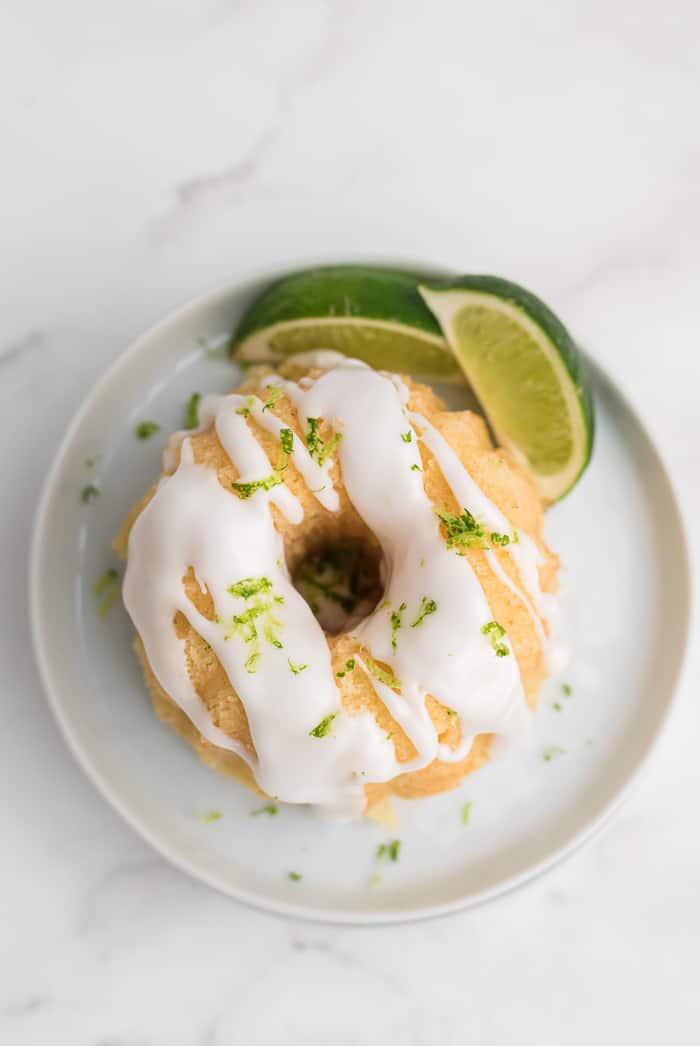 But talking about new favorites. Have you noticed things look different around here? I got a facelift! Every now and then one needs to change their outfit and I think it was time I pruned my style around here. ( In case you were confused, I am talking about the new site design!). I hope you like the clean, (hopefully) easy-to-navigate layout. I am still tweaking some back-end things so please let me know if there is anything you notice that is not working well or looks off.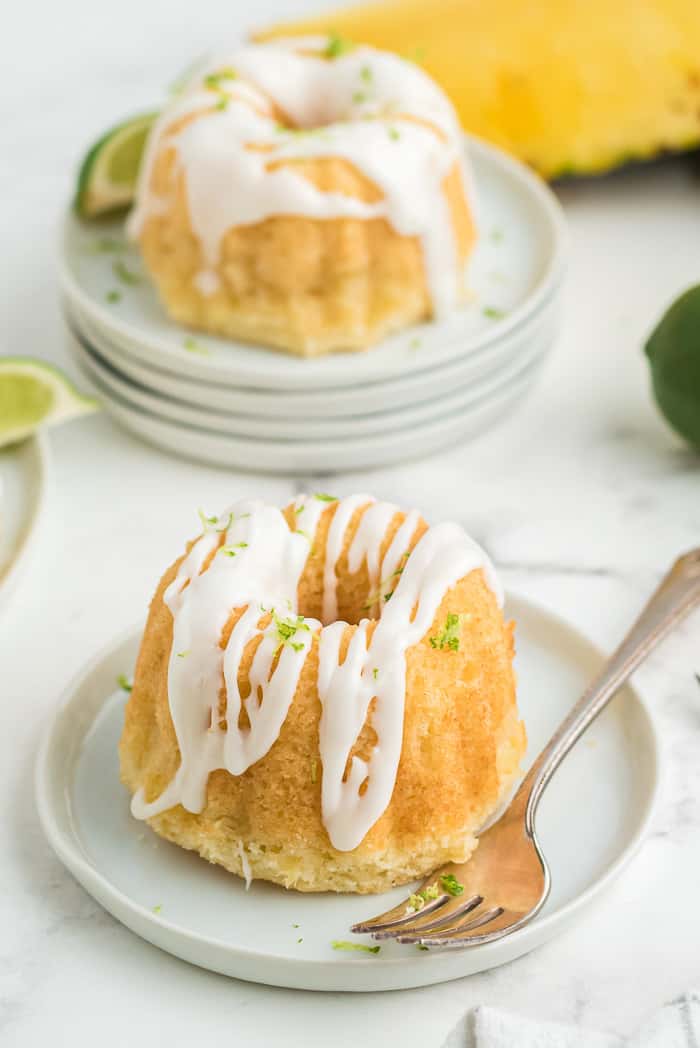 Let's get back to these mini bundts!! I love baking bundt cakes because they are just so beautiful. Always a wow factor with no decoration needed. I've started collecting bundt pans because the possibilities of designs are endless!! When I found out about this group called Bundt Bakers, through Laura over at Baking in Pyjamas, it was a no-brainer to join those kindred spirits. Bundt Bakers, as you may have guessed, is a group of bundt loving bakers who get together once a month to bake bundts with a common ingredient or theme. This month the theme was "Tropical Fruits" which was perfect since I have been mildly obsessed with that pineapple cocktail.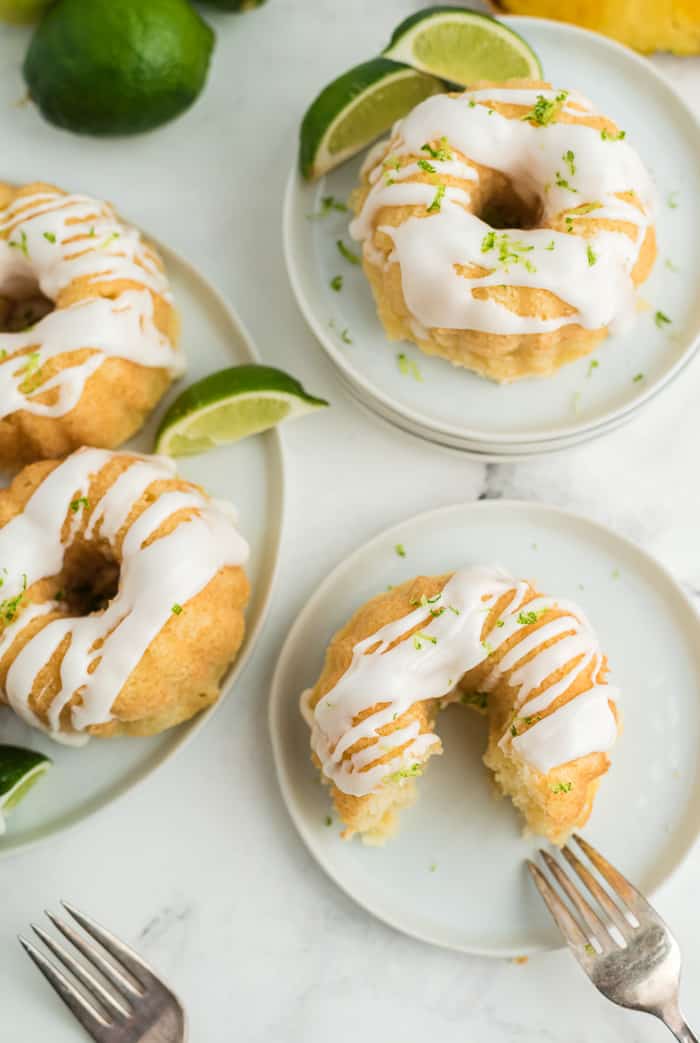 One of the best things about bundt cakes (besides their beauty) is that they make very moist and soft crumble-in-your-mouth cakes. These mini pineapple lime mojito cakes are no exceptions. They are incredibly moist, crumbly, and just AMAZING. The sweet pineapple chunks in the cake balance very well with the lime rum glaze. The mini sizes of these cakes make them perfect for summer entertaining!
Here's how to make these mini pineapple lime mojitos cakes!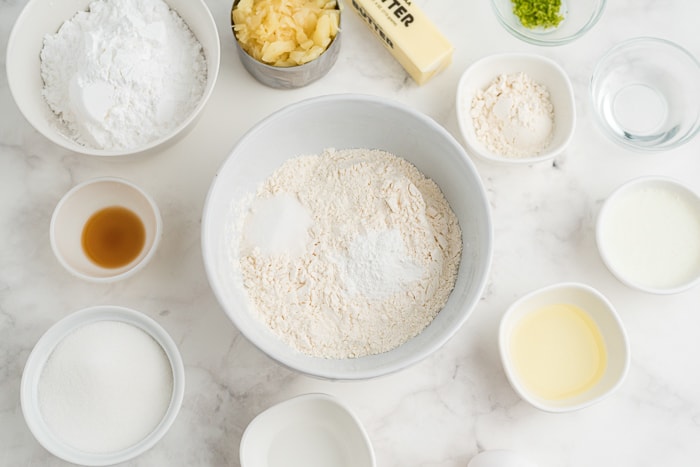 Whisk together the dry ingredients to start.
Then cream your butter and sugar together and be sure to do this well. Pound cakes get their light and airy texture because of this step.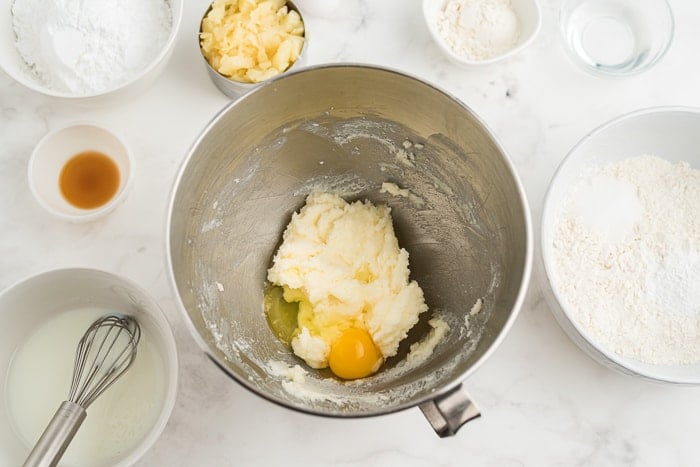 Beat in the eggs one at a time. Once you incorporate the eggs and extracts, you can then alternate your flour and liquids into the batter. Mix gently.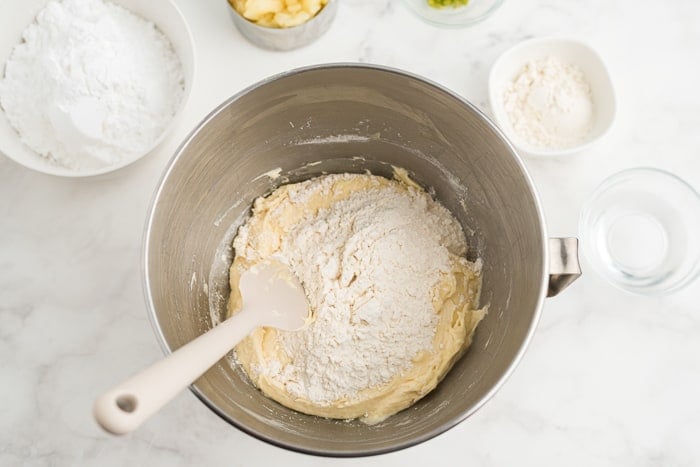 Once your batter is ready, fold in the pineapples. This step is best by hand to ensure it is incorporated and you don't overwork the batter.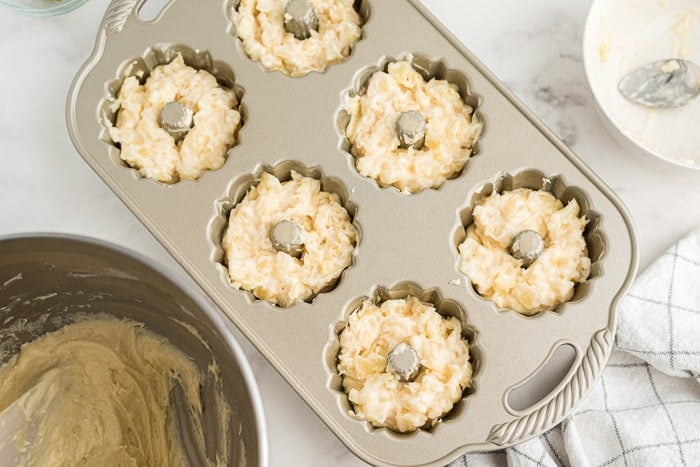 Divide the batter into your mini bundt pans. I love this mini bundt pan from Nordicware. You can of course use any mini bundt pan you have.
Bake the cakes until lightly golden brown. Try not to over-bake these as that is how you get bone-dry cakes. Pay attention as you get close to the suggested times and check the cakes frequently.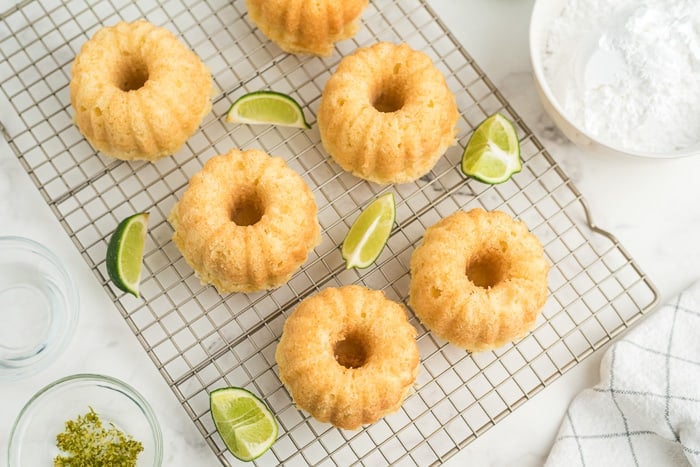 You can save these cakes with a simple dusting of powdered sugar and some lime zest. Or you can also top with a rum glaze which is what I did for these pictured.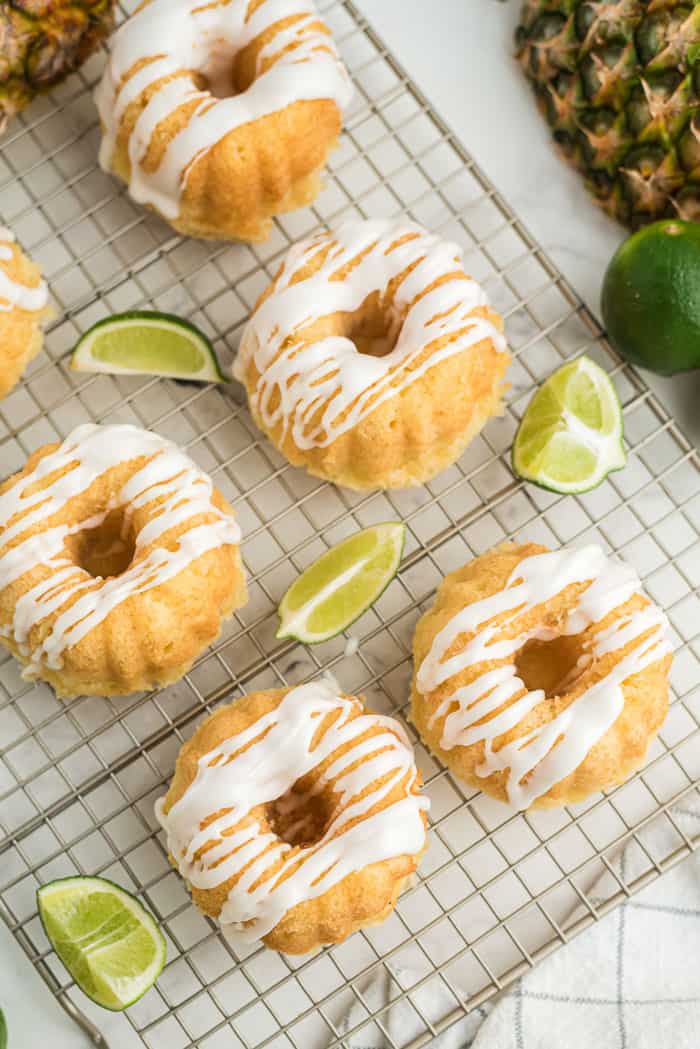 Regardless of what you top these mini pineapple lime mojito cakes with, they are delightful. Zesty lime, sweet pineapples, crumbly cake and a bit of rum to wrap it up. You will not be disappointed in these my friends.
Happy baking!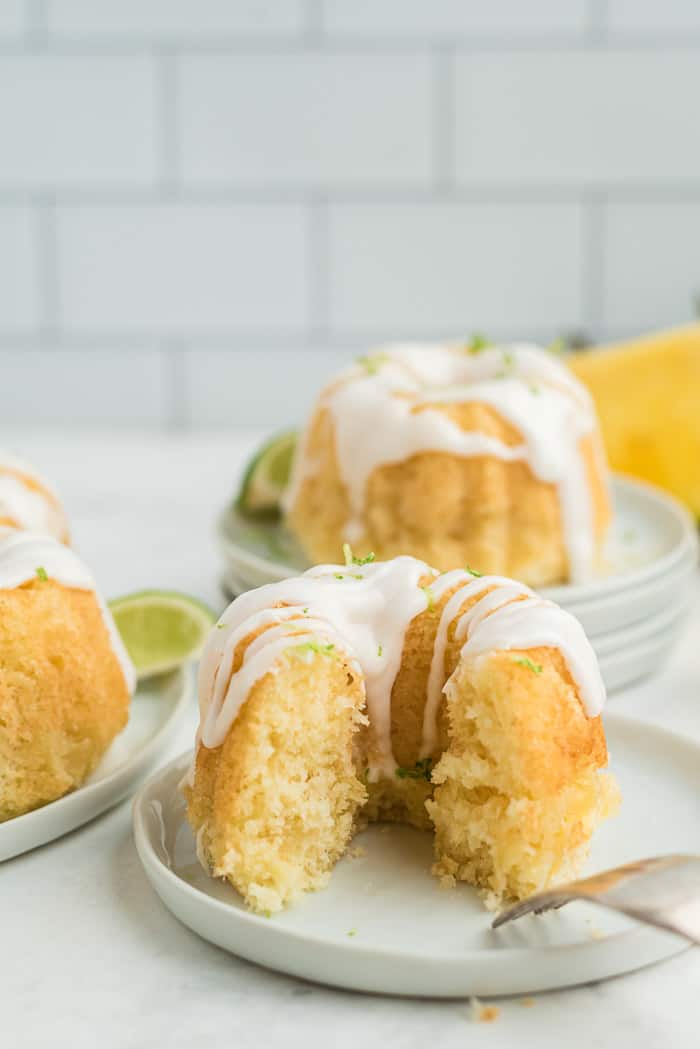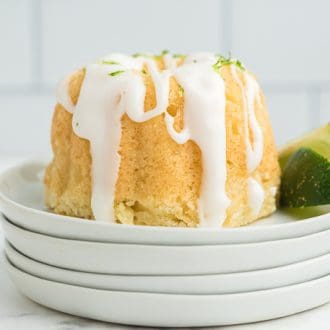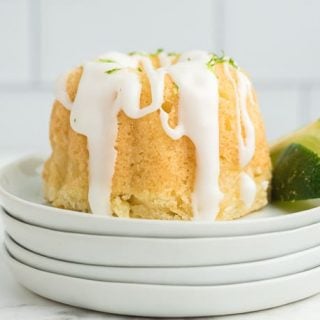 Yield: 6 mini bundts
Mini Pineapple Lime Mojito Cakes
Inspired by my new favorite cocktail, these mini pineapple lime mojito cakes are sweet, soft and the perfect blend of tropical flavors. They will have you spinning!
Ingredients
1 ½ cups plus 2 tablespoons all-purpose flour (divided)
1 ¼ teaspoons baking powder
1 teaspoons salt
⅓ cup buttermilk, room temperature
1 tablespoon rum (optional)
¾ cup granulated sugar
2 tablespoons vegetable oil
½ cup (1 stick) unsalted butter, room temperature
1 teaspoon lime zest
2 large eggs, room temperature
1 teaspoon pure vanilla extract
1 cup pineapples, chopped
For the Glaze:
1½ cups confectioners' sugar, plus more for dusting
2 teaspoons lime juice
1 tablespoon rum OR (Use 2 tablespoons lime rum or lime vodka)
Toppings:
¼ cup pineapples, chopped
powdered sugar (optional)
lime zest
Instructions
Preheat oven to 350 degrees F. Grease 6 mini Bundt pans with baking spray.
In a medium bowl, whisk together 1½ cups of flour, baking powder, and salt. In a small bowl, whisk the buttermilk with the rum if using.
In the bowl of an electric mixer, beat together the sugar, oil, and butter on medium-high speed until fluffy, about 5 minutes. Add in the lime zest and beat for an additional minute. Scrap down the sides of the bowl as needed. Add in the eggs, one at a time, and beating until combined. Beat in vanilla extract.
Add in a third of the flour mixture and half of the buttermilk. Mix until just combined. Then add another third of the flour and the rest of the buttermilk. Mix again until just combined. Scrape down the side of the bowl as needed. Add the rest of the flour and mix for 30 seconds. Finish incorporating the flour into the batter by hand with a rubber spatula to avoid over mixing.
In a small bowl, toss the pineapples with the remaining two tablespoons of flour. Fold in the pineapples into the batter gently.
Divide the batter into the prepared bundt pans, filling each about 2/3. Smooth the tops of each.
Bake until cakes are golden brown and a toothpick inserted into the center comes out clean, about 20-25 minutes.
Transfer to a cooling rack and allow the cake to cool in pan for 30 minutes. Using a small sharp knife, run it around the edge of the pan to loosen the cake and then invert the cake onto a cooling rack (lined with parchment paper) to cool completely.
For the Glaze:
Whisk together all the ingredients in a small bowl. If the glaze is too thick, whisk in rum or lime juice, a teaspoon at a time.
Just before serving, pour the glaze over the cake and allowing it to drip down the sides. Let glaze set for 20 minutes. Enjoy!
Recommended Products
As an Amazon Associate and member of other affiliate programs, I earn from qualifying purchases.