Chocolate Cupcakes with Peanut Butter Buttercream
Chocolate cupcakes with peanut butter buttercream. The delicious combination of chocolate and peanut butter, baked into fluffy, moist cupcakes. This dessert recipe is a keeper!
There have been lots of things happening in my blogging development this week. Since my experiments in lab are acting up, I am indulging more into baking! These chocolate cupcakes with peanut butter buttercream were one my indulgences but we will get to them.
First, I successfully made basic or 'American' buttercream. It has only four ingredients and should be very straight forward. But it is not. At least not in my hands. It comes out thin and UN-pipeable. After several tries, this recipe (below) did the trick.
My Momma in the US was coming up to visit this weekend, so I wanted to make her some cupcakes. She loves peanut butter and chocolate so I made her these Chocolate Cupcakes with Peanut Butter Buttercream. The chocolate cake and frosting recipes are from Krissy's Creations. The frosting is light, fluffy and extremely easy to pipe. Definitely a keeper!
The second accomplishment of the week was the start of a cake stand collection. I have always wanted pretty cake stands and so I went hunting this Friday for one at Marshalls/Home Goods where to my surprise the options were limitless.
I loved these white ones and had to get the set of three so I could use it as a cupcake stand too. Totally makes sense! And I had to get this pink one, the scalloped edge is just so beautiful.
At the end of the night, I ended up with 5 and I was in cake stand bliss. I told the hubby to consider getting me cake stands when he thinks I deserve flowers. I hope he listens because there are endless options at TJ Maxx as well (rumor has it).
And finally, I started experimenting on picture-taking techniques. Played around with some colored background and lighting  (even though it was a very cloudy day today). Loved the way the pictures turned out.
But enough about my accomplishments of the week. These cupcakes were the highlight and are any peanut butter lover's dream.
With a moist chocolate cupcake and a light peanut butter frosting, the chocolate cupcakes with peanut butter buttercream will be a great addition to any party.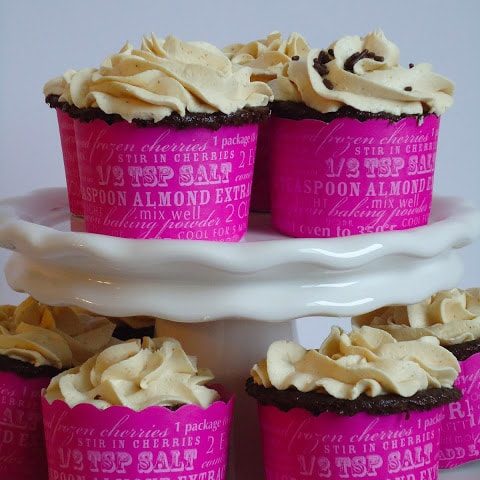 Yield: ~24 cupcakes
Chocolate Cupcakes with Peanut Butter Buttercream
Prep Time 45 minutes
Cook Time 25 minutes
Ingredients
2 cups granulated sugar
1 ¾ cups all-purpose flour
1 ½ teaspoons baking powder
¾ cup unsweetened cocoa powder
1½ teaspoons baking soda
1 teaspoon salt
2 large eggs
1 cup whole milk
½ cup olive oil
2 teaspoons pure vanilla extract
1 cup hot boiling water
2 cups (4 Sticks) Unsalted Butter, At Room Temperature
4 cups Confectioners Sugar
1 cup Creamy Peanut Butter
Pinch Salt
2 teaspoon Pure Vanilla Extract
Instructions
To make the cupcakes, start by preheating the oven the 350 degrees F. Line 2 cupcake pans with baking liners. Set aside.
In a large bowl, sift together the sugar, flour, cocoa powder, baking powder, baking soda, and salt. Set aside.
In the bowl of a stand mixer, combine the eggs, milk, olive oil, and vanilla. With the mixer running on low, gradually add the dry ingredients until fully incorporated. Scrape down the sides of the bowl and add the boiling water; mix until the batter is smooth. The batter is supposed to be thin.
Divide the batter between the prepared cupcake liners. Bake the cupcakes until a toothpick inserted into a couple cupcakes comes out clean, about 20-25 minutes. Allow the cupcakes to cool in the pan for a couple minutes and then transfer to a cooling rack to cool completely.
While the cupcakes are cooling, make the buttercream. Cream the butter in the bowl of stand mixer fitted with the whisk attachment until light and fluffy, about 5 minutes.
Add the confectioners sugar and mix (gradually increasing in speed) until the sugar is fully incorporated, about 5 minutes. You may need to stop the mixer and scrape down the sides of the bowl a couple times.
Add the peanut butter, salt, and vanilla and whisk until the mixture is light and fluffy, about 3 minutes. Once the buttercream is creamy and airy, it's done.