Chocolate Peanut Butter Cupcakes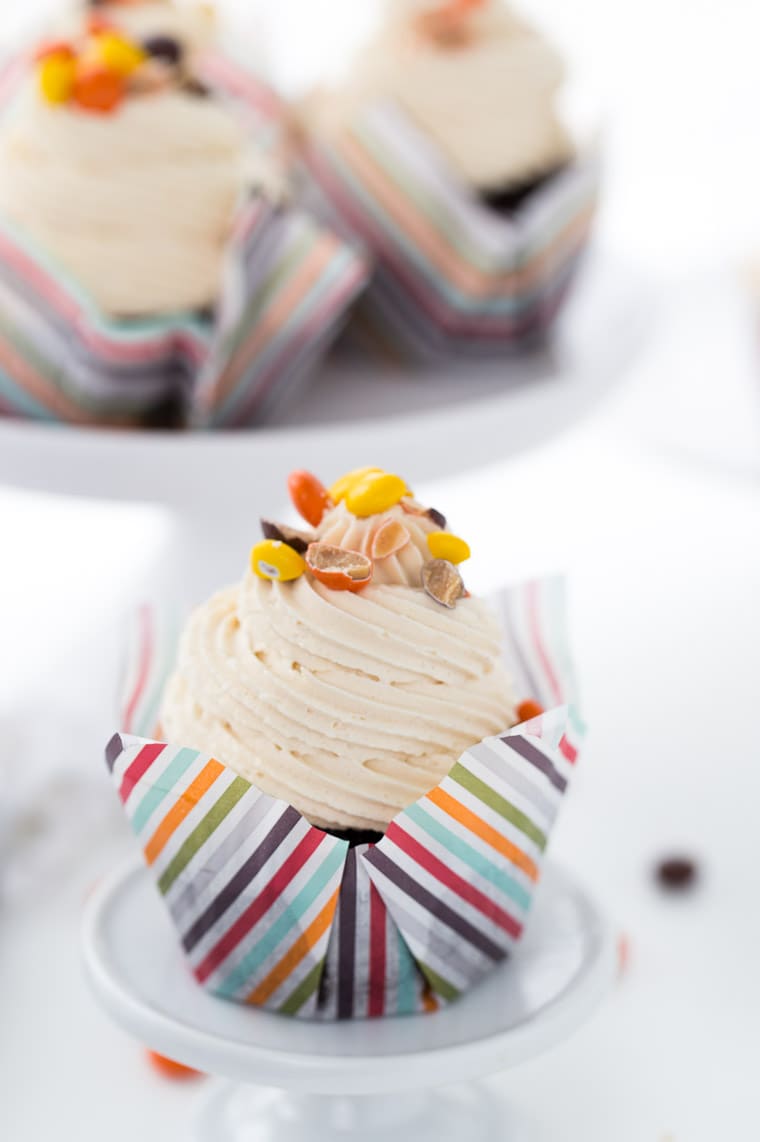 There are some things that are just meant to go together. Like Caramel and Sea salt, Bacon and Eggs, Peanut butter and Jelly or Chocolate and Peanut butter. In my house, this last combo ALWAYS wins. So you know these chocolate peanut butter cupcakes were adorned and enjoyed greatly!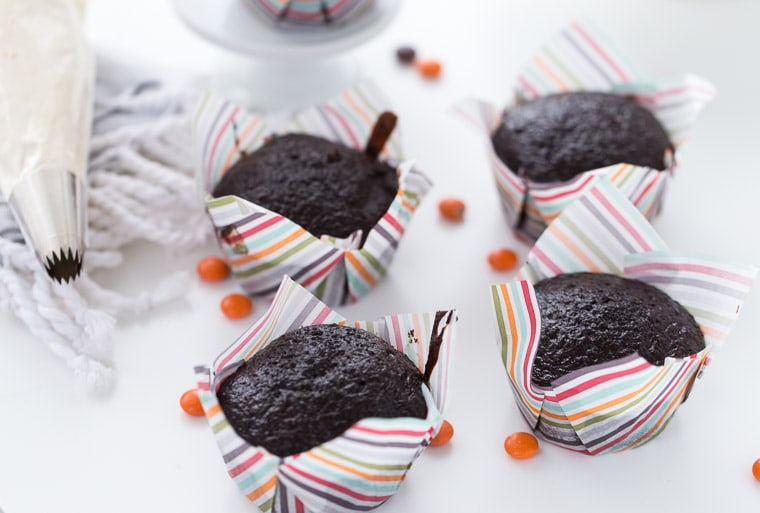 Nothing beats chocolate and peanut butter. These cupcakes are reminiscent of my popular chocolate peanut butter cake that you guys love so much. You'll also love my chocolate cupcakes with peanut butter frosting. The idea is the same here, we start with a rich chocolate cupcake (with hints of coffee and PB chips in them!), that is topped with a creamy whipped peanut butter frosting (the best!!). The frosting is probably the best part if you are a PB lover as it's hard not to eat it just by the spoonful. Sweet. Salty and Perfect. Although each component of these cupcakes shine on its own (chocolate cupcake + pb frosting), they come together so well like they were made for each other.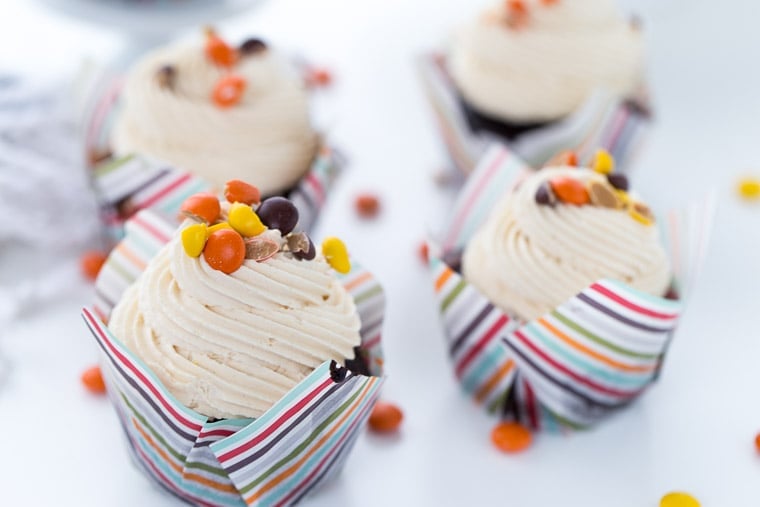 In the spirit of things that are made for each other, today we are celebrating the upcoming nuptials of a dear blogger friend, Meriem of Culinary Couture, with a surprise virtual bridal shower!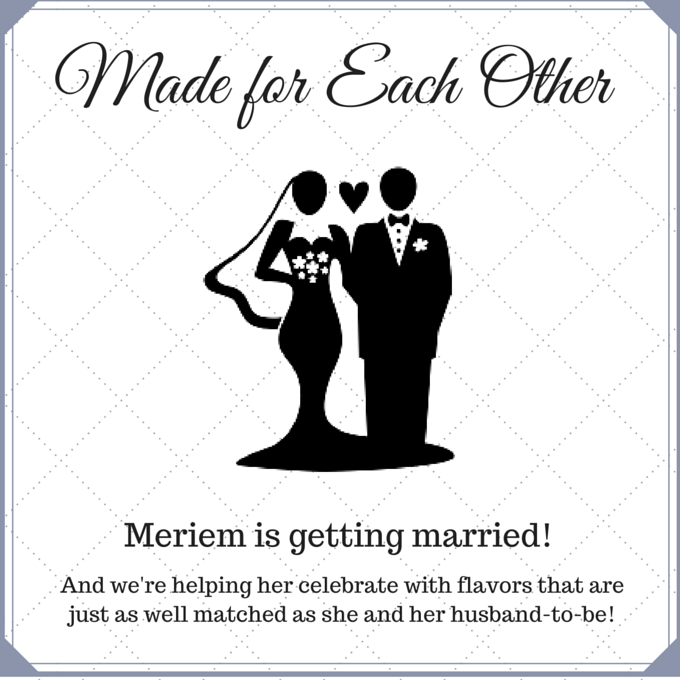 Congratulations Meriem!! I am so so happy for you and your soon-to-be husband. Wishing you a lifetime of happiness, love and a blessed union.
Be sure to check out the rest of the shower recipes. (Nora, thanks for hosting!)
A Virtual Bridal Shower Menu:
Paleo Brookies from A Clean Bake
Yellow Cake Cupcakes with Chocolate Buttercream for Two from An Edible Mosaic
Mocha Cupcakes from Baking a Moment
Peanut Butter and Chocolate Cupcakes from Blahnik Baker
Cheese and Charcuterie Board from Hall Nesting
Mini Lemon Cheesecakes from What Jessica Baked Next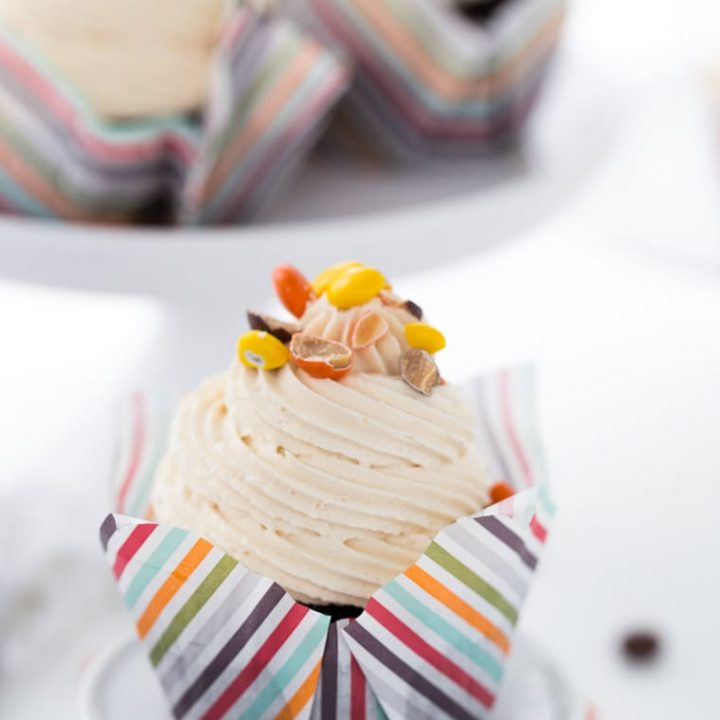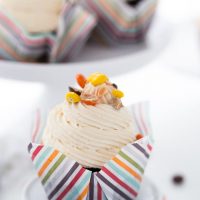 Yield: ~18 cupcakes
Chocolate Peanut Butter Cupcakes
Ingredients
Chocolate Cupcakes:
2 cups granulated sugar
1 ¾ cups all-purpose flour
¾ cup cocoa powder
1 ½ teaspoons baking powder
1 ½ teaspoons baking soda
1 teaspoon salt
2 large eggs
1 cup milk
½ cup vegetable oil
2 teaspoons Pure Vanilla Extract
1 cup hot water (or freshly brewed coffee)
½ cup peanut butter chips (optional)
Peanut Butter Frosting:
2 cups (4 Sticks) unsalted butter, softened at room temperature
1 cup creamy peanut butter
4-5 cups powdered sugar
2-3 tablespoons heavy cream
2 teaspoons pure vanilla extract
Instructions
Heat oven to 350 degrees F. Line 2 muffin tins with cupcake liners.
In the bowl of a stand mixer, sift together the sugar, flour, cocoa powder, baking powder, baking soda, and salt.
In another bowl whisk the eggs, milk, olive oil, and vanilla.
With the mixer running on low, gradually add the wet ingredients into the dry and mix until fully incorporated, about 2-3 minutes on medium-low speed. Scrape down the sides of the bowl and add the boiling water; mix until the batter is smooth. The batter is supposed to be thin.
Divide the batter into the prepared cupcake liners. Bake the cupcakes until a toothpick inserted into a couple cupcakes comes out clean, about 12-15 minutes. Allow the cupcakes to cool in the pan for 2-3 minutes and then transfer to a cooling rack to cool completely.
While the cupcakes are cooling, make the frosting. Whip the butter in the bowl of stand mixer fitted with the paddle attachment until light and fluffy, about 5 minutes. Add the peanut butter and mix until smooth. Reduce speed to low and add in the rest of the ingredients. Mix on low for 1 minute and then increase speed to medium-high and beat frosting until light and fluffy, about 3-4 minutes.
Frost cupcakes and top with chopped peanut butter cups or Reese's pieces.