Flower Cupcakes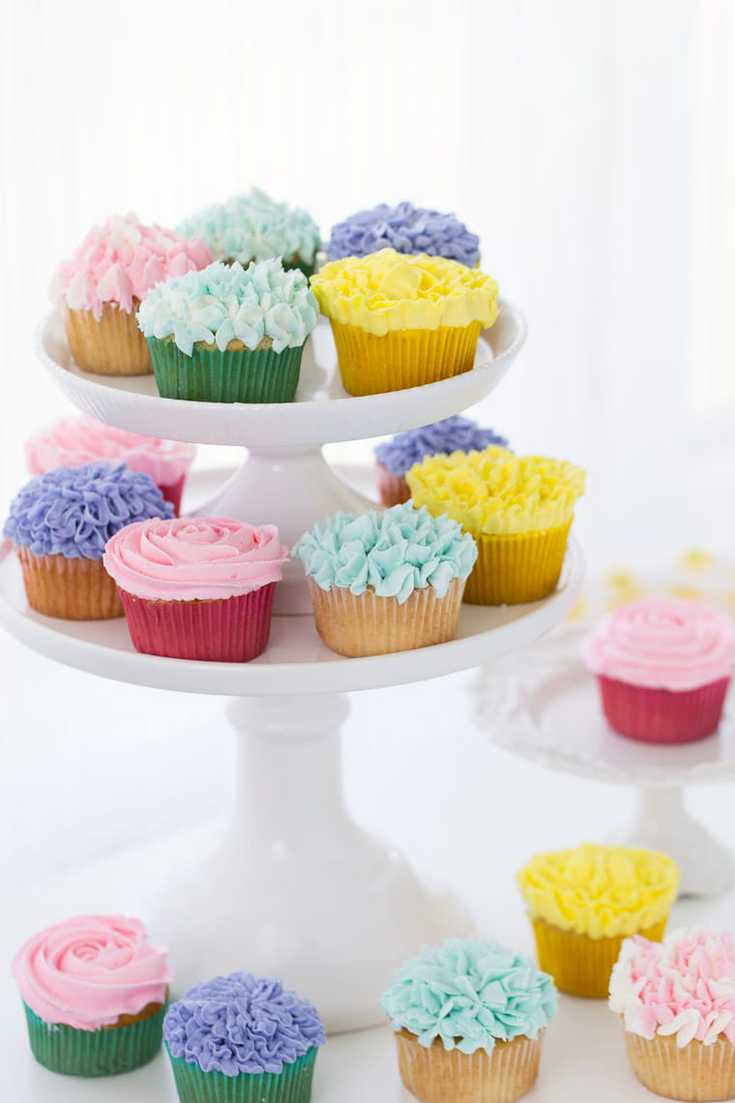 Mother's Day is just around the corner and now that it is finally Spring, why don't we celebrate both with these flower cupcakes? This year, you need to show up for Mother's Day with a bouquet of these cupcakes instead of a bouquet of flowers. Wait… no, bring the bouquet of flowers too because who doesn't love flowers? Just make sure these flower cupcakes are part of your Mother's Day plans!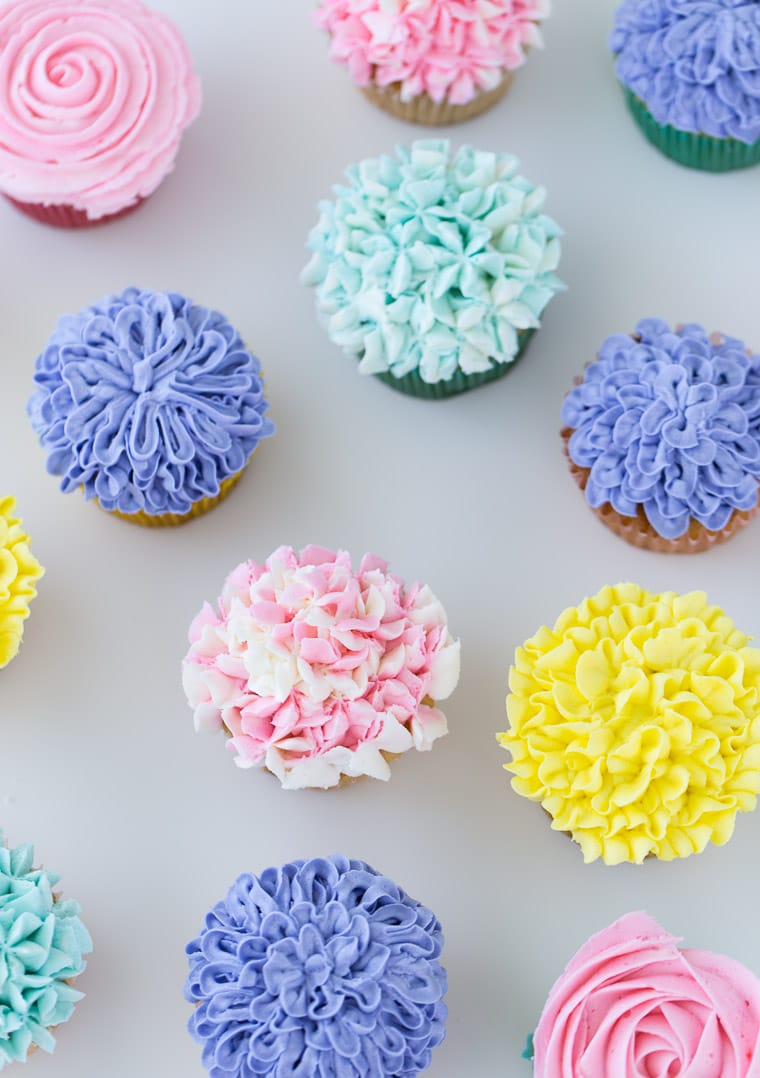 I've been meaning to make some sort of flower cupcakes for years but I always get side tracked or lazy since they look so intricate and difficult. (Spoiler alert: they are NOT!) This weekend I finally caved after I made some lavender honey cupcakes from a recent Better Homes and Gardens siting. The floral lavender flavor inspired me to grab my decorating bags and tips and give flower cupcakes a try. Actually, the lavender honey cupcakes are over on Delish Dish right now, so go grab the recipe there.
Back to these cupcakes though, I decided to do pink roses, yellow carnations, blue and pink hydrangea and purple chrysanthemum (wanna be) flowers, all very easy to bring to life on a cupcake. So let's start with some helpful ways to do these, shall we?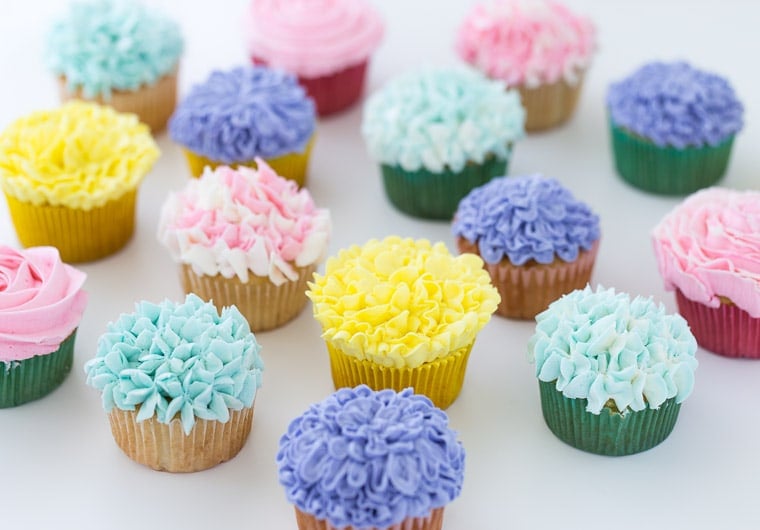 First, start with a batch of your favorite vanilla cupcakes. I used this lavender honey cupcake recipe for these cupcakes but you can use any recipe you like. Here's my favorite vanilla cupcake recipe.
Second, and most importantly, use a well bodied and stable frosting for decorating. I used my whipped buttercream frosting and love how easy it is to color and how it holds up great to piping. Choose your frosting wisely and you will have an easy, fun time decorating these cupcakes.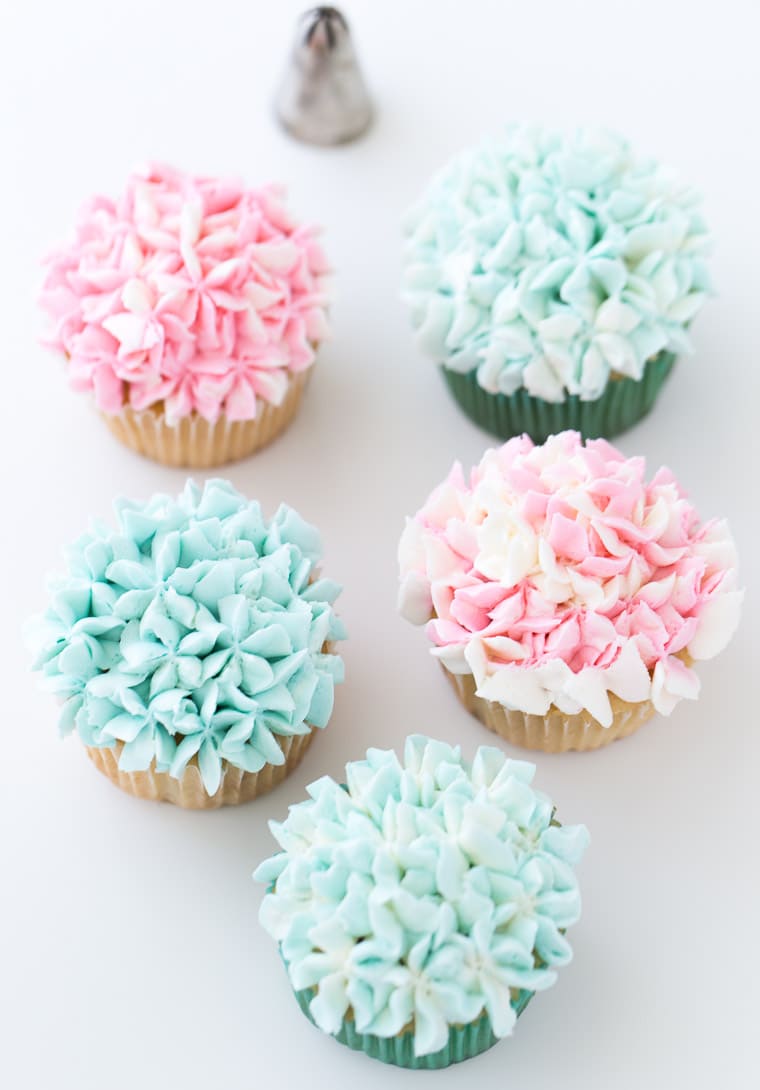 Now, collect your tools. You will need decorating piping bags, gel paste food colors and decorating TIPS. Below are the decorating tips you need for each flower you see here. If you don't have any of them, here's a great beginner's set that includes of the ones I used and other basic tips.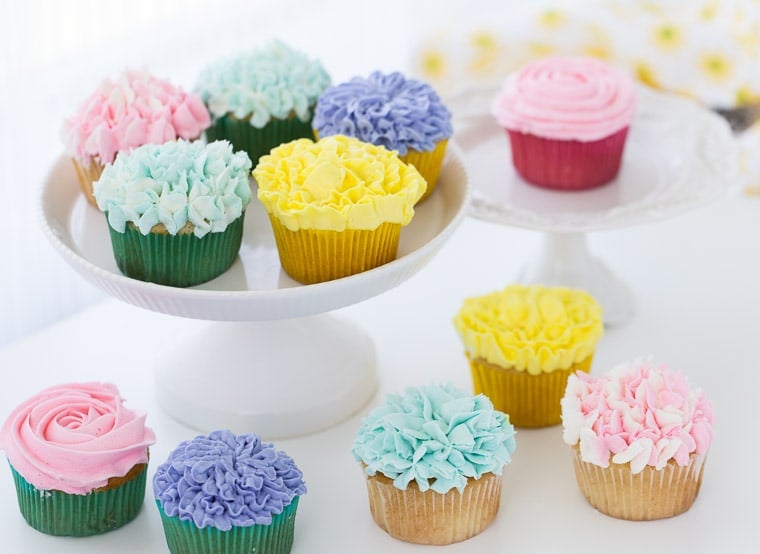 Next, you will need to color your frosting. Decide on the colors and portion out the frosting into small mixing bowls. Use one drop of gel coloring at first and add more if needed. I stuck with pastel colors for Spring but you can use any colors here.
And finally, just have fun with the decorating! I don't have step-by-step pictures for you here because it is really easy. If you know how to attach a decorating tip to a pastry bag, the hard work is done. Just follow the directions below on positioning the tips and go for it. I also linked to some videos for those of you who would like some visuals.
I hope this Spring you will make these cupcakes to brighten up someone's day! Especially Mom on her special day.
xoxo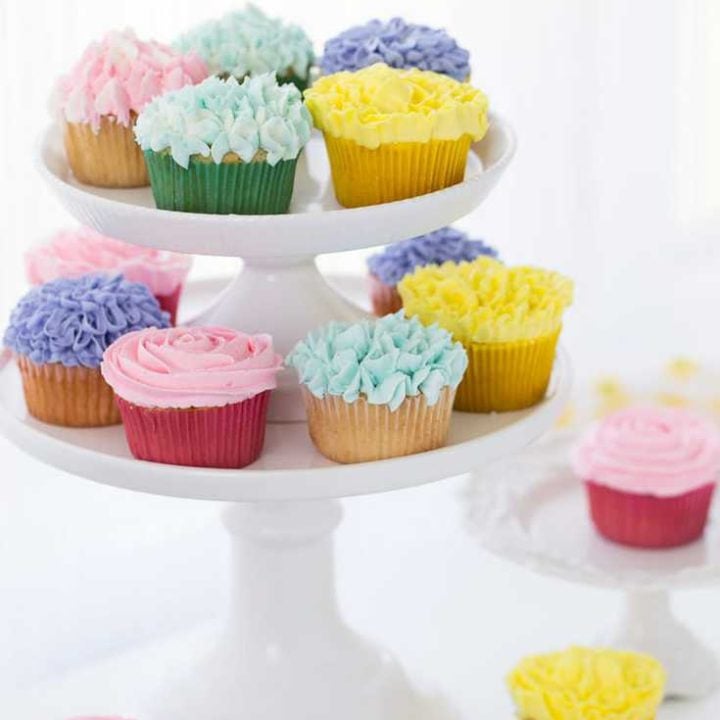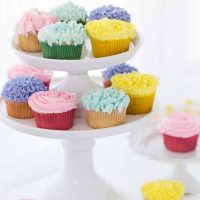 Yield: 15 cupcakes
Flower Cupcakes
Additional Time
30 minutes
Total Time
1 hour
50 minutes
Instructions
For the Hydrangeas:
Color 2 cups of your frosting blue/teal. Mix in some white into the frosting but do not blend all the white in so you have streaks of it.
Fit Wilton Tip 2D to a decorating bag and fill with the frosting.
Starting on the outside, position your tip straight above the cupcake and pipe out stars. Each star will be 'spiking' up. Go around the cupcake and fill in the centers the same way. Increase your squeezing pressure if you want higher 'stars'.
For the Carnations:
Using yellow frosting, fill a decorating bag and attach Tip 104. Grab a smooth topped cupcake and place the Tip in the center of the cupcake (with the widest part of tip down and thin edge upwards). Apple some pressure to the bag and pipe a closed wavy center. Go around this center slightly making waves. You can make the petals tighter by angling the tip inward or looser by angling the tip outwards.
For the Rose Swirls:
Using Wilton tip 1M and pink frosting, place the nozzle in the center of the cupcake. Be sure the tip if straight up. Start piping a swirl around a circle and rotate the cupcake as you go. Finish by pulling away when you reach the edge of the cupcake.
For the chrysanthemum:
Note: Mine turned out different than the chrysanthemum but that's because I used a smaller tip and didn't angle my tip up. So learn from my mistake.
Using the purple/violet frosting, fill a pastry bag fitted with tip 79 (or 59). Holding the bag at a 45-degree angle against the edge of a cupcake, gently squeeze the bag while pulling out in a quick stroke. Repeat this all around the cupcake and then form layers by filling in the center. For an upward spiking petal, pull the bag upward with each layer as you go around.
Recommended Products
As an Amazon Associate and member of other affiliate programs, I earn from qualifying purchases.
Disclosure: Some affiliates links included above.