Kale Salad with Radishes and Lime Vinaigrette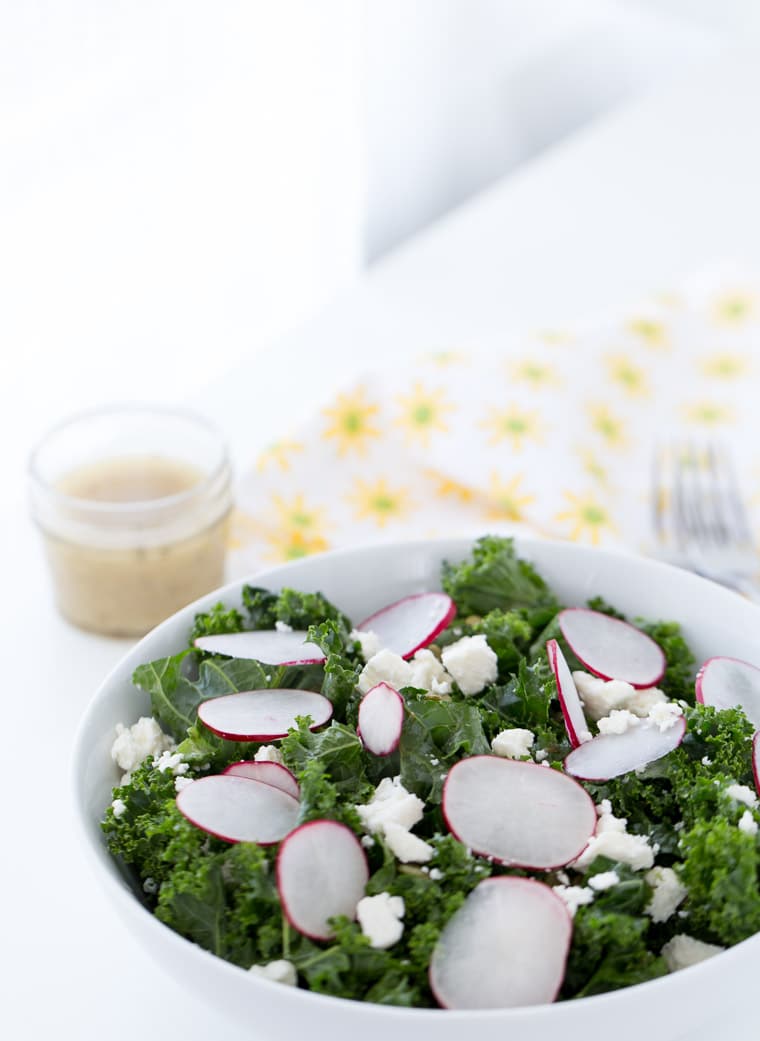 You guys!! Hi! I miss you.
Even though, I've been stopping by every now and then on the blog to check on its existence, I've been mainly MIA online. I am knee-deep in writing my dissertation thesis and even though it is coming along well, I am not enjoying it. I am finding out now that I do not like writing super long documents as much as I thought, which makes writing a 200 page document like this very hard, especially when you have a deadline looming. As you can imagine, the only thing that has been keeping me afloat is FOOD!! Lots of food.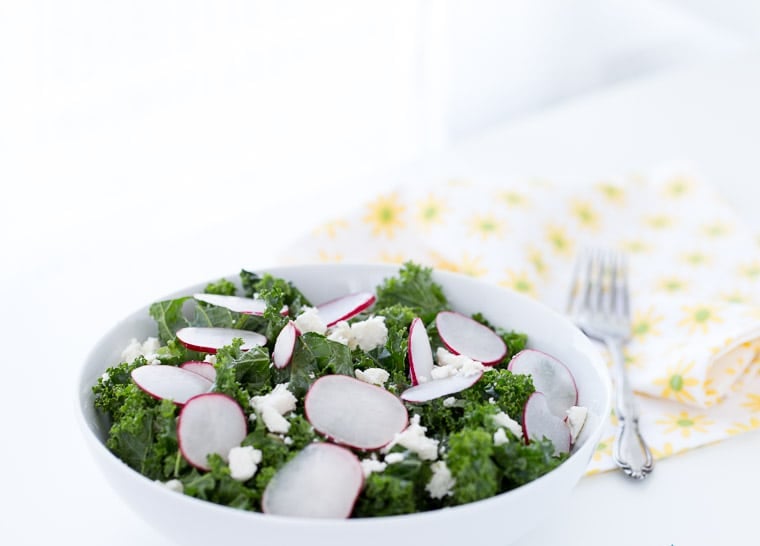 Given, I can only focus in public spaces like coffee shops and cafes (I am not a library kind of person), I've consumed lots of lattes lately along with eating most meals out . This kale salad with radishes and lime vinaigrette has been one of my favorite lunches at a local cafe. I get it every time I am there but decided I should probably save myself some money and just make it at home given how simple it is! I figured why not share with you, in case you are looking for some new exciting ways to eat your greens.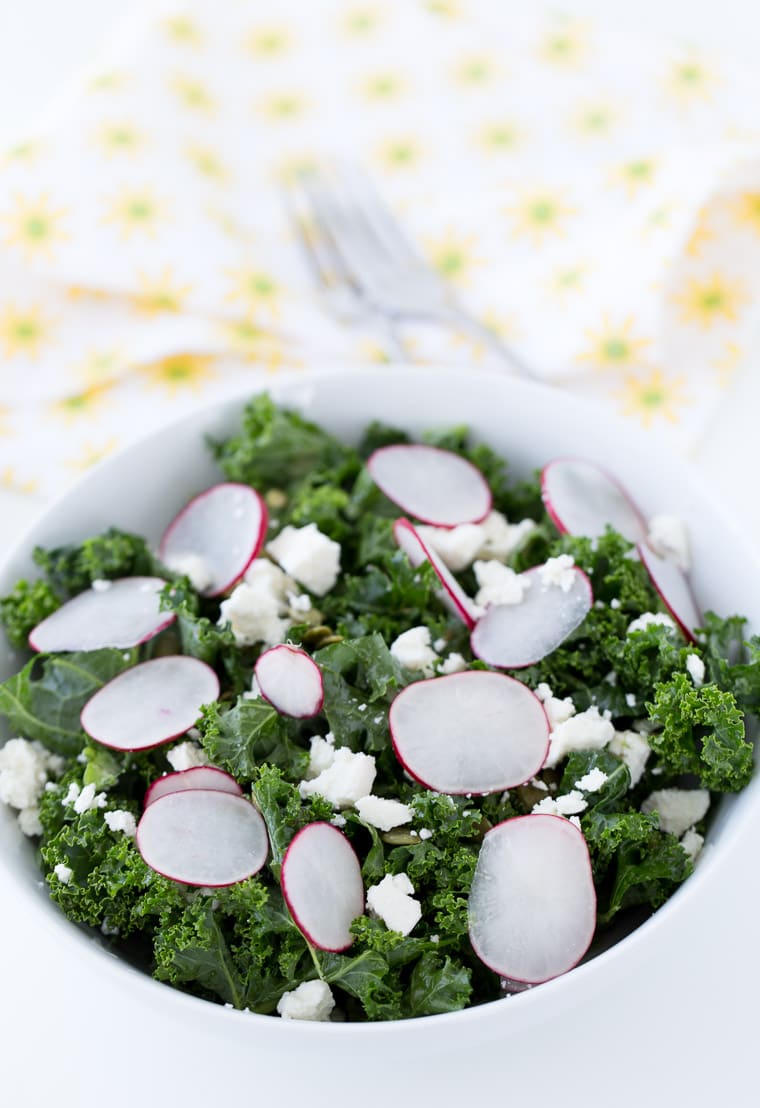 The salad is made up of fresh kale tossed with a fresh lime vinaigrette and filled with toasted pepitas, sliced radishes and queso fresco cheese. So simple and yet so so good.  I've been addicted to it and just had to share.For a heavier meal, add in roasted chicken, turkey or tofu. I hope you will try it as I know you will love it too.
Until next time, enjoy this salad!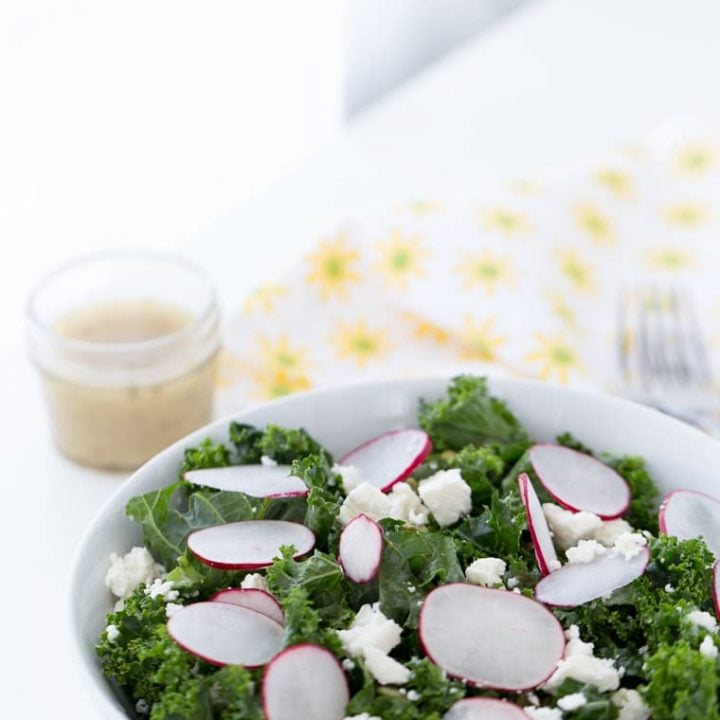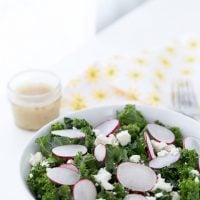 Yield: 2 servings
Kale Salad with Radishes and Lime Vinaigrette
Ingredients
3 cups fresh kale
2 small radishes, thinly sliced
2 tablespoons pepitas, toasted
1/4 cup queso fresco cheese, crumbled
Lime vinaigrette (recipe below)
Lime vinaigrette:
1/4 cup freshly squeezed lime juice
1/4 teaspoon salt
pepper to taste
a pinch of sugar
1/2 cup extra-virgin olive oil
Instructions
To start, make the vinaigrette. In a small bowl, whisk together the lime juice, salt, pepper and sugar. Slowly add the olive oil, whisking until emulsified.
For the salad, toss the kale with the lime vinaigrette. Top with radishes, pepitas and cheese.