Chocolate Peanut Butter Banana Bread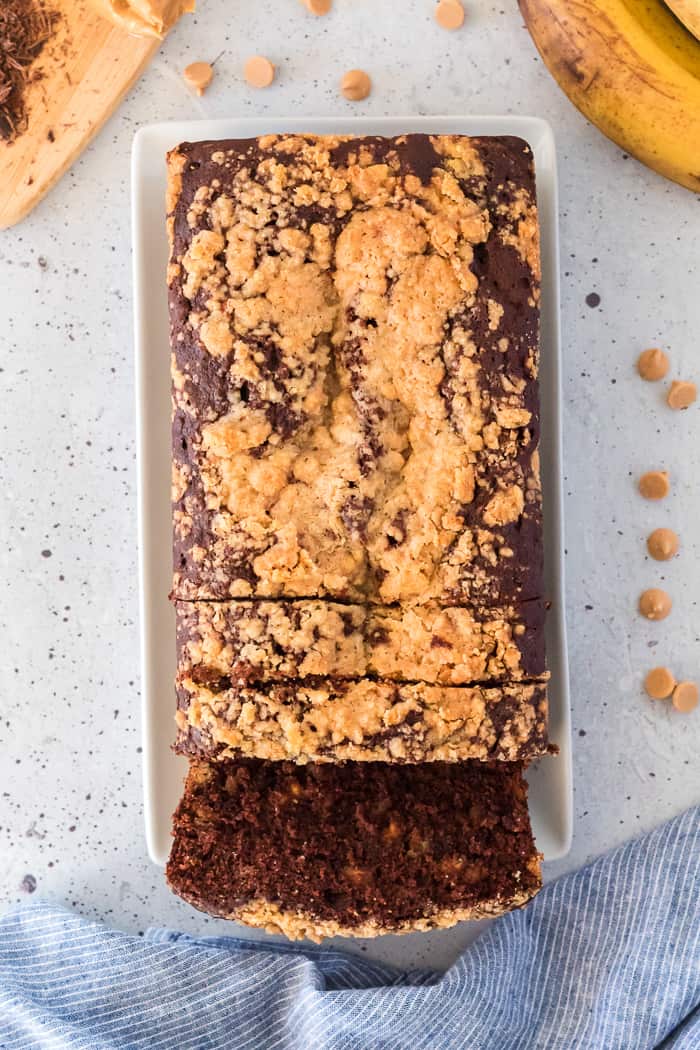 Hey there friends! I have a treat for you. This Chocolate Peanut Butter Banana Bread combines the nutty and sweetness of a combination that has been loved around the world for years, with moist and flaky banana bread.
This winter has been extremely cold where I am (like in the teens some days!), so I only leave the house on the weekends when I have to. While I am enjoying these brisk days that force us to slow down and spend some quality time with the fam, I am also enjoying all the attention my kitchen is getting. If you ask my family they would agree with that too since they get they are my live-in taste testers.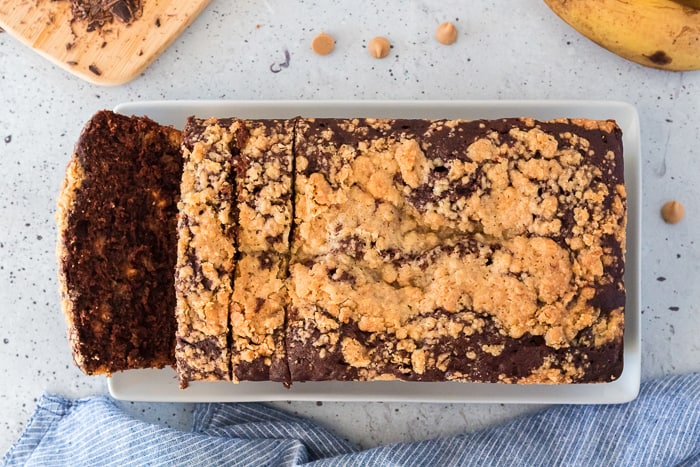 We all have our favorite go-to comfort recipes that just warm you up from the inside out on these freezing days. One of my favorites is a fresh homemade loaf of bread. The aroma fills your kitchen along with enjoying a fresh moist piece right out of the oven. This chocolate peanut butter banana bread is just what a winter bake needs!
If you're craving more goodness try my chocolate cupcakes with peanut butter frosting.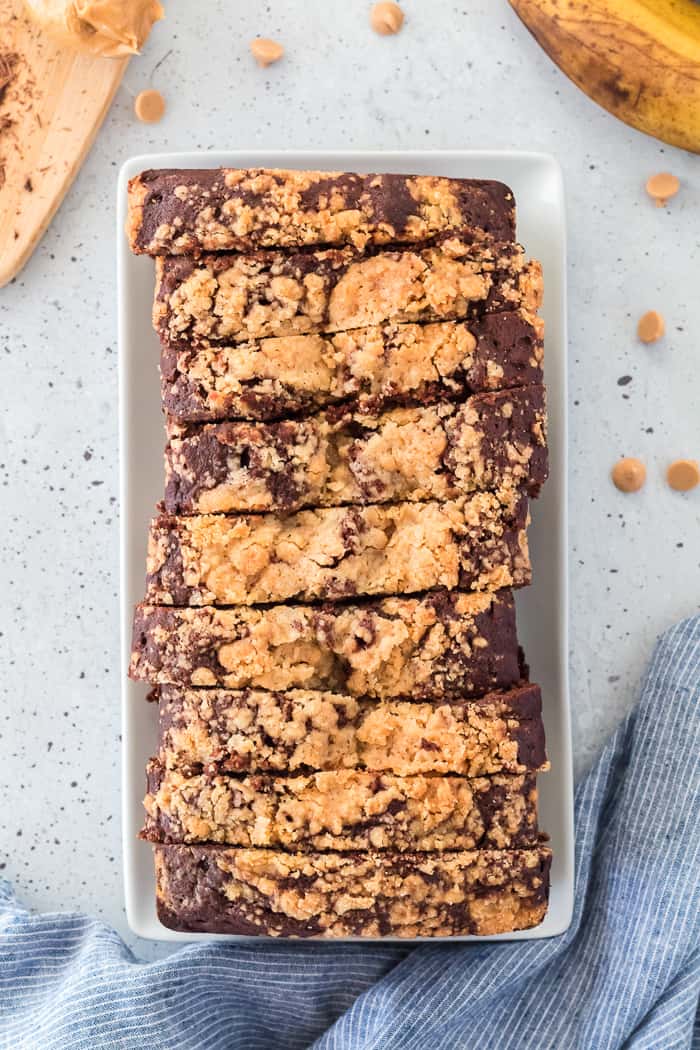 I think we can all agree that the first time we had chocolate and peanut butter together, it was life-changing. Now adding those flavors into this bread makes it more of a dessert but still can be enjoyed any time of the day.
Banana Bread traditionally is filled with ripened bananas, sugar, and vanilla that creates a dense but moist loaf that just needs a spread of melted butter for the optimal enjoying experience. The peanut butter makes this bread even moister (is that a word??) with the creamy texture we love. You can use chunky if you want an additional crunch but I used creamy peanut butter in this recipe.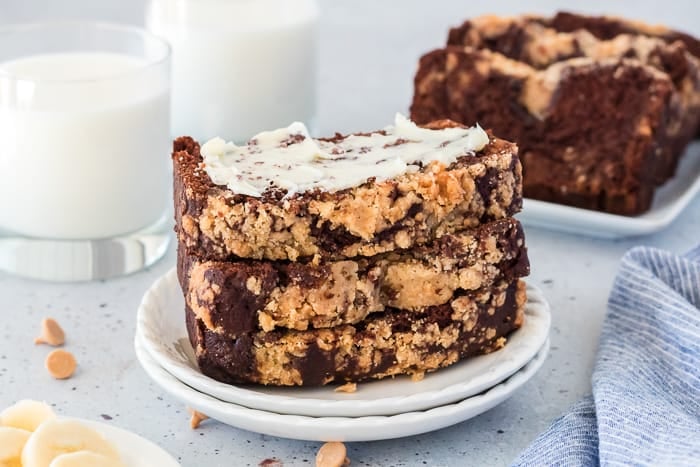 I'm a chocolate lover so I always add extra chips in my recipes but you can definitely use more or less depending on your preference. Even with such sweet ingredients, I serve it to my kids for breakfast sometimes after reheating for a few seconds to allow your butter to melt into every crevice. There is no occasion that this Chocolate Peanut Butter Banana Bread wouldn't be welcomed. You may want to make an extra one just to enjoy for yourself because no left-over's will be coming home with you :-).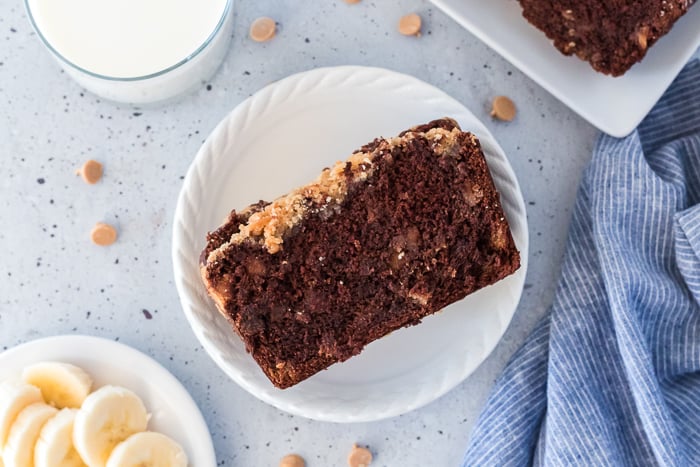 If you are a true banana bread lover, then you must check out this Banana Bread Smoothie, Banana Coconut Bread, or any of these recipes.
If you love chocolate and peanut butter try these peanut butter high hat cupcakes.
What do you think of this recipe? Let me know in the comment section below. Also, let me know any fun twist you have added to your traditional banana bread recipes. If you share across social media, make sure to tag #aclassictwist so I can see all your beautiful creations.
Until next time, Happy Baking everyone!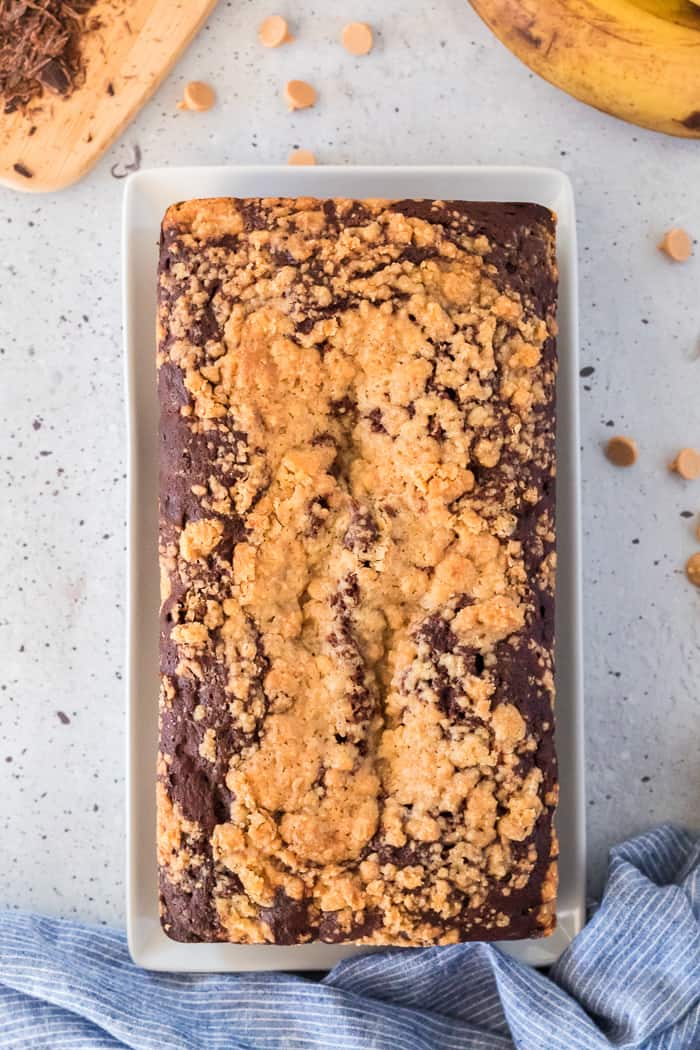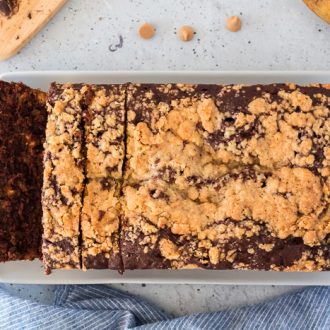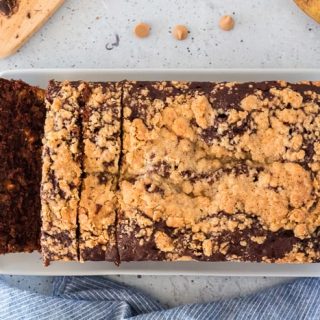 Yield: 8-12 servings
Chocolate Peanut Butter Banana Bread
The classic combination of chocolate and peanut butter in a loaf of banana bread!
Cook Time
1 hour
5 minutes
Total Time
1 hour
30 minutes
Ingredients
Peanut butter crumble
3 tablespoons granulated sugar
2 tablespoons flour
1 tablespoon unsalted butter, softened
1 tablespoon creamy peanut butter
Batter
1 ¼ cup flour-all purpose
1/3 cup cocoa powder, unsweetened
1 teaspoon baking soda
1/2 teaspoon kosher salt
6 tablespoons unsalted butter, softened
1 cup granulated sugar
1 large egg, beaten
1 teaspoon vanilla
2 medium bananas-mashed
1/2 cup buttermilk
1 cup peanut butter chips
Instructions
Grease a 9x5 loaf pan and preheat the oven to 350 degrees F.
In a small bowl, cream together all the peanut butter crumble ingredients; set aside.
Whisk flour, cocoa, baking soda, and salt in another bowl.
In a large bowl or bowl of a stand mixer, cream together softened butter and sugar until light and fluffy, about 3 minutes on medium speed.
Add beaten egg in increments, about 2-3, mixing in each addition completely before the next. Beat mixture until light and fluffy; about 1 minute. Scrape the bowl's sides and bottom to ensure everything is mixed well.
Add in vanilla and mashed bananas. Beat until combined. Slowly add in the buttermilk in 3 additions.
In 2 increments add the flour mixture and mix until well combined.
Using a rubber spatula, stir in peanut butter chips.
Pour the batter into the prepared pan and then top with peanut butter crumble, tapping down lightly.
Bake bread for 55-65 minutes or until a toothpick inserted into the center comes out clean.
Let cool for at least 15 minutes in the pan, then turn out of the pan onto a rack until cooled.
Serve warm!!
Notes
Store in an airtight container at room temp for up to 3 days, refrigerate for 7 days, or freeze for up to 3 months in a freezer container.
If using unsalted butter add 1/2 teaspoon of salt to the batter. Crumble needs no additions.
Make your own buttermilk with 1/2 cup of milk (no skim) and 3/4 teaspoon of lemon juice or vinegar.
You can substitute other chips or nuts for the peanut butter chips if desired.
Chunky peanut butter can be substituted for a little extra crunch.
Allergies? Peanut butter can be left out. Peanut butter chips can be substituted with your favorite chocolate chips/chunks or left out altogether. Crumble will need 2 tablespoons of butter instead of 1 tablespoon.
Recommended Products
As an Amazon Associate and member of other affiliate programs, I earn from qualifying purchases.