King Cake Recipe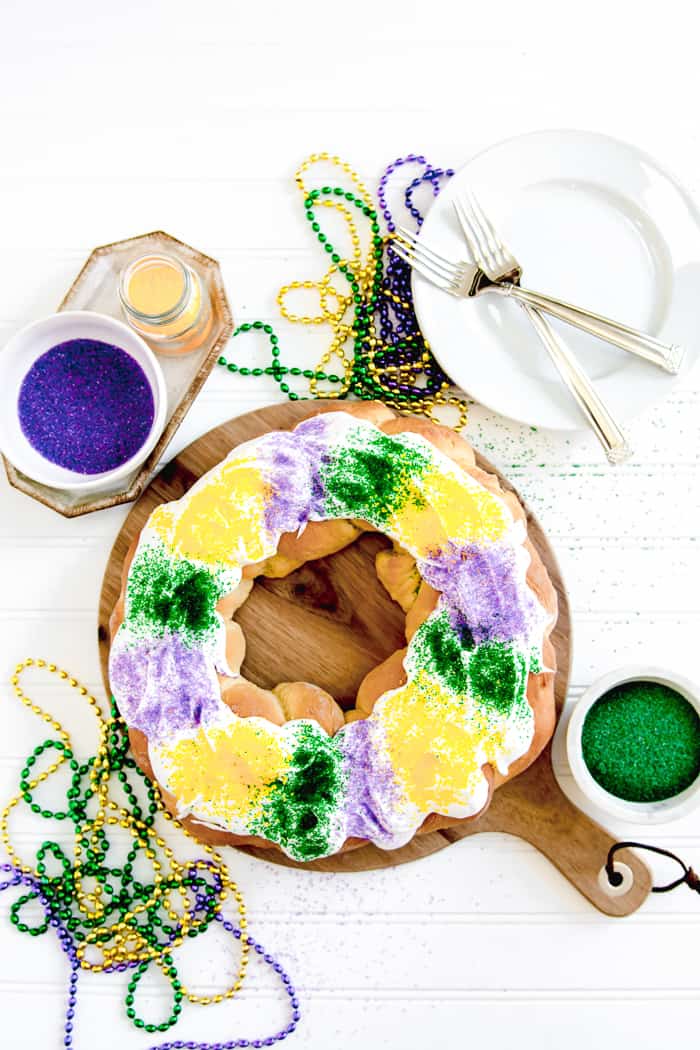 This recipe is sponsored by Domino® Sugar. All opinions are 100% mine. Thank you for supporting brands that make it possible for me to continue creating recipes for you.
Hello friends! I have a great new recipe for you today. As we say goodbye to Black History Month, I am welcoming Mardi Gras season. This King Cake Recipe is a great way to experience the wonder of a Mardi Gras staple if you are not lucky enough to find yourself in New Orleans for Mardi Gras season.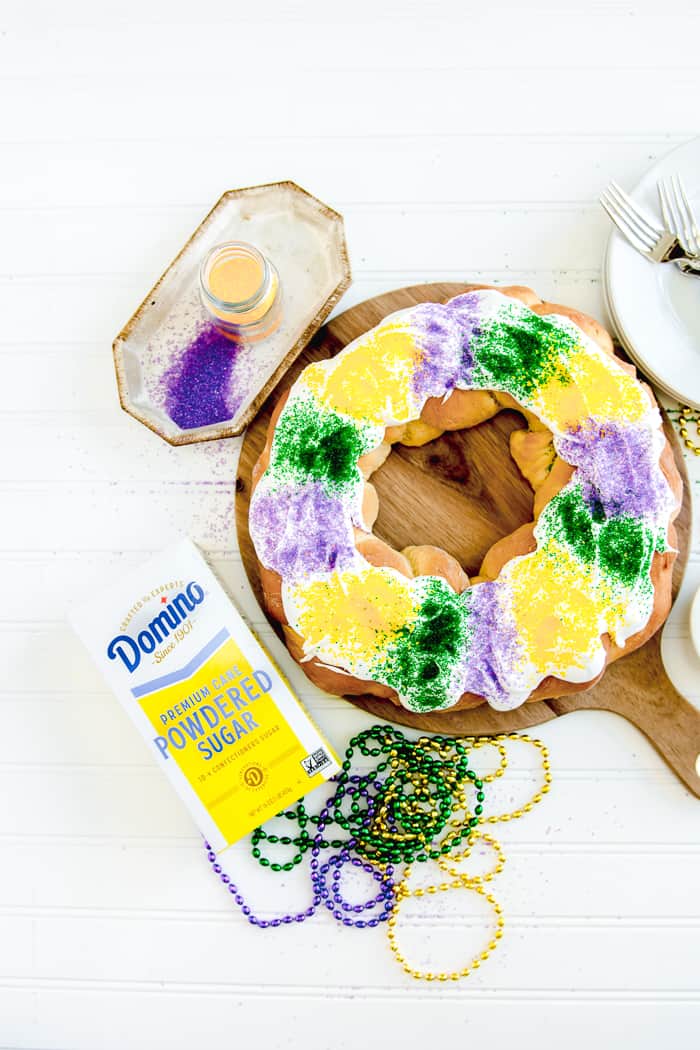 When I first moved to the US, I was excited to explore all the different cultures that make up this country. I am very blessed to say I've traveled a decent amount in my life and across the US. One of my favorite cities in the US is New Orleans. A city full of history, culture, and dang good food! Walking around the old streets with vibrantly colored homes, businesses, and surrounded by history was such a beautiful experience.
Let's face it, the biggest enjoyment was all the food. Creole and French-style cuisine were so comforting, given the heavy Creole culture in Sierra Leone. All the spices, flavors, and just delicious food that people put their heart and soul into creating really were amazing and it keeps bringing me back to that city. I've returned at least twice!!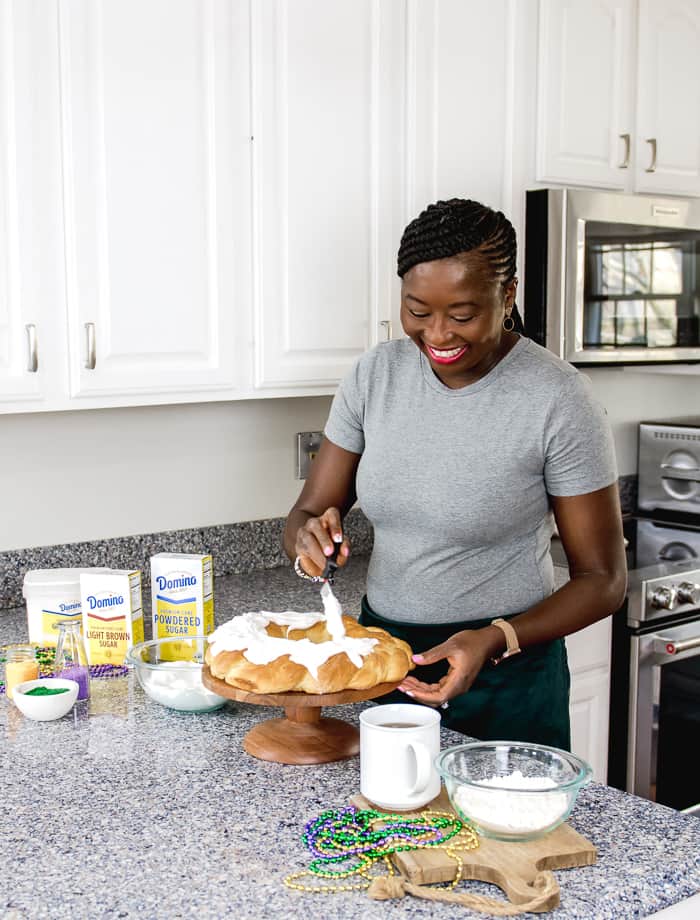 My last visit was for a Sugar Farm to Table tour where I experienced the amazing journey of how sugar is produced in Louisiana. From sugar canes on the farm to white granulated sugar in the Domino® Sugar refinery. Visiting the Domino® Sugar refinery that processes raw cane sugar to the different product forms was definitely a highlight of the trip. Through the site visit, I could see the dedication to quality product each member of the team displayed and it is no wonder Domino® Sugar has been a trusted sugar company for 120 years.
One thing I never got to enjoy in New Orleans was the world-renowned Mardi Gras celebration. If you have never been or seen it, I highly recommend exploring the history and culture behind it. The beads and booze are a fun aspect to enjoy, but do you really know how it originated and the meaning behind it?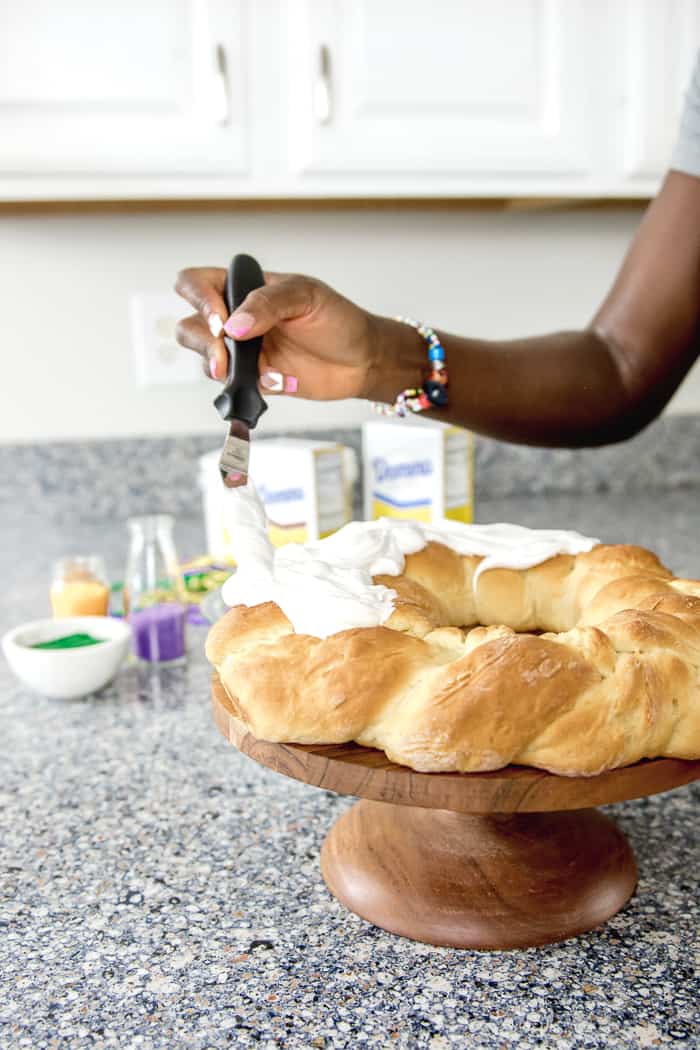 Mardi Gras has been around since the 1600s and was named by an explorer whose destination was where New Orleans is now. He settled on what would have been Fat Tuesday back in France so he named it Mardi Gras, held a small party. While the focus and celebration have evolved over the years, the city definitely celebrates all its culture and history during Mardi Gras. It is a great time to visit New Orleans.
A King Cake is the traditional dessert to serve during Mardi Gras. It is a cross between a French pastry and a crumbly coffee cake for an irresistible texture and flavor. This recipe is sweetened with Domino® Sugar Granulated Sugar and Powdered Sugar for that unbeatable sweetness we all know and love.
King Cake is decorated in royal colors; purple, green, and gold. These colors are very important to creating a traditional festive cake. The purple color represents "Justice", the green "Faith, and the gold represents "Power". It is almost always made in an oval formation to represent unity. Inside the cake is usually a surprise, a small plastic baby or pecan is hidden inside and the person who finds the surprise has to bring the next King Cake. What a great way to keep the celebration going!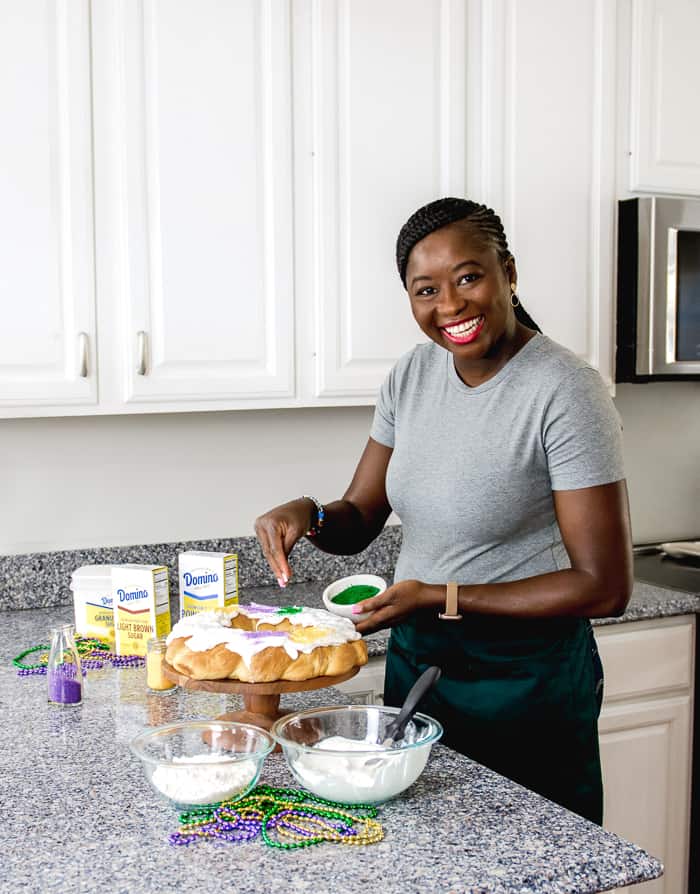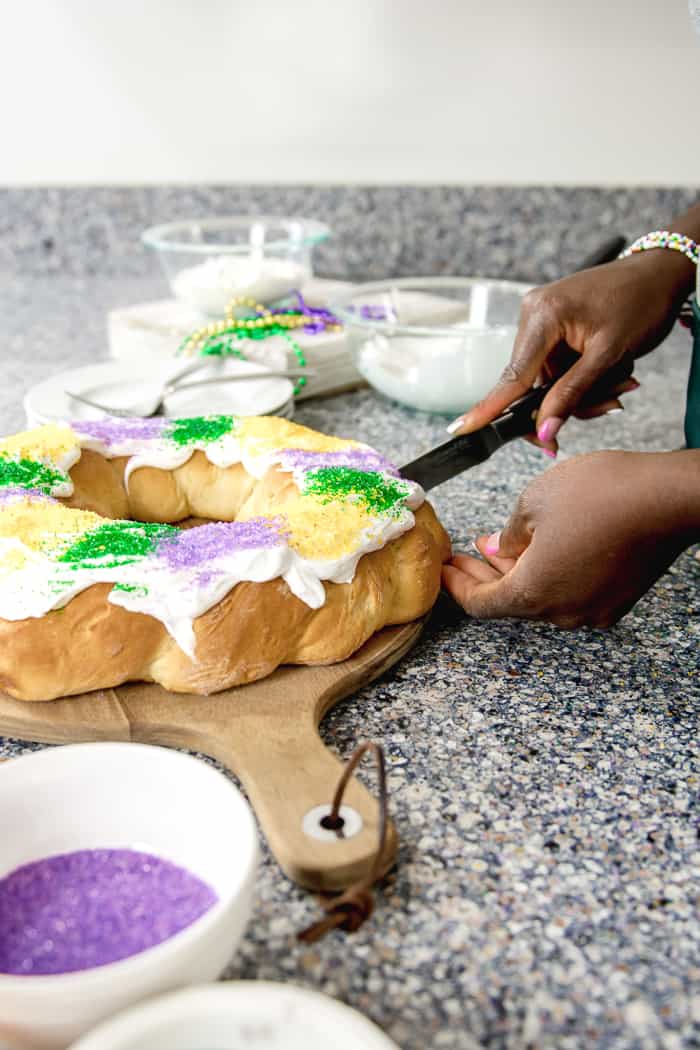 If you've ever wanted to try a King Cake Recipe, then try this recipe from Domino® Sugar. It is simple, easy, and shares the culture of New Orleans with all those who want to enjoy it. As Mardi Gras is just around the corner, this King Cake is on the menu for this weekend and I cannot wait for my kids to try it. My son is not a huge sweets fan (crazy right?) so this will be right up his alley. The cake itself is not too sweet and the royal icing on top is what brings on the smooth sweet flavor to each bite.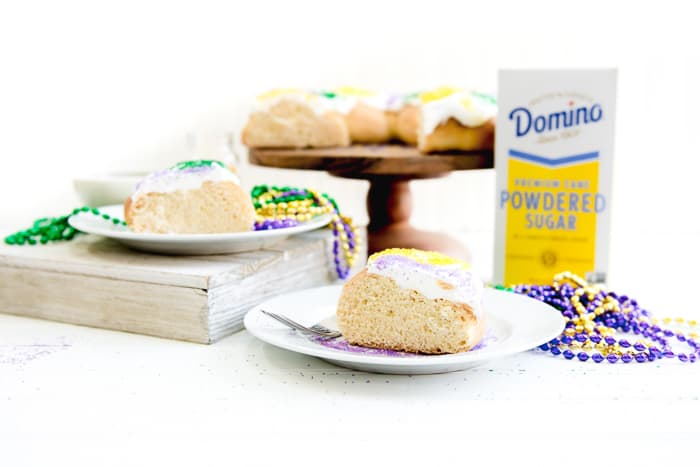 Have you visited New Orleans during Mardi Gras or enjoyed this delectable treat? Let me know in the comment section below. I love hearing your stories and how you felt about the recipe. As always, if you share across social media make sure to tag #aclassictwist so I can see your beautiful King Cake recipe come to life.
Happy Mardi Gras everyone!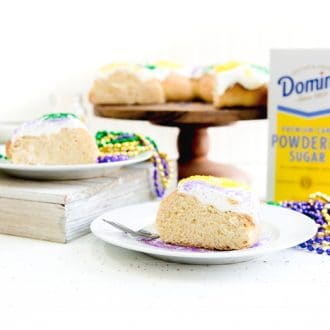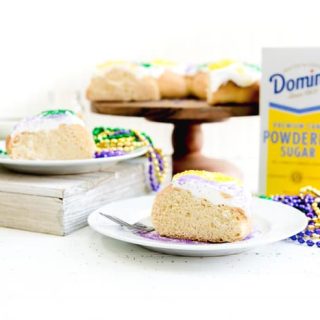 Yield: 1 9-inch cake
King Cake Recipe
Ingredients
Cake:
1 package active dry yeast
1/4 cup water, warm
3/4 cup milk
1/3 cup (2/3 stick) butter, softened
1 teaspoon salt
2 large eggs
1/2 teaspoon pure vanilla extract
1/2 teaspoon lemon rind, grated
3 1/2 cups all-purpose flour
1 dried bean or pecan half
Royal Icing:
3 tablespoons meringue powder
1/3 cup warm water
Instructions
Cake
In a small bowl, sprinkle the yeast over the warm water; let stand 5 minutes.
In a medium saucepan, set over low heat, bring the milk just to a boil. Remove from heat and add in the butter, sugar, and salt, stirring constantly until butter melts; let cool.
At medium speed with an electric mixer, beat butter mixture with eggs, vanilla and lemon rind. Stir in yeast. Reduce speed and gradually add flour, beating well after each addition, until a soft dough forms.
Step 4Turn dough out onto lightly floured board; knead 8 minutes. Place dough in a large greased bowl; turn once. Cover bowl with plastic wrap; allow to rise in a warm place until double in bulk (up to 1 1/2 hours). Turn dough out onto lightly floured board; knead 1 minute.
Step 5Divide dough into thirds. Place a bean or pecan half in one of the dough sections. Roll out each third of dough into a 30-inch length rope. Loosely braid the three dough strips from end to end. Form into a circle and seal ends.
Step 6Place dough ring on a cookie sheet. Cover with plastic wrap; allow to rise in a warm place until double in bulk (about 1 hour).
Step 7Preheat oven to 350°F. Bake for 25 to 30 minutes until golden brown.
Royal Icing
Combine all ingredients together in mixing bowl. Beat on low speed with whip attachment until combined then increase speed to medium high and beat for 5 – 8 minutes, adding 2-3 tablespoons more warm water, as necessary. Icing should be stiff enough to hold a peak when tested. Use this thick icing to outline cookies.
Put green, purple and yellow dyes in a separate bowls. Divide royal icing to each bowl. Mix until desired color is achieved.Use royal icing immediately.
Recommended Products
As an Amazon Associate and member of other affiliate programs, I earn from qualifying purchases.