Irish Cream Chocolate Truffles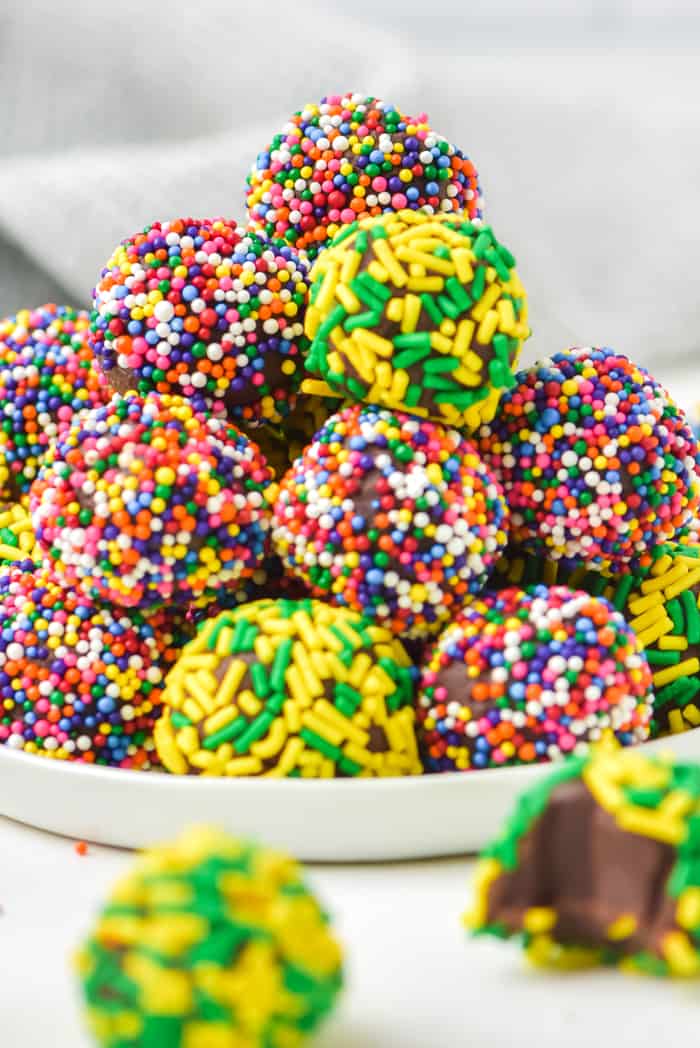 Hey lads and ladies, it's that time of the year when life is emerging again. Plants are poking their head out through the tough soil, trees are becoming fuller, days are longer, and the weather is warmer! That last one is my favorite part of all. While the world is blossoming a new green coat across the earth, green is also being added to all our baked goods, drinks, you name it!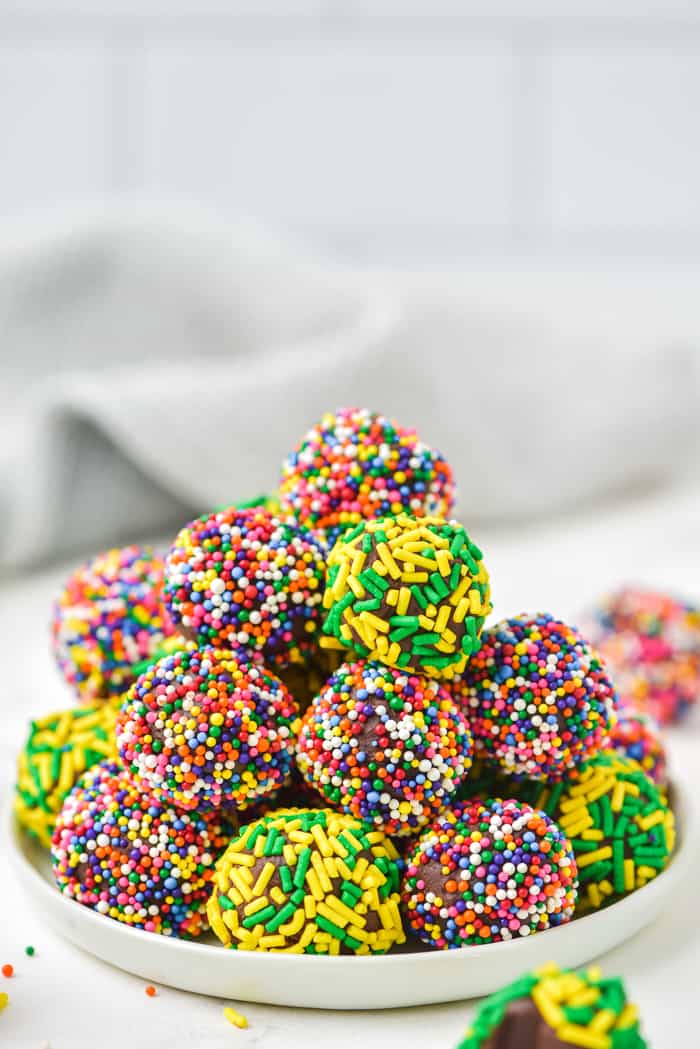 The luck of the Irish is upon us and what better way to celebrate than with these delectable Irish Cream Chocolate Truffles. Creamy, decadent, and dark chocolate balls infused with a favorite between my husband and me; Irish cream, Then roll in the most vibrant green sprinkles and shamrocks to serve on that festive day in between your green beers and lively music. I also used some rainbow sprinkles as well!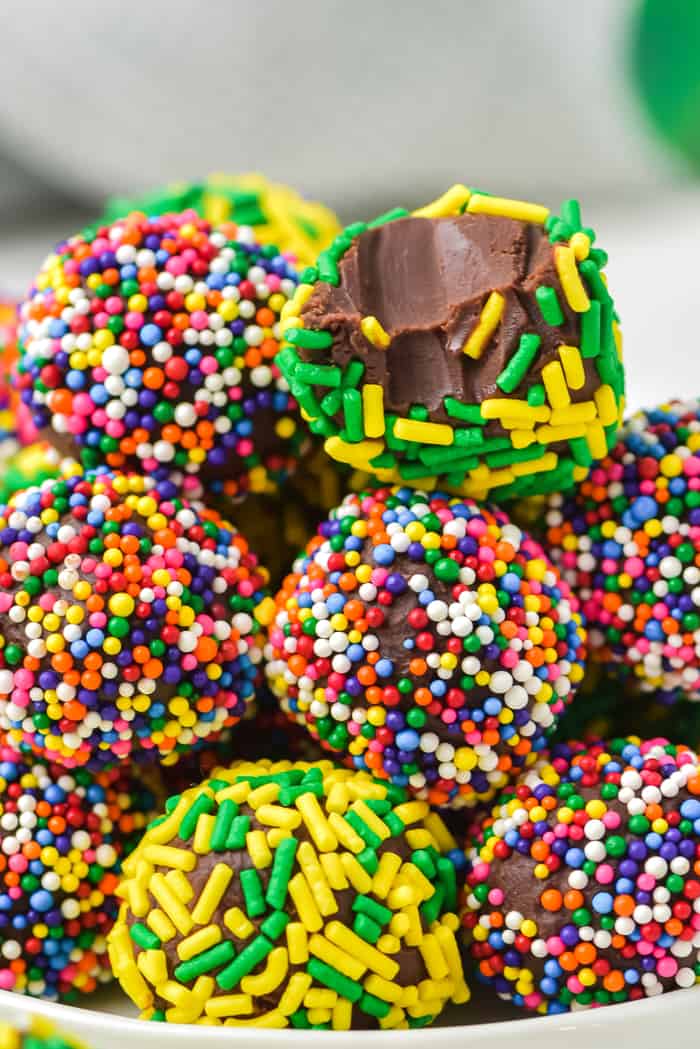 Whether you celebrate this Irish holiday or not, you can never go wrong serving these Irish Cream Chocolate Truffles for all your spring celebrations. Whether it is Easter, the first day of spring, or just the first warm weekend you can spend on the porch after a long day with a big glass of wine. All you need is to change the sprinkles and even the spirit you put in there. Try bourbon!!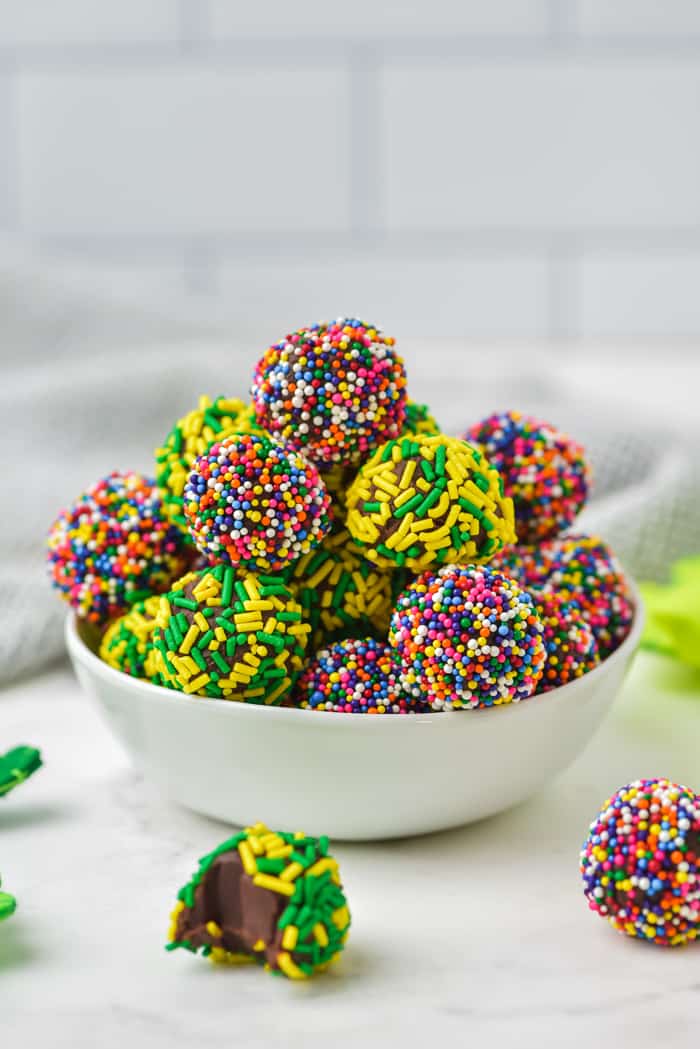 I haven't even told you the best part yet, it only takes three simple steps and a handful of ingredients to create these sweet balls of chocolatey goodness. Let's walk through it!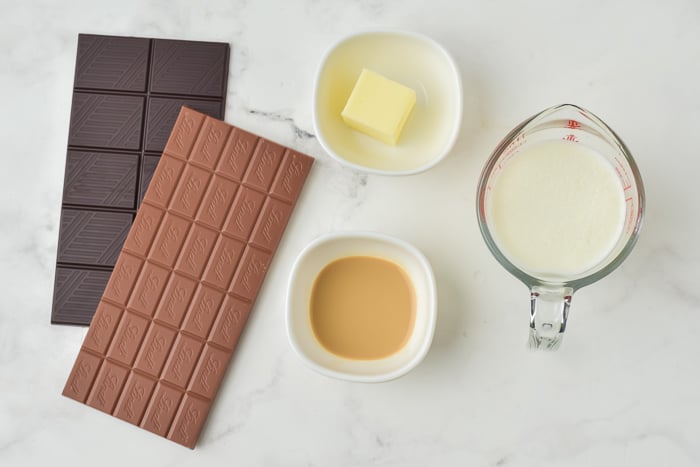 Place your preferred chopped chocolate in a deep bowl.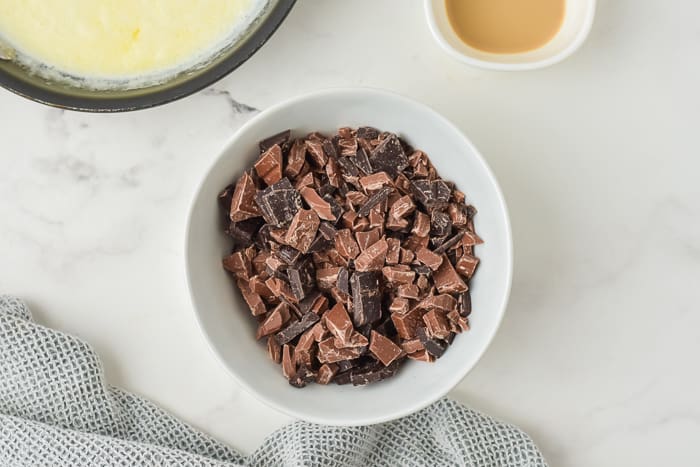 Heat heavy cream and butter on the stove until it begins to boil, and then pour over your chocolate.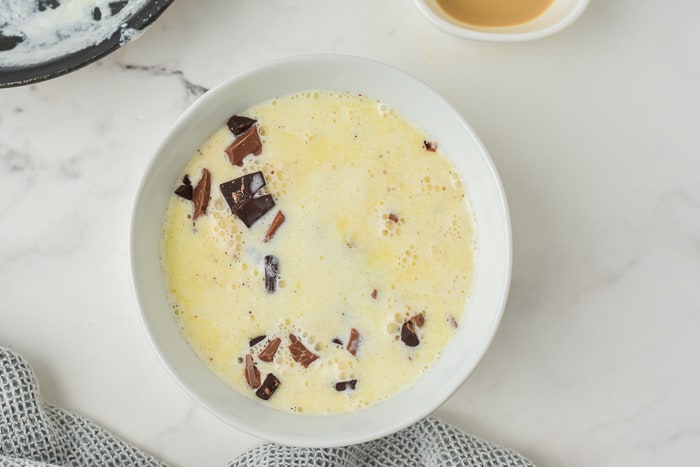 Let it melt together for a few minutes before stirring.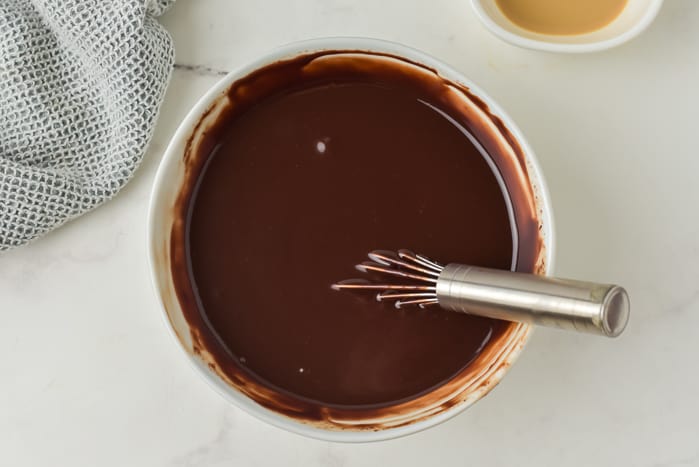 Add in Irish cream ( you can also opt to leave this ingredient out), cover, and chill for at least 3 hours or overnight for the best results.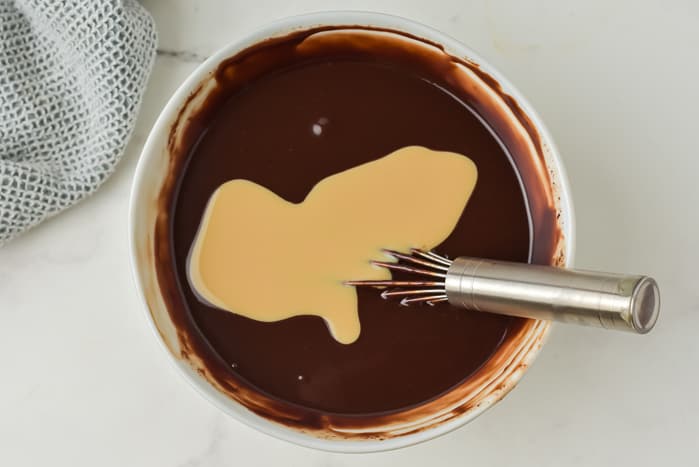 Scoop the chocolate into bite-sized balls.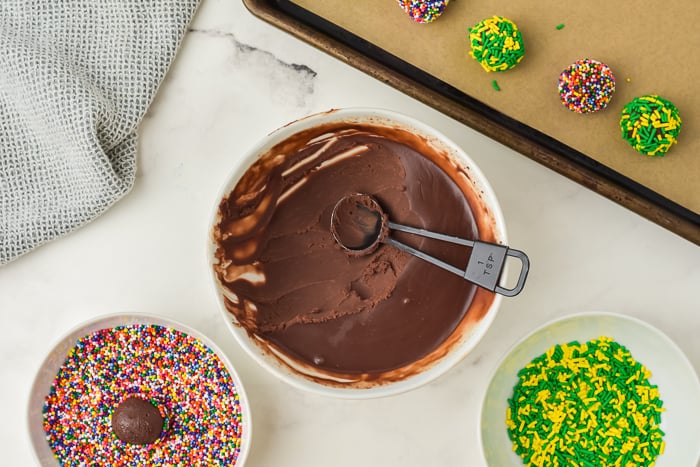 Roll each one into sprinkles and cocoa powder or chopped nuts for a crunchier texture.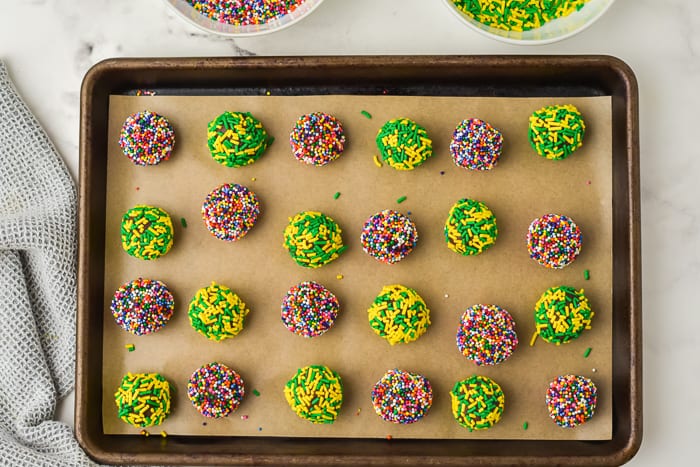 Viola! You now have delectable treats on the go!
I always make one batch for my husband and me and one for the kids. My excuse is they can't have the adult version one so that means mom and dad's chocolate is always safe from little fingers. I'm sure my mom friends can agree that going for that last cookie or scoop of ice cream to wind down at night and finding it gone is heartbreaking lol.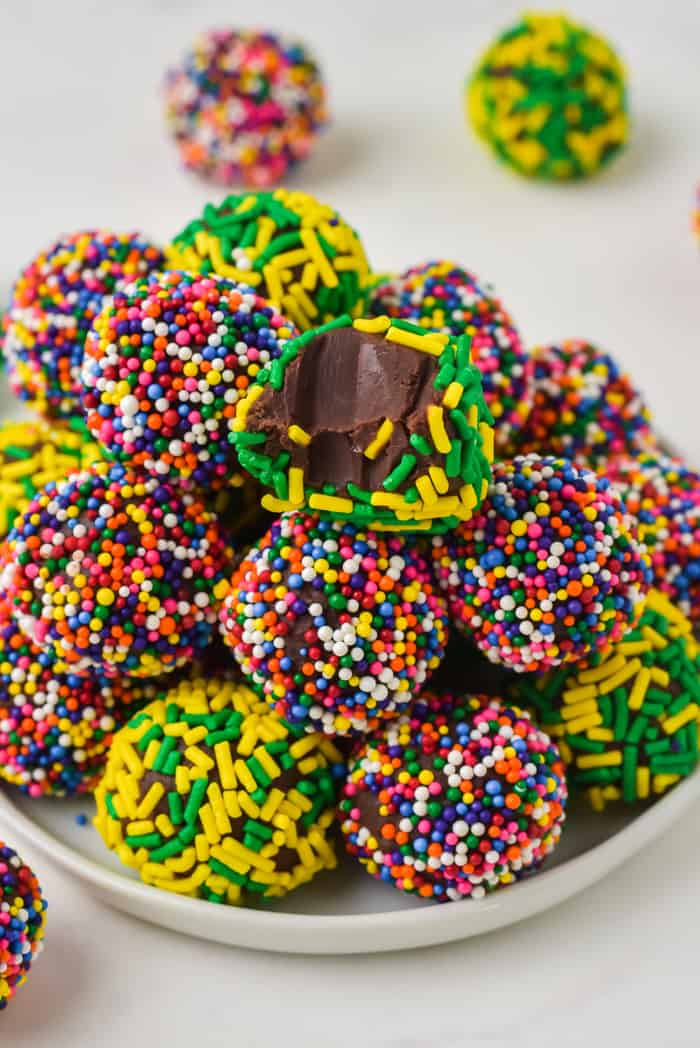 If you want to celebrate your Irish heritage or just enjoy some recipes inspired by different areas of the world, then make sure to check out my St. Patrick's Day Recipes here.
How many of these would you eat? Let me know what you think of these Irish Cream Chocolate Truffles and how you decorate them. If you share across social media, make sure to tag #aclassictwist so I can see all your beautiful creations come to life.
Happy Baking.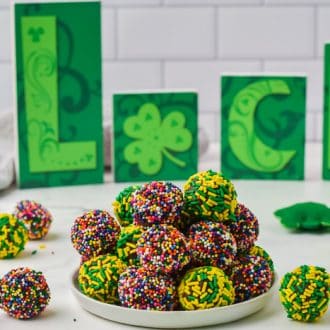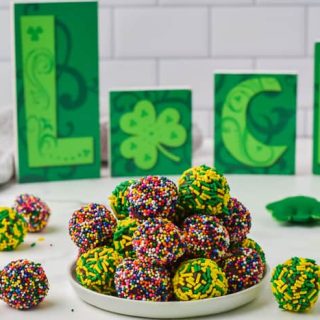 Yield: ~30 truffles
Irish Cream Chocolate Truffles
Irish Cream Chocolate truffles are decadent, creamy, and indulgent. They are a homemade classic holiday treat, and you won't be able to stop at one. Trust me!
Ingredients
10 ounces chocolate, chopped (I used a mix of milk chocolate and dark chocolate)
¾ cup heavy cream
2 tablespoons unsalted butter
2 tablespoons Irish cream (or more to taste)
For Rolling:
Rainbow Sprinkles, cocoa powder,
Instructions
Place chopped chocolate into a medium heat-safe bowl.
Over medium heat, bring heavy cream and butter to a slow boil in a small saucepan. When it starts boiling, remove it from the heat and pour it over the chocolate. Let the chocolate sit for 2-3 minutes without stirring. Then stir until smooth. Stir in Irish cream. Cover with plastic wrap and refrigerate overnight (or at least 3 hours).
Line a baking sheet with parchment paper. Using a spoon, scoop chocolate and roll into balls and place on baking sheet. Roll balls in sprinkles, cocoa powder, or chopped nuts. Refrigerate for 30 minutes before serving. Store refrigerated.
Recommended Products
As an Amazon Associate and member of other affiliate programs, I earn from qualifying purchases.