Hot Cocoa Chocolate Cupcakes
These Hot Cocoa Chocolate Cupcakes are generously frosted with a gooey marshmallow buttercream frosting which is more on the sweeter side but the rich chocolate cupcake balances the sweetness very well. Try to serve them with a cup of actual hot cocoa and you won't regret it!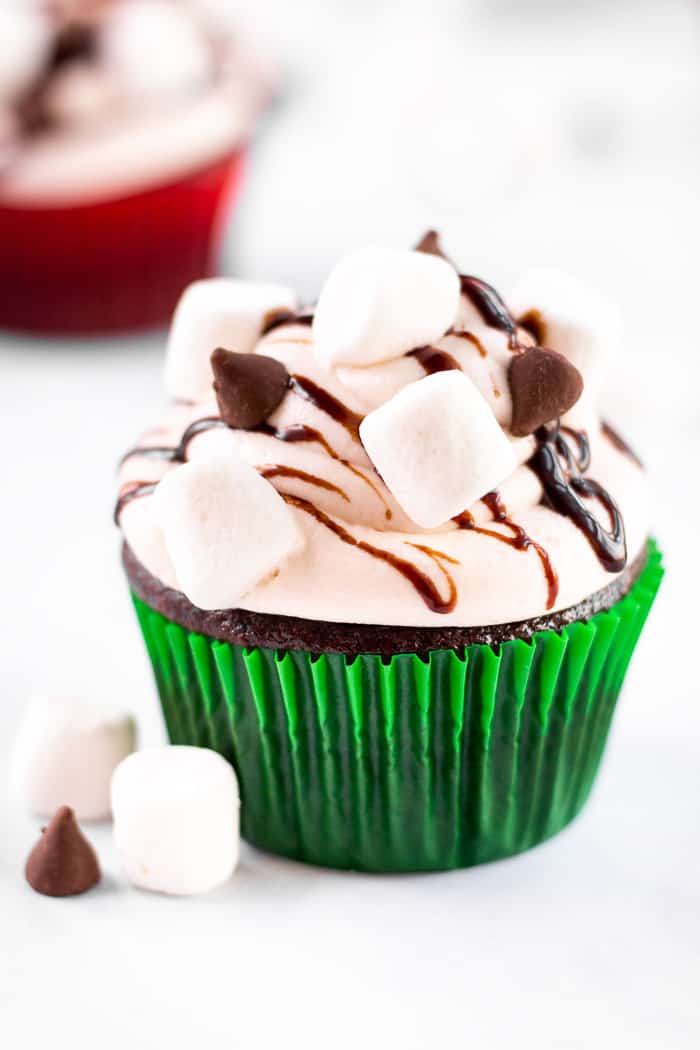 T'is the season for a steaming cup of Hot Chocolate, curled up with your favorite blanket on the couch while you watch the twinkle of your holiday lights or your favorite holiday movie.
As beautiful as all the decorations and nature are during Winter, depending on where you are; it is freaking cold! We layer up our clothes to leave the house and not feel the sting of the wind across our cheek, light a fire if we have one, and fill our bellies with all the warm and cozy food we can handle.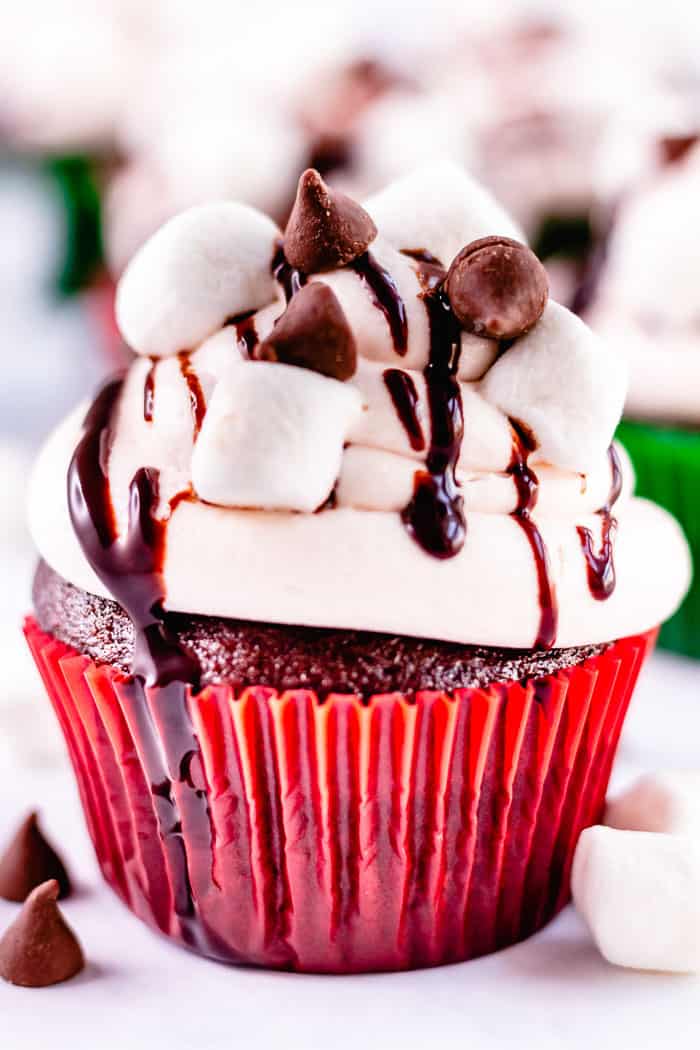 Obviously, this is why the most popular cozy winter beverage is Hot Cocoa! Why not have it in the form of a cupcake too? You know I like to experiment with different flavors and after some trial and error, these amazing Hot Cocoa Chocolate Cupcakes are being added to my holiday season list of favorites.
My kids ask for Hot Chocolate almost every day when they get home from school and their smiles never dim. It's like it's their first time trying it every day. Even though it seems to be the highlight of their day, when I told them I was adding it into Cupcakes, the smiles got even bigger (more from my daughter than my son who isn't a huge sweets fan but loves all Mommy's creations).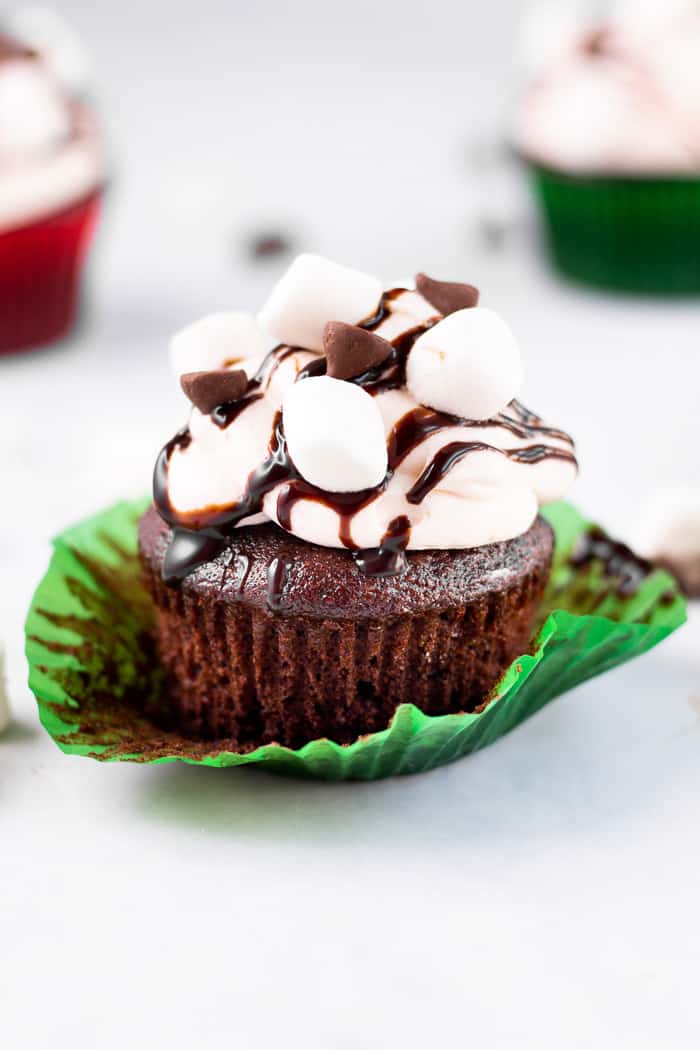 The cupcake base is a traditional chocolate cupcake flavored with cocoa powder, vanilla extract, and all your typical ingredients. The one that stands out is adding in some brewed coffee instead of warm water (if you choose). We are only using ½ cup so it's enough to add a subtle flavor and richen that chocolate flavor.
Now, let's talk about everyone's favorite part; the Marshmallow Buttercream Frosting for your Hot Cocoa Chocolate Cupcakes.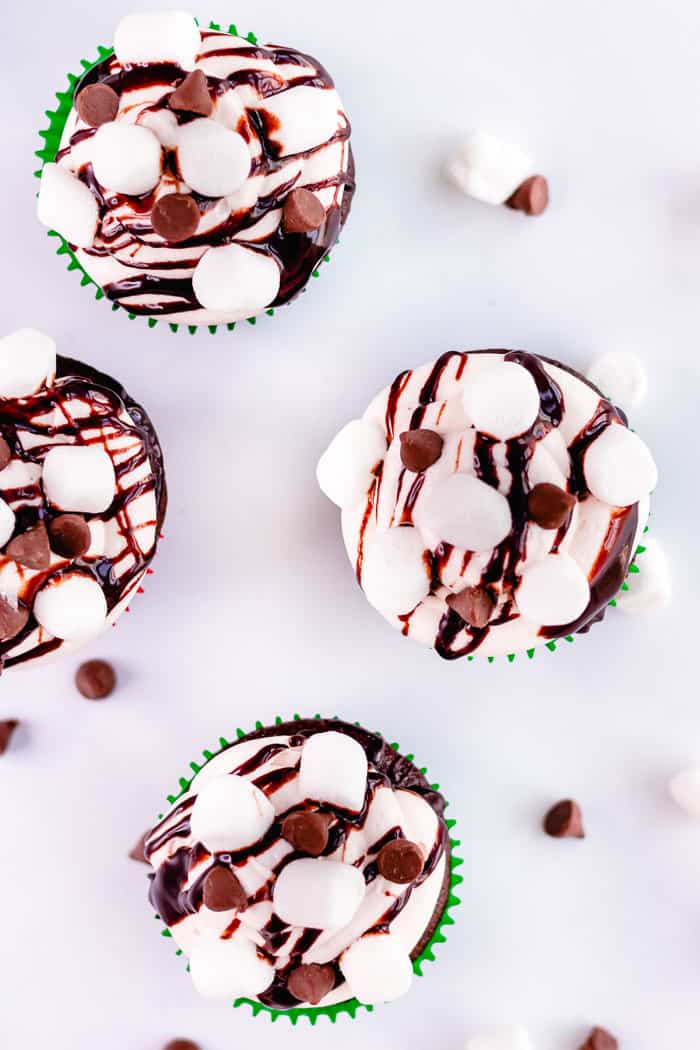 The cupcake base is obviously the most important part of the dessert when it comes to baking, but the frosting is where all the appeal is. You know it's going to be amazing when 1 cup of Marshmallow fluff is involved. Mix that with vanilla extract, butter, and powdered sugar for a super sweet treat. I highly recommend adding in a pinch of salt to help balance out the sweetness. If you don't have a super sweet tooth, you won't want to miss that last step. Don't worry, even with the salt it is still just as sweet as you can imagine but won't hurt your taste buds when you take that first bite.
The toppings are everything and really bring the Hot Chocolate effect to this dessert. Top with those super sweet mini marshmallows, chocolate chips, and chocolate syrup.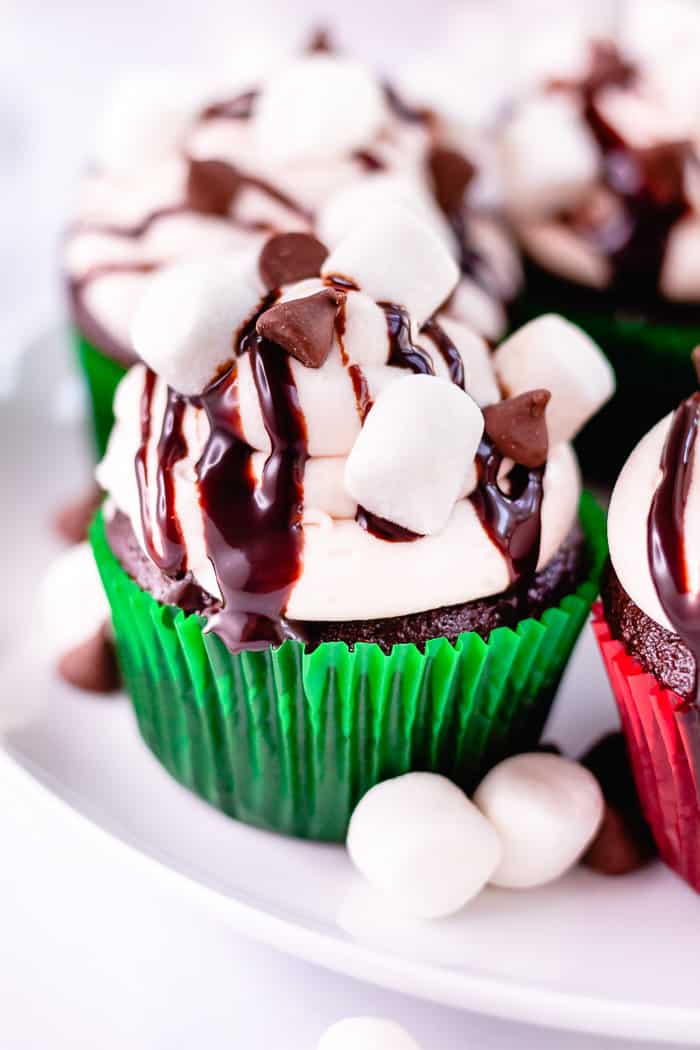 If you know a chocolate lover and are not sure what to get them for the holidays, spread a little love by baking these Hot Cocoa Chocolate Cupcakes and the smile of appreciation will make your day.
Whether you are just baking these for family and friends, your work holiday party, or your family holiday dinner; you can not go wrong!
If you are a Hot Chocolate fanatic, then try this Hot Chocolate Charcuterie Board or Hot Chocolate with Cardamon Marshmallows.
What do you think of these cupcakes? Let me know in the comment section below. If you share across social media, make sure to tag #aclassictwist so I can see your beautiful creations. Nothing is better than seeing what is written on paper come to life and make others smile.
Have a wonderful rest of your week.
FAQ:
How to store cupcakes?
You can store unfrosted cupcakes at room temperature, cover tightly, and frost them the day you are planning to serve them. Frosted cupcakes should be stored in the refrigerator for up to 5 days.
Can you make the frosting ahead of time?
You can definitely make the frosting ahead if you want, Just cover tightly and store in the refrigerator for up to a week or freeze it for up to 3 months. After freezing let the frosting thaw in the refrigerator overnight and beat with a mixer on medium speed until it's creamy again. If it's too thick add 1-2 tablespoons of milk or heavy cream until the desired consistency.
What makes the cupcakes moist?
Using some kind of fat like butter or oil to help keep the cupcakes soft. Also using the right baking time and temperature will produce perfectly baked, moist cupcakes.
If you want more delicious cupcakes try out these milky way cupcakes.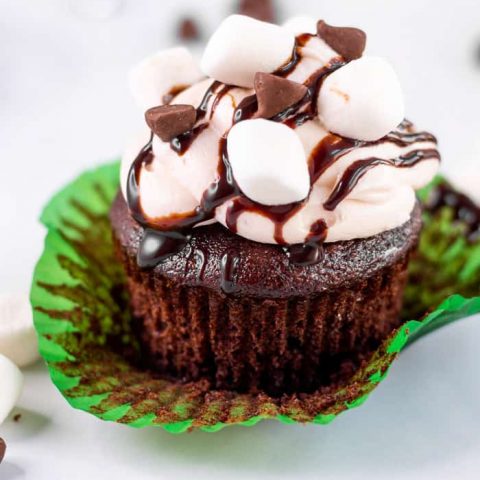 Yield: 15 cupcakes
Hot Cocoa Chocolate Cupcakes
Ingredients
FOR CUPCAKES:
2 cups all-purpose flour
1 cup granulated sugar
¾ cocoa powder
2 teaspoons baking powder
1 teaspoon baking soda
½ teaspoon salt
1 cup buttermilk, at room temperature
2 large eggs, at room temperature
½ cup vegetable oil
2 teaspoons pure vanilla extract
½ cup warm water or strong brewed coffee (check recipe notes)
For the marshmallow buttercream frosting:
1 cup unsalted butter (2 sticks), room temperature
1 container marshmallow fluff (1 cup)
2 teaspoons pure vanilla extract
1 teaspoon salt
2 cups powdered sugar
Toppings:
Mini marshmallows
Chocolate syrup
Chocolate chips
Instructions
Preheat the oven to 350 degrees F. Line a muffin tin with cupcake liners and set it aside.
In a large bowl whisk together the flour, granulated sugar, cocoa powder, baking powder, baking soda, and salt.
In a medium-size bowl, using an electric mixer, beat together the buttermilk, eggs, oil, and vanilla extract.
Add the wet ingredients to the dry ingredients and mix. Slowly add in the hot water or coffee.
Use a large ice cream scoop or a ⅓ measuring cup to divide the batter between the liners, filling each about ⅔.
Bake in the preheated oven for about 20 minutes, or until a toothpick inserted in the center of the cupcake comes out clean. Let them cool completely on a wire rack before frosting.
Meanwhile, make the frosting; with a hand mixer or a standing mixer fitted with the paddle attachment mix on high speed the butter, marshmallow fluff, vanilla extract, and salt. Slowly add the powdered sugar.
Cream on high until mixture has lightened and is fluffy for about 1-2 minutes.
Transfer the frosting to a piping bag fitted with the desired tip and frost the cupcake.
Drizzle with chocolate syrup and sprinkle with the mini marshmallows and chocolate chips. Enjoy!
Notes
I highly recommend adding 1 teaspoon of salt in the marshmallow buttercream as the marshmallow fluff combined with the powdered sugar will result in extremely sweet frosting. By adding the salt you help balance out the sweet taste.
Do not overmix or overbake your cupcakes. This will result in a dry and tough crumb. Take the cupcakes out of the oven when your toothpick comes out almost clean. The cupcakes will continue to bake as they cool.
Recommended Products
As an Amazon Associate and member of other affiliate programs, I earn from qualifying purchases.