Hot Chocolate Charcuterie Board
Step up your hot chocolate game with this fun and festive Hot Chocolate Charcuterie Board! Complete with creative toppings and homemade marshmallows!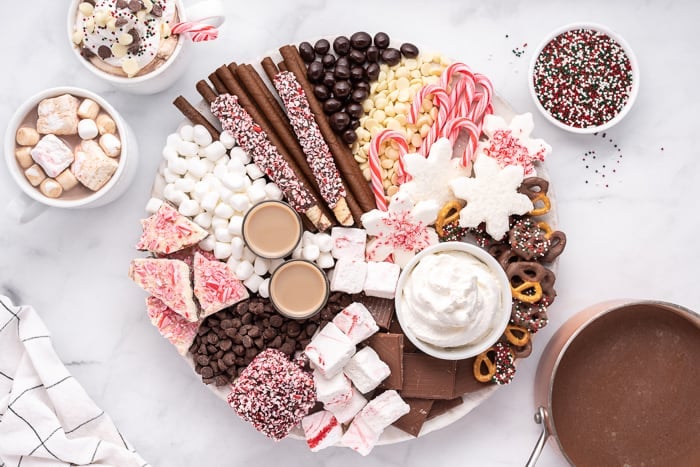 The holidays will look very different this year for most of us, but that doesn't mean they can't still be fun. So while we can play fun games and watch heartwarming movies, I am starting with fun food and drink ideas!
Charcuterie boards are all the rage right now! Have you seen them? I've seen dessert boards with cookies and fruit, savory boards with meats and cheeses. So why not make a hot chocolate charcuterie board!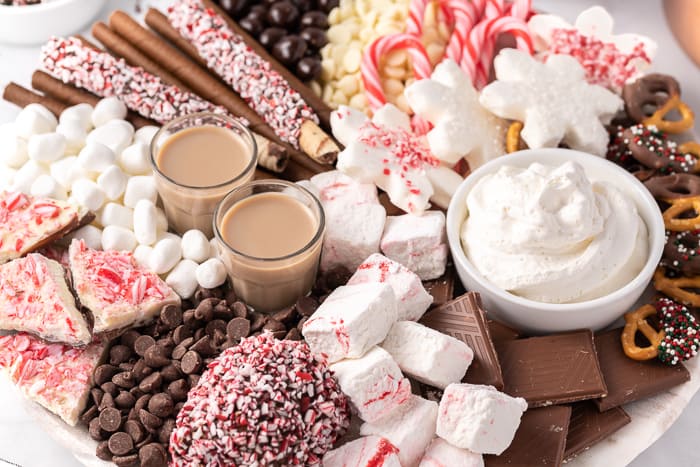 Hot Chocolate Charcuterie Board Ingredients
As with any charcuterie board, you can certainly add anything you'd like to! My only advice would be to try to stick to a theme. For mine, I chose peppermint. It's such a fun winter flavor, and it pairs with chocolate so well!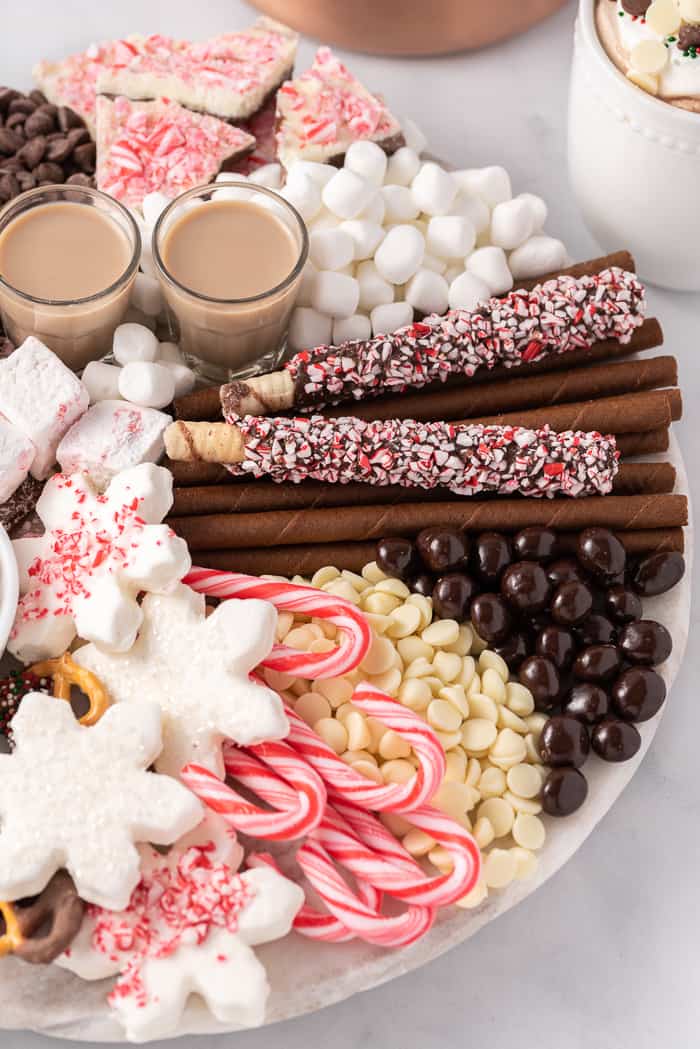 I included things like candy canes, marshmallows, and chocolate chips. But I also tried to add some more fun and festive things like chocolate dipped pretzels, chocolate-covered espresso beans, and even shots of Irish cream! Here is the full list of the items I chose for my board:
Snowflake Marshmallows
Candy Canes
White Chocolate Chips
Chocolate Covered Espresso Beans
Chocolate Hazelnut Rolled Wafers
Mini Marshmallows
Irish Cream Shots
Milk Chocolate Chips
Peppermint Dark Chocolate Covered Marshmallow
Milk Chocolate with Hazelnut Bar
Whipped Cream
Mini Pretzels dipped in Chocolate and Sprinkles
The peppermint chocolate covered stick, snowflake marshmallows, and large chocolate-covered
marshmallow with peppermint are all from the Wondershop at Target, but I could only find the
stick online! Links are above.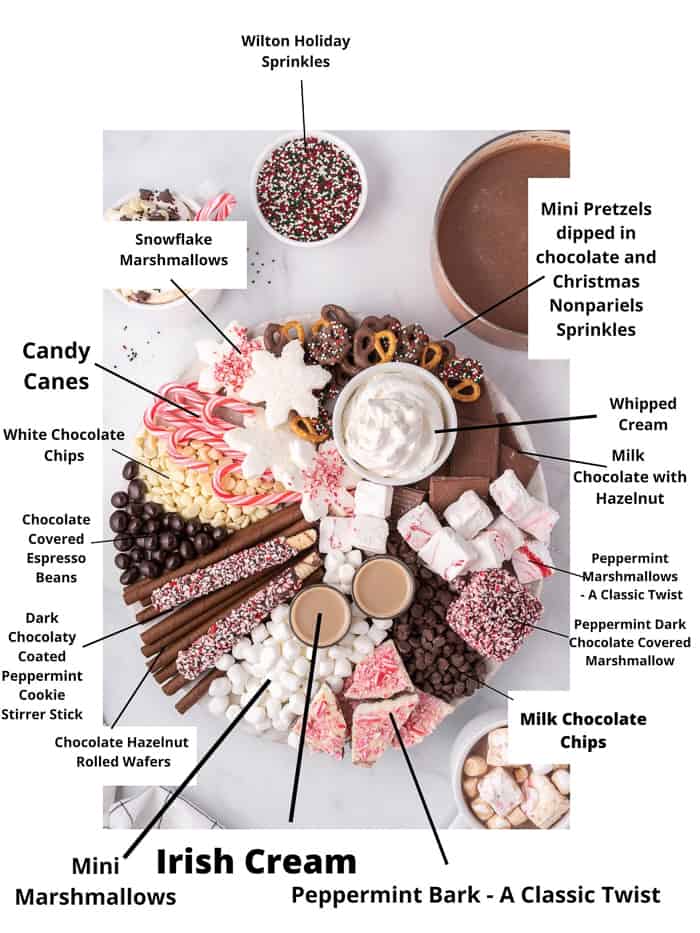 How to Make a Hot Chocolate Charcuterie Board
There is no special formula or recipe to follow when it comes to a charcuterie board. I would say, however, that you should start with the largest things and work your way down to the smaller things.
The items that will be in bowls (like sprinkles and whipped cream) should be placed on your board first. And if you add shots of alcohol (which I highly suggest!) put those on first too! Here are some examples of different alcohol shots you could add:
Irish cream
Peppermint schnapps
Vanilla vodka
Chocolate liqueur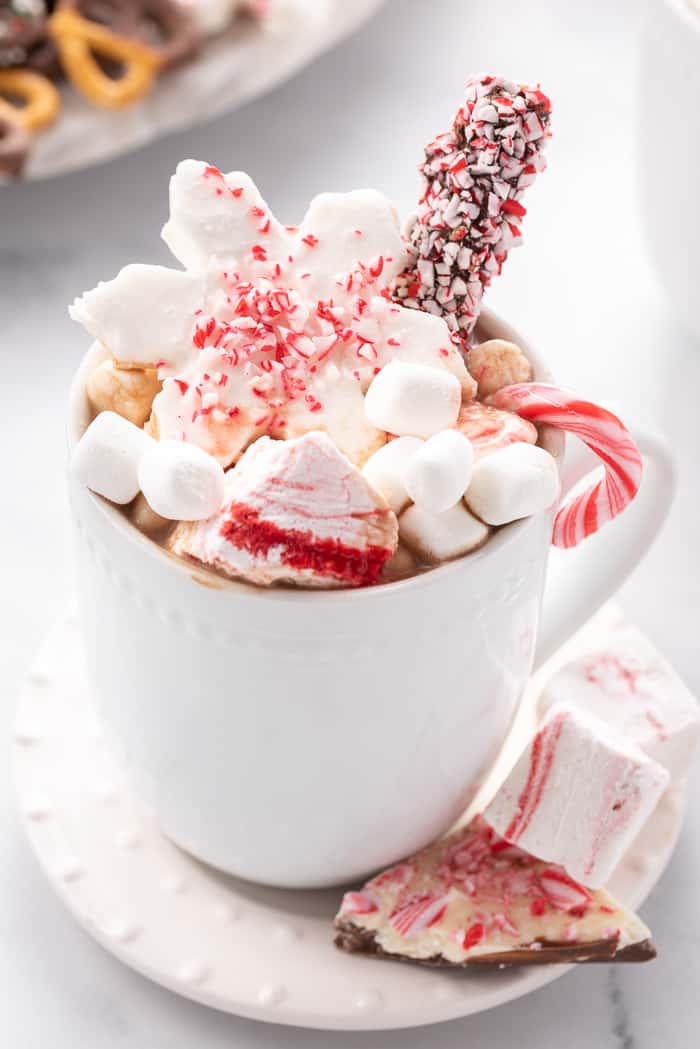 After that, start filling in the empty spots with your favorites! Feel free to use the list I have above, or even come up with some of your own ideas!
This is a fun treat for a holiday party with a crockpot of homemade hot chocolate for your guests. But just because we can't have parties right now doesn't mean you can't indulge in one of these! Have a movie night with the kids and treat them to a special hot cocoa board!
Homemade hot chocolate recipes to use with your charcuterie board: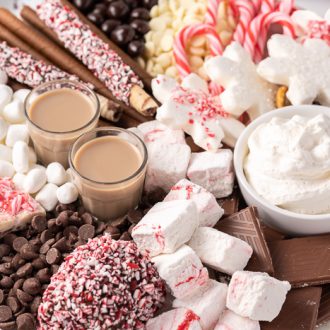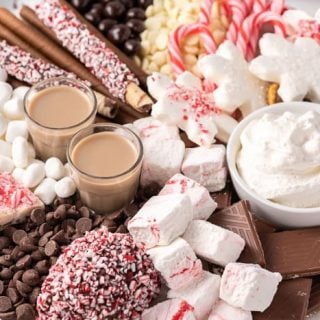 Yield: 6-8 people
Hot Chocolate Charcuterie Board
A festive hot chocolate charcuterie board!
Ingredients
½ Cup Wilton Holiday Sprinkles
4 Large Snowflake Marshmallows
7 Candy Canes
½ Cup White Chocolate Chips
⅓ Cup Chocolate Covered Espresso Beans
2 Dark Chocolatey Coated Peppermint Cookie Stir Sticks
10 Chocolate Hazelnut Rolled Wafers
1 Cup Mini Marshmallows
2 shots Irish Cream
5 oz Peppermint Bark
½ Cup Milk Chocolate Chips
1 Large Peppermint Dark Chocolate Covered Marshmallow
1 Cup Peppermint Marshmallows
3.5 (or one bar) Milk Chocolate with Hazelnut Bar
1 Cup Whipped Cream
½ Cup Mini Pretzels dipped in Chocolate and Sprinkles
Instructions
Assemble on charcuterie board as desired.