Peppermint Cheesecake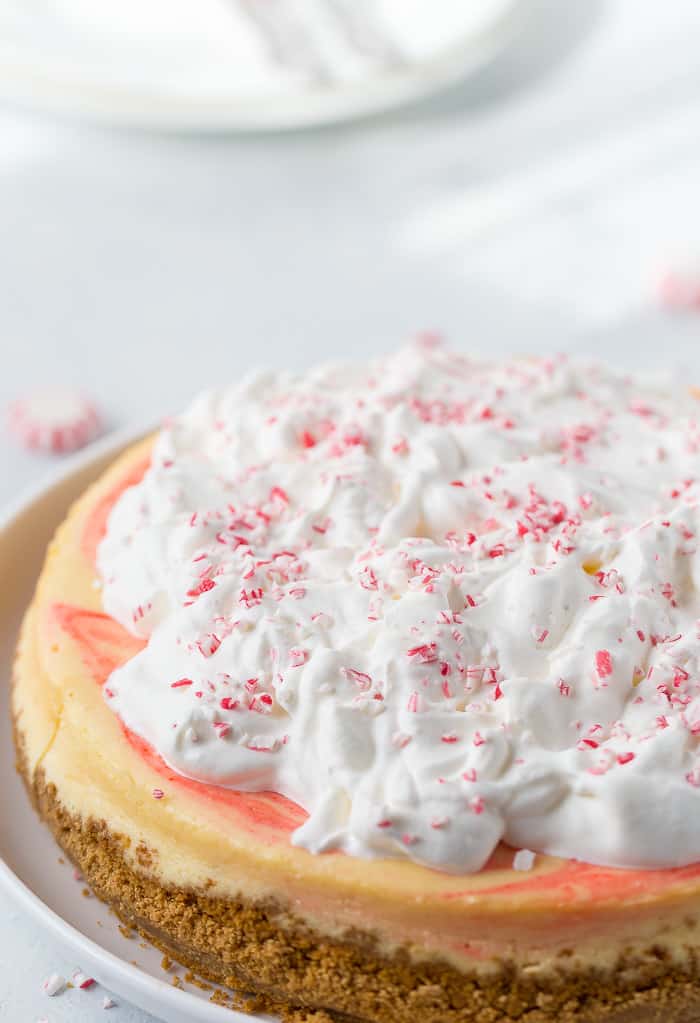 When you think of Christmas treats, what is the first flavor that comes to mind? Peppermint for me! It is one of my favorite holiday season flavors and I try to enjoy it as much as possible when the time comes around. This peppermint cheesecake is a holiday staple and I make it every year to accompany our Christmas dinner. It is also great with my peppermint hot cocoa and it makes any snowy day better.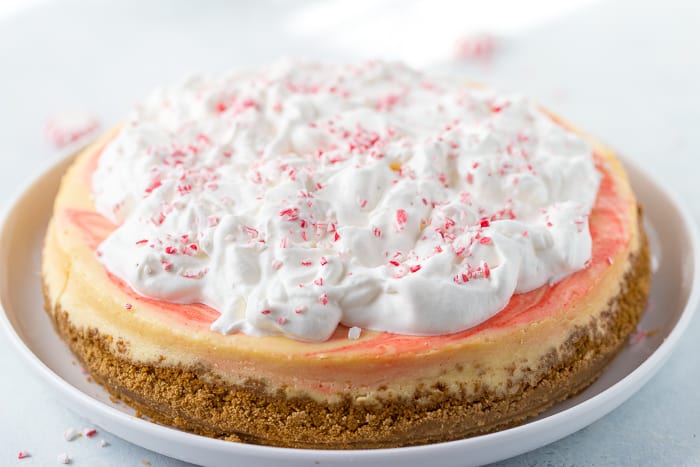 I've been making this peppermint cheesecake recipe for my family for the last few years and it's always a huge hit. You can even take candy cane's and crush them up to sprinkle on top for some extra holiday spirit and make it really look the part. It looks so pretty and is so festive for a holiday spread.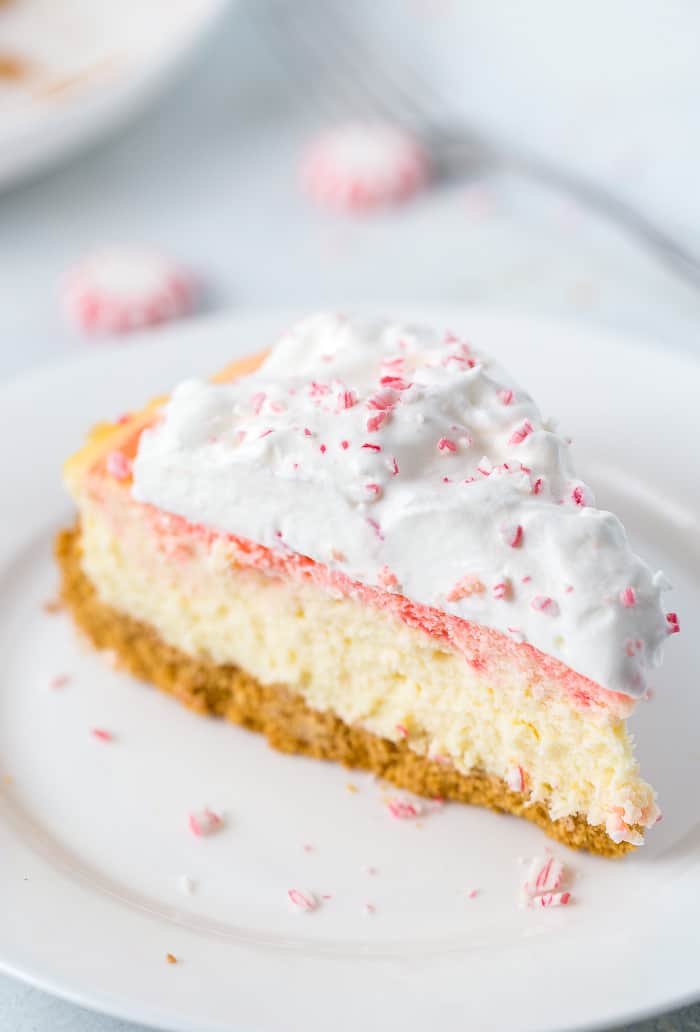 I have a few holiday recipes that are a must like my peppermint mocha donuts and my Christmas decorated cookies but this one is for sure on my top list for the holidays. The cheesecake is a light filling sitting on a crunchy graham cracker crust. Topped with whipped cream and peppermint candy canes, it is a hit for all. Even my kids absolutely love cheesecake and we are always fighting over the last piece. There is just never enough!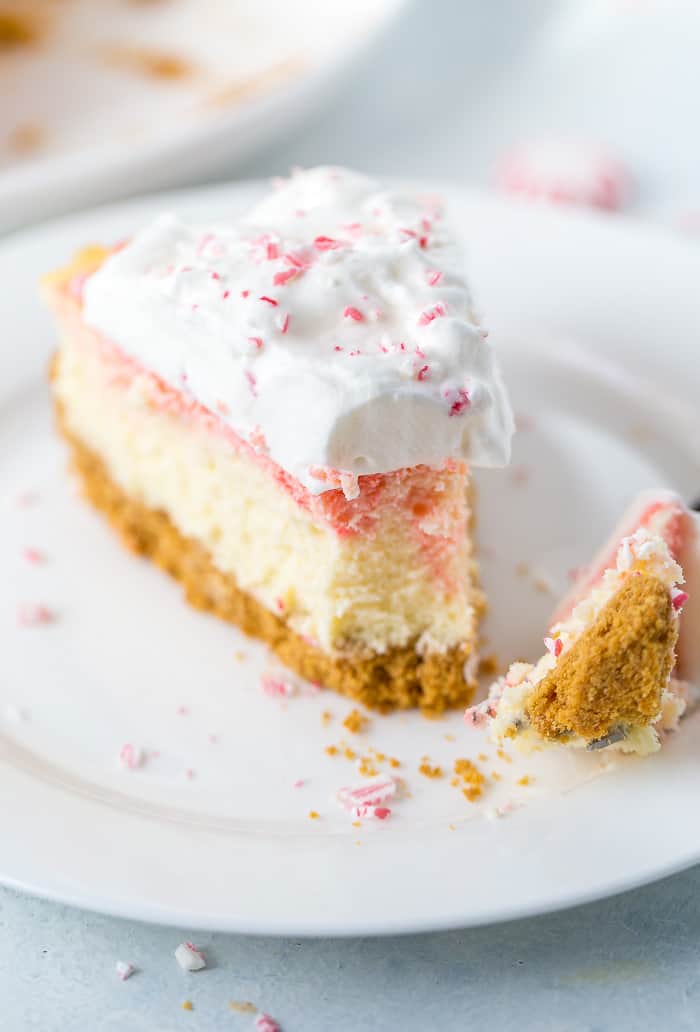 Whether you are making this peppermint cheesecake for a neighbor, your friends, or family in a gift basket or you are just having it for your own family at Christmas dinner it is sure to be a favorite. It's easy to whip up too! During the holidays you always want something that is a time saver. Everyone will be asking you for the recipe, I can promise you that it is truly a delicious dessert for the holiday season.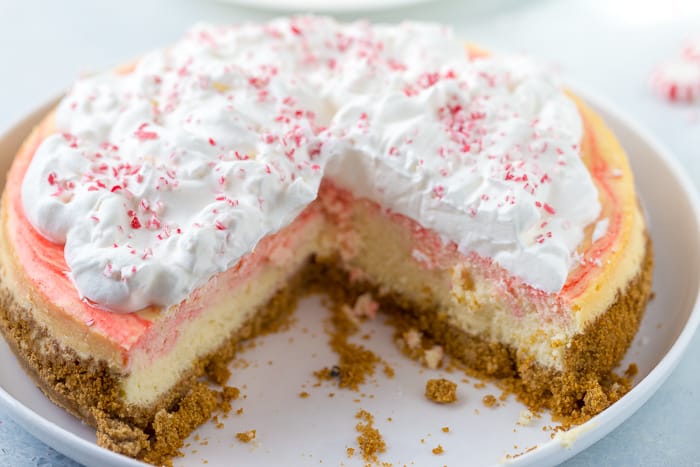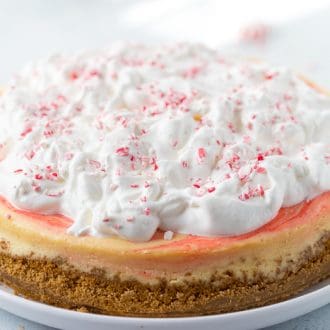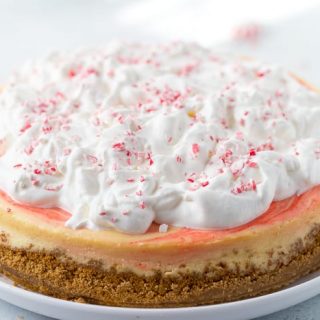 Yield: 1 9-inch cheesecake
Peppermint Cheesecake
Cook Time
2 hours
45 minutes
Total Time
9 hours
30 minutes
Ingredients
For Crust:
2 cups graham cracker crumbs
5 tablespoons unsalted butter, melted
For the Filling:
24 ounces cream cheese, softened at room temperature
1 cup granulated sugar
1 ½ tablespoon all-purpose flour
1 ½ tablespoon heavy cream
¼ teaspoon kosher salt
1 teaspoon pure vanilla extract
1 teaspoon peppermint extract
3 large eggs, room temperature
For Topping:
1 cup heavy cream, cold
1/4 cup powdered sugar
½ teaspoons peppermint extract
Instructions
Preheat oven to 350 degrees F. Wrap the entire outside of a 9-inch springform pan with two sheets of foil.
In a large bowl, combine the graham cracker crumbs with melted butter. Mix until moist.
Transfer the crumbs to the prepared pan and evenly spread it. Use a flat bottom cup and press down on the crust to create an even layer.
Bake crust for 10 minutes or until lightly golden. Let cool while you prepare the filling.
Reduce oven temperature to 325 degrees F.
In the bowl of an electric mixer, beat the cream cheese on medium speed until smooth and creamy, about 2 minutes. Add sugar and mix until combined, another minute, scraping down bowl as needed.
Add in flour, heavy cream, salt, and extracts. Mix well on medium-low speed. Reduce speed to low and add eggs in one at a time, mixing until combined. Mix filling until smooth for an additional minute.
Pour filling into springform pan with crust. Optional: Add a few drops of red food coloring and swirl for the swirl effect.
Place springform pan into a much larger baking pan (I like using a roasting pan). Add hot water into the larger baking pan to reach halfway up the side of your spring-form pan.
Bake at 325 degrees F for one hour or until cheesecake is set around the edges but still jiggly in the center. Then turn off the oven and leave the cheesecake in the oven for additional 45 minutes.
Remove cheesecake from oven and allow to cool at room temperature for at least an hour before chilling. Chill for 6 hours or overnight.
The next day, whisk together all the ingredients for the topping in a medium bowl until soft peaks form.
Remove the sides from the spring-form pan and spread the mousse mixture on top of the cheesecake. Smooth evenly.
Chill for 1-2 hours before serving.
Store leftovers covered in the refrigerator.
Recommended Products
As an Amazon Associate and member of other affiliate programs, I earn from qualifying purchases.