Peppermint Mocha Donuts
Thank you Pompeian for sponsoring this post.
These peppermint mocha donuts are a great way to start any winter morning! Get your dose of chocolate, peppermint and coffee in one bite.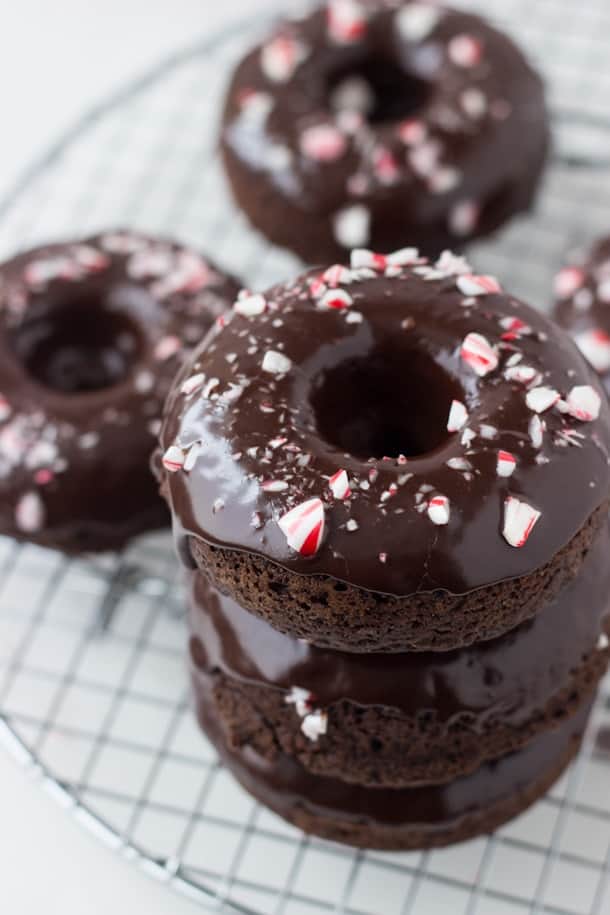 We are doing chocolate, coffee and peppermint again today!! Yes, I have a problem and I know it. But once I am enjoying these super moist and decadent donuts with my morning coffee, I forget about this problem gladly. I can't imagine a better way to start mornings, especially on a cold morning! Don't you agree?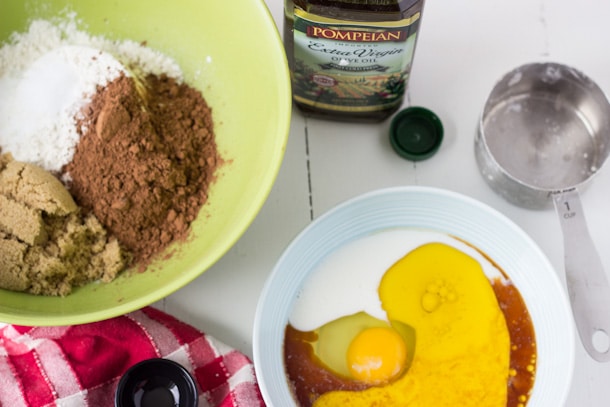 These peppermint mocha donuts are extremely easy to make and perfect for a lazy morning. Simply combining a few dry ingredients and some milk, eggs and extra virgin olive oil. I love using Pompeian olive oil in my kitchen because of the high quality of their products! They make these donuts extra moist and always great in salad dressings (I digress).
This holiday season, Pompeian is helping consumers cherish their treasured family recipes by offering personalized Pompeian bottles, complete with a customizable label and family photo!! I created a label with these peppermint mocha donuts that I will be sharing 🙂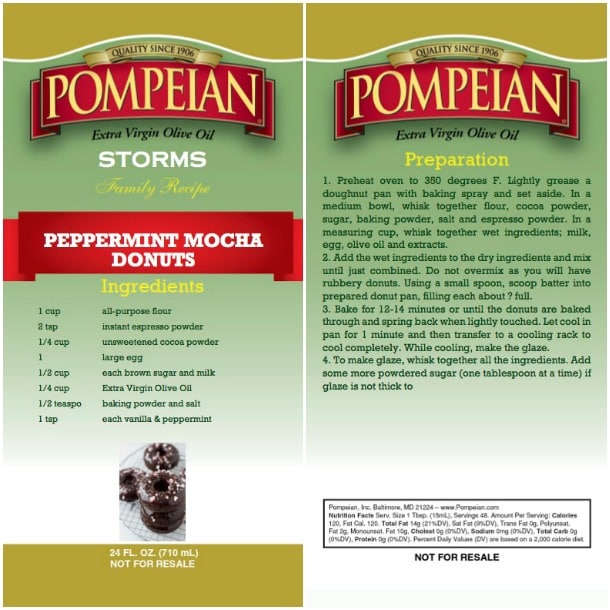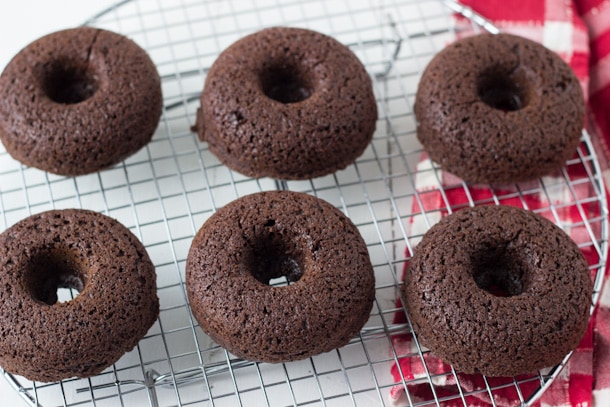 Baked donuts has been one of my greatest finds in 2015. Ever since I treated myself to a donut pan ($8.99), it has been one indulgent donut recipe after another (exhibit A, and B). Please tell me this Christmas you will treat yourself to a donut pan?? It will the best present to yourself and your lazy weekend mornings.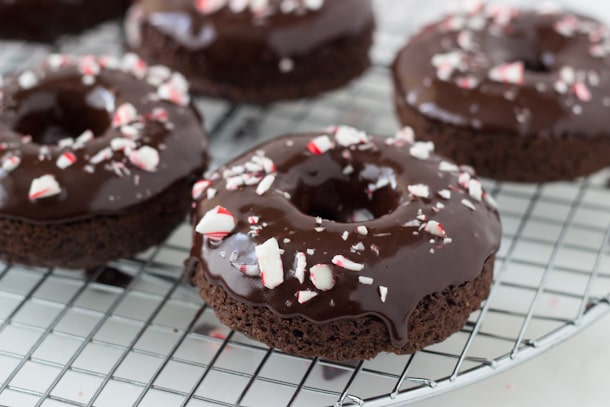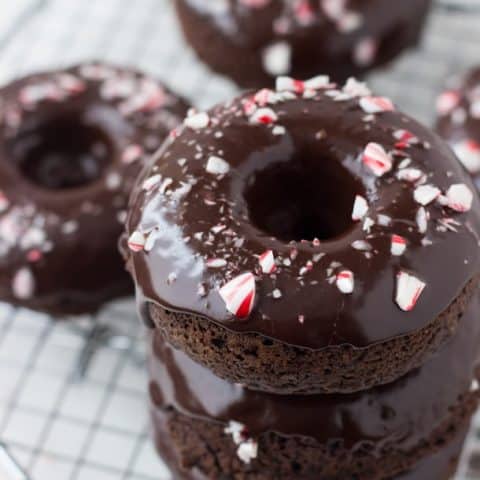 Yield: ~ 8 donuts
Peppermint Mocha Donuts
These peppermint mocha donuts are a great way to start any winter morning! Get your dose of chocolate, peppermint and coffee in one bite. 
Ingredients
1 cup all-purpose flour
¼ cup unsweetened cocoa powder
½ cup light brown sugar
½ teaspoon baking powder
¼ teaspoon salt
2 teaspoons instant espresso powder
½ cup milk
1 large egg
¼ cup olive oil
1 teaspoon pure vanilla extract
½ teaspoon peppermint extract
For Glaze:
1 cup powdered sugar
4 tablespoons unsweetened cocoa powder
3 to 4 tablespoon milk
1 teaspoon pure vanilla extract
1 teaspoon peppermint extract
Crushed candy canes
Instructions
Preheat oven to 350 degrees F. Lightly grease a donut pan with baking spray and set aside. In a medium bowl, whisk together flour, cocoa powder, sugar, baking powder, salt and espresso powder. In a measuring cup, whisk together wet ingredients; milk, egg, olive oil and extracts.
Add the wet ingredients to the dry ingredients and mix until just combined. Do not over-mix as you will have rubbery donuts. Using a small spoon, scoop batter into prepared donut pan, filling each about ⅔ full.
Bake for 12-14 minutes or until the donuts are baked through and spring back when lightly touched. Let cool in pan for 1 minute and then transfer to a cooling rack to cool completely. While cooling, make the glaze.
To make glaze, whisk together all the ingredients. Add some more powdered sugar (one tablespoon at a time) if glaze is not thick to coat donuts.
When donuts are completely cooled, dip each in glaze. Decorate with chopped candy canes. Let glaze set for 20 minutes before stacking or serving. Donuts are best enjoyed within two days.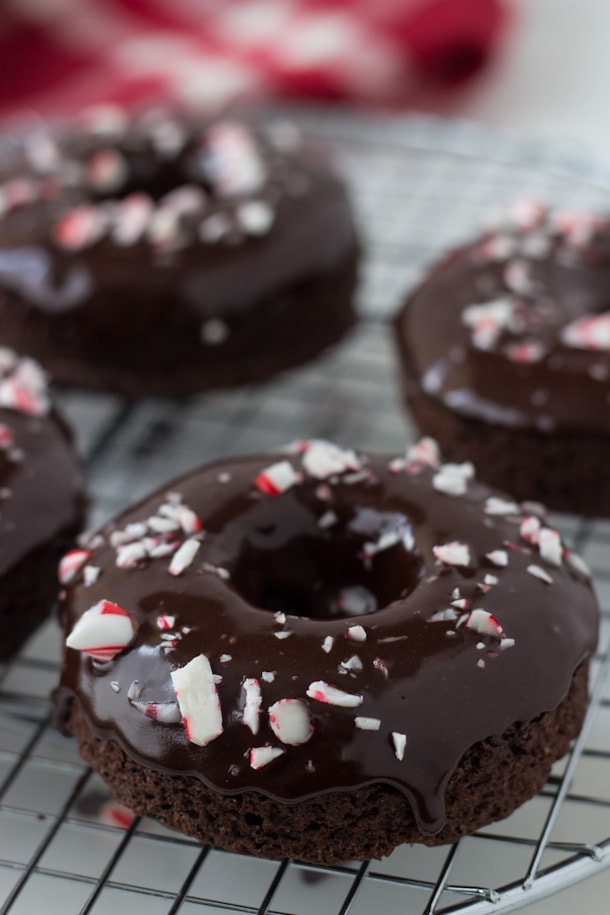 Disclosure: This is a sponsored post written by me on behalf of Pompeian. 
Visit Facebook.com/Pompeian or Pompeian.com to create your very own personalized bottle of Pompeian Extra Virgin Olive Oil with one of your most cherished family recipes and a family photo.