Warm Gingerbread Cocktail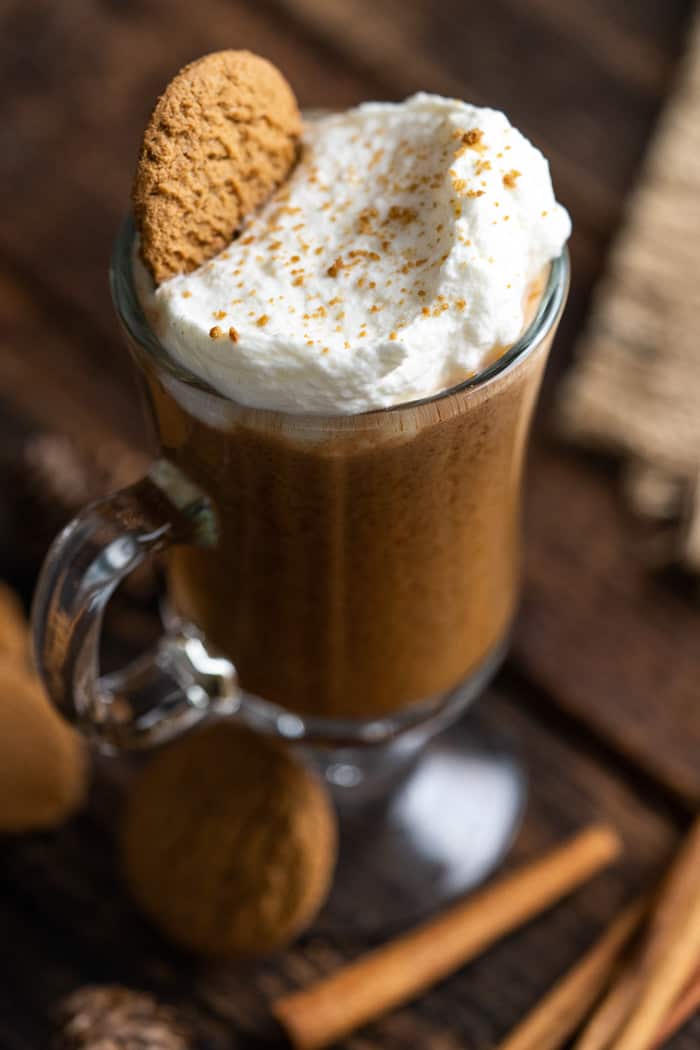 It's almost time to decorate for Christmas and winter and I have a delicious drink for everyone to sip while decorating your home, backyard, or front porch. This warm gingerbread cocktail is filled with ginger spices and is cozy. Of course, this cocktail doesn't have to be for just the holiday season, you can enjoy it anytime. My only hope is one day I will be able to share it with friends at a holiday party. Adding Vodka to an already warm and cozy cocktail sounds like the perfect nightcap, right? With the colder season upon us, there is nothing quite as cozy as a Warm Gingerbread Cocktail.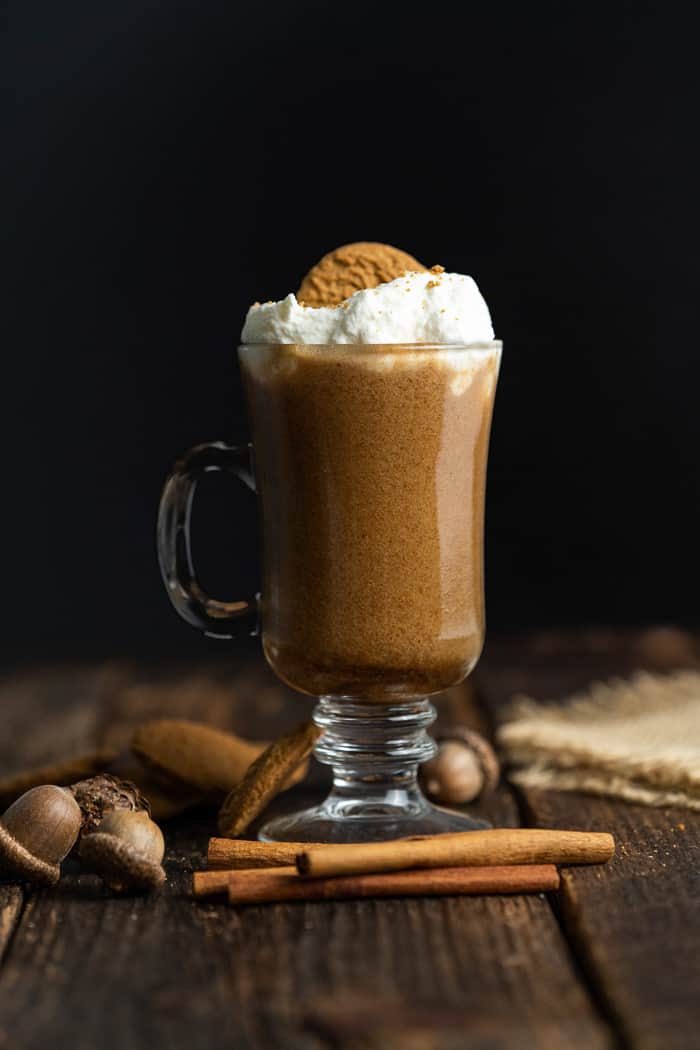 As we head into the season of colder nights, I chose vodka for this drink because it's what I have on hand. However, almost anything would work. You could even try whiskey or gin if it's your liquor of choice. It's a great winter cocktail to have with your dinner on a cold night.
It's time to get warmed up!
How do we make this cocktail? First, we need a gingerbread syrup. The gingerbread syrup is so simple. You just need to add all of your ingredients into a small saucepan and bring them to a simmer over medium heat. Once they simmer, remove your saucepan from the heat and strain twice through a fine-mesh sieve.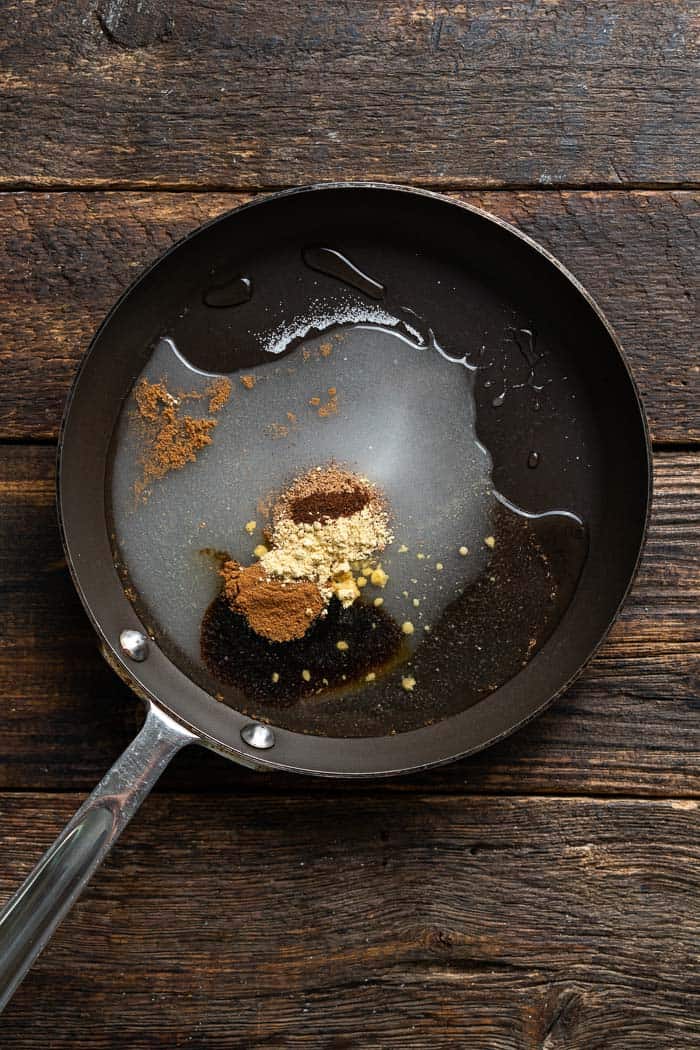 To serve, stir together the Gingerbread Syrup, vodka, and half and half in a small pitcher. I used half and half for a creamier taste however, feel free to use your milk or cream of choice. I've made it with almond milk for something lighter and the cocktail was still yummy.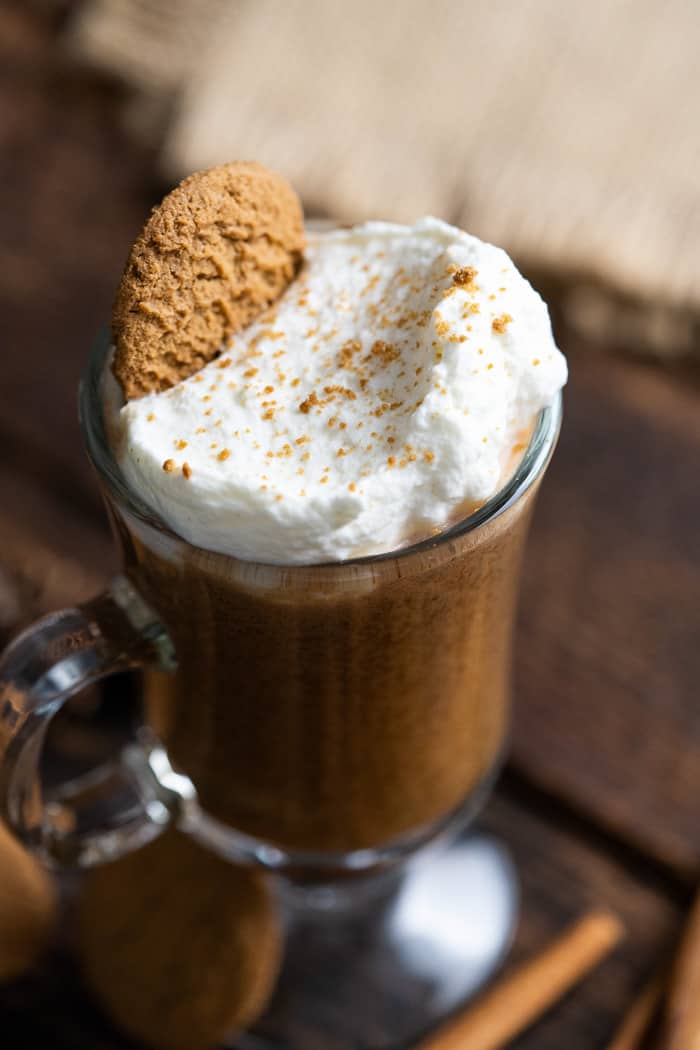 Pour it into 2 mugs and top it off with a cinnamon stick, gingersnap cookie, and whipped cream. Not only will it look pretty but your cocktail can now be your dessert too. You can always add any other garnishes or alternatives. These are just my favorite.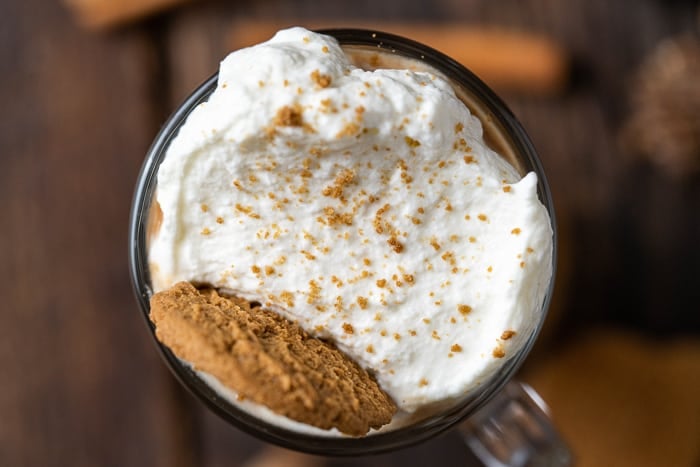 If you want to have this on-demand like White Claw you can place it in an air-tight container once it's cool and refrigerate for up to one month. This way when you want to have a drink you can just warm it up in a mug.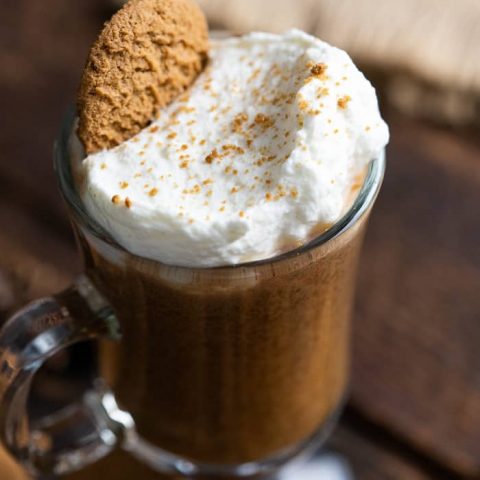 Yield: 2 cocktails
Warm Gingerbread Cocktail
A warm and cozy gingerbread cocktail.
Ingredients
Gingerbread Simple Syrup:
1/4 cup granulated sugar
1/4 cup water
1 teaspoon molasses
1/2 teaspoon ground cinnamon
1/2 teaspoon dried ginger
1/4 teaspoon nutmeg
1/4 teaspoon cloves
1/8 teaspoon allspice
1/8 teaspoon black pepper
Gingerbread Cocktail:
4 ounces (1/2 cup) vodka
1 ounce (2 tablespoons) half and half
Garnishes:
Whipped cream
Gingersnap cookies
Cinnamon stick
Instructions
For the Gingerbread Simple Syrup:
Add all ingredients to a small saucepan.
Bring to a simmer over medium heat.
Remove from the heat and strain twice through a fine-mesh sieve.
To Serve:
Stir together the Gingerbread Simple Syrup, vodka, and half and half in a small pitcher. Pour into 2 mugs.
Top each with whipped cream, a gingersnap cookie, and a cinnamon stick (or any garnishes you like).